We use affiliate links. If you buy something through the links on this page, we may earn a commission at no cost to you. Learn more.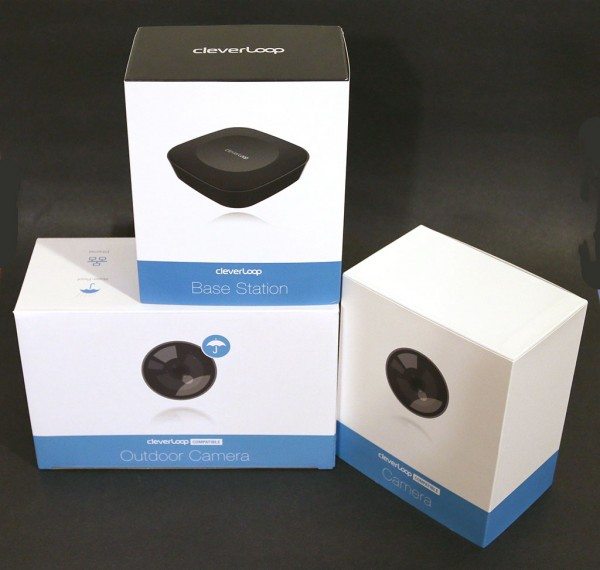 Do you have a wireless security camera setup for your home so that you can keep an eye on your loved ones and property when you're not physically there? I've reviewed quite a few cameras over the years but have kept a Dropcam setup at my house for several years now. When Dropcam was bought out by Google and turned into Nest, I think their service quality started going downhill, so I've been looking for alternatives that don't require a monthly subscription fee but still have notifications and other important features. The latest camera system that I've had the opportunity to test is the CleverLoop system. They sent me their two camera security system setup which I've been using for the past few weeks. Let's check it out.
Note: Images can be clicked to view a larger size.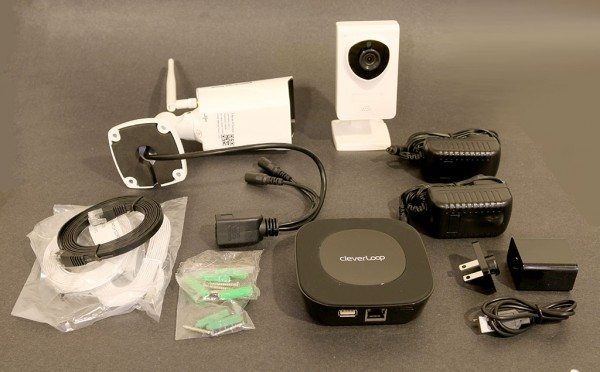 What's in the CleverLoop 2 camera security system setup box?
CleverLoop base station with 8GB micro SD card
Indoor camera
Outdoor camera
AC adapters for cameras and base station
Mounting hardware
2 Ethernet cables
CleverLoop sent me their two camera setup which includes an indoor camera and a weatherproof outdoor camera. The indoor camera is 720p with 115° field of view while the outdoor camera is 720p with just 60° field of view.
I was a little worried because the system came with no instructions, but I'm happy to report that setting up the cameras was very easy because the mobile app guides you through everything you need to do, step by step. Basically, the steps include installing the app on your phone, which I installed it on my Nexus 6P. Then the app tells you to connect the base station to power and then connect with an Ethernet cable to your wireless router.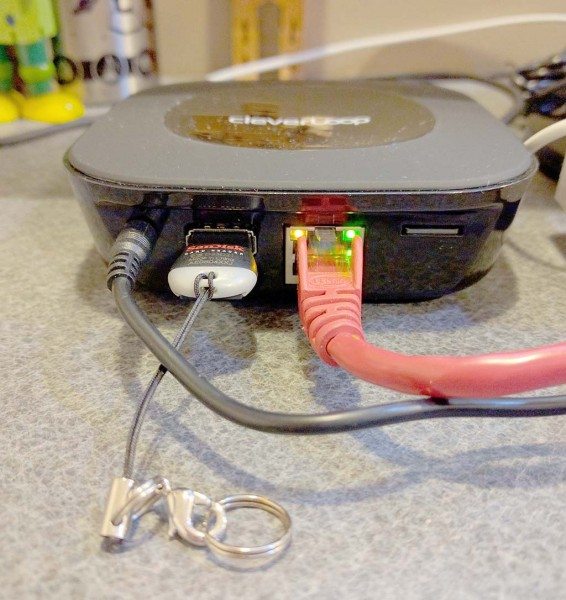 The Roku-sized base station does not connect to your network via WiFi. It must be connected via Ethernet directly to you wireless router. On the back of the base is a power connector, USB connector, Ethernet port and a microSD card slot. The system comes with an 8GB microSD card installed in the base. This is used to store video clips when motion is detected. A flash drive or a USB hard drive plugged into the USB port on the back of the base station is used to record continuous video footage, but more about that later.
Why does the CleverLoop system use a base station? I asked them and this is what they told me:
The base station acts like the "Brain" of the security system. It collects and analyses videos from camera using computer vision technology, and determine which is important and which is not. Thus, it can greatly reduce false alarms.

Foscam can only do motion detection, and it will generate a lot of false alarms. Especially in outdoor environment.

Nest does use computer vision to analyse video. However, its server is on the cloud, which means you will have to upload 24*7 video up to the cloud to store and analyse, and it will generate two problems: monthly fee and privacy.

CleverLoop base station works in your home, and reads video directly from your camera, so you are free from privacy problem. We also don't have monthly fee, because there is no burden on our server, and we don't need to charge extra fees for this service.
After the base station is setup, then you can configure each camera. One base station can be used with up to three cameras. The cameras can be setup using WiFi or Ethernet. Either method is quick and easy, with step by step instructions through the app.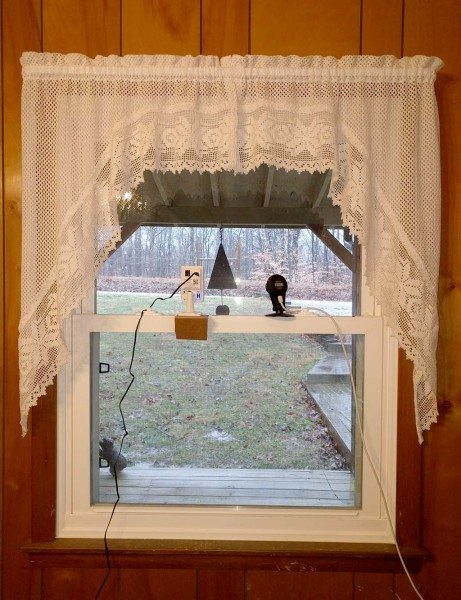 I was up and running within a few minutes. I ended up putting the indoor camera pointing out my front window towards the road in front of my house, and I placed the outdoor camera in my garage pointing through a window towards the house. In the image above, the CleverLoop camera is on the left and my Dropcam Pro is on the right.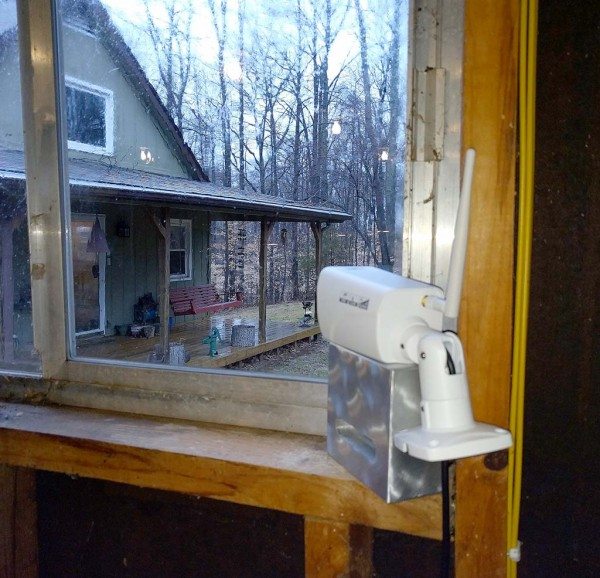 Pointing cameras out a window isn't the best solution because both cameras have night vision and the infrared LEDs tend to glare against the glass. It's better to install an outdoor camera outdoors, but I didn't want to run Ethernet cable or drill through my garage wall for a power connection. In order to get WiFi into my free standing garage, I used a ZyXEL Powerline adapter which uses my home's wiring to extend WiFi. So far it has worked really well, but I'm not sure what will happen when the temperatures drop below freezing as my garage is not heated. That said, it's been in the high 30's and so far no problems.
After the cameras have been configured. The app will show a static image of each camera along with the arm status. The status can be set to Stay Armed, Stay Disarmed and Auto-Arm. This status can be set individually for each camera. When the status is set to Stay Armed, motion detection is enabled and alerts will cause a sound on your phone along with a push notification.
Unlike other cameras that I've reviewed, alerts can be detected one after the other. There isn't a delay. When a notification is received, you can click on it to see a 10 second video clip of the detected motion. You can then decide if the notification should be set as an alert or a movement. Correcting the detections help the system learn what is and what is not as important. As you should have guessed, an alert is more important that a movement.  When you open the app, the number of alerts and movements will be shown for each camera. You have to manually go in and view each one to clear them. I wish there was a clear all button, which would save a lot of time since multiple alerts pile up quickly. There is a pencil button on the up right corner of camera page, you can use to delete all notifications at the same time.
When the arm status is set to Auto-Arm, it uses a geo fencing feature to turn the arm status on and off. How this works is that inside the mobile app, you set the GPS location of the base station and then when you leave the area, the system will be set to Stay Armed. When you come back home, it switches to Stay Disarmed. It's important to understand that when the cameras are set to Stay Disarmed either manually or from the Auto-Arm feature, motion detection is disabled. That means you'll not be notified of any motion.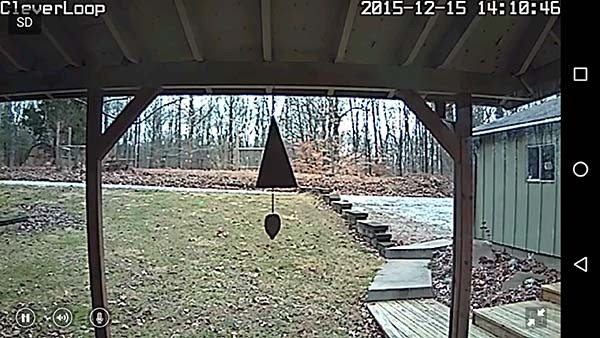 In addition to viewing the alert videos, you can also watch a live stream from the cameras. The default resolution is set to SD like you see above.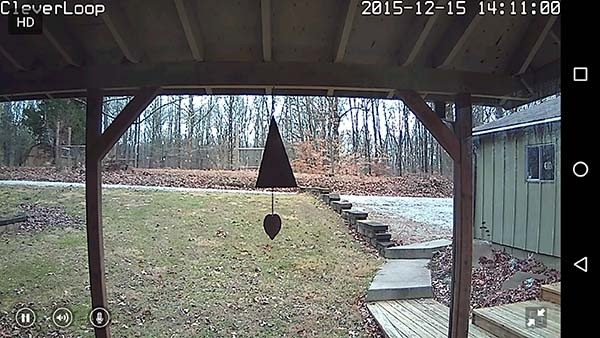 But you can tap the setting to switch to HD resolution. Unfortunately the setting does not "stick" and it will have to be set again whenever you go in to watch a live view. This is something CleverLoop plans to fix soon.
As mentioned earlier, you can connect a USB flash drive or hard drive to the base station for continuous video recording. There are a couple limitations to consider when using this feature. First of all, the system has to be set to Stay Disarmed for it to capture continuous video. That means that while the cameras are recording continuous footage, the will NOT notify you about movements and alerts. As soon as the system is set to Stay Armed or Auto-Arm, video will stop recording. Another thing to keep in mind is that the flash drive or hard drive you'll connect to the base station, has to be formatted as either NTFS or FAT32. And lastly, the only way to actually view the recorded video footage is to disconnect the drive from the base station and plug it into your computer. The .MP4 video files are saved as 30 minute long videos for each camera if you have multiple cameras.
I've been using the CleverLoop system for a few weeks now and I'm pretty happy with it. Not having another monthly subscription fee is nice, along with almost instant motion detection and geo-fencing features make this camera system nicer than what I was using before. Improvements that I would like to see are higher resolution cameras with a wider angle of view and the ability to capture continuous video even when the camera is armed. Also a way to view the continuous video footage from the app instead of having to disconnect the hard drive to manually load the video files would be great.
I look forward to seeing how CleverLoop continues to evolve this security system. So far, I've been impressed.
Source: The sample for this review was provided by CleverLoop. Please visit their site for more info and Amazon to order.
Product Information
Price:
$349
Manufacturer:
CleverLoop
Retailer:
Amazon
Requirements:
Pros:

No monthly subscription fees
Continuous recording feature
Push notifications
Geo fencing

Cons:

Can't have notifications and continuous recording at the same time
Can't view continuous recordings via the mobile app