We use affiliate links. If you buy something through the links on this page, we may earn a commission at no cost to you. Learn more.

Dave: Alright here is a bit of the backstory — My nearly three year old 15″ MacBook Pro had been having problems for a few months. It finally died, then came back to life, but it was definitely time I took it to one of my local Apple Stores to have their Genius Bar techs take a look at what was wrong. Come to find out that the logic board had gone bad, thankfully it still had a few weeks of AppleCare remaining on its extended warranty. Apple fixed it back to like new condition and I was good to go. My debate then was if I wanted to live with it out of warranty or sell it, pay the difference for a new one and buy fresh AppleCare so I wouldn't have to worry about failure for another three years.
Well during my week long saga, Julie and I had been discussing the situation and she suggested/recommended looking into PowerMax.
Julie: Andy Chen told me about PowerMax several years ago. They are a company based out of Oregon that turn your Apple computers, iPads and iPhones into cash that you can use towards a purchase of new and refurbished Macs and iPads. I've used PowerMax several times to trade in my old iMacs and MacBooks for new models. When Dave was telling me about his issues, I was already in the process of trading Jeanne's old 15″ MacBook Pro and my old 13″ MacBook Air to them. Both were more than 3 years old and ready to be passed on. PowerMax has been much easier to use than eBay or CraigsList because you don't end up becoming tech support for whoever ends up buying the computer(s).
Dave: I typically either give my used tech equipment to relatives or sell it on CraigsList to fund my next electronic toy. But in this case, none of my family members or friends needed a used laptop and CL can certainly be a hassle. Add in the fact, CraigsList was pretty flooded with similar MBPros…selling mine was going to take more time and effort than usual.

So, I took Julie's advice and filled out the PowerMax questionnaire to see what they would offer me. Filling out the form was quick and painless, more or less giving them the model number, specs, and condition of your computer. Based on my CL research I had an acceptable range of what I would take for my laptop going into this process. I received a response from PowerMax within just a few hours with an offer that I found acceptable.
At this point, I called PowerMax to have a conversation with a real person to ask the details of how their system works. Being Cyber Monday, they were swamped but their operator took my name and number and said someone would get back to me soon. I got a call back within an hour, where Heidi took the time in what was obviously a very hectic day to explain all the ins and outs of how their trade-in program works. She was great, holding my hand through the whole process.
Julie: I've always had excellent service with them. They answer questions quickly through email and even call you to follow up. I mentioned above that I have been in the middle of trading in an old MacBook Pro and a MacBook Air. I decided to trade both for credit towards a new 13″ MacBook Pro while they were offering their Black Friday discounts. I got my quote from PowerMax for the two older computers and ordered the new computer right away. I then had 30 days to send in the two trade-in computers so that they could credit my card for the trade. I sent the MacBook Air relatively quickly, but was getting close to the 30 day limit on the MacBook Pro. They called me to ask if I had changed my mind or if there was a problem. This gave me the push that I needed to get the MBP cleaned off and shipped in. I'm now waiting for them to receive it and credit my credit card some money back on the new MBP purchase which I've already been enjoying.
Working with PowerMax is hassle free and I think they offer a decent trade in value for older computers.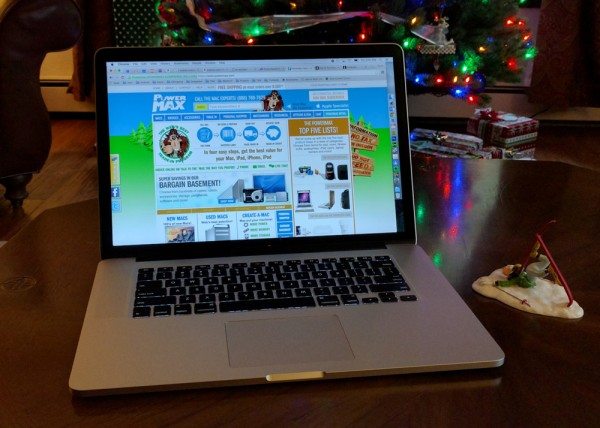 Dave: I was fortunate on multiple fronts, the first was I got the latest & greatest 15″ MBPro I wanted on PowerMax's Cyber Monday sale, saving an additional couple hundred bucks. Plus the fact I was on travel to the one city where they have a physical office (Portland) where they invited me to stop by to pick up my new MBPro in person. When I got home, I prepped my old MBPro, boxed it up, printed the return shipping label they provide and sent it into PowerMax for inspection. In less than 2 weeks, I had my credit put back on my credit card.
I completely agree with Julie, PowerMax is hassle free and offer a fair trade-in value for older computers. Much less effort, hassle, or risk of the Wild West that CraigsList can be. Their customer service it definitely friendly, courteous, and knowledgeable. There is no doubt in my mind that I will at least give them the opportunity to give me a quote next time I decide to update my tech-world.
Visit PowerMax for more info.