We use affiliate links. If you buy something through the links on this page, we may earn a commission at no cost to you. Learn more.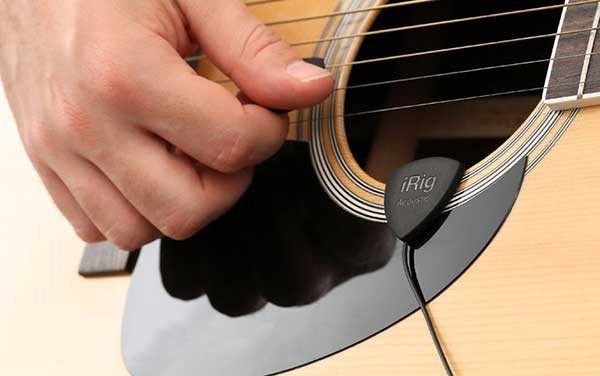 IK Multimedia who are well known for their electronic gear for musicians and hobbyists just announced a first. Their new iRig Acoustic is the first mobile microphone interface designed especially for acoustic guitars. If you're an acoustic musician, you probably use a stand alone mic positioned in front of your instrument when performing or recording. This setup works fine, but keeps you stuck in one spot unable to move around while you play. The iRig Acoustic is an acoustic microphone pickup that is made of a soft non-marring rubber material and installs without any instrument modification on the circular sound hole of any steel or nylon stringed acoustic guitar, bass, ukulele, etc. It is able to replicate the ideal mic placement to capture the full frequency range, tonal character and complex harmonics and overtones of acoustic instruments.
The iRig Acoustic plugs into your iOS or Android device's headphone with a standard 1/8" TRRS cable that also allows you to monitor your playing by using the female stereo output jack also included on the in-line cable. Plug your headphones into this jack for private practice and monitoring, or you can line out to a mixer or powered speaker for full stereo acoustic performance. You can also use the iRig Acoustic with IK Multimedia's AmpliTube Acoustic app. This app will let you calibrate and optimize the iRig Acoustic to allow the true sonic character of the guitar being played.
The iRig Acoustic is available now and is priced at $49.99 through IK Multimedia.