We use affiliate links. If you buy something through the links on this page, we may earn a commission at no cost to you. Learn more.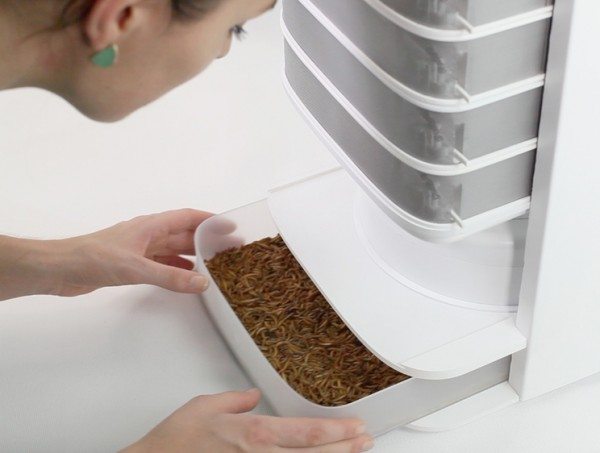 Remember the Gadgeteer news post about Farm 432? You know, the device you can use to raise your own black soldier fly larvae as a source of alternative protein to feed your family? Well, the same company that came up with that device (which is not available to the public), LivinStudio, now has a device called the Hive which is available to us via a Kickstarter project. The Hive is used to raise mealworms (the immature stage of a beetle called Tenebrio molitor) instead of black soldier fly larvae in your kitchen.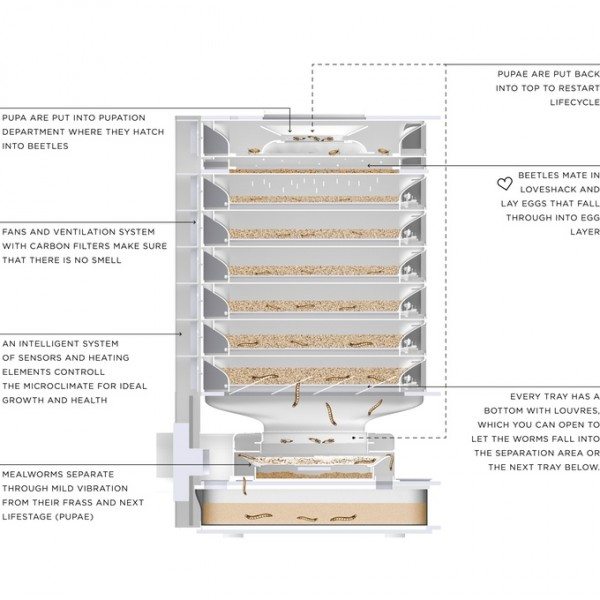 The Hive works by adding the pupal stage of the mealworm beetle (there are four stages of life for this insect: egg, larva, pupa, and adult) to the top chamber where they eventually "hatch" into the adult beetles. The beetles mate and lay their eggs. The eggs fall into the next chamber where they hatch into the first larval stage. Each week as the larvae grow, the worms travel to the next tray below. Each drawer of larvae can be fed kitchen scraps (e.g. oats and vegetable scraps) once per week. When they are ready to be harvested (once per week), they can be separated from their frass (insect waste) and other dry debris via gentle vibration with the push of a button. You must also clean out the debris once per week and place the new pupae in the top chamber to start the process over again. Initially, being able to harvest at a rate of once per week takes about 8-9 weeks.
Raising 200-500g of protein per week in such a small space is truly economical and sustainable with the Hive. With our current methods of protein production, "1/3 of valuable fertile croplands" are used to grow the grain needed to feed livestock and "80% of antibiotics worldwide flow into livestock production."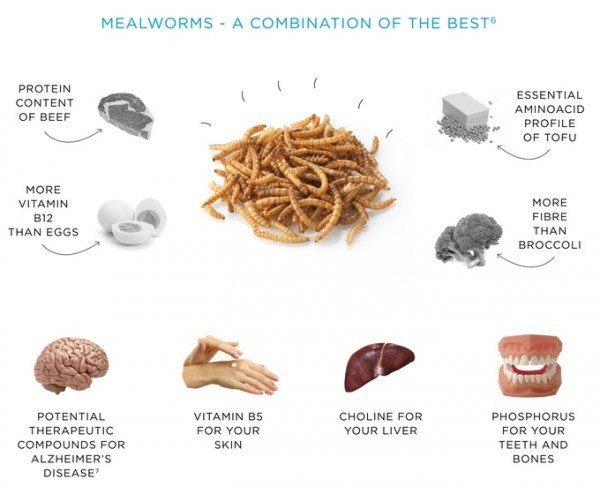 If we were to use insects like mealworms to replace livestock as our source of protein, we have the potential to vastly improve our diets as well. (Note: there are only about 2037 edible species of insects like the mealworm and black soldier fly larvae while others are not safe to ingest).
If you are intrigued by LivinStudio's Hive and think that you might like to try something like this (for your home or for your classroom), you now have the opportunity to support LivinStudio through Kickstarter (please be aware that the Hive is only available in the US, EU, Canada, and China). To show your support, you can donate as little as $1; to receive a 50g sample of mealworms to give eating insects a try you only need to pledge $25; or to receive your own Hive, you can make a pledge starting at $499. With this level of donation, you will also receive a starter kit of mealworms, recipes, and a manual. The fundraising will officially end by Friday, January 8, 2016, and the expected delivery date will be November 2016. Please visit the Hive Kickstarter page for videos and much more information.
If I had the money, I would purchase this product (to the chagrin of my family members). Yet, since I have never eaten insects (on purpose), I may donate $25 just to give it a try! 🙂