We use affiliate links. If you buy something through the links on this page, we may earn a commission at no cost to you. Learn more.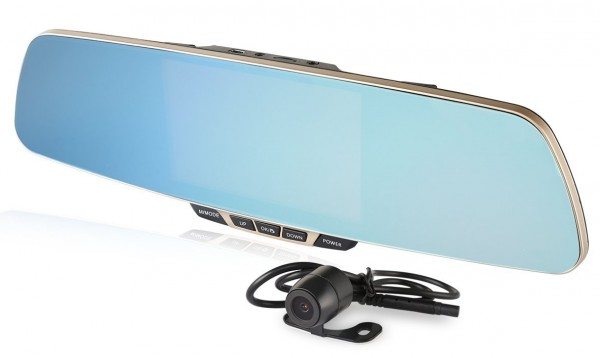 Let me start by saying that until I had this system installed, I had never once thought that I would ever want or need a Dashcam.  After several weeks using this ZeroEdge Dual-lens Car Camera , I am very happy that I accepted this opportunity to review this item (and had it professionally installed).  The system consists of a rather nice sized rear view mirror that is attached over your existing mirror.  In the middle of the mirror is a 5" diagonal screen that acts as the display for the forward-facing camera, as well as the rear camera (more on the rear camera later).
Now, what comes in the box?
ZeroEdge Car DVR Z2 (Rear View Mirror)
Water-proof Rear View License Plate Backup Camera
16GB TF Card
Connecting Cables of Backup Camera
Mirror wipe cloth
Mini USB Cable
USB Car Charger
User Manual
Specifications are as follows:
– Front view video resolutions (frame rate): 1920*1080 (25fps), 1280*720 (30fps)
– Rear view video resolutions (frame rate): 640*480 (30fps)
– Video format/Video encoding/Audio encoding: mp4/H.264/AAC
– Still picture/photo resolution: 1280*720 (1M), 1920*1080 (3M), 2560*1920 (5M), 3264*2448 (8M)
– Still picture/photo format: JPEG
– Display size: 5″
– Front view lens view angle: 120°
– External Storage support: Up to 32GB TF card
– Microphone for audio recording: Supported
– Internal speaker for playback: Supported
– Interface: Mini USB
– USB format: USB 2.0
– Battery: 650mAH internal Li-ion battery
– Max power: 1210mA*5V
– G-Sensor: Supported
– Supported computer operating systems: Windows XP and up and Mac OS X and up
– Dimensions: 12.8″*3.3″*0.5″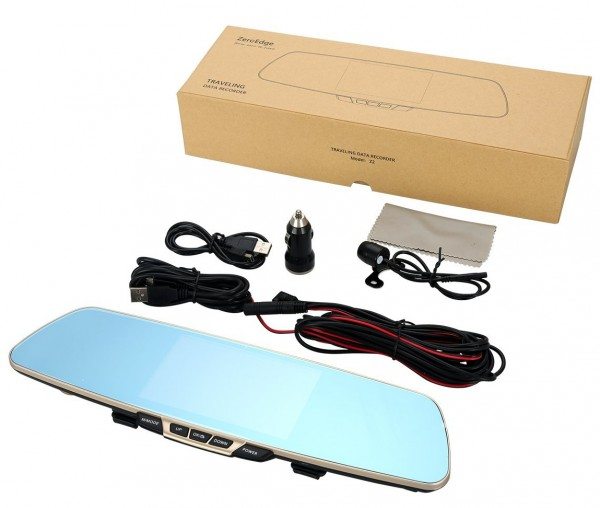 Installation of the ZeroEdge Dual-Lens Car Camera system can be easy or hard, depending on your skill, patience, and aversion to risk.  It also depends on how important aesthetics are to you.  Personally, after owning cars for almost 35 years, I know that messing with a car's electrical system if you are not a professional is like messing around with your computer's registry.  Meaning, it doesn't take much to make a small problem into a much larger problem.  Some of you may be perfectly comfortable installing this yourself (BTW, installing the mirror itself is pretty easy – the rear-view camera is trickier).  However, in my case, I had to also appease my wife by ensuring that the device didn't make the car messy and cluttered with lots of wires.   The below photo shows the front and rear views of the camera.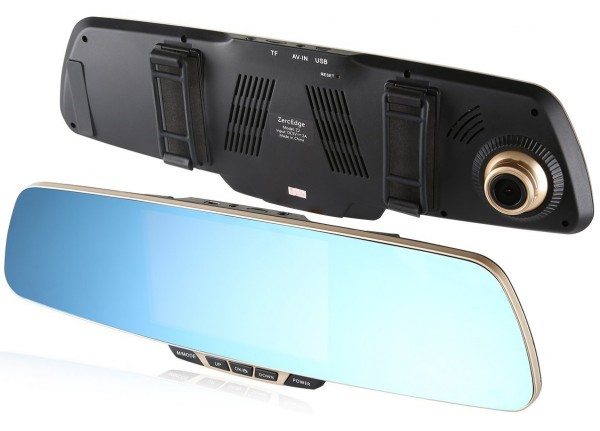 So what did I do?  I took my car to my nearest Best Buy and paid their Geek Squad to install this.  I won't lie – this was much more expensive than I thought to install.  Geek Squad charged me $219.00 total to install both the mirror and the rear-view camera.  But, as you can see from the below photos, the device looks factory installed.  If you go to Amazon.com's Web site, you will see several reviews online for this device and in all of the pictures, there are cables dropping down from the mirror to the USB Car adapter.  In my installation, the wires to the mirror go up the windshield, and to the driver's side and into the dashboard.  There is no need for the system to be plugged into the car charger port.  The rear view camera was installed over my rear license plate and has no wires showing at all.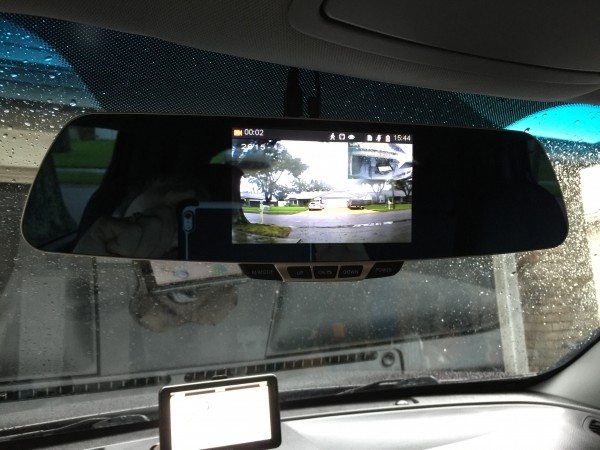 \
Now…back to my wife.  When I came back from Best Buy and I told her how much I spent getting the ZeroEdge Dual-Lens Car Camera installed, I thought she was going to have a stroke. To say she was angry would be an understatement.  All of that faded away when she got behind the wheel and started backing up and the back-up camera turned on.  She loved it.  She was also very impressed with the installation and the ease of use of the device.
Setting up the ZeroEdge Dual-Lens Car Camera is easy.  The system automatically turns on when the ignition is turned on.  You press and hold the M/Mode button all the way to the left, and the settings menu is displayed.  Here you scroll down and set the date/time, video quality (780p or 1080p HD), turn on/off the microphone, select the sensitivity of the movement sensor, set the time of the looping recording (2, 3, or 5 minutes).  Scrolling up and down the menu is easily done using the up and down buttons below the mirror.  Also accessible via the up and down buttons, are the view mode available to the user while driving.  That brings me to how is driving with the ZeroEdge Dual-Lens Car Camera system?
As I said earlier, the unit turns on automatically when you turn the ignition on.  When it turns on, the view on the mirror is from the forward facing camera, with the rear camera's view in a picture-in-picture on the upper right corner of the screen.  When you shift into reverse, the view changes to the rear view with the path behind you highlighted (see picture below).  For me, this one feature is priceless.  After seven major spine surgeries a few years ago, turning my ahead all the way around when driving in reverse When you shift into drive, the view shifts to forward facing.  You have four different view options.  Full-screen forward, full-screen rear, forward view with rear picture-in-picture, and rear with forward picture-in-picture.  The rear camera records and displays at 480p.  During daylight, I find that I have no problem seeing through the camera view and using the mirror as a mirror.  At night, however, the camera is quite bright and some could find it distracting.  It is definitely harder to use the mirror at night, but I have become quite used to it.  I drive with the full screen rear view on.  You can always turn it off if you find it too distracting.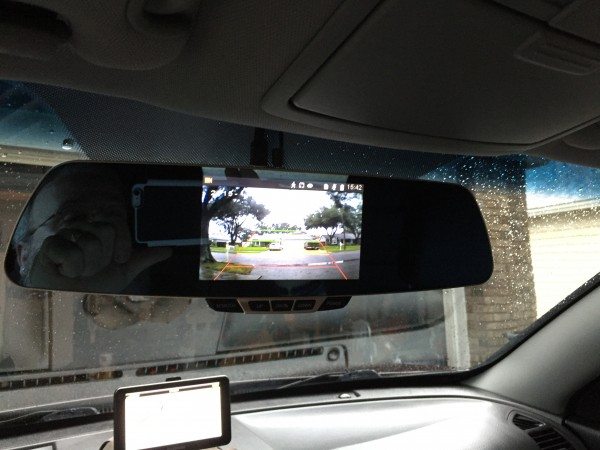 Below you will find a short video demonstrating the use of the system with the various camera views displayed.
The ZeroEdge Dual-Lens Car Camera comes with a 16 GB micro SD card (the system supports up to a 32 GB card), recording approximately 3 hours of video (1080p front view), longer if recorded a lower resolution, which you insert into a slot at the top of the mirror.  The system records video into two different folders.  One for the front facing camera and one for the rear facing camera.  Plugging the card into a computer just requires an SD Card adapter and an SD Card reader.
Here are some direct videos from the front camera:
 Night
2. Day
Here is a video from the rear camera as well:
I know that many of you might be thinking why do I need a dash camera or rear-view camera?  The truth is that you don't – but why wouldn't you get one?  Between all of the cases of insurance fraud and, shall we say, embellishment of the "facts" when it comes to encounters with law enforcement, wouldn't it be nice to have a visual record of events.  There is a reason why rear-view cameras are so popular these days and why some car manufacturers are starting to include this feature as standard equipment.  They reduce the risk of hitting something or someone.  A March 2014 study by the Insurance Institute for Highway Safety showed that back up cameras reduced the potential for accidents involving backing into someone by 90%.  I don't know about you, but I like that kind of statistic.
So what is my overall opinion of the ZeroEdge Dual-Lens Car Camera system?  I love it!  Granted, by the time you spend the $89.99 for the system and the up to $219.00 for installation, it is definitely an expensive add-on.  However, for those of us who don't have the means to purchase a new vehicle with this technology built in (BTW, if a rear-view camera isn't standard equipment, it is not going to be something you can get as an a la carte item, but will be included in an expensive option package).  Oh and if you get yours installed by Best Buy's Geek Squad, they guarantee the work, and if you get a new vehicle, they will uninstall everything without cost.
Sample provided by ZeroEdge via Amazon.com.  For installation, I suggest Best Buy's Geek Squad.
Product Information
Price:
$89.99
Manufacturer:
ZeroEdge
Retailer:
Amazon
Requirements:

Windows XP/Vista/7/8
Available charging port (unless you have it connected internally)

Pros:

Inexpensive
Great feature set for the money
Increased safety
Mirror provides increased field of vision

Cons:

Could get expensive to install
Some people might find the screen distracting at night