The Gadgeteer is supported by readers like you! If you buy something through links on our site, we may earn an affiliate commission. Thank you! Learn more.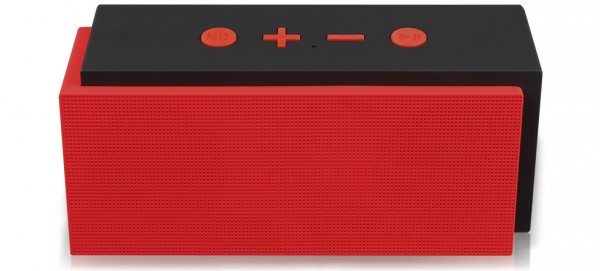 I'm always on the lookout for a great Bluetooth speaker. I have speakers that are waterproof and water-resistant, large and small, poor quality and high quality, but I have yet to own a speaker with an intergrated FM radio….until now. The Inateck MarsBox is a stereo Bluetooth speaker that has a built-in FM radio for those times where you don't have a data connection.
In the box
MarsBox speaker
Auxiliary cable
USB charging cord
Instruction manual
Specifications
Bluetooth 4.0
Dimensions: 7.3″ x 2.4″ x 2.4″
Weight: 1.5 lbs
Battery capacity: 2200 mAh
FM radio frequency: 76 – 108MHz
Bluetooth profiles: A2DP, AVRCP, HFP, SPP, DIS, FMP, HRP, HRS, HTP, HTS, IAS, LLS
Bluetooth range: 32 to 49 feet
Design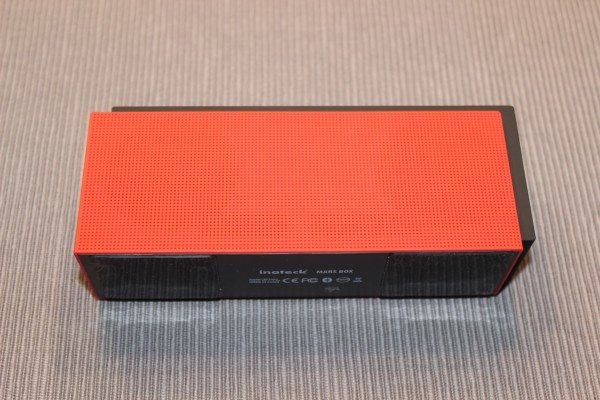 The MarsBox measures 7.3″ x 2.4″ x 2.4″ and weighs about 1.5 pounds, but it is still small and light enough to be considered portable. I'm not exactly sure what material the MarsBox is made of, but it's very soft and smooth. Although I like the way the MarsBox feels, I'm not sure it will stand up to repeated drops.
The top of the MarsBox contains a multi-function button, the volume buttons, a play button, and a microphone.
The back of the MarsBox contains the power button, a microUSB port, an auxiliary input, and a reset button/power indicator.
The MarsBox also has a LED indicator hidden in the speaker grill and two rubber pads on the bottom that keep it from slipping on whatever surface it's resting on.
I can't explain why, but I feel like the design is something I would find in the Back to the Future II version of 2015. I'm not saying it's ugly, but I think it's sort of hokey.
Function
It was very easy to pair the MarsBox with my phone; as soon as you power up the speaker, it enters into pairing mode. You then go into your phone's Bluetooth menu and select "Inateck MarsBox" from the menu.
Unfortunately, the MarsBox can only be paired to one device at a time. As a work around, you can put the MarsBox into pairing mode by holding down the multi-function key for several seconds, and then pairing a second device. This will disconnect your first device, but the MarsBox will still be "remembered" in your phone's settings. From there you can switch devices by connecting and disconnecting them from the phone's Bluetooth menu. It's not difficult, but I would prefer it if the MarsBox was able to automatically jump back and forth like some other speakers I own.
After you pair the MarsBox, it can be used to play audio or receive calls. The play/pause button does exactly what its name implies. Long pressing the volume keys adjusts sound levels, while a short press skips tracks. If you receive a call while using the MarsBox, you can answer it by pressing the multi-function button. You can later end the call by pressing the multi-function button a second time.
I've given up on trying to determine an exact battery life of Bluetooth speakers, they all seem to last several hours without issue. I did use the MarsBox while doing work on my kitchen over the course of two days. I would estimate that I used the speaker for at least eight hours without having to recharge it.
Sound quality
After using the MarsBox for several hours, I came away extremely pleased with its sound quality. Music was clear without a hint of distortion. Even after raising the volume to max, there wasn't a hint of compromise in sound quality.
For its size, the MarsBox is very loud. It may not be suitable for hosting a huge backyard barbecue, but it will be great for a small gathering or doing work in the yard.
As previously stated, the MarsBox can also function as a speakerphone. From my end of the conversation audio was excellent; however, my wife told me she had difficulty understanding me at times. The MarsBox should be okay for quick conversations, but I'm not sure it will be useful for long conversations.
FM radio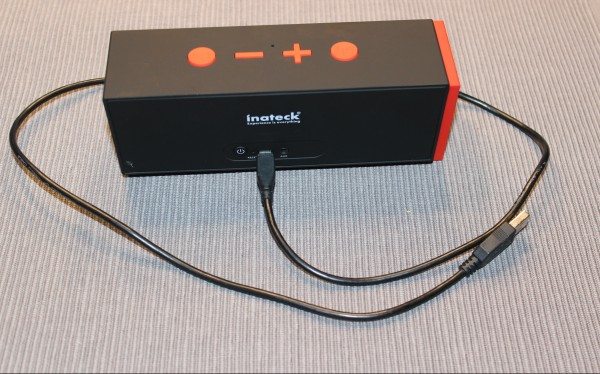 The one feature that sets the Marsbox apart from other speakers is its ability to function as a FM radio. When using the FM radio feature, the manual suggests you plug the charging cord into the microUSB port so it can serve as an antenna for improved reception. Next, you press the multi-function button to enter FM mode. After entering FM mode, you long press the play button to scan the available FM stations. When the scan is complete, pressing the volume button changes radio stations.
This is a pretty cool feature in theory, but not so great in practice. It took multiple attempts for me to get the speaker and USB cord in a position where I could receive an adequate signal. Once I was finally able to get reception, it was too hard to find my regular radio station. Without a dial or display, you are left to blindly try and find your desired radio station.
At this point, most radio stations have an app that you can stream their content through. It would be much easier to use the MarsBox to stream Bluetooth audio through a station's app than to try and locate its signal on the speaker.
Conclusion
I find myself somewhat ambivalent towards the MarsBox. I was really impressed with its sound quality, but not so impressed with its ability to function as a FM radio. At $49.99, the MarsBox is neither the cheapest nor the most expensive Bluetooth speaker available.
Ultimately, I think it really comes down to your individual needs. If you often find yourself in an area without a data connection, the ability to receive a FM signal may be just what you need; however, if you're just looking for a speaker that plays quality sound, you can get an adequate speaker for cheaper elsewhere.
Source: The sample for this review was provided by Inateck. Please visit their site for more information and Amazon to order one.
Support The Gadgeteer
:
The Gadgeteer is supported by readers like you! If you buy something through the links on our site, we may earn a small affiliate commission. Thank you! Learn more.