We use affiliate links. If you buy something through the links on this page, we may earn a commission at no cost to you. Learn more.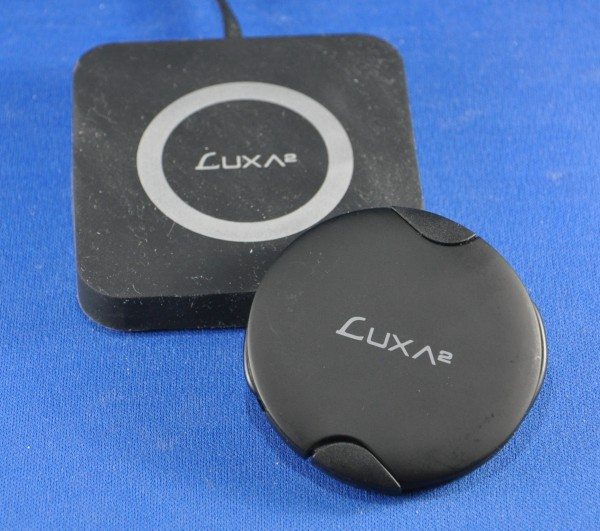 There have been many wireless cases, which add the ability to phones or tablets built without a charging system, but the folks at Luxa2 removed the case, and thus, freed up the idea of wireless charging for everything. 
I've been interested in wireless charging, just hearing the smack-talk from all the users of non-iPhones here and on other sites bragging about how nice it is to just set their device on a surface and not have to plug in any wires. I thought "Really, you can't be bothered to plug in a wire?" Then I got an Apple Watch, which uses a similar magnetic charging pad, and I discovered that this could really be an interesting new development! So when Julie offered the team the Luxa Wireless Charging Pad/Receiver, I thought – hhhmmm. "This could be interesting." Here's what I found.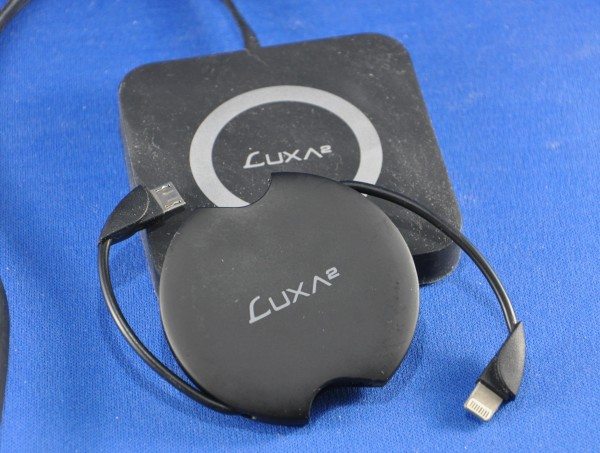 This kit from Luxa makes at least some of this pain go away. You still have to plug in the cable, but you don't have to be tethered to your computer when you do. And you can use other devices you may have that do have built-in Qi charging while waiting for your main devices to get this treatment.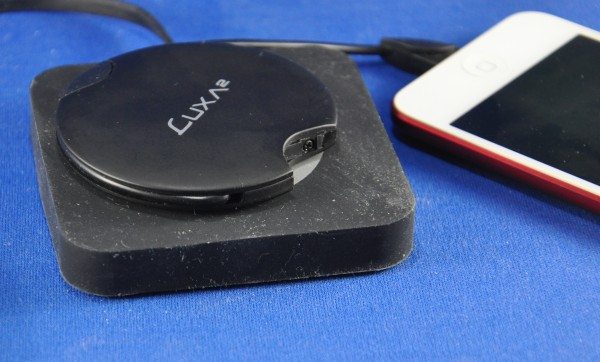 Here's how it works. There are two pieces: a charging pad and a receiver. The charging pad has a 3′ 10″ cable with a standard USB plug on one end and a pretty standard 3″ Qi charging pad permanently attached on the other. The second piece is a 2.5″ disc with both a microUSB and a Lightning cable attached, but tucked into slots on the side. Usage is pretty simple: leave the pad plugged into whatever USB port you'd use (a red LED on the edge opposite the cord will indicate it's connected), plug either cord into the thing you'd like to charge, and lay the disc onto the pad. The LED switches to a flashing green to indicate the connection to the disc.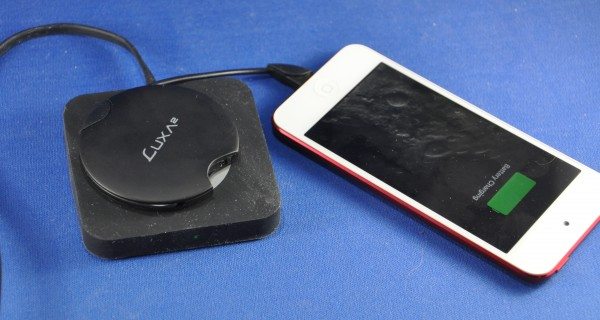 So, it's not that much better than just plugging in a USB cable, but, if you have some things that are Qi and others that aren't, it's a bridge to the future. Since the cords on the disc are so short, it's really not practical to use a device while it's charging, but if you're needing to grab the phone off the stand to answer a quick call or whatever, it'll prevent you from ripping the cord out of the plug. I really wish it was magnetic, though.
All told, it's not a bad little starter pack for anyone between both worlds. I could see sticking this in a conference room or waiting area or den to offer a wide array of charging options for guests. The disc could easily be stashed in a drawer near the pad (connected to a charger) to accommodate all but the most ancient of technology.
Source: The sample for this review was provided by Luxa. Please visit their site for more info and Amazon to order one.
Product Information
Price:
$49.99
Manufacturer:
Luxa2
Retailer:
Amazon
Requirements:

Anything that charges with Apple's Lightning cable or microUSB

Pros:

Qi standard which means easily upgrading to built-in wireless with new devices
Fast charging without having to leave device tethered to anything other than the charging disc
Works with Apple devices as well as microUSB

Cons:

Kinda clunky for charging
Two pieces means lack of portablity