We use affiliate links. If you buy something through the links on this page, we may earn a commission at no cost to you. Learn more.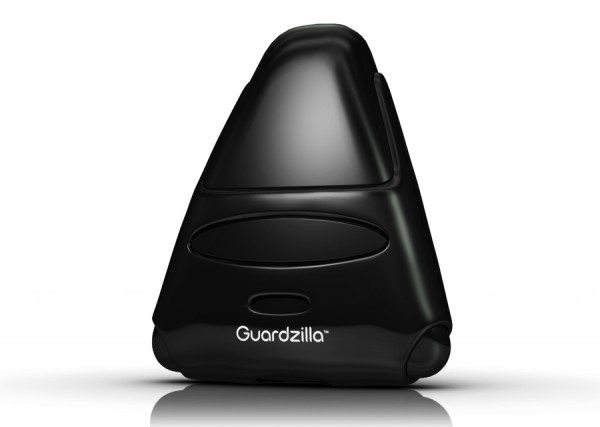 Since becoming part of the Gadgeteer team, I've had the opportunity to review a few wireless security cameras. As I've said before, I love the peace of mind they bring my family. I've attempted to use these cameras to create a patchwork home security system – with varying levels of success. What I truly need is an all-inclusive system that works without headaches. The Guardzilla is one such device. It bills itself as an all-in-one security system that's discreet and easy to use. Hopefully this is just the device I've been looking for.
In the box
Guardzilla unit
Setup guide
"Protected by Guardzilla"  window sticker
Specifications
Weight – 1.5 lbs
Dimensions – 5.50 x 4.50 x 10.50 in
Resolution – Standard definition 640 x 480
Field of View – 89 degrees
100 db siren
Nightvision
Design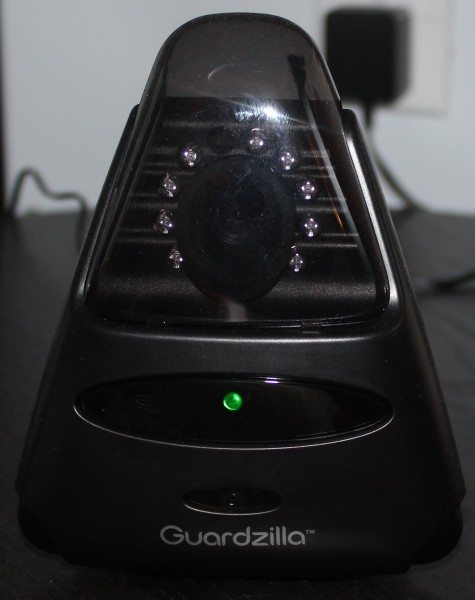 The front of the Guardzilla contains the camera, the night vision sensor and LEDs, a status indicator LED, and a microphone.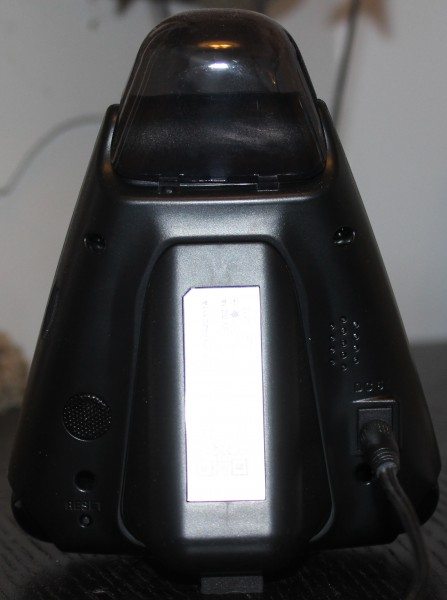 The rear contains the speaker, the power port, and a reset button. The silver strip on the back contains the model number, device number, device password, and a QR code; I left it blurred out for security reasons.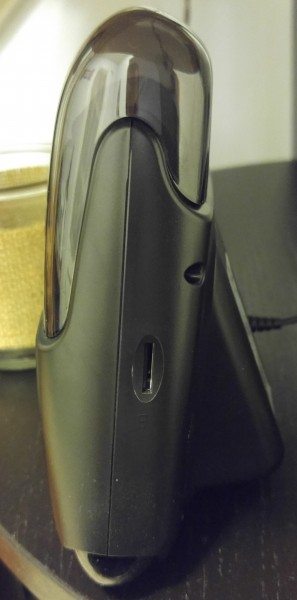 The side of the Guardzilla contains a microSD slot for recording security footage.
I like the way the Guardzilla looked; although, it does have a futuristic baby monitor vibe. There is nothing about Guardzilla that causes it to stand out; it could definitely be blended into the background if you want to be discreet.
Setup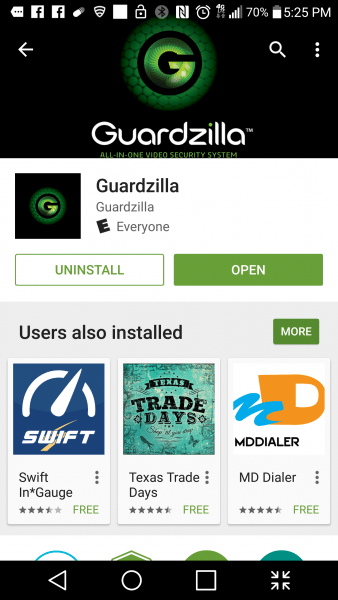 Setting up Guardzilla was very easy. The first step is going to the Play Store or App store and downloading its app.
Next, you launch the app and select first time setup. The app then explains the setup process and asks you to accept its Terms of Service.
The app then instructs you to connect to Guardzilla's Wi-Fi network. After connecting, you are prompted to create an account, name your device, select your personal Wi-Fi network, and enter its password. The app then attempts to connect to Guardzilla. Once it connects, setup is complete.
Setup is extremely easy, the app does a wonderful job of walking you through it. Even the most tech illiterate person should be able to set up Guardzilla without difficulty.
Function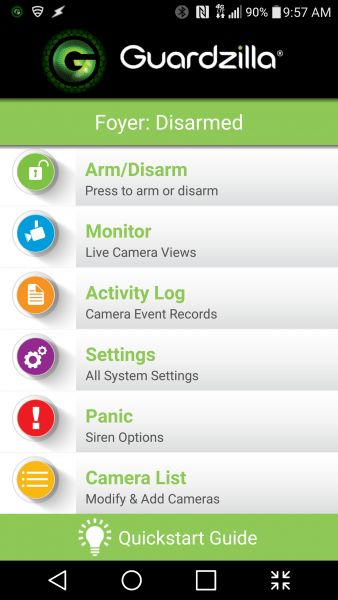 Once you've set up Guardzilla, it's very easy to use. Opening the app brings you to the above screen where you can access all of its features. The app is well designed and everything is easy to use.
Arming the device is as simple as pressing the Arm/Disarm button. Depending on your settings, the app will then begin a countdown until the device is armed. While counting down, your phone will vibrate. This should keep you from accidentally arming your device.
Once your Guardzilla is armed, it will alert you any time it detects motion. It can notify you three different ways, by text, by email, and through push notifications. Motion detection will also activate Guardzilla's 100 decibel siren.
After receiving an alarm notification, you can go to your activity log and click on the alert. You will then be shown a picture of the person or thing that activated the alarm.
Guardzilla is also capable of providing live views, whether the device is armed or disarmed.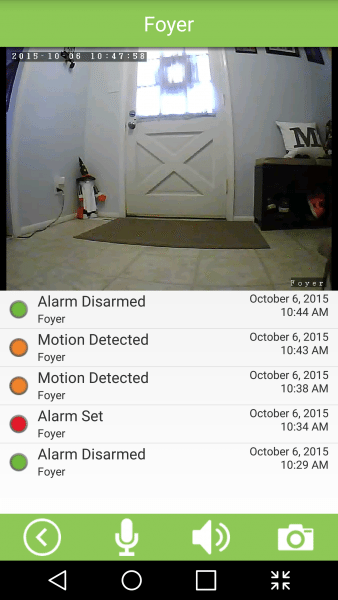 Viewing a live feed in portrait mode provides a smaller view, but also lists your device's activity log. From here you can also speak to someone through Guardzilla, listen to audio, or take a snapshot.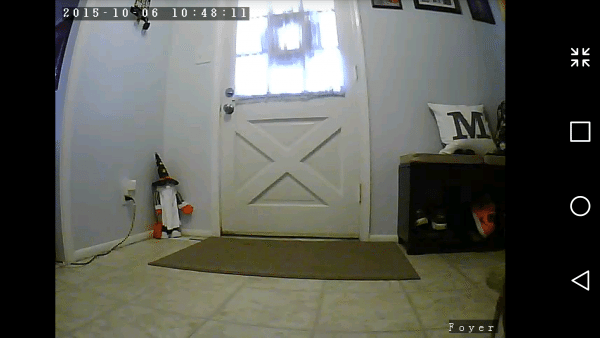 Switching to landscape mode provides a full-screen view of the live feed.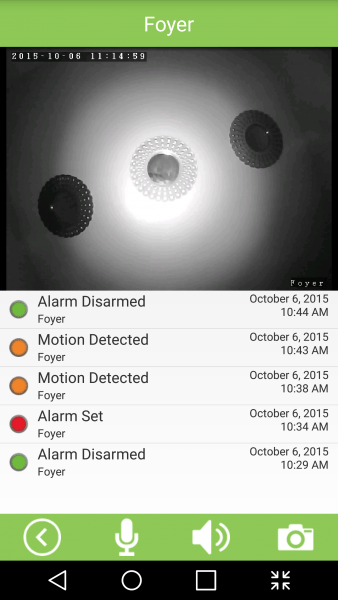 The system is also capable of automatically switching to night vision in the dark or at night.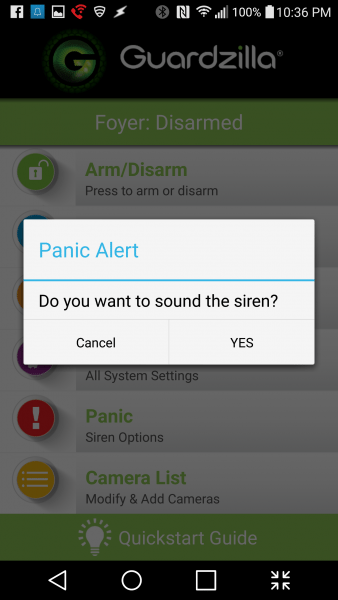 Lastly, the Guardzilla also has a panic mode that you can use to immediately sound the siren. This is a very useful feature if you are home alone and hear a suspicious sound, but don't have your alarm armed.
The siren is very loud; it should be more than enough to scare away prospective criminals.
Additional features and settings
Aside from its basic functions, Guardzilla comes with several useful features and customizable settings.
These features are self-explanatory and I don't think there would be any use in me going into detail about them. That being said, I did tinker with these settings; they all worked exactly as expected.
The Guardzilla also has an Auto Arm feature. This is a very unique feature and one I haven't seen before. Basically, the app remembers your home's GPS location and uses your phone's GPS to determine when you come and go. Any time it determines you've left your house, it automatically arms the system. When you arrive back home, the system automatically disarms.
In theory, it's a wonderful feature; however, it doesn't always work in practice. I found when I went into rooms in the farther reaches of my residence, the system would arm even though I was still home. With two young children running around my house, this is a pretty big problem for me. It creates the potential for my children to accidentally set off the alarm even though I didn't intend to have it armed.
I imagine most people would run into similar problems if they had to mow their lawns, work in the yard, wash their cars etc. I think a better solution would be the ability to use the app to draw a safe zone around your residence. Any time you left the safe zone, the app would then arm the system.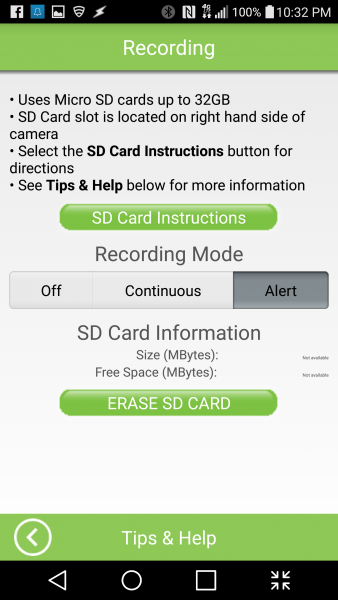 Guardzilla also has the option to store recorded video to a microSD card. Unfortunately, I wasn't able to take advantage of this. The device only allows you to use cards up to 32 GB, but the only microSD card I have is 128 GB. Since my last few phones have all had at least 32 GB of internal memory and cloud storage is extremely cheap, I haven't felt the need to purchase any additional microSD cards. In fact, the only reason I have the 128 GB card is because it was part of a promotion when I got my G4.
Conclusion
Guardzilla works very well. During my time testing it, I never received any false alarms. Additionally, when the alarm was activated, it would immediately detect motion, sound the alarm, and notify me by phone. I found the system to be extremely reliable.
While Guardzilla only provides standard definition resolution, it provides a very clear picture. Obviously, you aren't going to get the same quality picture you would from a high definition camera, but it should be more than enough to identify a burglar if you were unfortunate enough to experience a break-in.
During my time testing it I only had two issues. One, as I said before, the auto arm was very unreliable; however, this could be easily remedied through a software update. Second, there is no widget or smartwatch app that you can use to arm the system. I would love to be able to arm/disarm the system quickly, without having to open the app.
Overall, I was very impressed with Guardzilla. I found it to be an excellent all-in-one system and am seriously considering purchasing a second one to monitor my home's rear-entry door. At $99.00, anyone interested in a reliable, all-in-one security system should consider Guardzilla.
Updates 03/01/16
We stopped using this shortly after the review was published. At first we loved it, but we couldn't get into the habit of disarming and arming the device. Eventually we forgot about it and it began to collect dust.
Source: The sample for this review was provided by Guardzilla. For more information please visit their site and Amazon to order.

Product Information
Price:
$99.00
Manufacturer:
Guardzilla
Retailer:
Amazon
Requirements:
Pros:

All-in-one
Easy setup
Reliable

Cons:

No widget support
Standard Definition