We use affiliate links. If you buy something through the links on this page, we may earn a commission at no cost to you. Learn more.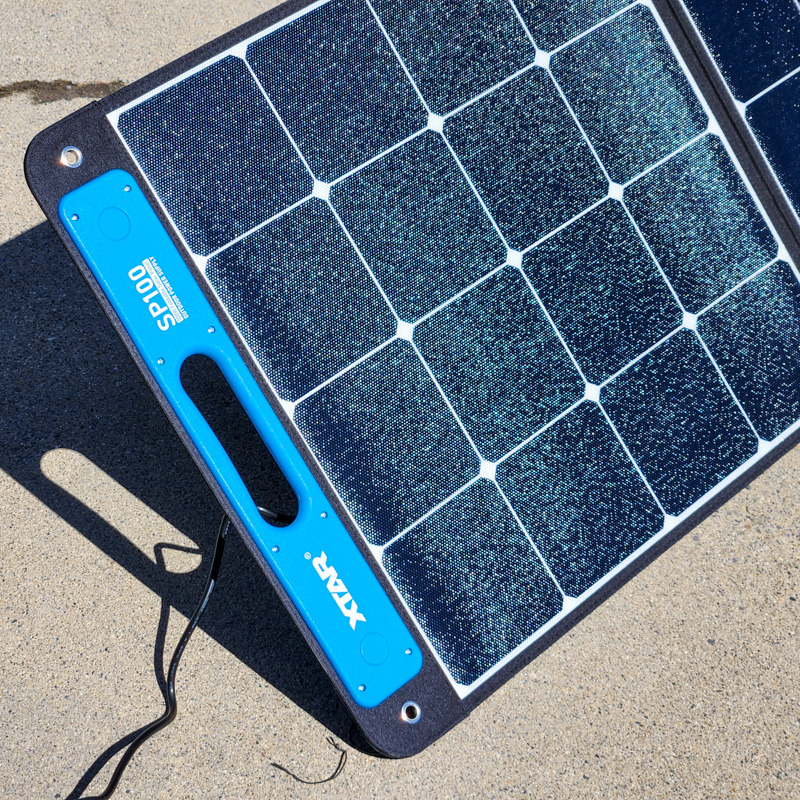 REVIEW – There are quite a few uses for solar panels, especially portable ones. You could combine them with a power station to create a "solar generator" system that can power things while recharging during the day and then continue powering overnight. Or you can harness the power of the sun directly to power or recharge a device. Whichever route you go, the XTAR SP100 looks to be a good option if you need up to 100 watts of solar power in a portable package.
What is it?
The XTAR SP100 portable foldable solar panel is a portable foldable solar panel, capable of charging things via DC, MC4 (Anderson), or USB connecti0ns. It can be unfolded and freestanding on pop-out legs, or can be attached to a wall, roof, or tree with the metal built-in grommets.
What's in the box?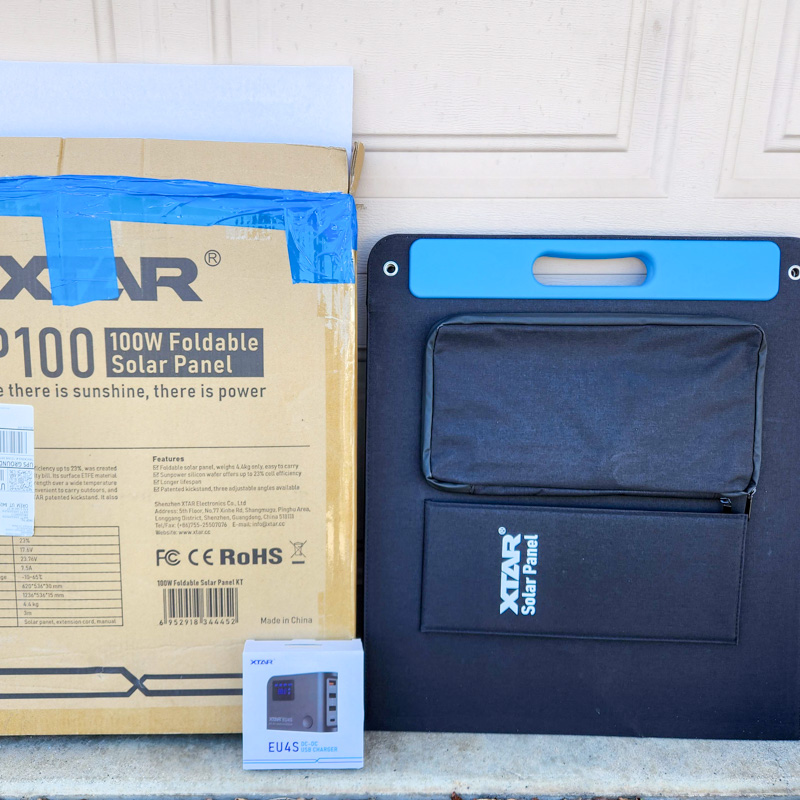 XTAR SP100 portable foldable solar panel
Manual
(depending on which variant you get, it will also include the options you choose like the EU4S USB charger or a Y-splitter to connect multiple XTAR solar panels to a power station)
Hardware specs
Peak power: 100W
Power Voltage: 17.6V
Power Current: 6.25A
Cell Efficiency: 21.5-23.7%
Open Circuit Voltage: 23.76V
Short Circuit Current: 7.5A
Weight: 9.7 lbs
Dimensions (folded) 24 x 21.1 x 1.2 inches
Lifecycle: 10+ years
Operating Usage Temperature: 14-149 F
Output: DC7909 8mm
Output with optional EU4S box: 1x PD3.0, 1xQC3.0, 2x USB 2.4A)
Protections on optional EU4S box: Over-charge, Over-current, Over-voltage, Over-temperature, Over-discharge, Short-circuit Protections
Warranty: 24 months
Design and features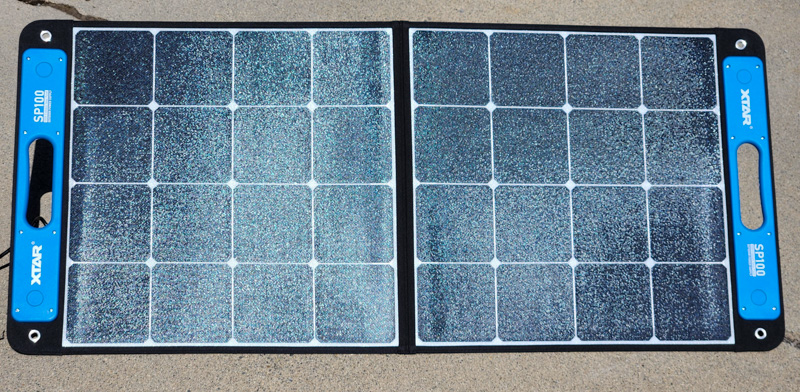 When unfolded, the XTAR SP100 portable foldable solar panel is roughly 4 feet by 2 feet.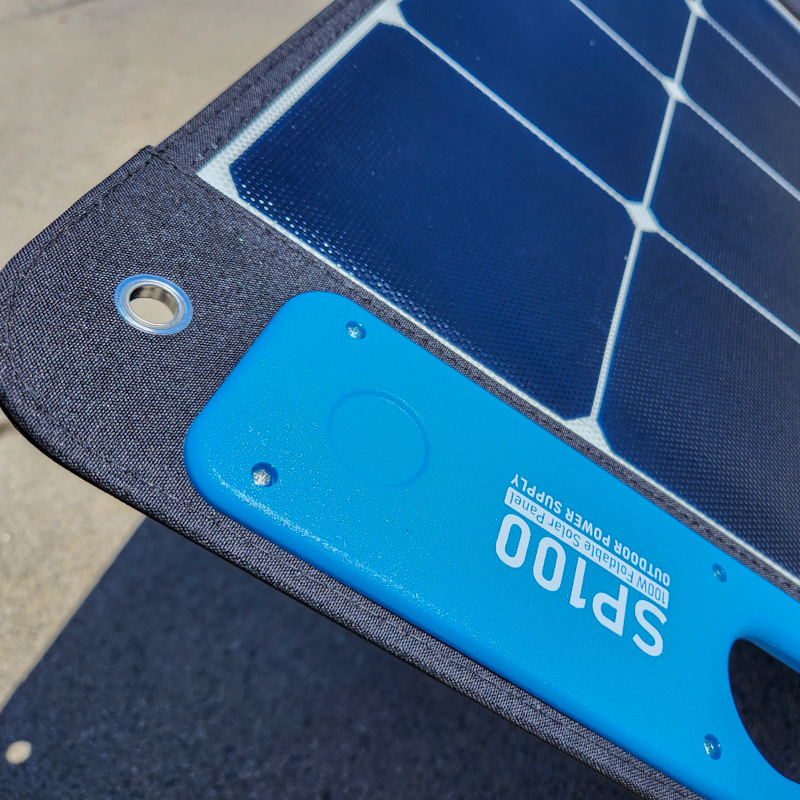 Metal grommets adorn each corner, and the sturdy plastic handles are on either end.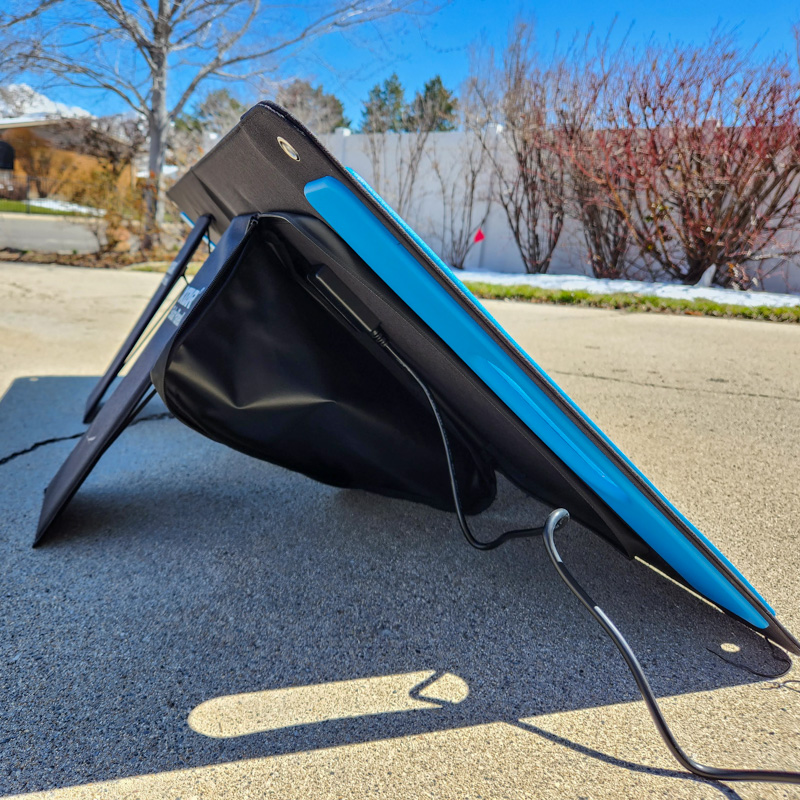 The two kickstands are attached on one end with velcro and easily adjust to help get the best angle towards the sun.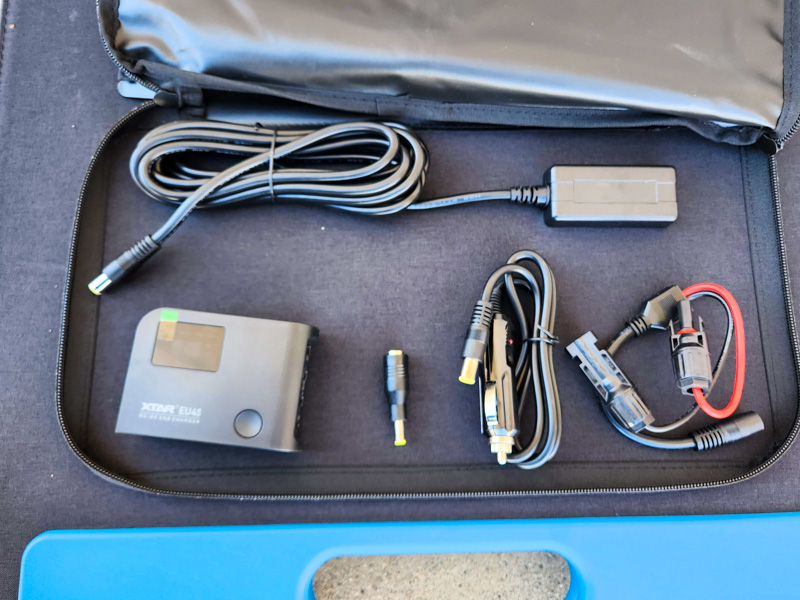 A weather-protected pocket houses the 3 meter cable and can be used to store the included three attachments (DC to Car, DC 5525mm, and MC4 attachments) as well as any extras you chose like the EU4S USB charger.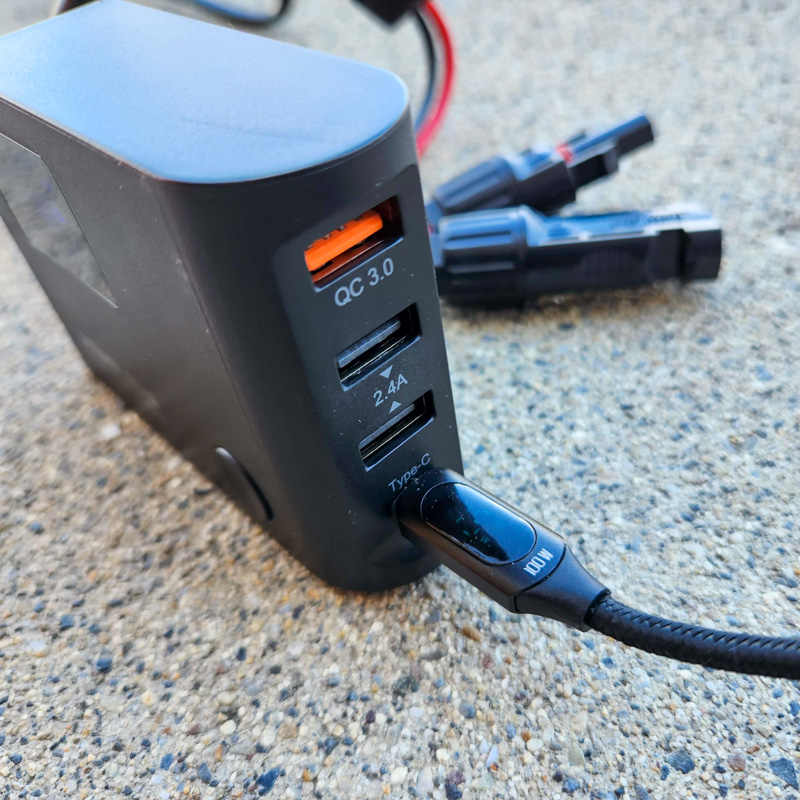 Speaking of, the EU4S adds about $20 to the total price, but if you want the convenience of plugging in anything from a standard USB-A cable at 2.4 amps up to Power Deliver 3.0 USB-C, it's worth it. You get 4 total ports, with up to 100 watts spread between them (the bulk going to the Power Delivery USB-C port).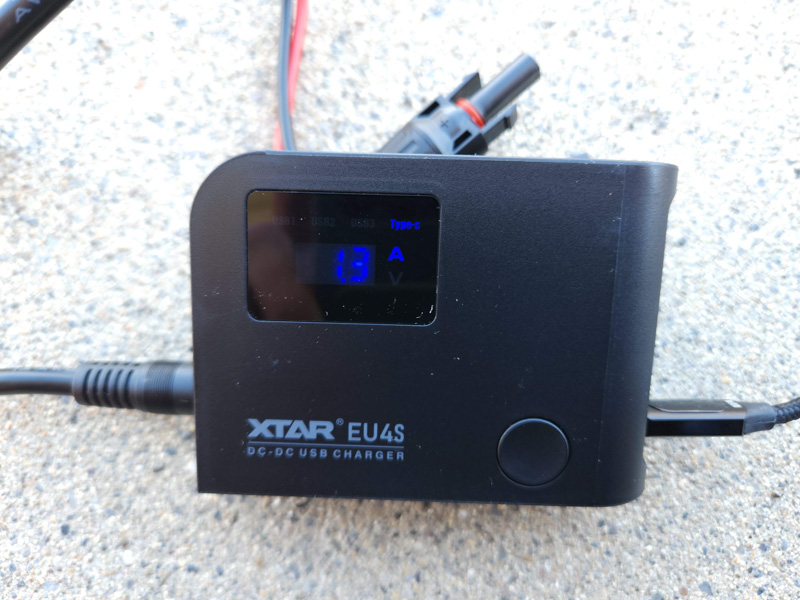 As an added bonus, you can power this with the included car-to-DC cable instead of the solar panel, allowing for Power Delivery and USB charging in your car/RV/etc.
Performance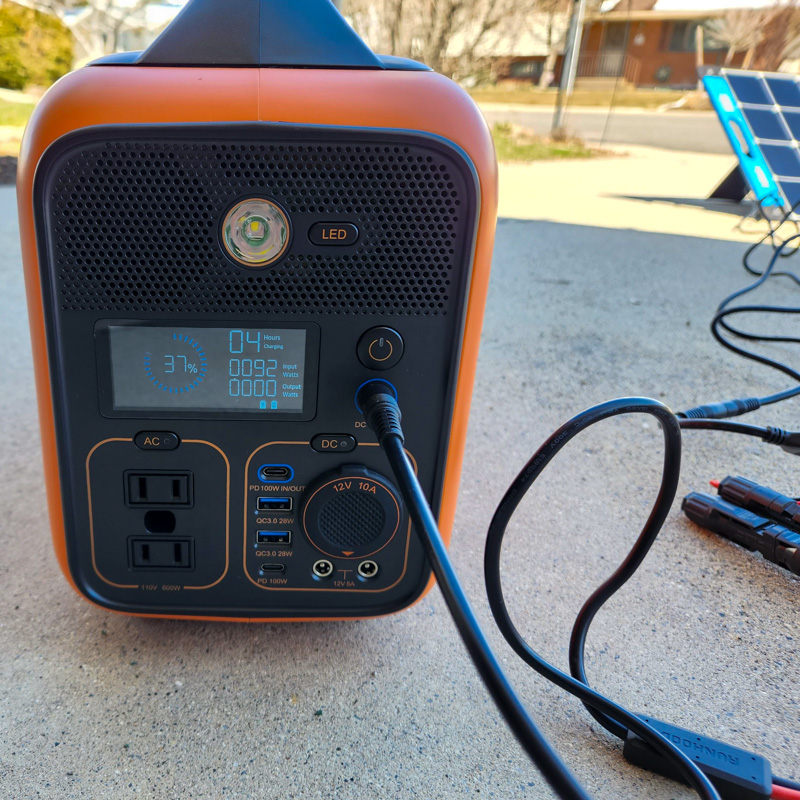 I was expecting about 50 watts maximum from the XTAR SP100 portable foldable solar panel, so I was surprised when it hovered consistently between 90 and 100 watts on a cold April day (I'm far enough north that solar panels are often gathering only half the power they're rated for on sprint/winter/fall days).
It was easy to position the XTAR SP100 portable foldable solar panel towards the sun, and the generous 3-meter cable length lets you place whatever you're charging fairly far away.
What I like
Great performance
Compact and portable (under 10 lbs)
What I'd change
Maybe a clasp or lock of some sort for the handles? You naturally grip both while transporting it, but when resting against a wall or object it can fall open since there's nothing securing it.
No weather resistance rating is listed on their website, which worries me if you're trying to set this up for longer term or semi-permanent installations (like at a cabin).
Final thoughts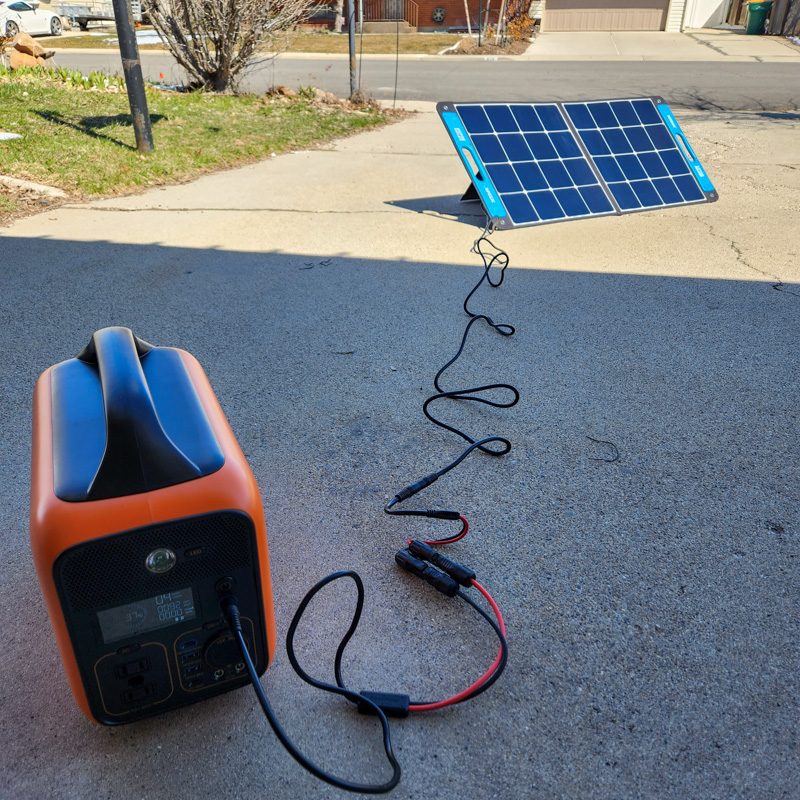 The XTAR SP100 portable foldable solar panel is a better performer than most (all?) of the other solar panels I've tested so far. It's compatible with a wide variety of portable power stations, and with the EU4S USB charger you can even use it standalone for a lot of devices.
Price: $299.99 (on sale for $284.91 at the time of review)
Where to buy: XTAR and Amazon
Source: The sample of this product was provided by XTAR