We use affiliate links. If you buy something through the links on this page, we may earn a commission at no cost to you. Learn more.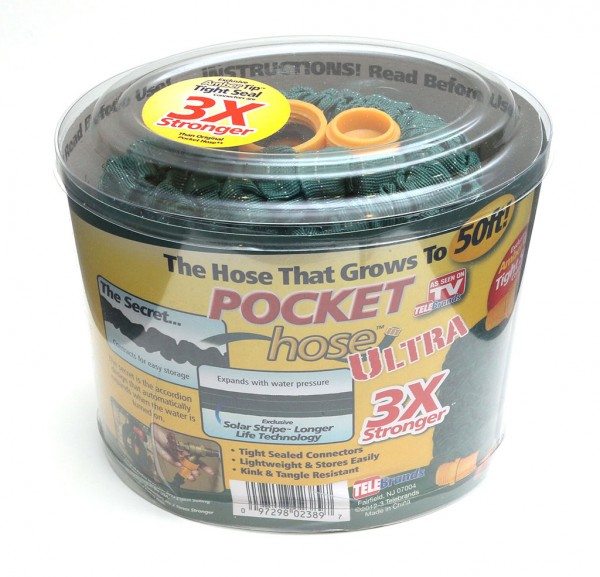 I'm approaching this review of the Pocket Hose Ultra differently than I usually do with my other reviews. I'm going into it knowing that I will need to make at least 2 more updates before I'm able to form an opinion or make a recommendation to buy this item. We see a lot of  "As seen on TV" products while we're watching television and while our initial reactions might be good, that doesn't always continue after long term use of the product. This first part of the review will talk about the Pocket Hose and provide a quick video demo. In a few weeks I'll follow up with some more thoughts after having used it awhile and then later in the season, I'll finish the review with my final thoughts. Let's get started.
Note: Images can be clicked to view a larger size.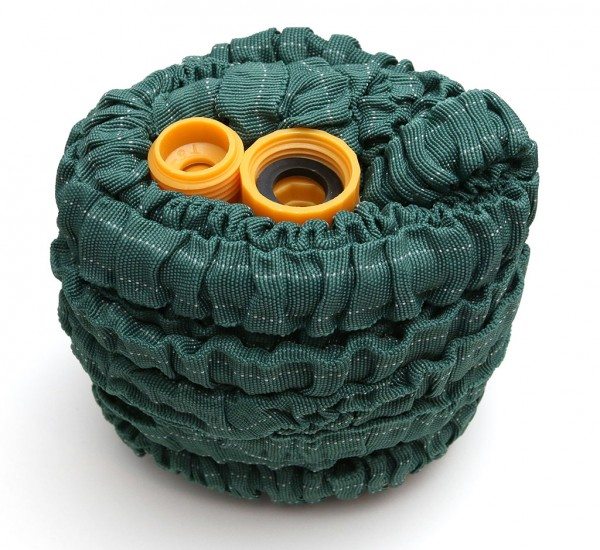 I've seen the commercials for the Pocket Hose on TV and always wondered if they were worth buying. I was happy to accept a sample of the Pocket Hose Ultra 50ft version when it was offered to me for review.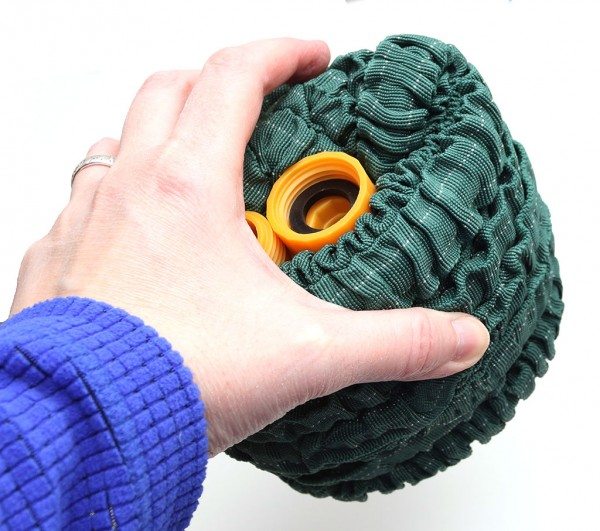 The Pocket Hose Ultra arrived in a small-ish plastic bucket. I wondered how the heck 50 feet of garden hose could fit into such a small container. Removing the hose and holding it in my hand reminded me of those compressed t-shirts that you sometimes see.
The Pocket Hose is also available in 25, 75 and 100 foot versions.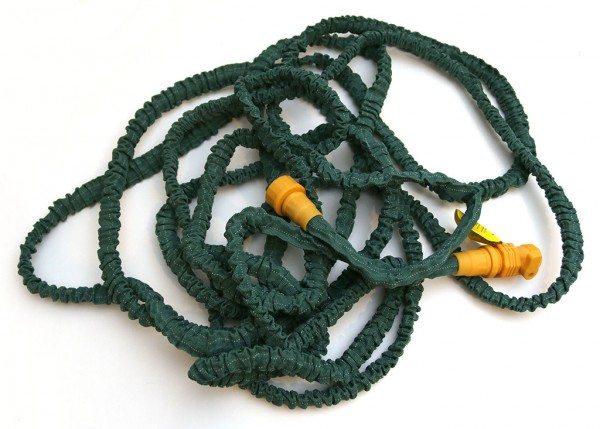 The hose unraveled into a light weight, easy to carry, crinkled coil of hose. My initial thoughts were favorable because I hate having to wrestle traditional hoses, which can be heavy and awkward to handle and carry.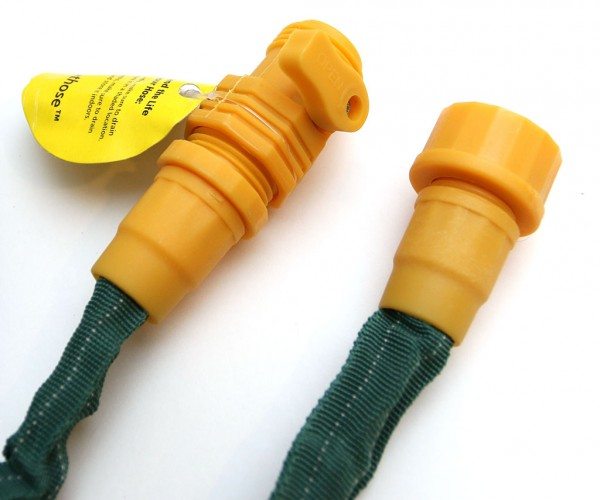 The hose has a green fabric cover that feels like canvas and protects the hose from damaging UV rays from the sun. The cover protects the elastomer hose that expands under water pressure. Note: The hose should only be used outdoors with under 80psi of water pressure. You should not use this hose with a pressure washer.
Each end of the Pocket Hose has what they call an AmberTip tight seal connector. These are hard yellow plastic threaded connectors.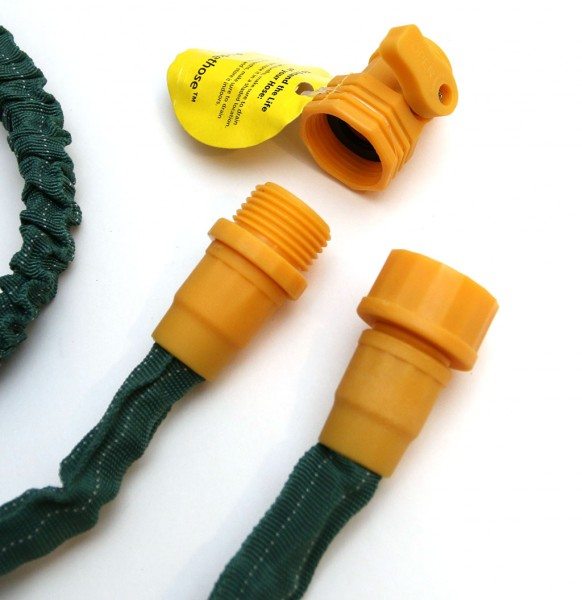 One end is male and the other end is female. The female end connects to your outdoor water spigot. The  male end has a removable adapter with a shut-off valve.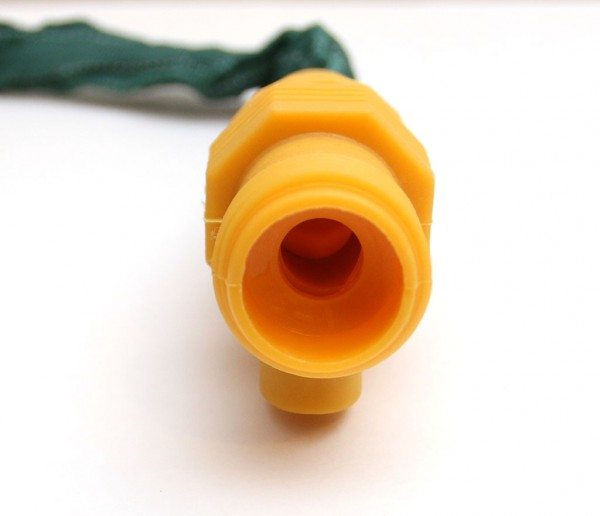 In the On position, water will flow out of the hose.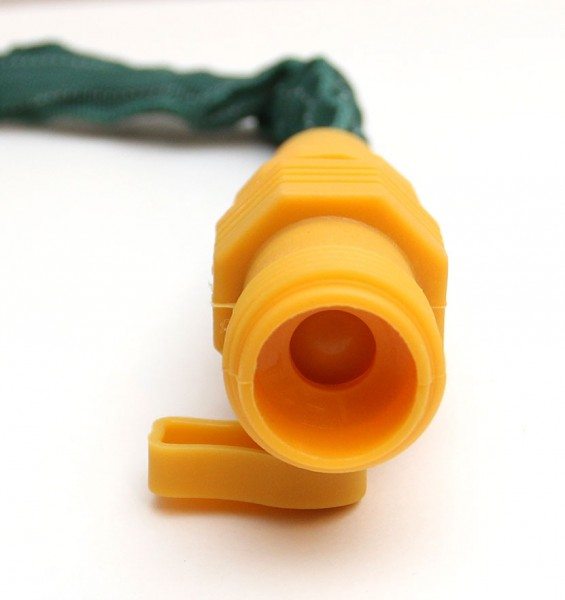 The water will not flow when the adapter is in the Off position. This adapter can be removed to attach a spray nozzle.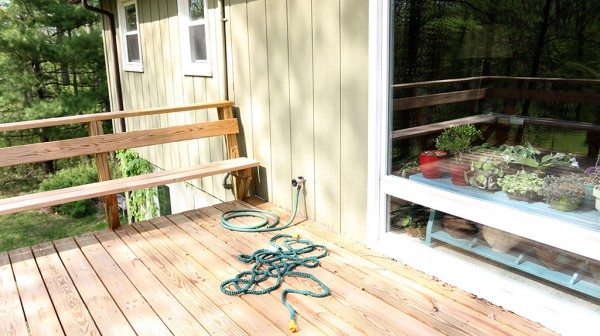 I didn't measure it, but the 50ft hose is supposed to be about 17ft when it's contracted and only weighs about a pound.
Here is a quick video showing my first time using the Pocket Hose Ultra.
05/06/14 First impressions: Light weight, easy to coil up when contracted. The shut-off valve does leak a little as you were able to see in the video. I also noticed some slight leaking on the spigot end too. So far it gets a thumbs up.
In a couple weeks I'll update the review to reflect how it holds up after day-to-day use watering flowers and other things. Then later in the summer, I'll follow up with my final thoughts.
05/13/14: We've been using the Pocket Hose for the past week and so far it's working like a champ. We've unhooked it several times from the spigot and added a spray nozzle to the other end. The plastic fittings have not cracked and we're not having any leakage issues.
10/29/14: We've been using the Pocket Hose all summer and it's still working fine with no leaks or broken fittings. However it's no longer retracting all the way when you turn off the water and drain the hose. This is most likely due to the fact that we have left it connected to the spigot all summer. Sun and weather might have caused this issue. The hose is still easier to coil than most hoses we've had over the years.
05/25/16: The Pocket Hose Ultra finally died after 2 years of service. We didn't baby this hose. It was left out in the sun for two summers and thrown in an unheated garage for two winters. Last night Jeanne came in to the house to tell me that she just had just had some "fun". Apparently she was using the Pocket Hose with an attached spray nozzle to water her plants when she felt something move near her hand. She looked down and noticed a big bulging green balloon near the spray nozzle connection point. Before she was able to do anything, the balloon burst and this was what was the result: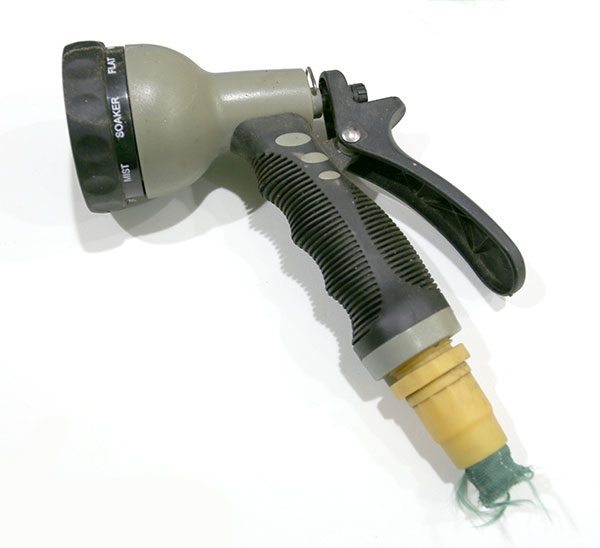 FYI: The newer Pocket Hose with the brass hardware which I reviewed last summer is still going strong.
For more info about the Pocket Hose Ultra, visit Telebrands.

Product Information
Price:
$12.99 - $39.99 (price depends on hose length)
Manufacturer:
Telebrands
Pros:

Light weight
Easy to store

Cons:

Shut-off valve leaks a little