We use affiliate links. If you buy something through the links on this page, we may earn a commission at no cost to you. Learn more.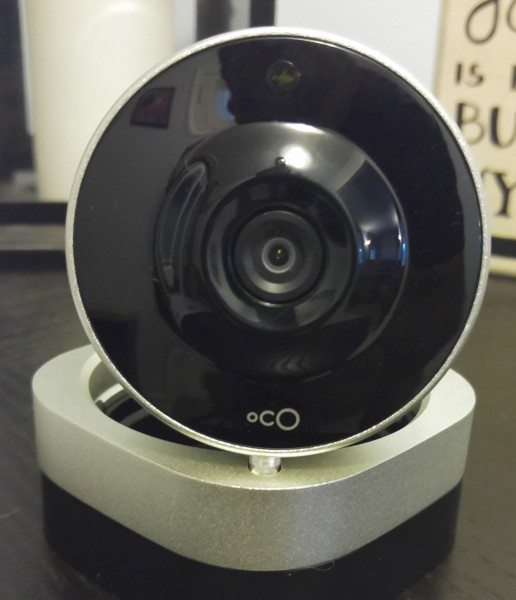 As I'm sure I've stated before, I'm a pretty huge fan of the Internet of Things and smart home technology; however, my number one priority in life is keeping my family safe. Fortunately for me, I get to combine these two things by using home security cameras. I currently own two Foscam's, but they aren't high definition and I've been looking to upgrade. Luckily, I'm apart of The Gadegeteer team and was offered the opportunity to review the Oco camera, a high definition security camera.

In the box
Oco camera
Wall mount
2 screws & wall anchors
Flat USB cable
Power adapter
Quick start guide
Technical Specifications
Video resolution: 1280 x 720 px
Frame rate: 25 FPS
Viewing angle: 120º
Image sensor: 1/4" CMOS
Pixel size: 3um x 3um
Wireless network: Wi-Fi, 802.11 b/g/n
Wireless security: WEP / WPA / WPA2 / WPA-PSK / WPA2-PSK
Compatibility: Android / iOS / Windows / MacOS
Operating temperature 14ºF ~ 122ºF / -10°C ~ +50°C
Storage temperature -4ºF ~ 140ºF / -20°C ~ +60°C
Operating humidity ~ 15-85%
Built-in microphone
Motion detection
Dimensions: 3.68 x 3.49 x 1,61 in. / 93.5 x 88.7 x 41 mm
Weight: 6.7 Oz / 190g
Power supply MicroUSB 5V
Consumption current: 270mA (IR LED OFF) / 490mA (IR LED ON)
Design
I was very impressed with the Oco camera's design; it was surprisingly sturdy for an indoor camera. The base and side of the camera are metal, while the front and rear are plastic. If you are planning on placing the camera on a table or nightstand, it should survive any bumps or even a potential fall.
The camera is attached to the base by a metal rod which has a bearing attached to the end. This provides 360° of rotation and 90° of back and forth motion, allowing the camera to be aimed in just about any direction.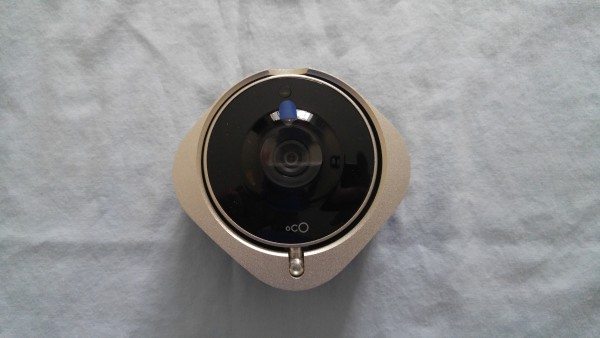 The front of the camera contains the lens, a light sensor, a LED, and IR sensors.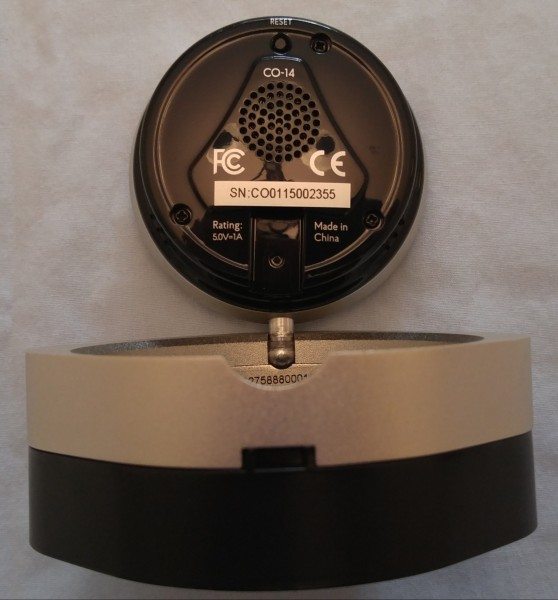 The rear of the camera contains a microUSB port, reset button, and a speaker.
Never miss one of our posts again. Sent MON, WED, and FRI with the latest gadget reviews and news!
Somewhere hidden on the camera is a microphone, but I wasn't able to find it; however, it worked just fine when tested.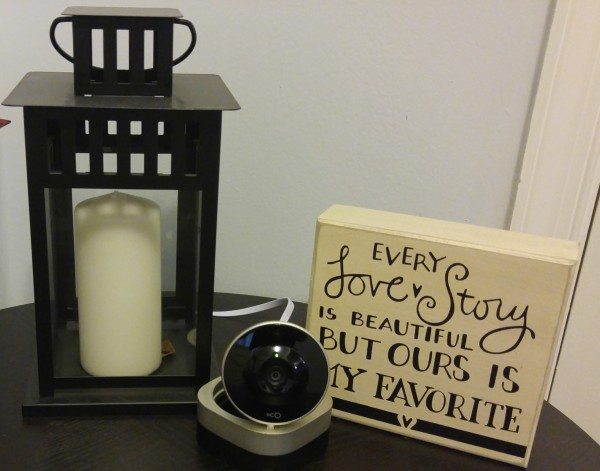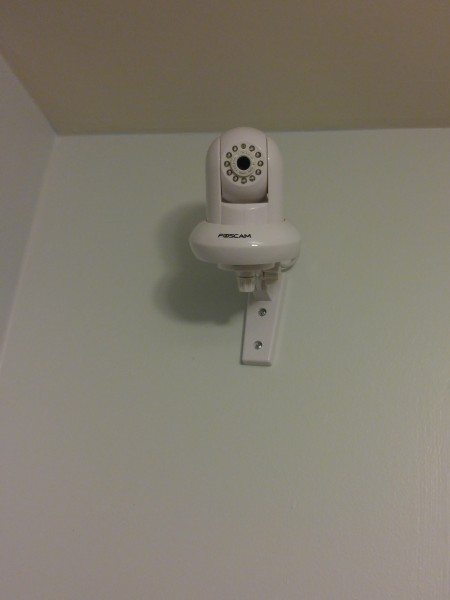 Visually, the Oco camera is much more appealing than my Foscam. With a little effort you could probably blend it into the background; however, my Foscam looks like something you'd see watching over a convenience store.
Setup
Setting up the Oco camera was extremely simple. First you download the Ivideon app from either Google Play or the App store.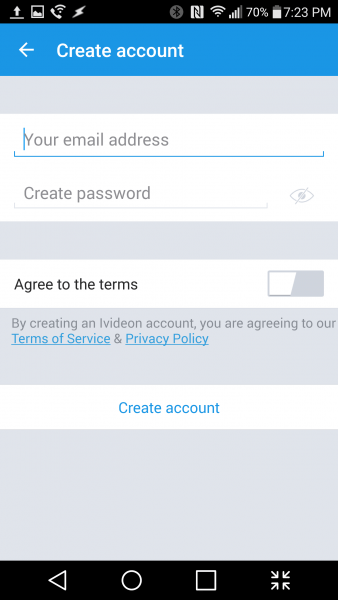 After downloading the app, you create an account with Ivideon. This will allow you view the camera from a web browser if you don't have your phone handy.
You then add the camera to your Ivideon account. To do this, you click the add camera button and are guided through an easy setup process.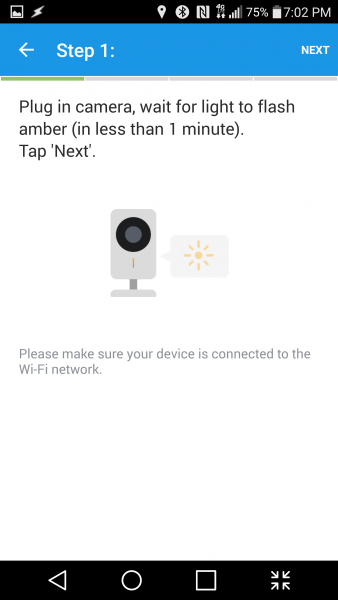 Next, you power up the camera and wait for the LED to flash amber. The Oco camera comes with a 9.75 foot power cord; you shouldn't have any issues finding an accessible receptacle.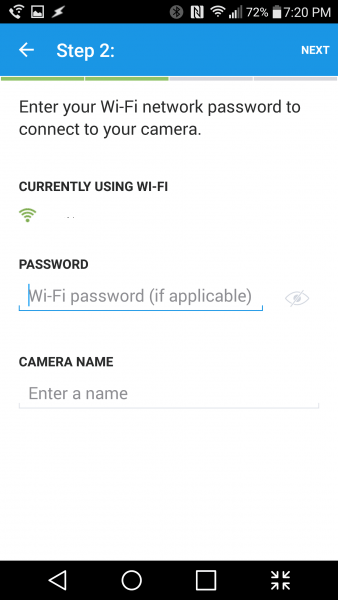 Now you enter your home's Wi-FI information into the app.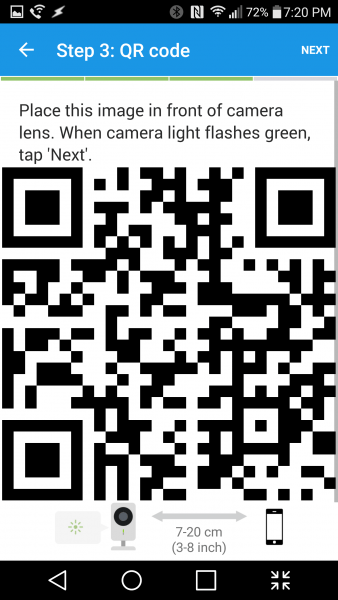 After providing your Wi-FI information, the app displays a QR code and instructs you to hold it a few inches from the Oco camera.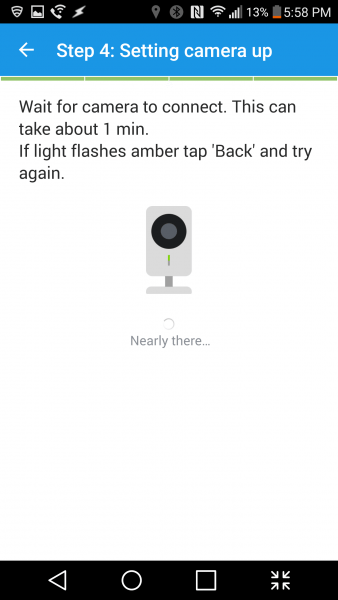 The Oco camera then reads the QR code and connects to your Wi-Fi network.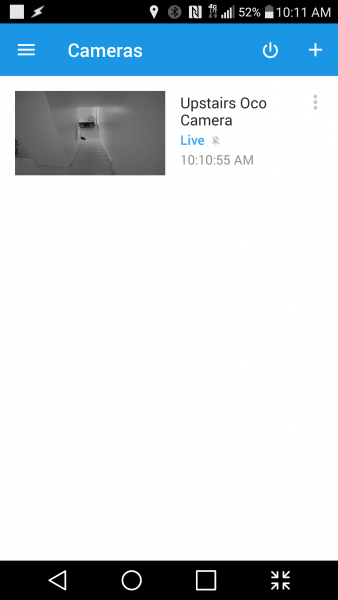 Once connected, the app lists all your cameras and provides a thumbnail preview.
I was extremely impressed with how easy setup was. Both my Foscam's had a much more difficult setup process; it involved connecting them via ethernet to a router, downloading special software, and port forwarding. By comparison, this was a breeze.
The only "issue" I experienced during setup was when downloading the app.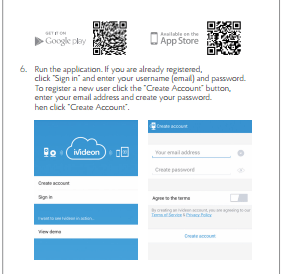 The instruction manual displays two QR codes to assist. Presumably, the QR codes will take you to the associated app store.
Unfortunately, when you scan the QR code it just launches a Google search for the app. Obviously it's only an issue in the loosest sense, but it's not the way you would assume the QR code would function.
Video quality
After setting up the camera, I decided to have it monitor my home's entry door. I already have a Foscam monitoring that door and wanted to do a direct comparison between the two.
The top picture is a screenshot from the Oco camera, while the bottom is from my Foscam. The Oco camera clearly has the better picture with much crisper details. With the Oco camera, you can see leaves through the door's window. On the other hand, the Foscam makes it appear that the mothership has landed and is illuminating the entire neighborhood. Color accuracy is much better with the Oco camera as well, the Foscam tends to give everything a blue-green tint. While both have a bit of a fisheye look, the Oco camera's appears to be a bit worse.
Although I'm sure you figured it out already, the discoloration in the top left and right corners is my work. I was covering up family photos; I'm paranoid and don't want them on the internet.
Using the camera at night has similar results. Again, the Oco camera screenshots are much clearer; it's especially obvious when looking at the pattern on the lower portion of my door. Also, the Oco camera's footage appears in grayscale while the Foscam footage has the same blue-green hue as before.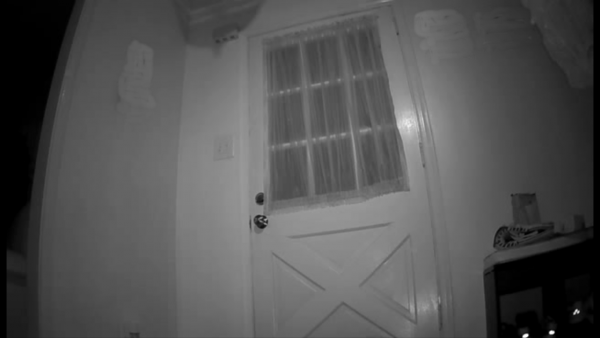 When viewing video through the app you can expand it to fullscreen mode. In fullscreen mode video clarity continues to be excellent.
Motion and sound detection
The Oco camera is capable of both motion and sound detection. This is especially useful if you are going to use the camera for home security or as a baby monitor.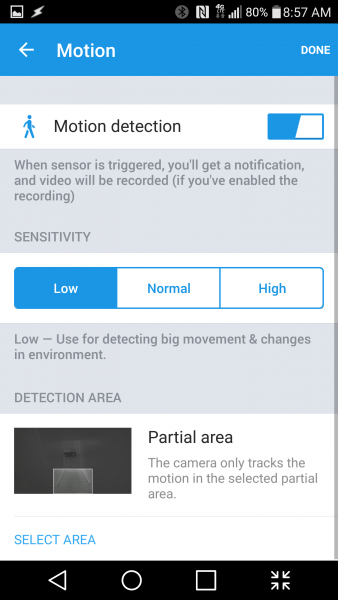 Setting up motion detection is simple. You turn it on and then decide how sensitive you want it to be.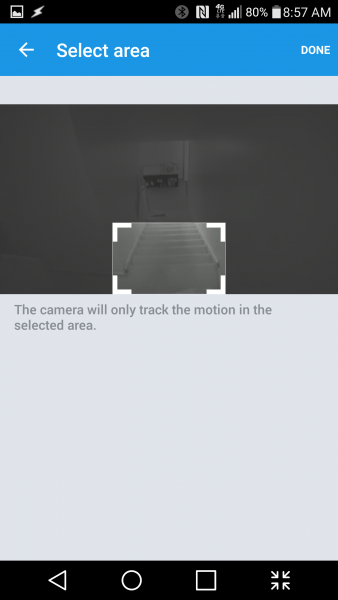 You also have the option of defining an area to detect motion. For those with pets, this can be used to prevent them from accidentally setting off the motion detection.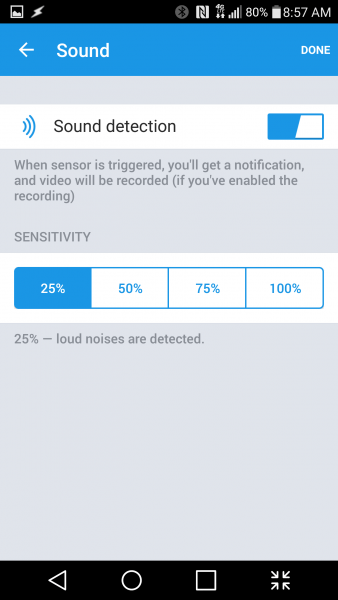 Sound detection setup is the same as motion. You simply turn it on and select sensitivity.
After setting up the motion and sound detection, you can choose whether or not to receive notifications. Notifications can be sent via email, as a an alert on your phone, or both.
Both features work very well. While testing the Oco camera I don't think I received a single false alarm; however, I was receiving non-stop notifications because someone is always home in the summer. Eventually, I disabled notifications because it became so annoying.
It's easy enough to turn notifications on and off from inside the app, but I don't want to open an app every time I'm coming or going. Aside from turning notifications off completely, you also have the option of temporarily disabling them for 1, 2, 8, 24, or 48 hours. Again, perhaps it's laziness, but I don't want to have to repeatedly open the app to toggle notifications. I would prefer having a widget I could place on my phone's homescreen.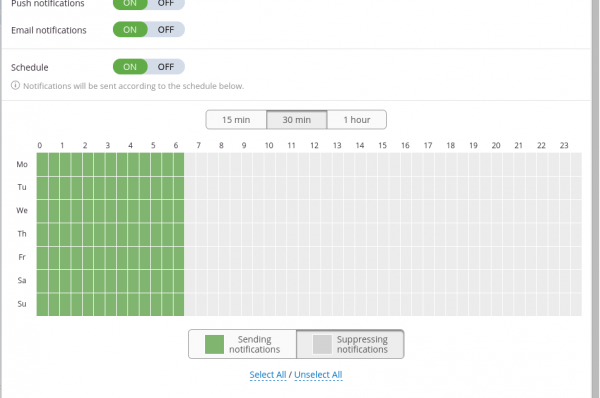 You do have the ability to set a schedule for notifications to automatically toggle on and off; however, this feature is not accessible from the app, only from the website. I did experiment with this feature, but ultimately I would prefer an easier way to toggle notifications on my phone.
DVR service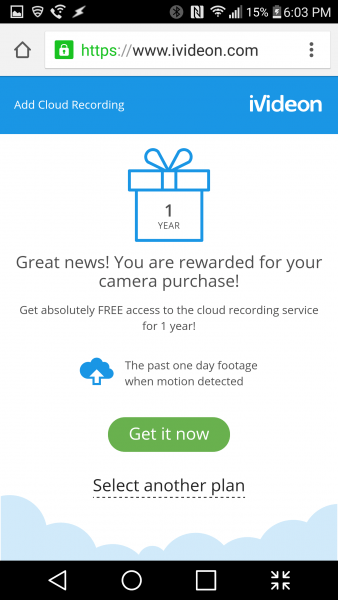 One of the nicer features of the Oco camera is its DVR service. You are provided with a free year of 1 day DVR storage simply for purchasing the camera. Additionally, you can purchase 7 day or 30 day DVR service for $99 or $199 respectively.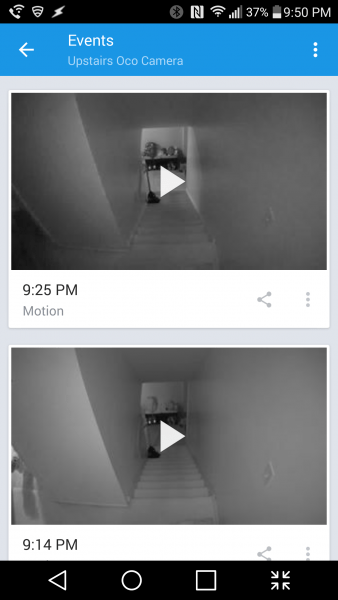 To access the DVR you click on the events button on the bottom of the main screen. You are then presented with a list of clips for each time motion or sound was detected. From here you can watch the clip, share the clip, or download the clip.
Web service
Another useful feature of the camera is its web service. If you find yourself without your phone for whatever reason, you can access the Ivideon website and have access to your camera.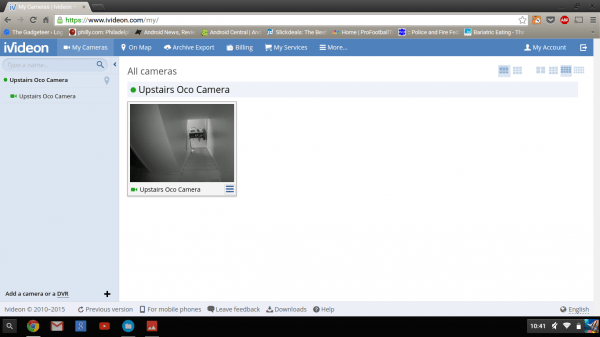 Like the app, as soon as you sign in you are provided a thumbnail preview of all the cameras you have. From here you can access camera settings, update your DVR, share access, and adjust notifications.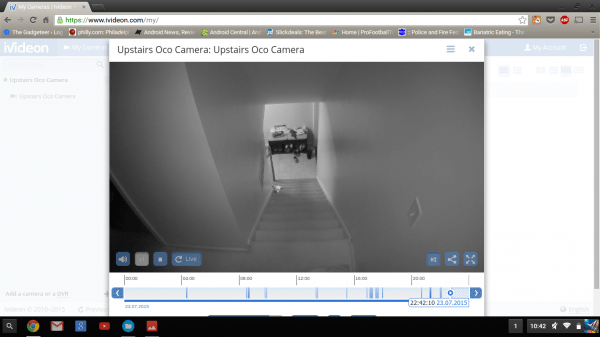 Clicking on the thumbnail launches a pop-up screen where you can access the DVR, give the public access to your camera, or enter fullscreen mode.
Extras
The Oco camera also has a plethora of extra features that don't necessarily warrant their own section. It has push-to-talk, video rotation, screenshots, live video embedding, and the ability to share access with others. I didn't have the opportunity to test the video embedding, but all the other features worked exactly as you would expect them to.
Conclusion
The Oco camera is a very impressive camera. It has an easy setup process, provides a clear picture in both daytime and at night, and is feature rich. The addition of a free year of DVR service makes it a great value.
While testing the camera I didn't experience any real issues. The app store QR codes don't work exactly as you would expecet, but it's most likely a one-time experience and hardly a real issue. Notifications can get annoying if you have a full house; however, they can easily be toggled on and off, just not as easily as I would prefer.
If you are in the market from a home security camera, I don't think you can go wrong picking the Oco camera.
Source: The sample for this review was provided by New Sight Devices Corp. Please visit their site for more information.
Product Information
Price:
$149.00
Manufacturer:
New Sight Devices Corp.
Retailer:
New Sight Devices Corp.
Requirements:

Wi-FI connection
Android or iOS phone for setup

Pros:

Easy Setup
1 year of free DVR service
Web access
Long power cord

Cons:

Fisheye look from camera
No quick way to disable notifications