We use affiliate links. If you buy something through the links on this page, we may earn a commission at no cost to you. Learn more.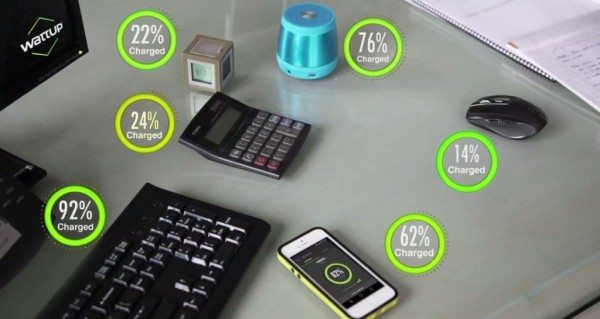 Wireless charging is a popular feature on many of the mobile devices available today, but the future may be over-the-air charging. Companies like Energous are working on such technology now. They have developed a product called the WattUp wire-free charging system which involves using a transmitter and receiver. A WattUp transmitter, or Power Router, sends energy via a radio frequency signal to up to 12 WattUp enabled receiver devices within a 15 foot radius; thus, with only one transmitter, you could deliver power to a 30 foot span within your home or business with the transmitter located in the center of that 30 feet. Power is only delivered when the transmitter and receiver establish a continuous link, communicating via Bluetooth Low Energy. Power delivery is maintained even when the receiver enabled device is moving, however, the closer you are to the transmitter, the more power it will deliver to your device. The WattUp system is software controlled so that you can use an app or "cloud-based web portal" to prioritize the charging of some devices over others if you desire or let WattUp decide for you. The WattUp wire-free technology can be integrated into battery operated devices such as cell phones, tablets, wearables, cameras, keyboards and mice, headsets, LED lights, remote controls, toys, etc.
So, when will it be available?
Energous expects to demonstrate the reference designs in conjunction with strategic partner-developed products at the 2016 CES show with these products expected to be available for sale to consumers in 2016.
Please visit the Energous website for more information.