We use affiliate links. If you buy something through the links on this page, we may earn a commission at no cost to you. Learn more.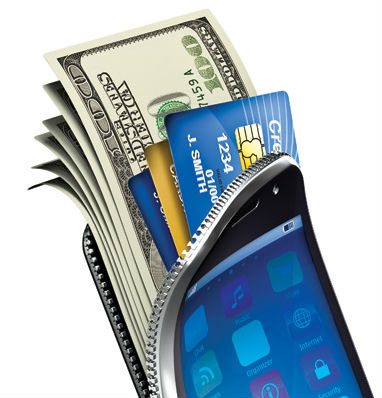 Yesterday's Samsung Unpacked event left me feeling disappointed about their new hardware announcements. However, their Samsung Pay announcement caught my attention. If you aren't familiar with Samsung Pay, it's Samsung's mobile payment application. Like Apple Pay, Google Wallet, Android Pay (not available yet) and CurrentC (also not available yet), it's a way to use your phone to pay for products at brick and mortar stores without using your physical plastic credit cards. You can just walk up to the cash register with your items and tap your phone on a compatible card terminal to pay for them. These apps effectively allow you to leave your wallet at home.
So far the biggest problems with these mobile payment applications are worrying about which stores they will work in and which banks and credit cards you can use them with. For example, if you shop at Walmart, Target or Kohl's (see update below) you won't be able to use Apple Pay. You'll have to use CurrentC. At least until Walmart, Target and Kohl's, who are members of the Merchant Customer Exchange who created CurrentC, cave in and allow other payment apps to work at their stores in addition to CurrentC. CVS and Best Buy are two such companies that have done that or will be doing that soon.
Where things get interesting, is that Samsung Pay will work at almost every store that has an existing credit card swipe machine at the checkout line. This includes Walmart. With Samsung Pay, you don't have to look for the little NFC payment icon or wonder if your phone is compatible. The new Samsung Galaxy S6 Edge+ and Note 5 devices that were announced today have a special magnetic transmitter called MST (Magnetic Secure Transmission) that sends the same info to the credit card terminal that is received when you swipe your plastic credit card. With a software update, last year's S6 and S6 Edge will also be able to take advantage of Samsung Pay. Samsung Pay will work with NFC sensors as well, so it appears to be slated as a solution for almost every store out there. Note that it won't work with ATMs, gas pumps or other kiosks that require a physical trigger to activate the transaction.
Now those new Samsung devices are starting to look more desirable to me because I'd love to no longer need to carry a wallet when I'm shopping. Samsung Pay will be available here in the US on September 28th and is launching next week in Korea. It will work with your American Express, Visa, Mastercard, USBank and Bank of America cards. For more info visit Samsung.
Update: Target and Kohl's have already announced that they are going to accept Apple Pay in their stores. It looks like Walmart is still the biggest holdout (for now).