We use affiliate links. If you buy something through the links on this page, we may earn a commission at no cost to you. Learn more.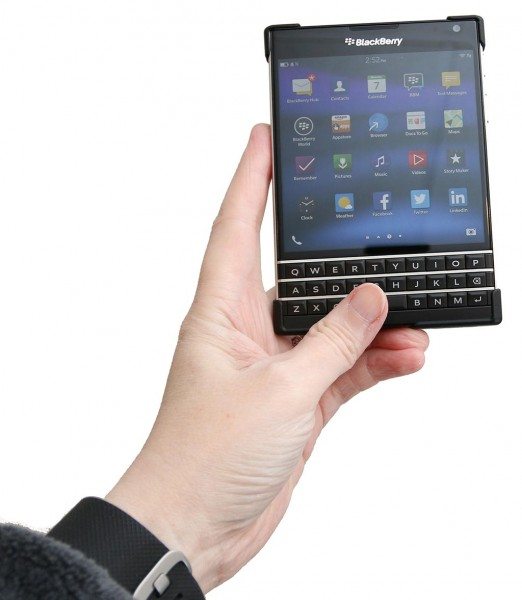 BlackBerry isn't the first platform that I think of when it comes to smartphones. But in a world where it's difficult for a smartphone to stand out from the crowd, the BlackBerry Passport is obviously different. But is it different good or different bad? Let's find out.
Note: Images can be clicked to view a larger size.
Hardware specifications
Processor: Qualcomm Snapdragon 801 with 2.2GHz Quad-Core CPUs (MSM8974-AA)
Operating System: BlackBerry 10 OS
Memory: 3GB RAM, 32GB Flash, supports up to 128GB microSD Card (sold separately)
Network: CDMA/GSM/WCDMA/LTE
Frequencies: FD-LTE 1, 2, 3, 4, 5, 7, 8, 13, 17, 20 (2100/1900/1800/1700/850/2600/900/700/700/800 MHz)
HSPA+ 1, 2, 4, 5/6, 8 (2100/1900/1700/850/900 MHz)
Quad band GSM/GPRS/EDGE (850/900/1800/1900 MHz)
Display: 4.5″ 1440 x 1440 resolution; 453 ppi
Camera (rear): 13 MP, F2.0
Camera (front): 2 MP
WiFi: 802.11 a/b/g/n/ac, Bluetooth 4.0 Low Energy (LE), NFC
FM radio
Headset: 3.5mm Audio Jack
Battery: 3450mAh (Non-removable Battery)
Dimensions: 5.04in (H) x 3.56in (W) inches x 0.36in (D)
Weight: 6.91 oz
What's in the box?
BlackBerry Passport
Protective cover
USB cable
USB charging adapters for US and international
Earbuds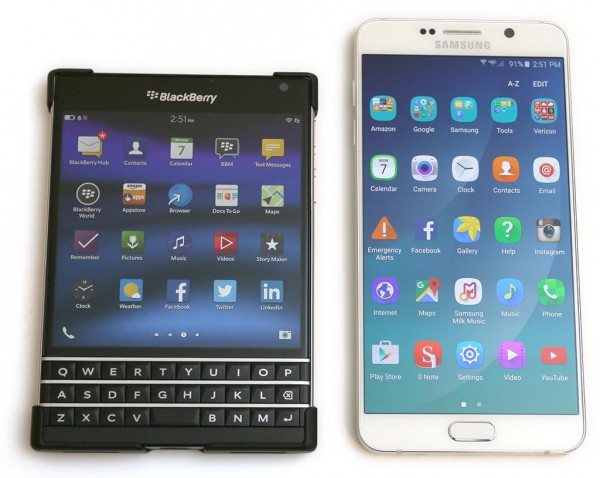 Physical design features
The BlackBerry Passport has two features that stand out from other phones. First of all it has a unique physical format, which is where its name comes from. It's supposed to be about the same size an actual passport. I couldn't find my passport to verify this claim, but as you can see, it's wider and shorter than a Samsung Galaxy Note 5.
While the size/shape of this phone is unique, it's not going to be everyone's cup of tea. For me, the Passport is very unfriendly when it comes transporting it in a pocket. In hand it's obviously wider than other phones, but I was able to use it with one hand to make calls. However navigating while holding it with one hand was awkward at best and almost impossible most of the time unless you have 6 inch long thumbs. This isn't a new problem though, most phablets suffer from this issue.
The phone is very well-made and feels solid in your hand. It has no problems surviving my Gadgeteer squeeze test without even a hint of flexing or creaking.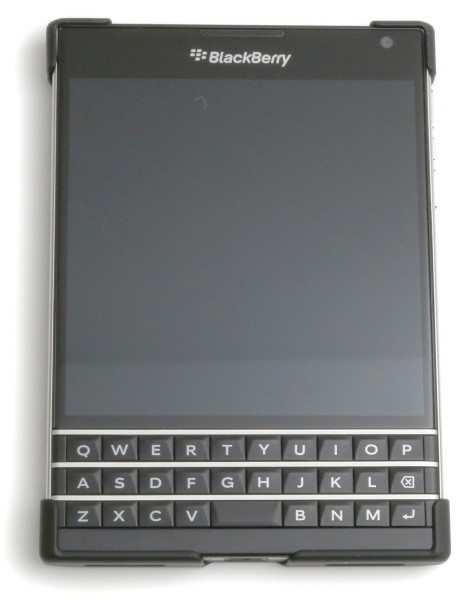 The other main feature that sets the BlackBerry Passport apart from other smartphones currently on the market is the touch enabled physical keyboard. Keyboards on BlackBerry phones isn't something new, but the keyboard on the Passport is unique because although it's a true keyboard with individual keys, it's also touch enabled like a computer trackpad. What does that mean? You can swipe one finger across the keyboard to the left to delete a word, swipe up for a symbols touch key panel and even swipe up and down to scroll through lists and pages.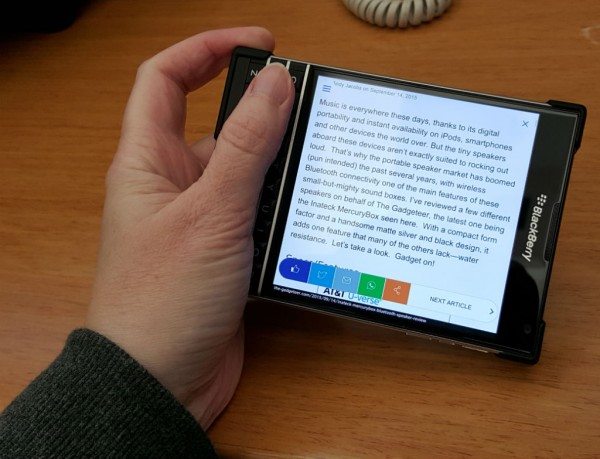 If you turn off the rotation lock, you can hold the Passport in landscape orientation and use your thumb to swipe up and down the keyboard to scroll pages. This works ok as long as your thumbnail is very short. Otherwise, I found that the top edge of my nail would snag on the keys when I while swiping.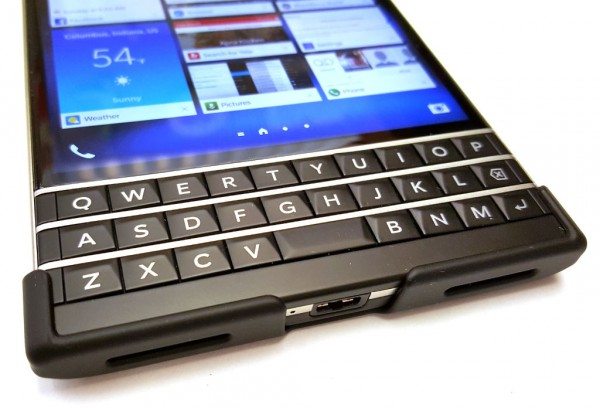 A touch keyboard is definitely interesting, but due to the narrow nature of the Passport's keyboard, I found the scrolling feature to feel awkward when I could just as easily scroll on the display like I normally do. The swipe left to delete a word gesture sounds cool in theory, but when you're holding the phone between your hands, using your thumbs to type, using one of your thumbs to swipe across the keyboard to delete words isn't any easier or faster than just using your thumb to press the delete key a few times. I might just be stuck in my ways though.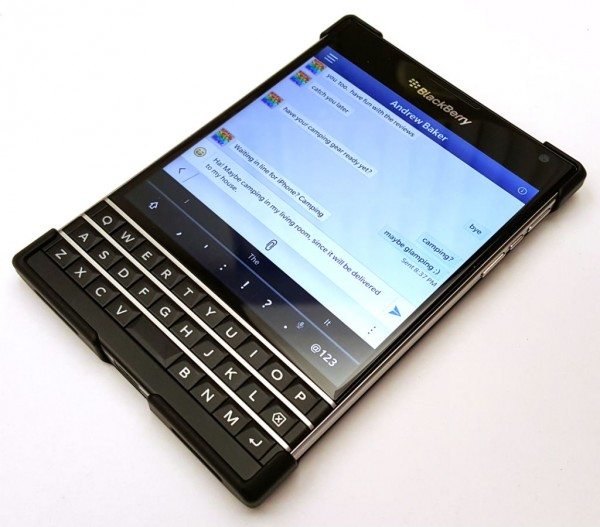 The keyboard itself is backlit and has good tactile feedback. You'll notice that it's missing shift keys, punctuation and number keys. Shifted letters are typed by holding the key down and a period is inserted by double pressing the space bar. Other applicable punctuation keys show up a virtual keyboard that is displayed above the physical keyboard.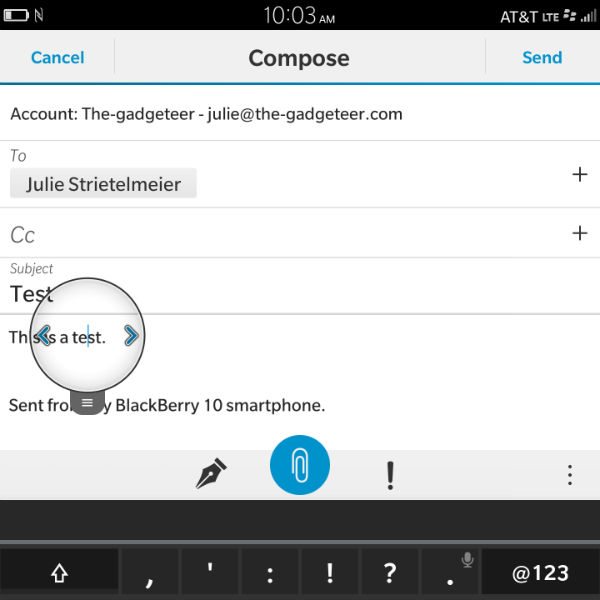 Double tapping the physical keyboard brings up a magnifying glass that you can use to move the cursor around for fine editing.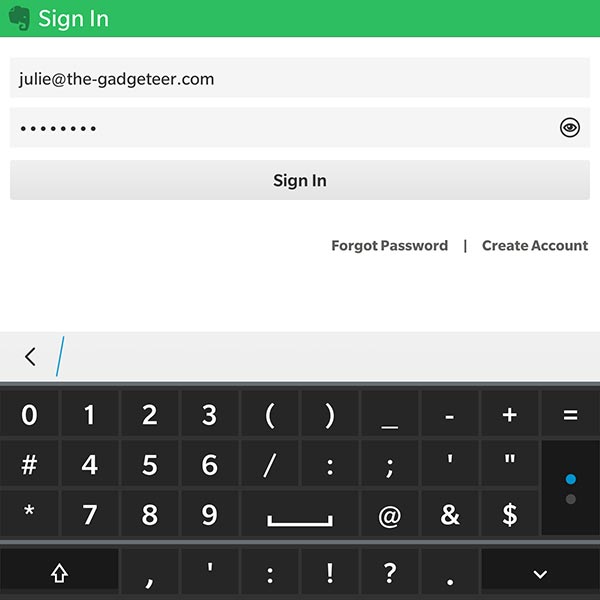 Swiping down on the physical keyboard will bring up a virtual number and symbol pad. These virtual keys are actually mapped to the physical keyboard below it. So pressing the S key on the physical keyboard will type a 4 when the symbol pad is displayed. The symbol pad disappears once you type a mapped physical key, but it will stay on the screen if you tap the virtual keys.
One really nice feature is the ability to set shortcuts or speed dials for each physical key. Unfortunately the shortcuts only work when the phone is unlocked and on the home screen or the app icon view screens.
Having a physical keyboard is a nice option, but the way the Passport causes you to flip back and forth from physical to virtual feels odd at first. There is a definite learning curve involved. But even after a couple weeks using the Passport, I still found it to be awkward to use.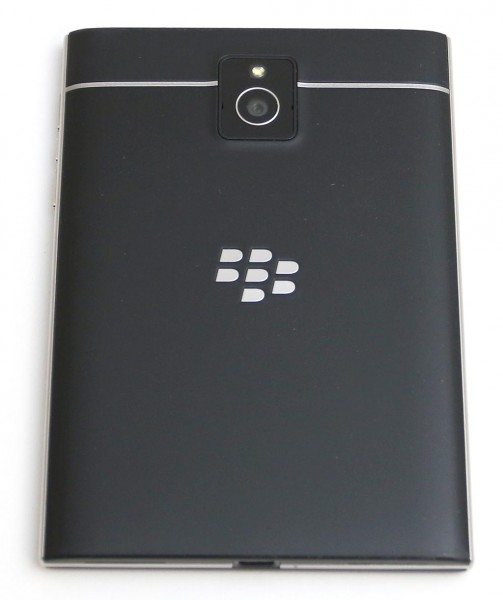 The back of the Passport is plain except for the BlackBerry logo and the camera lens with the LED flash.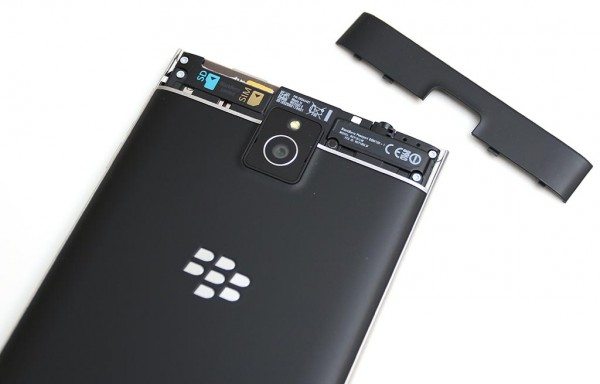 The SIM and micro SD card slots are hidden under a narrow cover above the camera. Note that the battery is sealed and not user replaceable.

On the right side of the phone you'll find individual volume control buttons with a smaller button between them. This smaller button launches the BlackBerry Assistant. The Assistant is BlackBerry's version of Siri. It can be launched even when the phone is idle by holding the button down for a few seconds. It allows you to make calls, send texts, emails, check social media and more.

Along the top edge is a 3.5mm headphone jack and power button.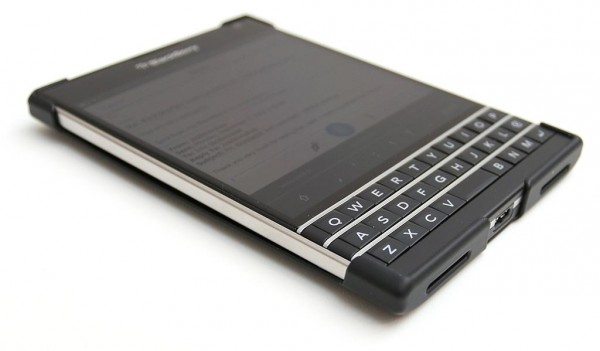 On the bottom edge you'll find a micro USB connector for charging, the microphone and dual speakers. Note that in the picture above, the included protective cover is installed.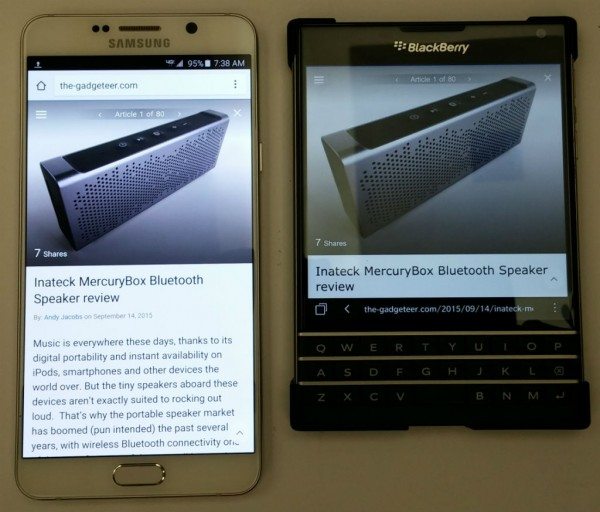 The phone's display is bright and crisp. It's amazingly easy to read outdoors in full sunlight. I'd have to say it's the best device I've found so far for viewing outdoors. That's the good news. The bad news is that the size of the Passport's display doesn't allow for showing as much information as regularly sized smartphones. That means more scrolling when viewing webpages, reading ebooks, etc.
Camera
The Passport has a 13MP camera that does an okay job, but won't win any awards. Here are two example images.
Software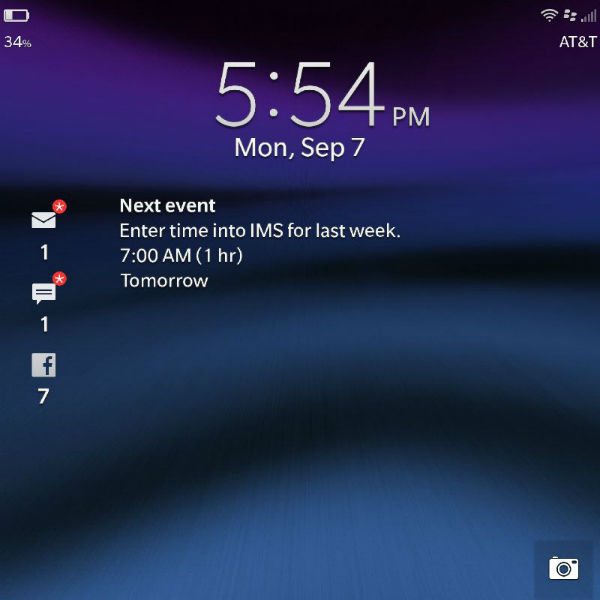 When you unlock the BlackBerry Passport using the power button on the top, you'll see the lock screen which shows the time, next calendar event and waiting messages in email, text, and your connected social media accounts. You can tap to view a list of the new items and then double tap an entry to go into it. Or you can swipe up from the keyboard to unlock the phone.
Another way to unlock the Passport is to just swipe up from the keyboard. This will bypass the lock screen and go into your last opened app / screen.
You can save power by turning the phone face down on a flat surface to put it in standby mode. It will wake up when you pick it up.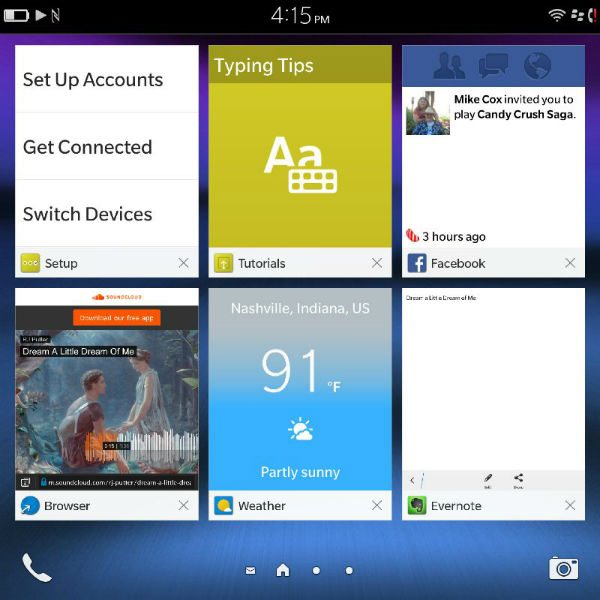 The home screen shows active frames of the apps which are currently running. The frames are constantly updating to show new info and can be rearranged or closed. This will seem similar to Live Tiles for people who have used Windows Phone.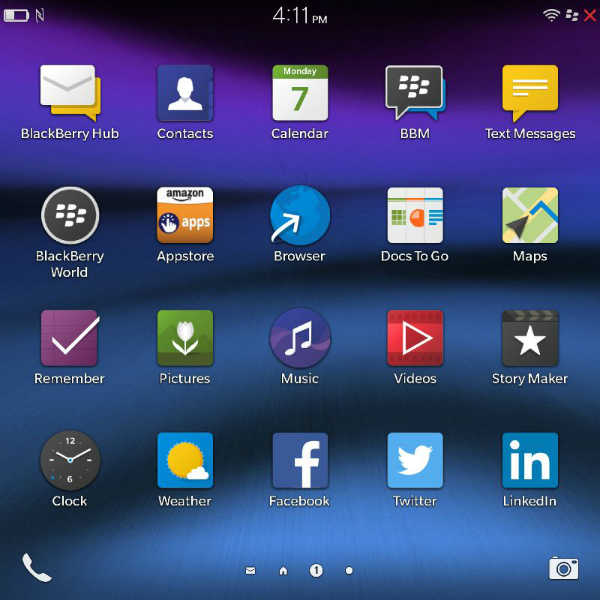 In the app list, you can rearrange the icons and create folders of icons by dropping icons on top of each other.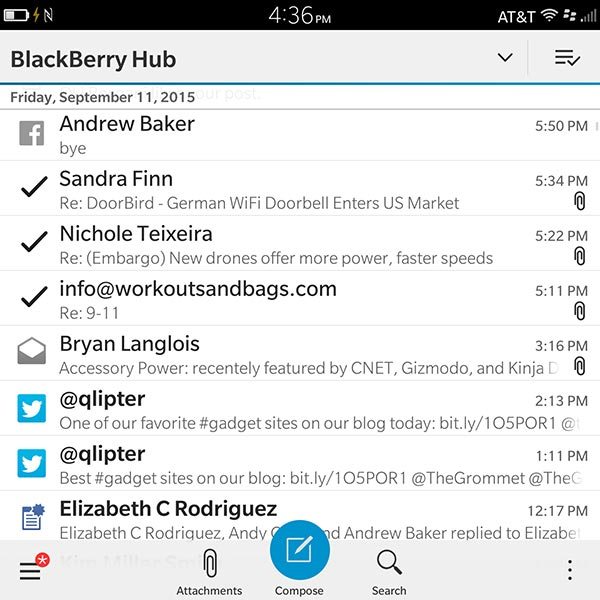 BlackBerry Hub integrates all your messages into one place and is always available by swiping right on the home screen. This is my favorite feature of the BlackBerry Passport because it lets you see  all your emails, text messages, and social media messages all in one list.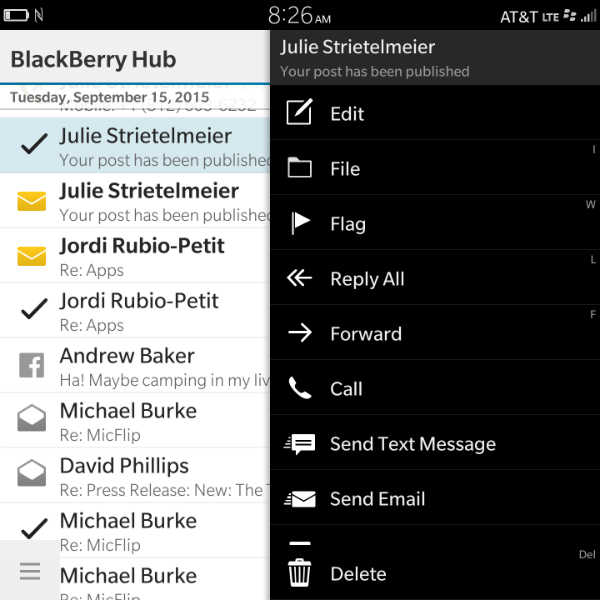 If you hold down on a message, a menu of appropriate actions will appear on the right.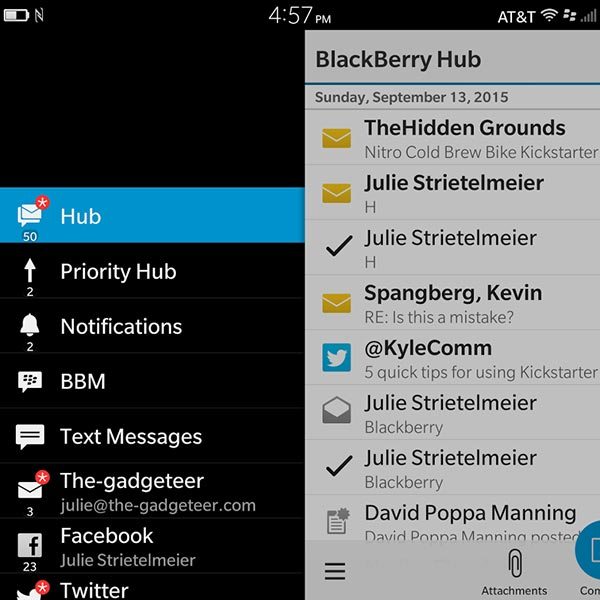 You can also slide the list to the right and filter by the type of messages that you want to see.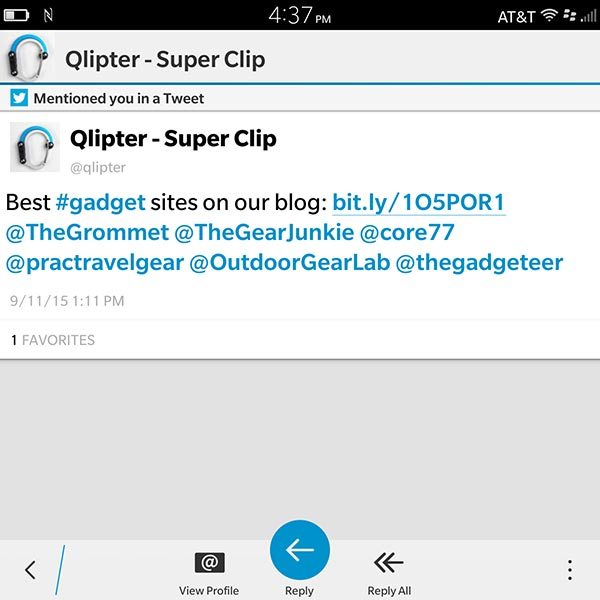 Clicking on any message in the hub will take you directly into the associated app so you can view the message, respond, delete, etc.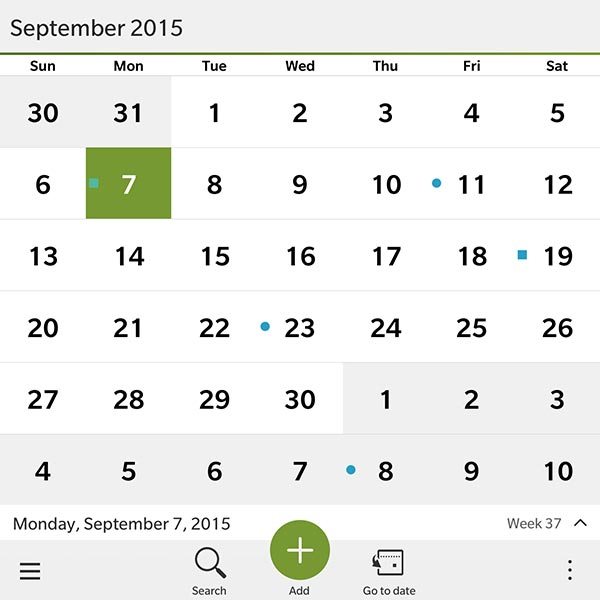 Here's the calendar. It's not one of my favorites because I prefer that the full month view show text instead of dots for appointments.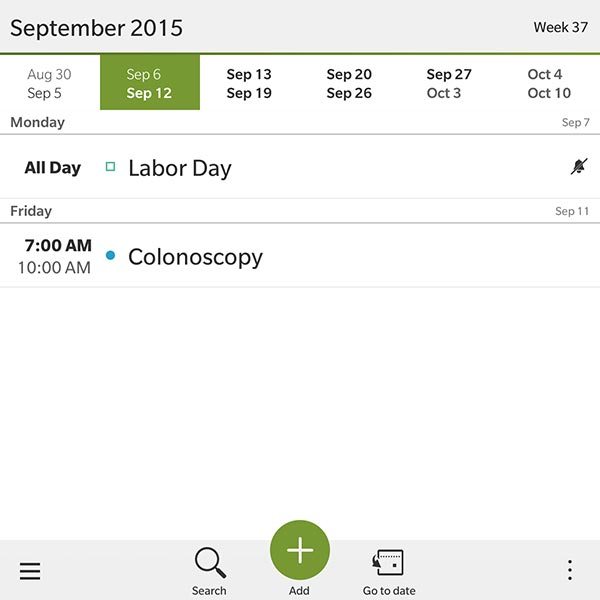 There's an agenda view though.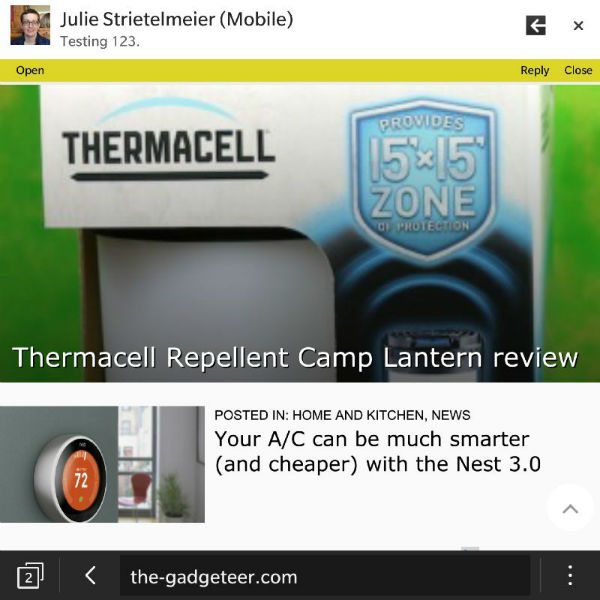 One nice thing about the Passport is that new notifications for emails, text messages, etc., show up at the top of the screen when they come in.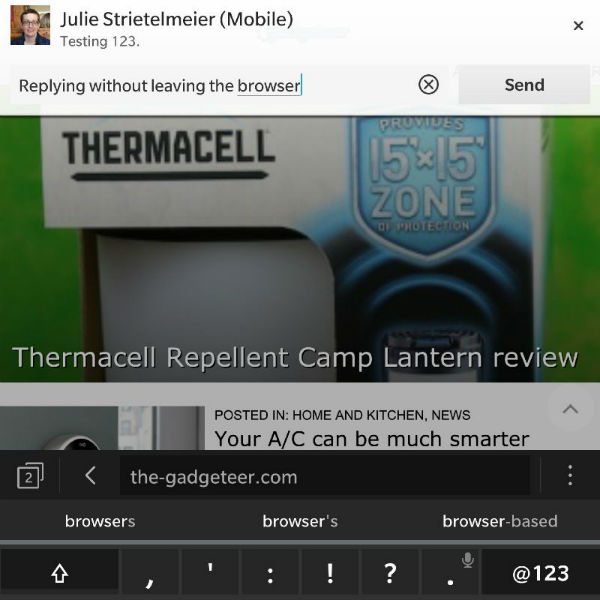 You can reply to text messages directly from that notification instead of leaving the app that you're working in.
The Passport comes with a decent bundle of apps that include Facebook, Twitter, LinkedIn, Maps, Evernote and more. But, the availability of third party apps is sorely lacking. For example, using the BlackBerry World app store, I was unable to find official apps for Feedly, Yelp, Instagram, Dropcam, Pandora, Spotify and Words with Friends for the Passport. Those are some of my most used apps, so I it was disappointing. However, it is understandable given that BlackBerry OS is not as widely used and unfortunately, I don't expect that to change anytime soon.
I'd already boxed the Passport up to ship back to BlackBerry when I learned that you can side load Android apps. Don't get too excited though, it supposedly only supports Android 4.3 apps. I'm not sure what the process is to do this, but it doesn't sound super easy.
Using the BlackBerry Passport for phone calls
I didn't have any complaints from people I talked to using this phone. Conversations on both sides of the call were clear and with ample volume. I also did not have any issues with dropped calls while testing the BlackBerry Passport. I was surprised how nice the speaker phone feature was.
Overall performance and battery life using the BlackBerry Passport for day to day tasks
Performance is on par with other current smartphones I've tested. I found that apps launched without lag, and there are no issues moving around from app to app. I didn't have any issues with the phone freezing or crashing.
The only annoyingly slow thing about the Passport is powering down and restarting it. It takes 30 seconds to power it off and 45 seconds to power it back on.
As for battery life, it is my second favorite thing about this phone because it seems to last forever. It lasted days between charges when I lightly used the phone. It definitely lasted a whole day even when I was using it heavily.
Final Thoughts
I honestly didn't like the BlackBerry Passport when I first unboxed and started testing it. I had trouble getting used to the size and the keyboard. I almost wanted to send it back without even writing about it, but I changed my mind another try. The second try made me like it a whole lot more. The keyboard never really grew on me like I thought it would. I guess after years of touch screen use, I'm pass the days of wanting another Palm Treo. When it comes right down to it, it's the phenomenal battery life and the integrated inbox that I will miss most.
If you enjoy using popular apps like Pandora, Spotify and others, the BlackBerry Passport will disappoint you in a big way. But if a physical keyboard and long battery life and an integrated inbox are your main concerns, you will enjoy this phone quite a bit as long as you don't mind the size and shape.
Source: The sample for this review was a short term loaner phone provided by BlackBerry. Please visit their site for more info or Amazon to order an unlocked phone at a nice discount (current price is $471.99).
Product Information
Price:
MSRP $699.99
Manufacturer:
Blackberry
Retailer:
Amazon
Pros:

Long battery life
Physical QWERTY keyboard with gesture features
Integrated inbox (hub)

Cons:

Wide format is not pocket friendly or one hand friendly
Popular apps are not available
Long power down/restart times