We use affiliate links. If you buy something through the links on this page, we may earn a commission at no cost to you. Learn more.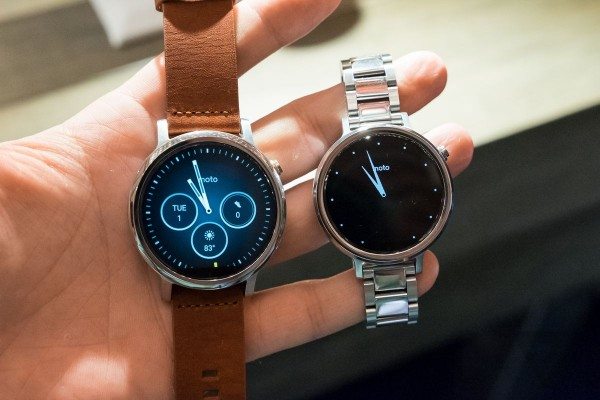 Yesterday, I reported the news that the latest version of Android Wear will be compatible with iPhones. Based on the feedback I received, it is clear that our readers are as excited as I am that they will have more options than the Apple Watch to join the smartwatch revolution. Today, Motorola announced the availability for pre-ordering of their second-generation Moto 360 smartwatch. The big news for this iteration, is that instead of one size fits all, the new version comes in a men's version in two different sizes, a women's version, and a sport model.
According to Motorola's Web site, the new Moto 360 appears to offer something for everyone. The men's version comes in two sizes, 46 mm and 42 mm, and can be ordered with either metal bands or a leather band. The women's version comes in the smaller 42 mm size. The sports model comes with a silicone band and this cannot be changed. Important to note is that the Motorola Web site gives customers the chance to build their watch to their own parameters. The Moto 360 can be designed with your choice of rose gold, silver, or black case, yellow, stainless steel or black gunmetal, or leather bands. Battery life is estimated at 1.5 days for mixed use for the 42 mm version. The watches are water resistant; include activity/fitness applications (with a heart rate sensor), wireless charging, wi-fi connectivity, and an ambient light sensor. Prices range from $299.99 to $429.99. See www.motorola.com for more information.