We use affiliate links. If you buy something through the links on this page, we may earn a commission at no cost to you. Learn more.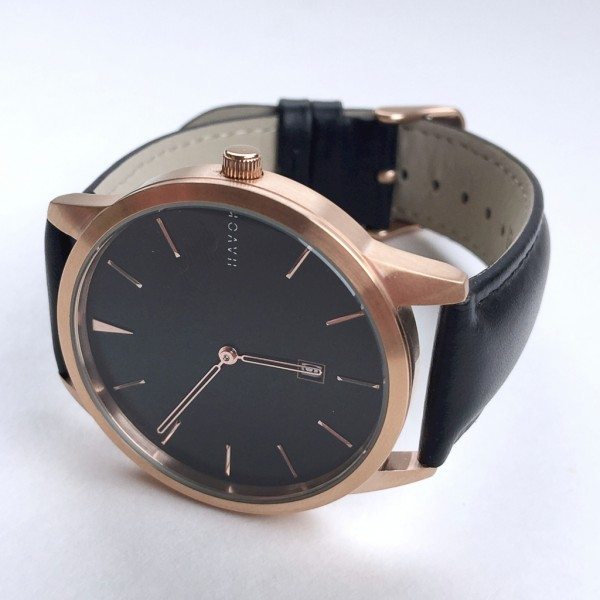 What makes a great dress watch? Slim and lightweight, elegant simplicity, classic looks? I'd say all of the above. I've read that wristwatches are on the decline due to the proliferation of mobile phones with clocks which everyone seems to be carrying everywhere these days. But I happen to believe there is still a place for wristwatches in this world, and Elliot Havok Watch is one company that agrees. Their watch meets all of the "dress watch" criteria above, but could also be a "daily wear" watch, and is an affordable price to boot. Let's take a look!
Background
I've been wearing a wristwatch since I walked into my 5th grade classroom at the tender age of 10 years old. It was an adult-sized, very basic Timex sport watch, but it was my pride and joy.  In fact, I was already on my way to being a bit of a watch snob, because I looked across the room at one of my classmates who was wearing a "kid" watch and felt sorry for the poor sap.  Up until that time, the only thing preventing me from wearing an adult-sized, legitimate watch was the fact that my wrists were too small to keep one from slipping off.  So yes, I am a fan of watches, though I am far from being a full-blown horologist.
The vast majority of the few dozen different watches I've worn over the years have been thick, tough sport watches, because I want them to withstand any conditions. I've worn them for any and all occasions, from swimming in the ocean to weddings.  However, in the past year or so, I've felt the need to have a dress watch for more formal or classy occasions like Sunday Mass or a date night with my wife.  I looked at a few dressier-style watches online and in brick and mortars, but nothing appealed to me.  Then lo and behold, Julie asked me if I'd like to review a watch from Elliot Havok.  I liked their classic, simple watch style but was immediately smitten when I saw their Rose Gold version.  If you've read any of my past reviews, you may recall that I'm a proud alumnus of Purdue University, and I look for items in any sort of black and gold color scheme to show off my school colors.
The Elliot Havok Watch was first introduced through a crowd-funded Kickstarter campaign which raised an impressive $443,777 compared to its $15,000 goal.  I was a bit impatient in waiting for the Kickstarter campaign to end and production of the watches to begin, but it turned out to be worth the wait.
Technical Specs
Designed in San Francisco, CA
Japanese Movement (VX32 Quartz)
Stainless Steel Case Backing
Padded Genuine Leather Strap
Bands are interchangeable
Mineral Glass Face – Water Resistant 5 ATM
Measurements (as measured by hand by yours truly):
Case diameter (not including stem) = 39mm
Overall thickness = 7mm
Lug width = 20mm
Options
White Classic – $85
Black Classic – $85
Oxford – $95
Midnight – $95
Rose Gold – $95 (reviewed here)
Packaging

The Elliot Havok Watch arrived in a simple cardboard outer box, which was basic, nondescript and recyclable…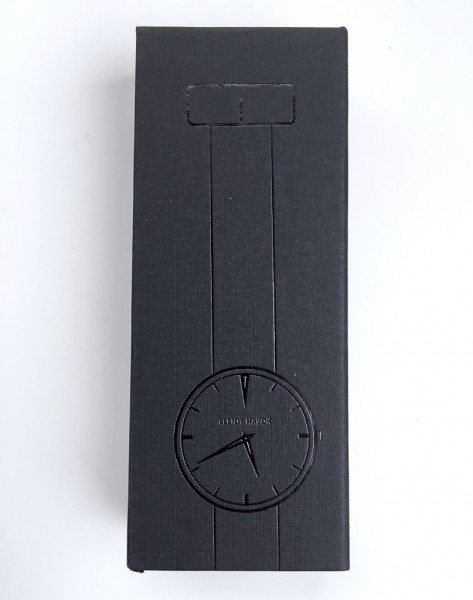 …but its actual product package was quite simple yet elegant.  It was a black box slide-open box,the top of which was imprinted an subdued image of the watch inside.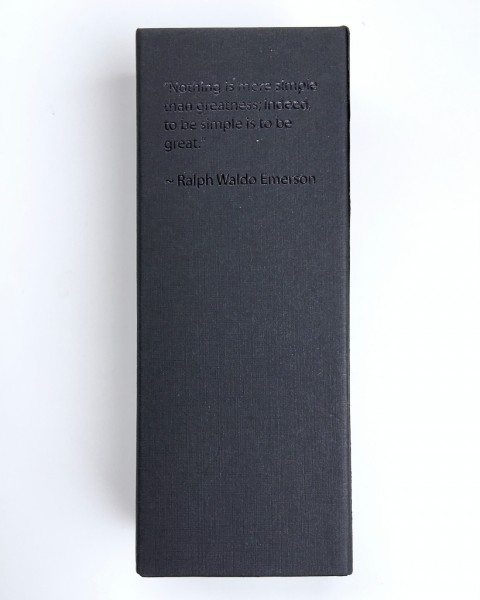 The underside of the box had an inscription attributed to Ralph Waldo Emerson: "Nothing is more simple than greatness; indeed, to be simple is to be great." I'm not sure I fully agree with the statement, but I do find the simpler things in life to be more preferable than complex things, so I suppose I do agree with the sentiment.  In any case, simplicity describes not only this box but the watch inside.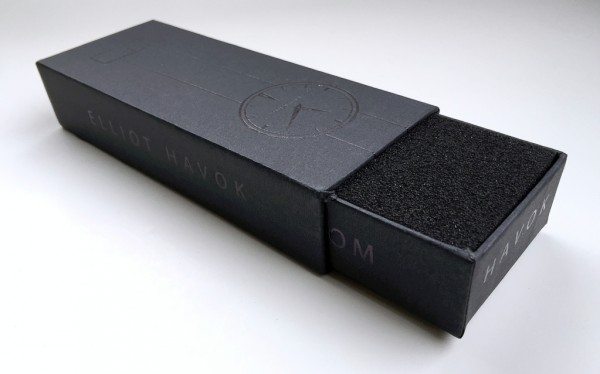 As mentioned above, the box was a slide-open style, and contained a layer of open-cell foam on top for protection.
Contents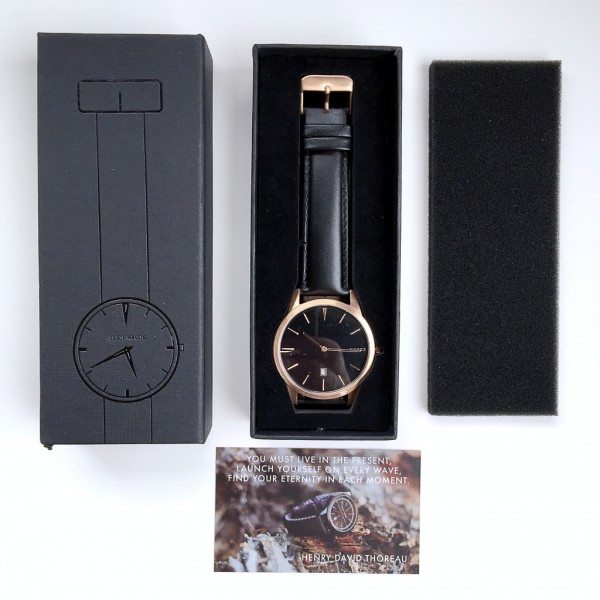 The packages contents were simple as well, and contained only the watch itself and a small card with a Henry David Thoreau quote on one side and a discount code to the Elliott Havok online store on the back.  The watch had peel-off protective plastic coating on the front and back as well as a small plastic spacer to protect the stem.
Features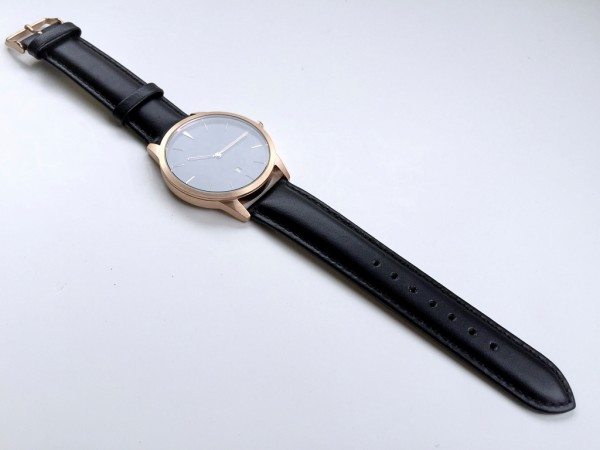 I was immediately impressed with the look and feel of the Elliot Havok Rose Gold Watch.  I liked the color scheme, its simple design and its thin, lightweight case.

The watch has the look of a true dress watch to me.  Very classic.

I wondered how the folks at Elliot Havok managed to produce such an elegant-looking watch for such a reasonable price.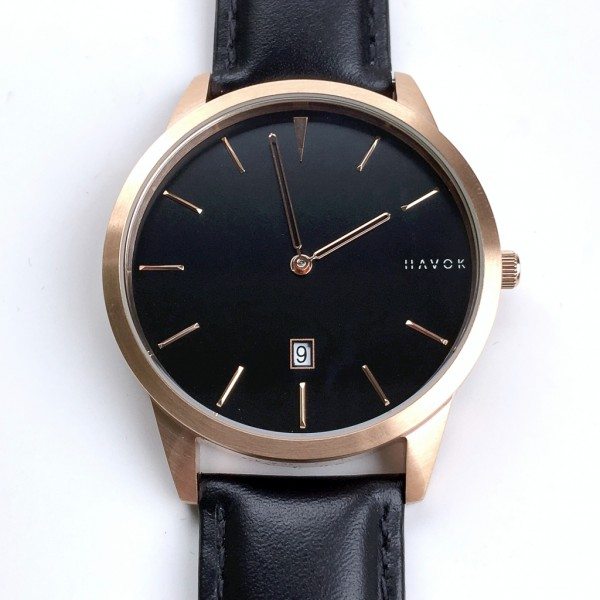 The watch's face has a very simple but elegant layout. I am a big fan of the black background with gold case and accents, namely the hands and hour marks.  The "HAVOK" logo is small but visible and it even includes a 31-day date display window, which is a great little addition.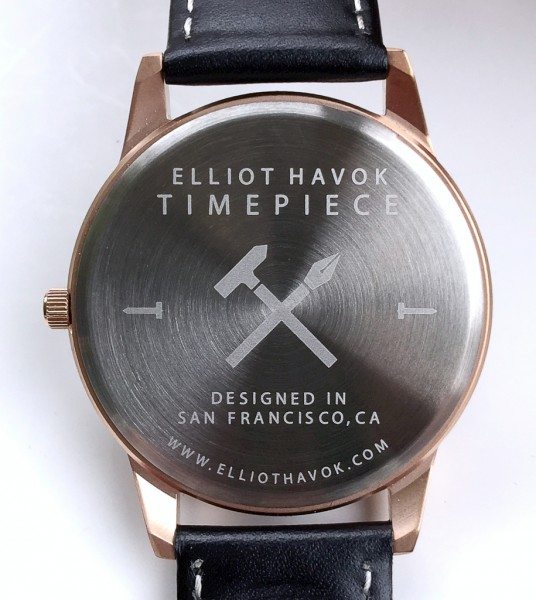 The stainless steel back is  engraved with the Elliot Havok logo and web address, and notes that it has been designed in San Francisco, CA.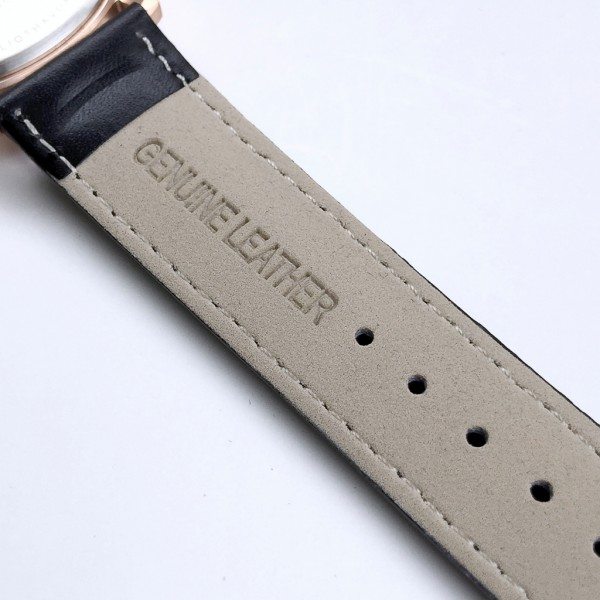 The watch's strap is fantastic as well.  Black leather on the outside, it has a soft, almost calfskin-like underside and is genuine leather, not a vinyl leather-like replica.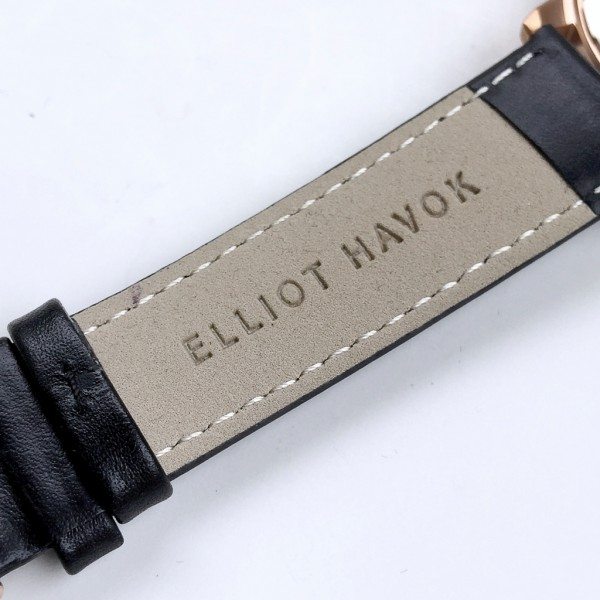 The branding on the underside of the strap was impeccable throughout, as well as the stitching, which was flawless.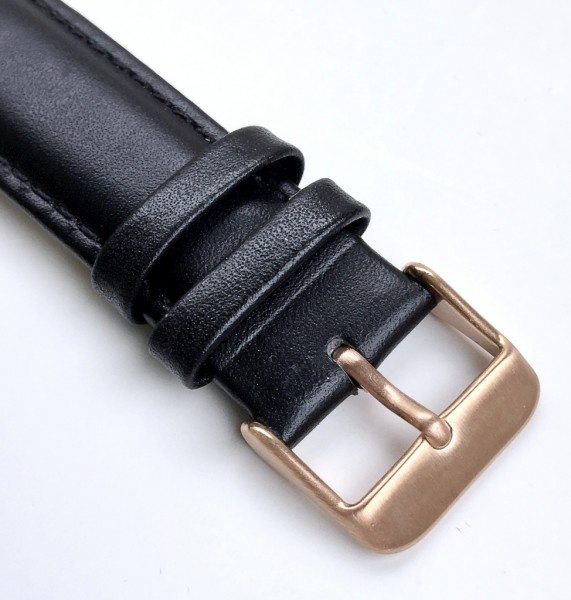 The strap's buckle matches the rose gold case and accents.  In addition, the strap includes two separate retainers for the free end: the first one is fixed in place the second one is free to slide depending on how much extra strap there is based on the wearer's wrist size.  I really like this feature.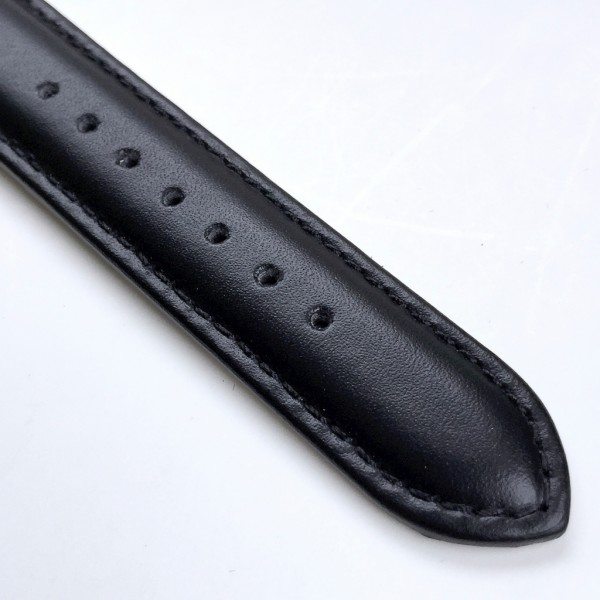 Just another shot of the exterior of the strap.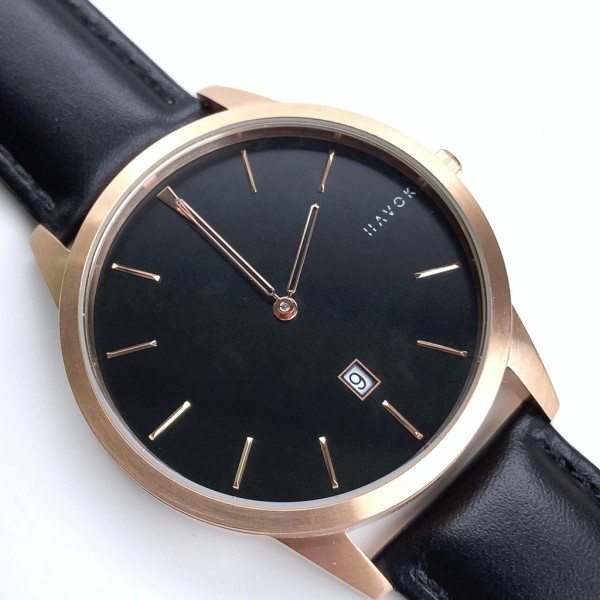 I would also like to point out that the Elliot Havok watch includes a mineral glass crystal. This is a step up from a plastic crystal in its durability and scratch resistance and is a fairly standard crystal material for mid-priced watches on up. The only material considered to be more durable is sapphire crystal, but this typically comes with a very significant price jump. Quite nice that Elliott Havok was able to include mineral glass for the price.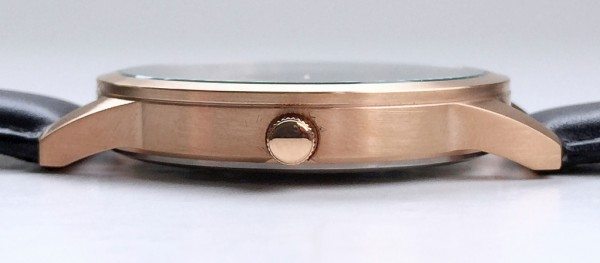 The watch is set by pulling out the stem.  Pulling it just a bit, to the first position, allows setting the date, while pulling it out fully allows setting the time.  While this is not the absolute thinnest watch you will find, at 7mm it is thinner than any other watch I've worn, and works very well with long-sleeve shirts, fitting under them quite nicely.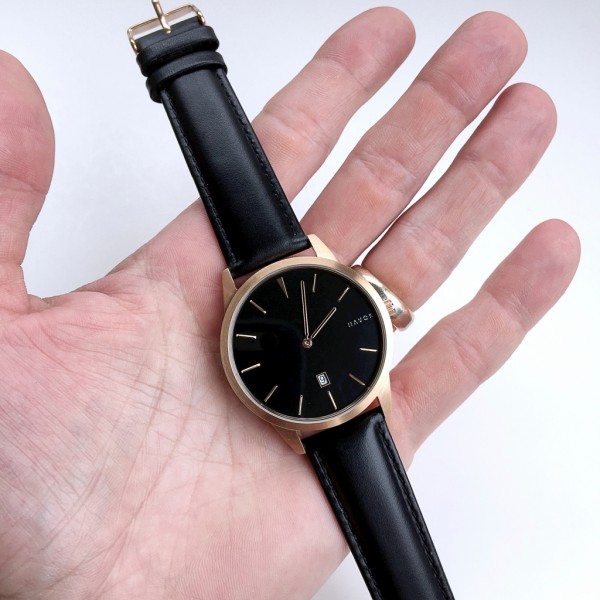 The watch case is 39mm in diameter, not too small so as to be impractical to read, but not too large so as to be obnoxious.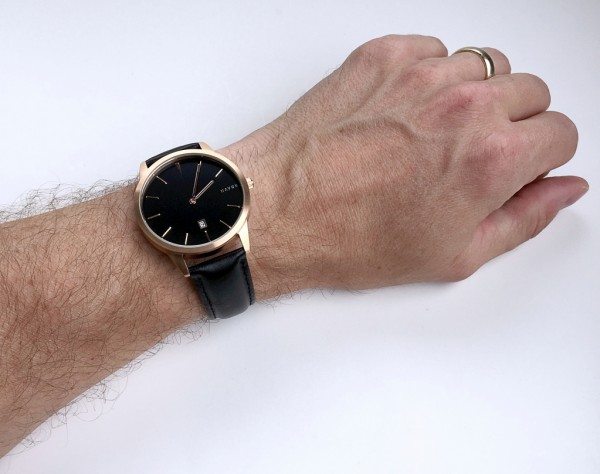 The watch looks great on my wrist.  I've worn it for formal occasions, as I'd originally planned, but also occasionally worn it to work.  And while I would never exercise or do heavy labor while wearing this watch, it's just fine for a desk-jockey like me.  EDIT: In the original review, I'd forgotten to mention weight (thanks to reader yeppers for the reminder of this!), so I wanted to come back and add it here.  For years, I've been wearing big, thick, heavy watches—in my current rotation are a G-Shock and a Luminex divers-style watch.  The Havok watch is quite lightweight; I almost forget that I am wearing it.  However, this is a dress watch and not a "tool" watch, so this is to be expected.  The Havok watch's case is made from carbon steel, which is characteristically lighter in weight than stainless steel, but also less expensive.  For this type of watch, I think it is a good material choice.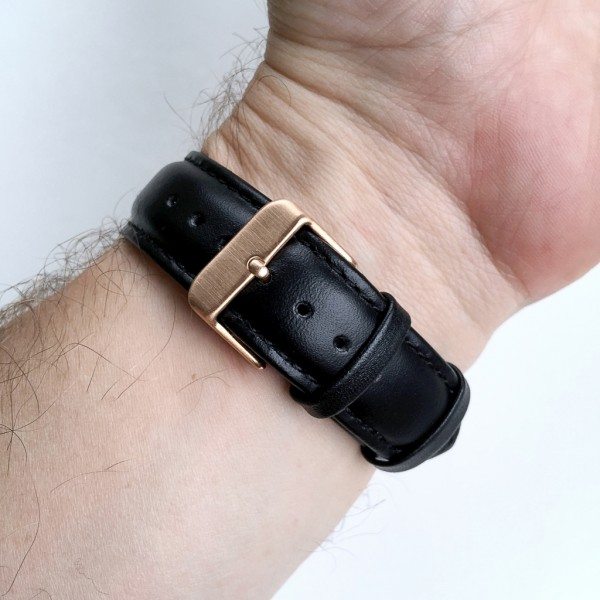 Above you can see the double retaining bands that hold down the loose end of the strap.  I really like this feature and I'm happy that more and more watch makers are including it.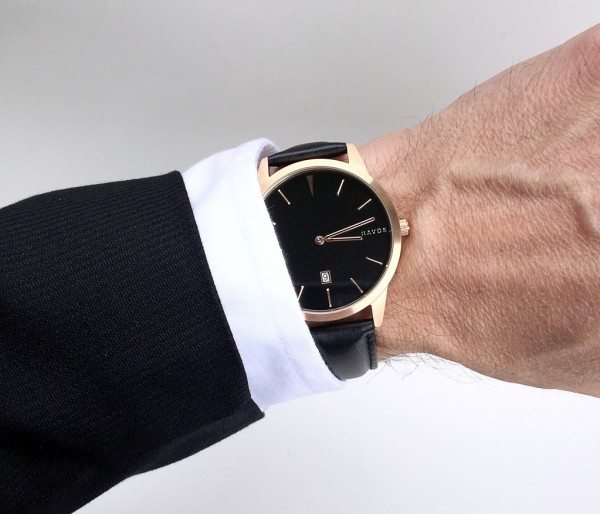 A shot of me wearing the Elliot Havok Rose Gold Watch with a suit and dress shirt.  I think it looks very classy.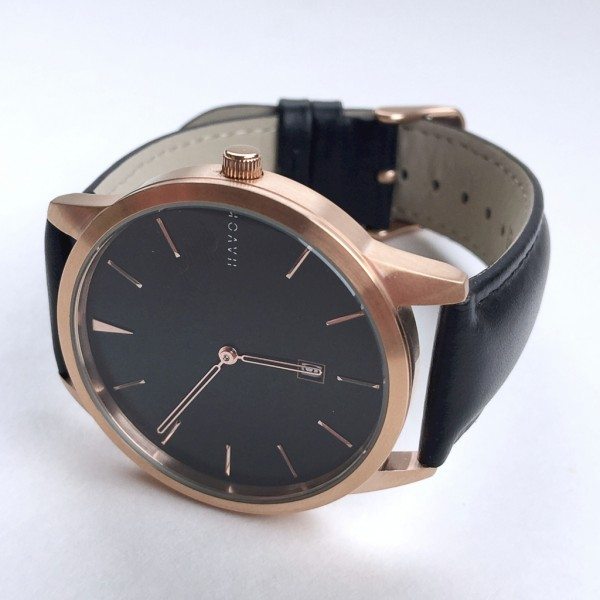 Conclusion
The Elliot Havok Watch is just a regular old watch, right?  What's special about it?  Well, nothing really.  And everything.  Its simple, classic style matches up well with its slim, lightweight shape and size.  Construction is top notch, with a mineral glass crystal, stainless steel back and leather strap.  And it's quite affordable, especially for a dress watch.  This watch will not only be on my wrist for more formal, special occasions, it will find its way into my daily wear rotation.
Updates 04/11/16
The Elliot Havok Watch continues to be my "dress" watch and I wear it for formal occasions. I still really like the look and it is so lightweight that I often forget I'm wearing it.
Source: The product sample for this review was provided by Elliot Havok. For more information, please visit their site.
Product Information
Price:
$95.00
Manufacturer:
Elliot Havok
Requirements:
Pros:

Simple, elegant style
Slim, lightweight design
Quality materials
Affordable price

Cons:

Not suitable for demanding environments