We use affiliate links. If you buy something through the links on this page, we may earn a commission at no cost to you. Learn more.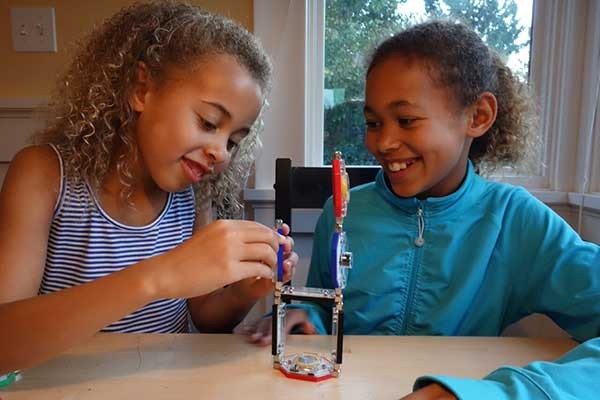 It takes almost no effort to get kids interested in technology because they are naturally drawn to gadgets and gizmos like smartphones and iPads. While playing games on these devices is a lot of fun for children, they don't learn much from the time spent gaming. What if kids could play and learn important skills at the same time? LightUp kits are both fun and educational; they are specially designed magnetic circuit blocks that snap together and are used with a mobile app to allow kids (ages 5 – 17 years old) to explore the world of electronics and programming in a fun and simple way.
This post has been sponsored by Lightup.
The magnetic circuit blocks consist of basic components like a battery, LED and buzzer, to advanced components like a microprocessor. When kids snap them together they can build projects like a nightlight, music box, a TV remote and more.
Created by Josh Chan, a Stanford teacher and Tarun Pondicherry, an electrical engineer, the LightUp mobile app uses augmented reality to lead kids through building an electronic circuit. Using your smartphone or tablet's camera pointed at the physical circuit, the app will show kids how electricity flows through the circuit and will also show them how to fix any mistakes in their connections. With LightUp children will discover how to build things, how electricity powers things and even how to program a circuit on their own.
"Anyone can learn how to code with our visual programming environment featuring drag-and-drop code blocks and guided tutorials," said Chan. "We can't wait to see what kids create once they can connect their projects to the Internet of Things."
LightUp offers two kits, the entry level Edison kit which is priced at $49.99 and introduces key STEM (Science, Technology, Engineering, Math) concepts, teaching kids how to explore their world with electronics and code. The Tesla kit is priced at $99.99 and helps kids dream up their own projects and use the power of programming to them take their projects to the next level. The elements of both kits can work together. Use the coupon code TAKETEN for a 10% off discount and visit LightUp.io for more info.
This post has been sponsored by LightUp.