We use affiliate links. If you buy something through the links on this page, we may earn a commission at no cost to you. Learn more.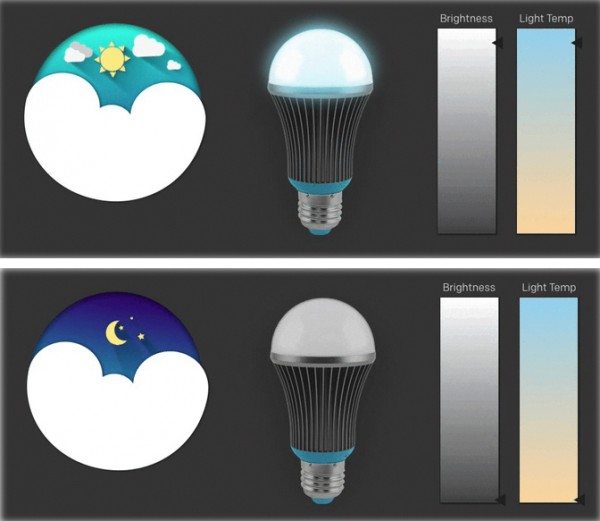 In recent years, there's been a lot of discussion about how the blue light from the screens of mobile devices could be negatively impacting sleep patterns.  Humans evolved having bright, bluish-white light from the sun during part of the day.  The only light they had at night was either from the stars and moon or the reddish lights from fires (fires, candles, lanterns, etc).  Things changed once we had electricity in our dwellings, but even those lights had a reddish cast.  Now, we have fluorescent lights with a greenish tint, daylight bulbs with bluish light, and TVs and mobile devices with bluish light all disrupting our natural circadian rhythms.  Saffron, whose Drift bulb with its naturally dimming function designed to help guide you to sleep was reviewed at The Gadgeteer, has a Kickstarter campaign to fund the Silk bulb.
The Silk Smart LED bulb is designed to have your lighting match your circadian rhythms by producing brighter, bluer light during certain times of the day and gradually changing to redder, dimmer lights at other times.  You can create the perfect lighting for any situation by adjusting the color temperature and the brightness of the Silk bulb.  The smart bulbs connect to your home WiFi via their hub, and they can be set up to automatically adjust their light to match the time of day.  You can also use the power switch controlling a bulb to give it a boost of blue if the situation needs a little extra energy or to have the bulb gradually dim to off if you want to slow down and get ready to sleep; this nClick function is customizable, so you can have it adjust the lights in other ways to best suit your needs.  The Silk app for your smartphone allows you to schedule the bulbs, create lighting zones, and customize the nClick functions.
The $99 early-bird special pledge is almost gone, so you'll probably have to pledge $129 for a bridge and three Silk bulbs.  You can add extra Silk bulbs for $24.95 each.  Saffron has reached a little more than a third of their funding goal at this point.  Funding continues until Friday, August 7, 2015 at 10:41 AM EDT.  Shipping is expected in January 2016.  Learn more at the Silk by Saffron Kickstarter page.