We use affiliate links. If you buy something through the links on this page, we may earn a commission at no cost to you. Learn more.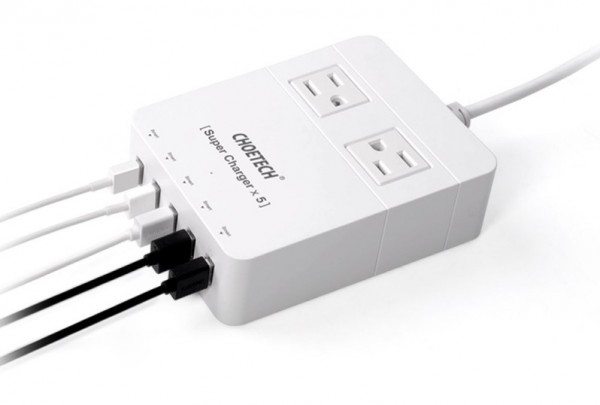 More power!  That's the cry of today's desktop.  If you're anything like me, you probably have a tangled web of mismatched chargers, or you may find yourself looking behind furniture for that spare outlet to test out some gadget.  The CHOETECH Desktop Multi USB Power Strip aims to address this in one simple package.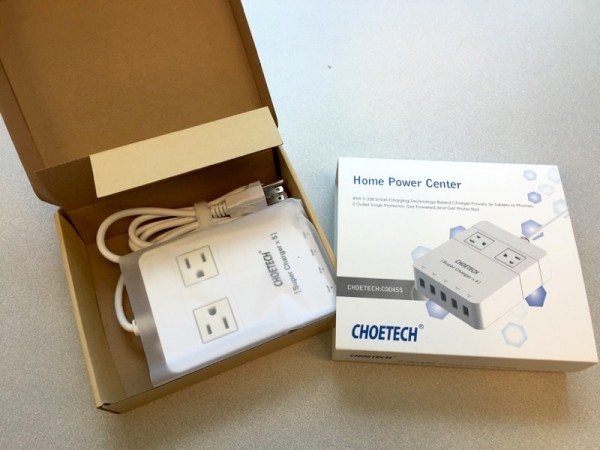 The CHOETECH Desktop Multi USB Power Strip C0045S comes in a simple box without much else.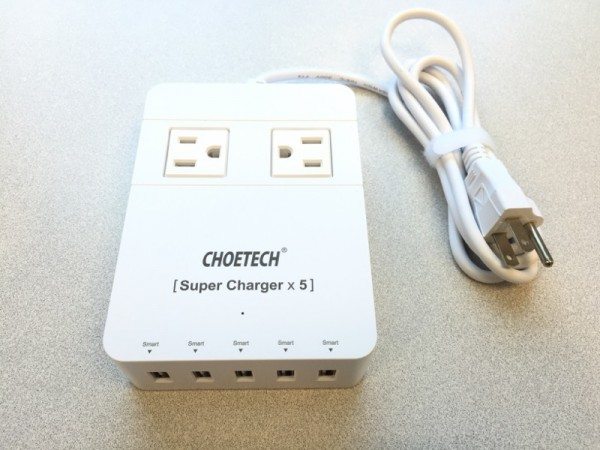 Dimensions:  133.5mm x 98.5mm x 41mm
On top you'll find two power outlets.  There are five "Smart" USB ports at the bottom.  The attached power cord comes with a cable wrap.  Nice touch.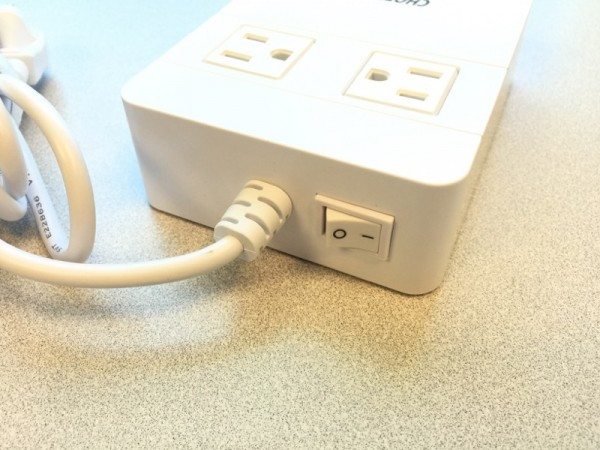 Next to the power cord is the power switch.  This switch turns both the AC outlets and the USB plugs on or off.  You don't get to pick or choose.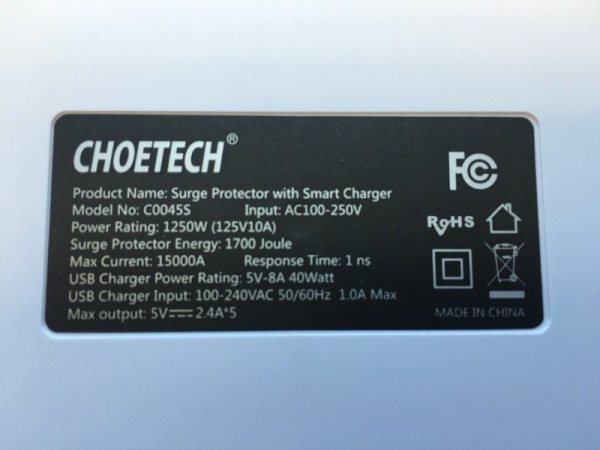 The rear label.  This hints that the USB ports are rated at 2.4A each.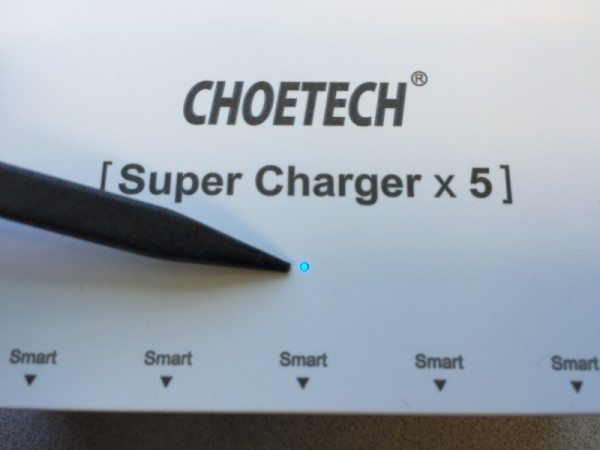 I didn't even notice this until I plugged it in.  There's a tiny blue LED that lights up when power is on.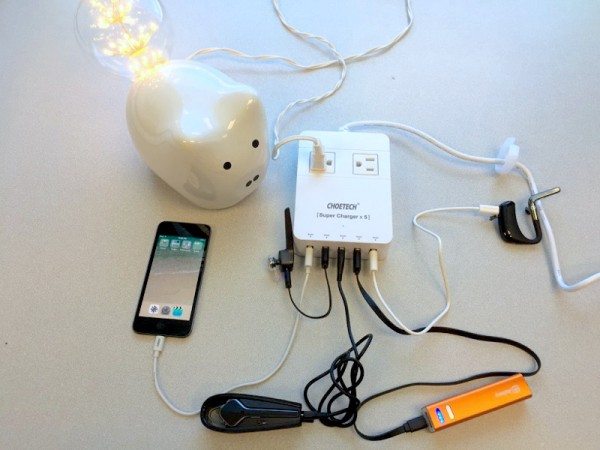 Feeding time!  Flip the one switch and everything is energized.  Yes that's a pig lamp.  It used to have a curly fluorescent bulb, but he's been updated with an LED bulb.
As with many of these multi-USB chargers, this one features so-called "smart" charging tech.  The idea is supposed to supply on-demand current, depending on the device's needs.
I've always been a little skeptical of this.  After all, a device won't simply slurp more electrons because a power supply lets you.  Most of the time, your smartphone or gizmo will just take what it can get, and charge slower (or faster).  My tinfoil hat mindset thinks this is either marketing hype or a cheat to say each port can supply "up to" 2.4A, just not all at once.
I was unable to scientifically test the claims of 5 USB x 2.4A, but I did stumble across this cryptic, hard-to-read excerpt from the included instructions (scanned from paper):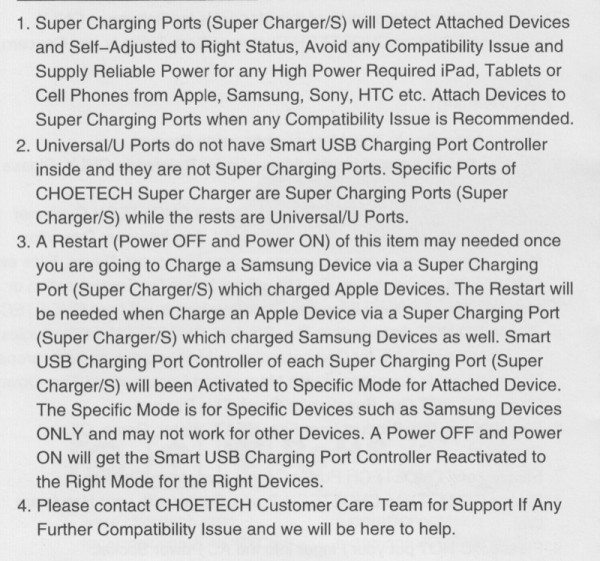 This charger doesn't have any "Super Charger/S" or "Universal/U" labeled USB ports.  They're all labeled the same:  "Smart".  These could be instructions copied from a different device.  It could be that to take advantage of "faster" (higher ampere) charging, you may need to restart the charger while your device is plugged in.
Tinfoil hat aside, do I like the CHOETECH Desktop Multi USB Power Strip?  You bet I do.  I'm going on a trip soon, so I'll bring this along so I don't have to hog up multiple outlets while staying at a friend's house.
Source: The sample for this review was provided by CHOETECH. Please visit their site for more info or Amazon to order.
Product Information
| | |
| --- | --- |
| Price: | $26.99 (Amazon) |
| Manufacturer: | CHOETECH |
| Retailer: | Amazon |
| Requirements: | |
| Pros: | Charges up to five USB devices plus two AC outlets on top. LED indicator tells you when powered up. |
| Cons: | Switch turns both USB and AC off, which may be inconvenient for some. Instructions are a little cryptic. |