We use affiliate links. If you buy something through the links on this page, we may earn a commission at no cost to you. Learn more.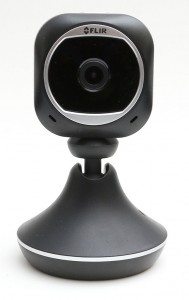 If you've been looking for a home security camera but can't decide which brand to buy, let me make your decision even harder by giving you another company to check out that you might not have considered before. It's FLIR, the same company who makes thermal imaging cameras and other high-tech gear. Their FLIR FX HD monitoring camera is packed with unique features that make it a pretty compelling gadget for more than one use. Let me show you.
Note: Click the images for a larger view.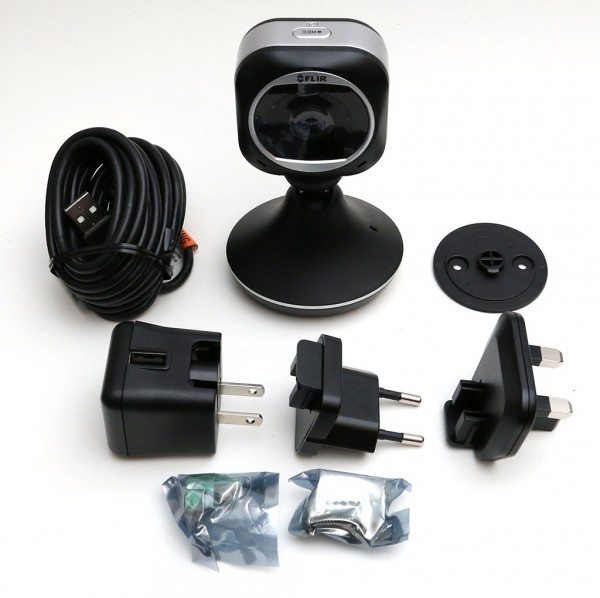 What's in the box
FLIR FX Wireless HD camera
USB AC adapter with US and international plugs
USB cable
8GB micro SD card
Mounting hardware
Quick start guide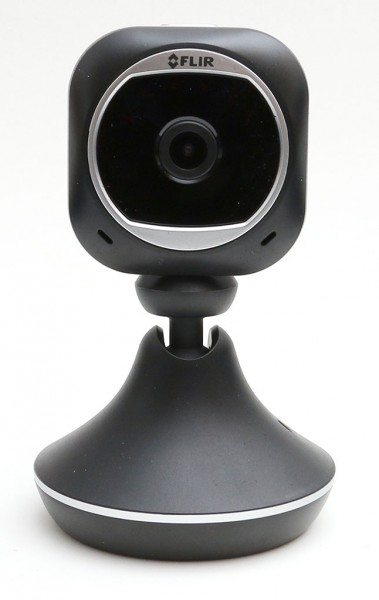 At first glance, the FLIR FX looks like a rather ordinary indoor security camera. It has a black matte plastic case and base with silver accents that allow it to blend in with most home decor. The front of the camera has the lens as well as a microphone and speaker built into the bottom corners.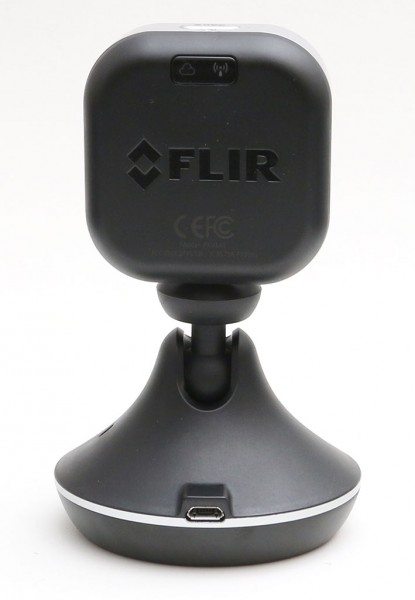 On the back of the camera, you will find an LED at the top that shows if the camera is in cloud or direct mode. Don't worry, I will explain more about the modes later on in the review. The base has a micro USB port that is used to provide power to the camera. It is also used to charge the camera's internal battery. That's right, the FLIR FX can be disconnected from a power cord for truly wireless recording. Battery life is only about 2 hrs when disconnected, but it just occurred to me that you can probably connect a backup battery to the micro USB port for even longer wireless use.
The camera can also be removed from the base and used as an action cam, vehicle dashcam or outdoor camera when used with various accessories that can be purchased separately from FLIR. For this review, we will be focusing mainly on using the FLIR FX as an indoor home security camera.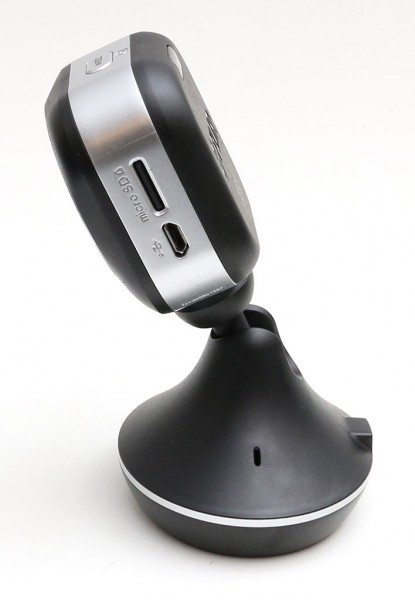 One side of the camera has a micro USB connector and a micro SD card slot. The USB connection is used for power when the camera is not attached to the base (note: you should only have one power cable attached at a time). The micro SD card slot is used to record video directly to the memory card instead of the cloud.  You'll also notice the small slot in the base. That's a special sensor which can send alerts for changes in temperature and humidity.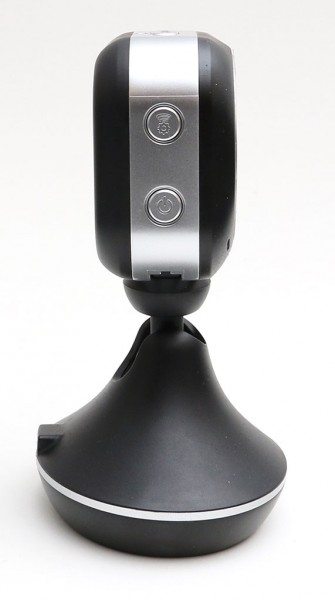 On the opposite side of the camera, you will find a power button and a WiFi toggle button which switches between cloud and direct modes. In cloud mode, live streaming and captured video is stored in your FLIR account to be viewed through the FLIR app on your mobile device. In direct mode, the camera creates its own WiFi hotspot. This is useful if you want to stream live video to a mobile device when you don't have an internet connection.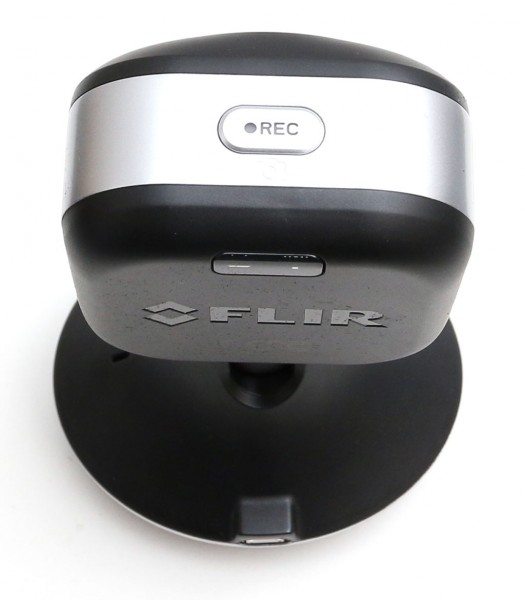 On the top of the FLIR FX there is a record button. Pressing this button once will cause the camera to take a photo and email it to you. Holding the button down will start and stop video recording to the micro SD card.
Setting up the camera is very easy. Just connect the camera to power, install the free FLIR FX app on your iOS or Android device and then use the app to scan a QR code on the bottom of the camera. From there you just follow the steps and it will be up and running in just a couple of minutes.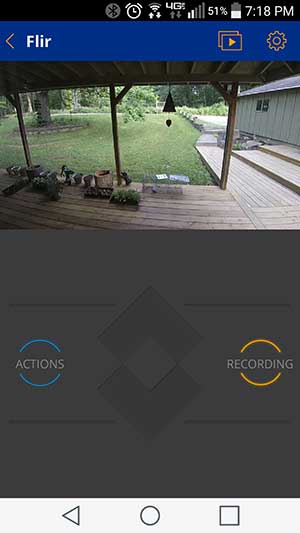 After setup is completed, the app shows a live view of the camera along with buttons at the bottom which bring up special menus.
From the actions menu, you can create a RapidRecap recording, use the intercom feature, take a snapshot and go into camera settings. The recording menu lets you toggle motion and sound detection features.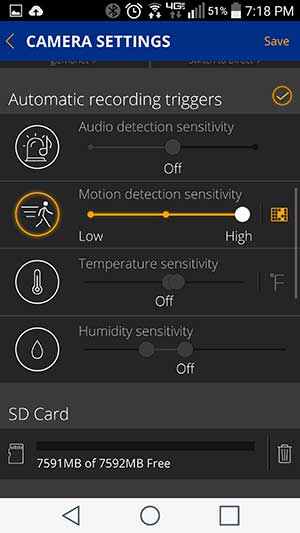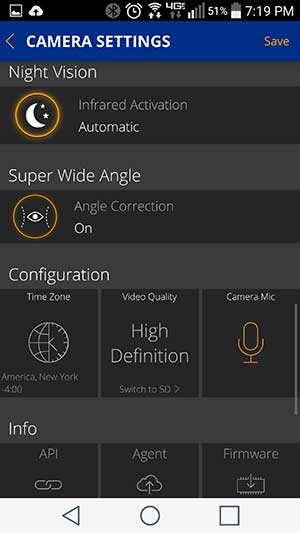 In the camera settings, you can customize the automatic recording triggers, toggle night vision, wide angle correction, image quality and more.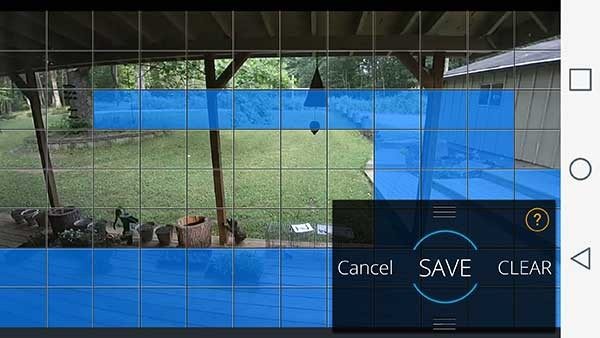 You can even create smartzones that will only look for motion in certain areas of the view and will ignore the rest of the view.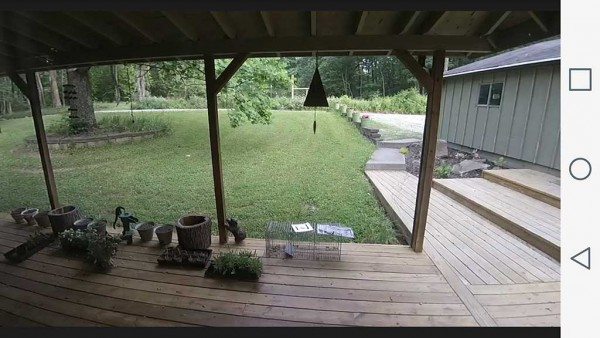 If you double tap the live view image on a tablet or turn your smartphone to landscape orientation, the live view will go full screen. I was immediately impressed by the image quality. The picture is clear and crisp and the wide angle does not have that warped fisheye look that can happen with wide angle lenses of other cameras.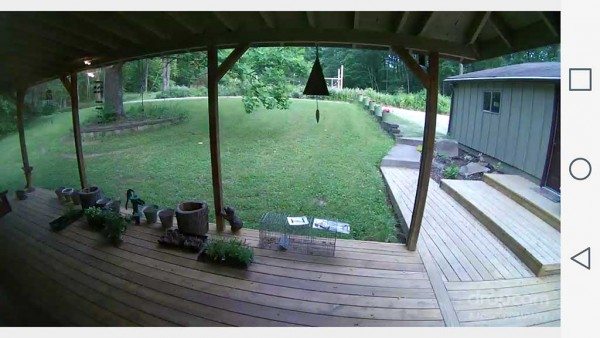 Compared to my Dropcam Pro (image above), the FLIR FX has better color and sharpness and less wide angle warp.
The FLIR FX works great as a live streaming camera. But where it differs from all the other security cameras I've ever tested is with its RapidRecap feature. With RapidRecap, you can see all the events that were captured for the day in just a couple of minutes.
The way it works is that you select a time frame to create the RapidRecap. The length of time that you can select differs according to the subscription plan, as does the number of RapidRecaps that you can create. With the free plan, you can create up to three RapidRecaps per month and can choose a 6hr window from the previous 48hrs. The Plus plan which costs $9.95 per month gives you unlimited RapidRecaps and will let you select up to an 8hr window from the previous seven days of stored video. The Premium plan costs $19.95 per month and also allows for unlimited RapidRecaps, but you have a 12hr window and 30 days of stored video. The subscription plans do have a discount if you pay for the entire year at once.
RapidRecap videos are created from the automatic recordings that were captured due to motion, sound, temperature or humidity alerts. If the camera didn't capture any alerts, the RapidRecap will be empty. By the way, I wouldn't rely on the temperature and humidity sensor because I haven't found either one to be very accurate. I have a calibrated hygrometer that I use for my custom ukuleles which measures humidity and temperature and have found the readings from the FLIR FX to be off several degrees for the temp and 20-30% too low for humidity.
A few notes about the alerts. Whenever one is captured, you will receive a notification on your mobile device. At this time, there are no email alerts or a web based portal for video viewing. However, FLIR does have plans to offer a web portal before the end of the year.
The mobile device notifications aren't really very useful because clicking on them just takes you to the live view. You have no idea what happened to cause the event until you go into your automatic recordings or create a RapidRecap.
Here's an example of a RapidRecap. I think you'll agree that it's pretty darn cool.
As you noticed, every event that caused video to be captured is shown in the video clip with a time stamp. The first time I watched a RapidRecap I was confused because of all the time stamps, but once you get used to watching them, it's a really fun way to see everything that happened during the day in just a few minutes.  One thing I do wish though is that a 12hr RapidRecap would be one video instead of multiple videos that you have to watch in succession.
The FLIR FX is the first home security camera that I think is better than the Dropcam in almost every way… except one. That one feature is the ease in which you can view a specific time in your cloud stored video. Say for example that you wanted to check the video from yesterday at 6pm because your friend told you he dropped by when you weren't there. With the FLIR FX you can only do this if an automated video was captured during that time period due to a triggered alert. With the Dropcam, you can scroll back to any time up to seven days past as long as the camera was on.
The FLIR FX Indoor Wireless 1080P HD Video Monitoring Security Camera is an impressive home security camera with cool features like RapidRecap. The fact that you can also use it as a dashcam, action cam and wireless security camera really make this camera a good choice for someone shopping for a cloud based camera. The fact that you can use the free basic service to store captured video for up to two days makes it a better buy than a lot of other cameras currently on the market.
Source: The sample for this review was provided by FLIR. Please visit their site for more info or Amazon to order.
Product Information
Price:
$199.99
Manufacturer:
FLIR
Retailer:
Amazon
Pros:

Great wide angle view without fisheye distortion
Easy to setup
Built in battery allows you to use it wirelessly for up to 2hrs
Can be used as action cam and dashcam with optional accessories
RapidRecap shows time stamped activity for quick review of day's events

Cons:

No web viewer
No easy way to go back in time to see what happened at a specific time
Only saves video clips for triggered events
Humidity / temperature sensor not accurate