We use affiliate links. If you buy something through the links on this page, we may earn a commission at no cost to you. Learn more.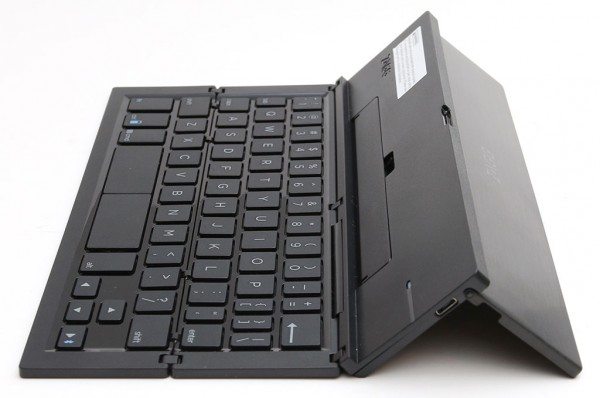 The onscreen keyboards on our mobile devices work great, but for those of us who are touch typists or those who prefer the feel of physical keys when they need to do a lot of writing, a Bluetooth keyboard is obviously the way to go. The latest keyboard that I've had the opportunity to test is the ZAGG Pocket keyboard. Let's take it for a spin.
Note: Images can be clicked to view a larger size.
Hardware specs
Folded height: .6 in (14.5mm) x 2.2 in (54.5mm)
Unfolded depth: 7 in (178mm ) x 8.8 in (223.5mm)
Weight: 6.8 oz (194 grams)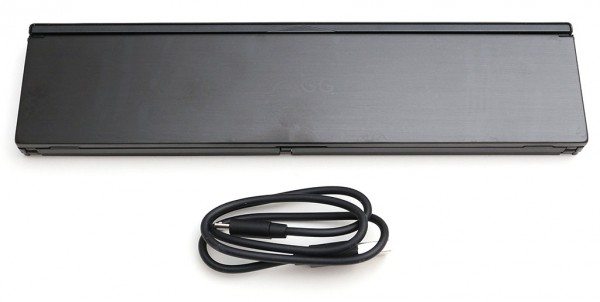 Package contents
ZAGG Pocket keyboard
micro USB charging cable
The ZAGG Pocket keyboard is sold in two versions, an Apple version and an Android version. Don't worry though, both versions are exactly alike and will work with either operating system. The only difference is that each one is set up by default to pair with their respective devices.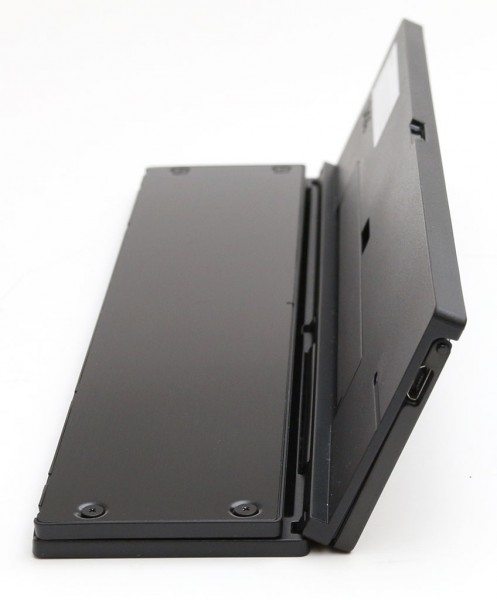 The keyboard is made of black plastic with a thin aluminum skin that does show finger prints and smudges. It has four sections that allows the keyboard to fold up into a thin narrow rectangle that fits easily into most gear bags and even some pockets.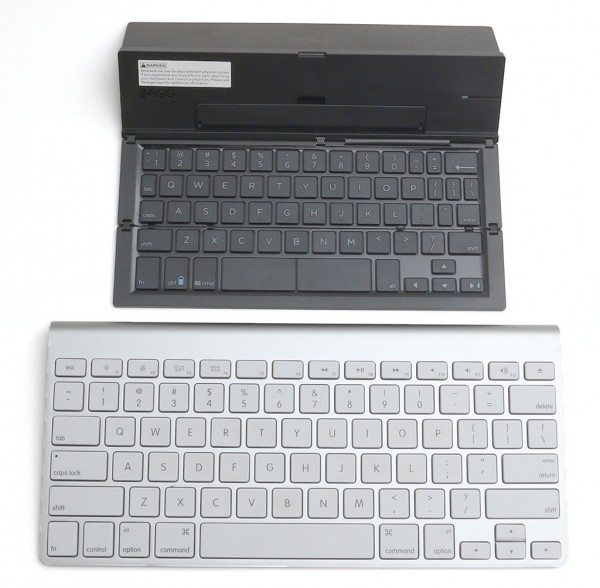 Unfolded it is 85% the size of a normal keyboard. In the image above it is compared to an Apple wireless keyboard. The key spacing and layout on the ZAGG is similar to the Apple keyboard except for a few keys that have been downsized. More about that later.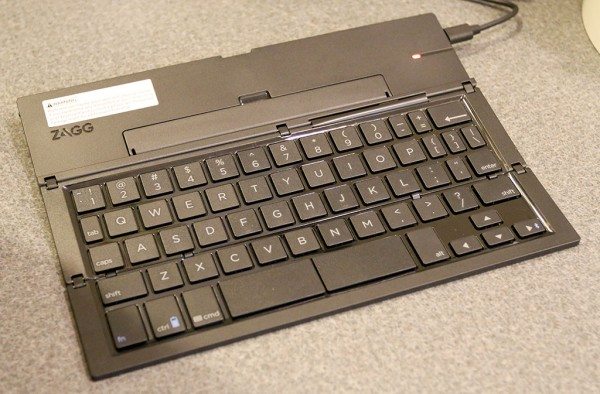 Before you use it, you'll want to charge it using the included micro USB cable which plugs into a slot on the side. A red LED will glow while the keyboard is charging and then turns off when charging is completed.  The quick start guide that was included with the keyboard says that it only needs to be charged once every 2 years. I find that a little hard to believe and can't find the same info on ZAGG's website. But I've been using the keyboard for a few weeks now with just one charge and it's still going strong.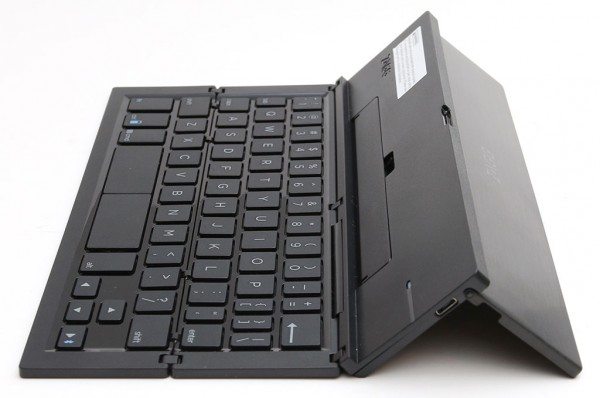 Once charged, unfolding the ZAGG Pocket keyboard will automatically power it on. Folding it back up turns it off. The LED will briefly glow green to let you know it has turned on.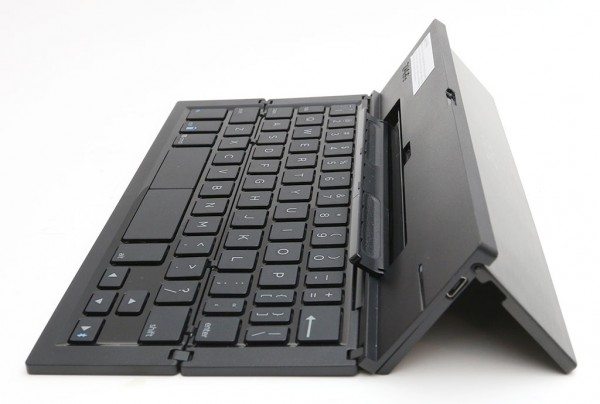 The keyboard has been designed to be used on a flat surface and will not work well on your lap or other unstable surface. The keyboard itself is flat, but it has a handy device tray that folds down to hold your smartphone, phablet or tablet at just the perfect angle to view the screen.
To pair your device with the keyboard, all you do is press the Fn and right arrow key to go into pairing mode. Then on the mobile device you'll see the ZAGG Pocket keyboard listed in the available Bluetooth devices list. There is no passcode to type in so pairing is quick and easy. To switch between Apple and Android, there are two special function keys combinations that can be pressed. The keyboard also has a special key combo that will show the battery status by blinking the LED. The only other special key is a menu key that brings up the menu on your mobile device. Holding the menu button down for a few seconds will popup the open app list on Android devices.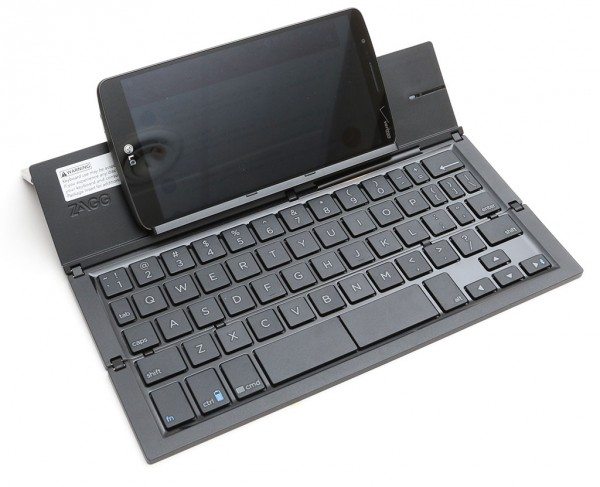 I mainly tested the ZAGG Pocket keyboard with my LG G3 which you see above.  Once paired, it had almost zero lag upon unfolding the keyboard and being able to type. As soon as I unfold it, my LG G3 automatically wakes up so I can swipe to unlock and start typing.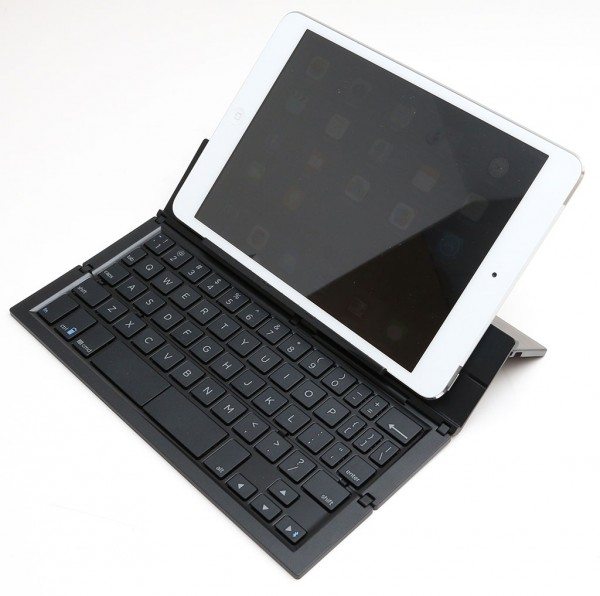 Here's the ZAGG Pocket with my first gen iPad mini. I also tried it with my Nexus 7, iPad 2 and a Samsung Galaxy S2 Tab 10.5. Although all of those devices work well with the keyboard, the smaller devices feel more secure in the fold down tray. The larger devices felt a little unstable and at one point my iPad 2 slid out when just barely touched it. So you need to be careful with bigger devices if you choose to use them with this keyboard.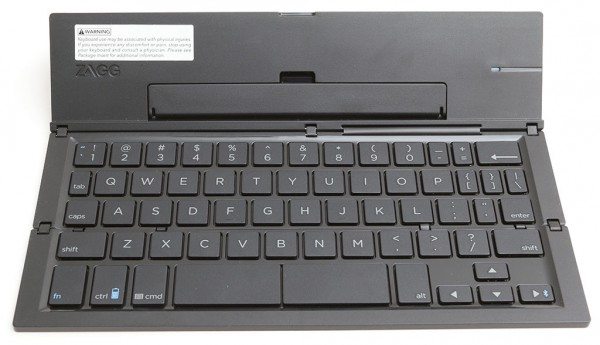 Typing on the keyboard takes a little adjustment because it's smaller than a standard sized keyboard and has a slightly more shallow key travel. But for the most part I adjusted pretty quickly. I wasn't able to type quite as fast as I do on a normal sized keyboard, but I'd say using the ZAGG Pocket keyboard to enter text is faster for me than using the onscreen touch keyboard. Granted, I wouldn't pull out the ZAGG to use it to type in a text message, but for longer emails it's very handy.
The only issue with the keyboard / key size that I noticed is that the quotes key and enter key have been downsized from their normal size on a traditional keyboard. While testing, I often pressed the enter key when I actually meant to press the "/' key. This would create a line feed that would throw off the positioning of what I was typing. Although this was annoying, I feel that with time, I'd adjust and not create so many errors. By the way, you will notice that the spacebar is split into two keys. If you're wondering if that caused me any issues, it did not.
After using the ZAGG Pocket Keyboard on and off for a couple of weeks I've really come to enjoy it. I like how well made it is and that it folds up into a very compact package, automatically powers on when unfolded, has a built in device tray and allows me to touch type with relative comfort.
Source: The sample for this review was provided by ZAGG. Please visit their site for more info.
Product Information
Price:
$69.99
Manufacturer:
ZAGG
Pros:

Well made
Long battery life
Folds up into a small package
Auto power on/off
Good key size and layout

Cons:

Smaller overall size may take some adjustment due to smaller keys
Metal skin / shell shows fingerprints