We use affiliate links. If you buy something through the links on this page, we may earn a commission at no cost to you. Learn more.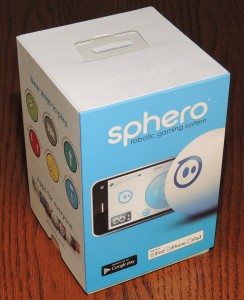 Back in 2012, the gadgeteer Kid and I did a joint review of the original Sphero programable, robotic ball. We had a good time playing with it; using it to not only entertain ourselves but the dog and cat as well. Recently the Orbotix engineers and designers have introduced a second generation Sphero robot ball that is faster, brighter and more nimble than it's predecessor. So when asked, the now Gadgeteer Teenager (although I will most likely continue to call him the GK) and I thought it would be fun to checkout the Sphero 2.0 to see how it has improved over the original. 
Note: Images can be clicked to view a larger size.
Package Contents: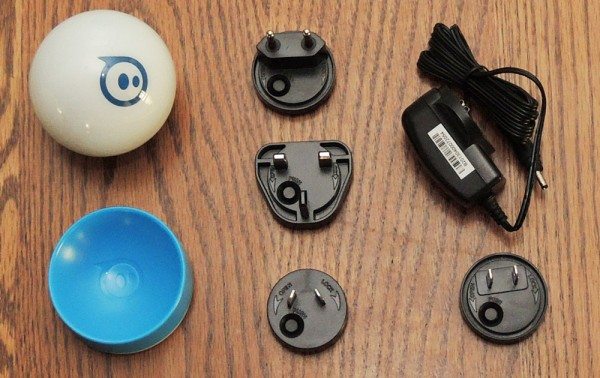 Sphero 2.0
Inductive charging base
Quick Start guide to get you rolling problem free
Free games and apps available on the App Store, Google Play, and Windows Store
Power Adapter (110V – 240V compatible, USA style plug)
Tech Specs:
iOS, Android, and Windows compatible
Goes over 4.5 mph (2m/s)
Durable polycarbonate shell
Built-in LED glow
Bluetooth connection (30m/100ft range)
Inductive charging (over 1 hour of play on a full charge)
Over 30 apps available that offer numerous ways to play
Hackable and programmable internal robot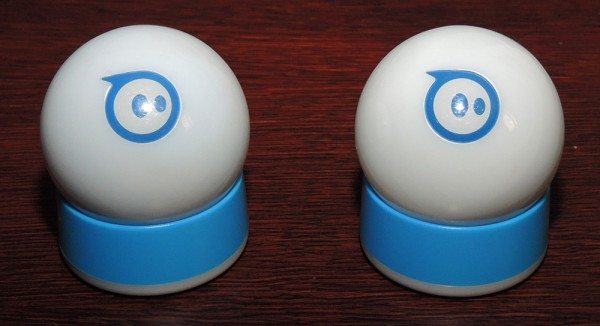 Sphero is a very cue-ball looking robotic sphere that you control with your Bluetooth-enabled smartphone or tablet. Sphero is able to pair with nearly any iOS, Android, or Windows smart-device. I was able to connect my Note 4 in less than a minute or two. The Sphero's exterior is high-impact, waterproof polycarbonate. Even through it looks like a cue-ball or baseball, Sphero weighs in at a relatively light, 168 grams.
As you can see, when sitting side by side there is little to no visible difference between the original Sphero and generation 2.0. All the true differences are 'under the hood'.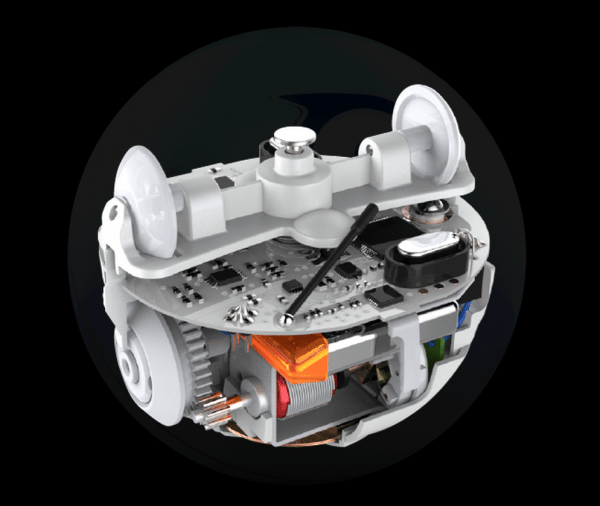 Sphero 2.0 is 50% faster with greater range and runtime than its predecessor. Like the original, multicolor LEDs are embedded inside the chassis but are brighter and more vibrant on the latest version.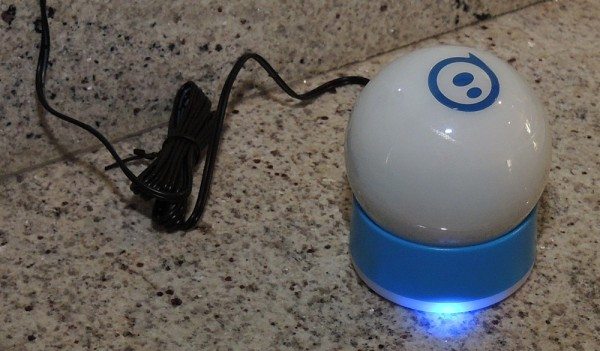 The inductive charger has a blue LED on its base (also brighter than the original); the dock blinks during the three-hour recharging cycle, transitioning to solid blue when the battery is fully charged. Sphero can operate for approximately an hour on a single charge. The inductive charging base/system is very nice, making it possible for the ball to be completely sealed, without a port of any kind. The charging cradle is also the perfect storage location when not in use. The second generation base has a reset button making it much easier to reset the Sphero than the original which involves a strong magnet, but I'll come back to that in a moment.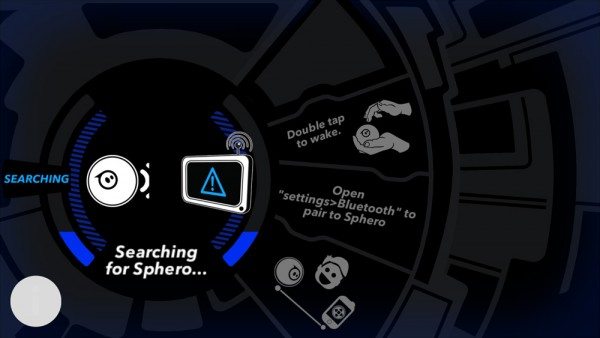 To turn on the spherical robot, you simply give it a good tap with your fingers/whack of your hand or a jiggle and its LEDs start cycling through a rainbow of colors. It regularly took me a couple of attempts to wake it up. During the initial setup, you first must pair the two devices via Bluetooth.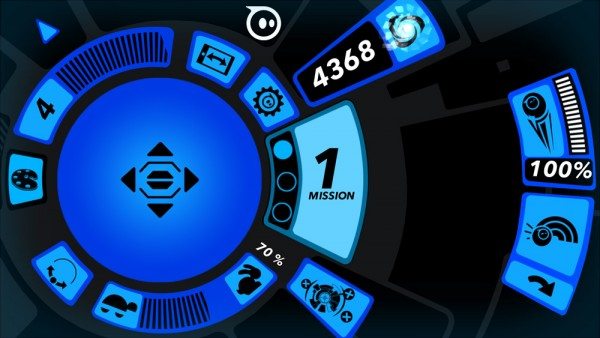 Once woken up, you start whichever Sphero app you want to play with and it initializes the device. The Sphero 2.0 worked well and was definitely faster than v1.0. Though both the GK and I had to keep readjusting the control/reference point that helps the Sphero know it bearings.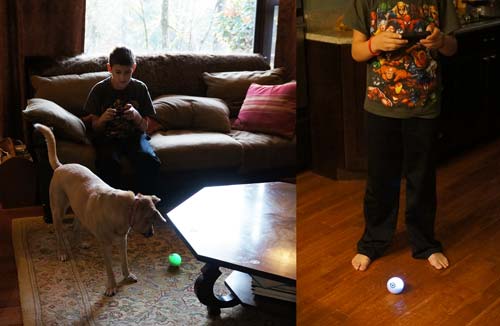 We had hoped to race the original Sphero against its successor but sadly the first one had died while stored in its box. We did our best to revive it, but sadly nothing worked. It failed to take a charge even after resetting it several times which involves using a strong magnet (like I said, resetting the Sphero 2.0 is much easier than the first).  Maneuvering Sphero takes a bit of practice and I found the need to keep resetting it's directional reference point. Under ideal conditions Sphero 2.0 can achieve speeds up to 4.5 ft/sec. That is 50% faster than version 1.0 and feels more nimble than we remember from our original review.
Sphero Accessories:

Orbotix has created a line of Sphero accessories that only add to the round robot's abilities and level of fun. There are also 30+ apps available through iTunes and Google Apps stores that enable the robot to do more.
As I said in our original review, the Sphero robot ball costs a whopping $130, which seems like a great deal of money for a plastic ball, even if it is a high-tech "robot" that can be controlled via your smart device. For that kind of money, you can find a Nintendo 3DS or a refurbished iPod Touch. Both of which are more engaging to both myself and the Gadgeteer Kid'. These statement hold true even more so nearly three years later; a decent, small/medium sized drone cost less in today's tech-world. The Sphero 2.0 is at best incrementally better than the original. While well made and with a growing set of associated apps, (IMO) Sphero is more like a $40-50 niche device, definitely not worth three figures.
Source: The sample for this review was provided by Orbotix. Please visit their site for more info or eBay to order one.
Product Information
Price:
$129.99
Manufacturer:
Orbotix
Retailer:
eBay
Requirements:

Bluetooth enabled iOS, Android and Windows Mobile smartdevice

Pros:

Well made
Interesting concept/design
iOS, Android and Windows Mobile compatible
Inductive charging/no ports
- Waterproof
- 30m/100 ft range
- Even Zippier
- 30+ Sphero applications
- Good array of accessories

Cons:

Expensive
Occasionally difficult to wake up
Three hours to fully charge
May not hold ones interest very long