We use affiliate links. If you buy something through the links on this page, we may earn a commission at no cost to you. Learn more.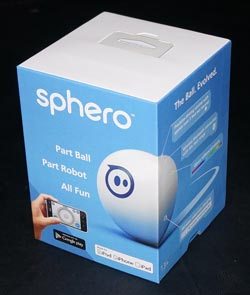 My initial thought when Julie asked the Gadgeteer Team, who would like to review the Sphero was 'cute but I'll pass'. But upon further consideration, it occurred to me that I have an 11 yr old, tech-savvy son, spaz of a dog and insane cat at home just waiting for something like this to enter their domain, thus making me (and the Fam) a prime candidate for Sphero. So, the Gadgeteer Kid and I will be checking it out and letting you all know what we think :).
My commentary will be in standard black and the GK in italicized blue.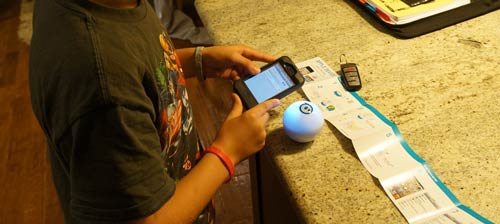 Sphero is a very cue-ball looking robotic sphere that you control with your Bluetooth-enabled smartphone or tablet. Sphero is able to pair with nearly any iOS or Android device; the Gadgeteer Kid was able to connect his iPhone in less than a minute. Even through it looks like a cue-ball/baseball, Sphero weighs in at a relatively light, 168 grams.
Specifications and Features:
Orbotix Smart Robot
Made of a opaque, high-impact polycarbonate
Speeds of up to 3ft per second
50ft plus range
Glows in thousands of colors
Induction charging
Waterproof
Package Contents: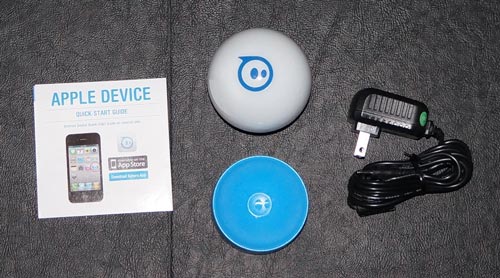 Sphero robotic ball
Inductive charging base
Quick Start card and user manual
Free apps available through the iTunes App Store or Google Play
Power Adapter (110V – 240V compatible, USA style plug)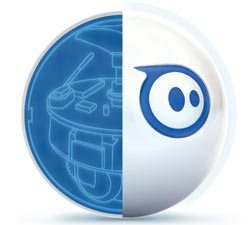 The Orbotix Smart Robot (aka Sphero's guts) has an internal guidance system, a Bluetooth 2 chip for a wireless range up to 50 feet, gyroscope and acceleration sensors. The small electric motor has enough horsepower to roll over or on to/off of uneven surfaces such as carpeting and rough sewn hardwood flooring. It does just alright outside on long grass, uneven ground or gravel, but it did fine on concrete. From a survivability perspective, I certainly would not let it bounce down the stairs.
Sphero Apps and Games: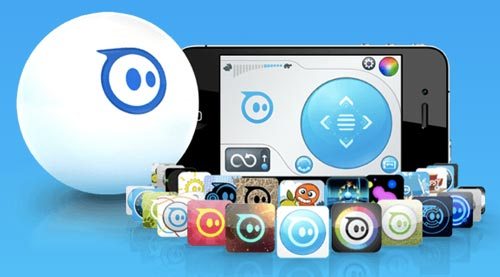 I was surprised just how many and the variety of apps that are available in the Sphero ecosystem. There are over 20 apps now available for Sphero, ranging from just driving it around the house to a virtual-reality beaver named Sharky. These apps transform Sphero from an expensive pet toy to something "more". I thought is was an interesting twist that some of the apps require you use the sphere as the controller for the app/device.
Of the ten apps I tried/played, I thought Sphero Draw & Drive was the best. In this game, you can draw a colored path on your device and Sphero follows it while changing colors along the way (although, it is hard to get used to distance on the iPhone screen compared to actual distance traveled by Sphero).  Sphero Exile was my least favorite game because you use the Sphero as the controller; it was hard to control a Space Invaders-type game with a twisted storyline.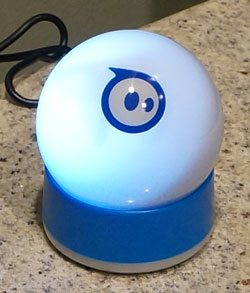 The inductive charger has a blue LED on its base; the dock blinks during the three-hour recharging cycle, transitioning to solid blue when the battery is fully charged. Sphero can operate for approximately an hour on a single charge. The inductive charging base is pretty slick, makes it possible for the ball to be completely sealed, without a port of any kind, and is the perfect storage location when not in use.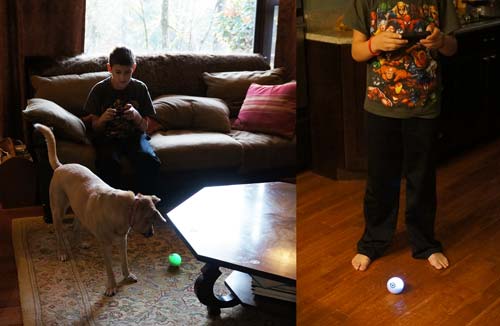 Maneuvering Sphero takes a bit of practice, but it did not take the Gadgeteer Kid long to figure it out and have it zipping around the house. According to the website, under ideal conditions Sphero can achieve speeds up to 3 ft/sec. All things considered, that is pretty zippy. Definitely fast enough to have to say "stop, stop…not down the stairs!!!" during our initial testing.
You have to calibrate Sphero each time you use it by turning the blue tail light so it faces you. After a little practice, controlling Sphero is easy. The price is definitely higher than it should be, but from a kid's standpoint, the Sphero is worth $70-80 area, not $130.  
As the GK said, the Sphero robot ball costs a whopping $130, which seems like a great deal of money for a plastic ball, even if it is high-tech a "robot" and can be controlled via your smart device. For that kind of money, you can find a Nintendo 3DS on sale or a refurbished iPod Touch. Both of which are more engaging to both myself and the Gadgeteer Kid. While well made and with a growing set of associated apps, (IMO) Sphero is more like a $50-60 niche device, definitely not worth three figures.
Product Information
Price:
$129.99
Manufacturer:
Sphero
Pros:

- Well made
- Interesting concept/design
- Works with iOS and Android devices
- Inductive charging
- 50 ft range
- Zippy
- 20+ Sphero applications

Cons:

- Expensive
- Three hours to fully charge
- May not hold ones interest very long