We use affiliate links. If you buy something through the links on this page, we may earn a commission at no cost to you. Learn more.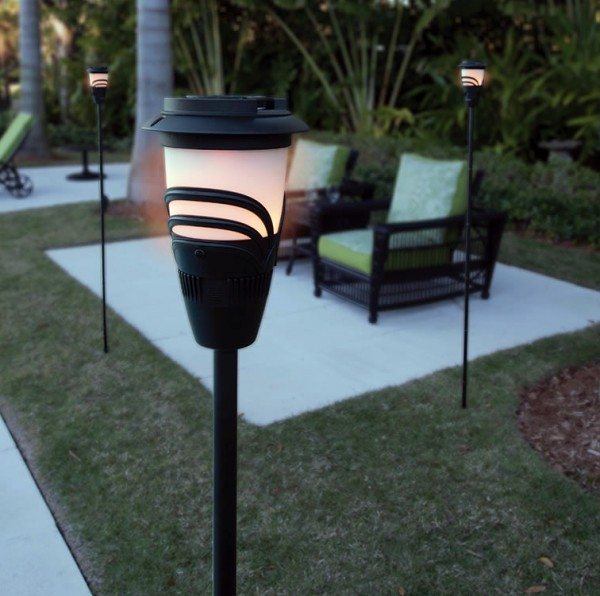 It's that time of the year that everyone dreads here in the South – mosquito season.  The joke is that the mosquito is the state bird, but it's no joke when you can't even enjoy your outdoor spaces because it seems you and everyone with you are the main course at the mosquitoes' banquet.  Set a few of these Mosquito Repelling Flameless Torches around your outdoor space, and they'll drive the pests away.  They use a "synthetic version of a naturally occurring insecticide found in chrysanthemum; a flameless butane-fueled heater vaporizes the virtually odorless repellent to create a 15′ x 15′ zone unbearable for mosquitoes and other biting insects. The repellent helps keep unwanted pests away more effectively and safely than candles and eliminates the need for oily, smelly lotions that must be applied to skin or clothing."  Each torch has four amber-colored LEDs that provide up to 40 hours of light on the highest setting from a set of four D batteries.  You can set the torches on a table, or you can mount them on the included black steel poles (total height is 60″).
Each set includes two flameless torches, 12 ThermaCELL Mosquito Repellent pads, and four butane cartridges. Each butane cartridge lasts up to 12 hours; each pad lasts up to four hours.  The set of two Mosquito Repelling Flameless Torches is $89.95, exclusively from Hammacher Schlemmer.  Refills of the pads and butane cartridge are available for $7.95.