We use affiliate links. If you buy something through the links on this page, we may earn a commission at no cost to you. Learn more.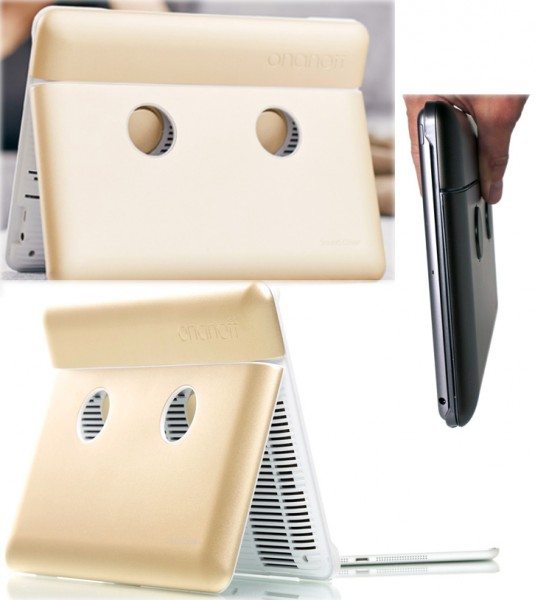 Even though my iPad Air 2 has louder speakers than any other iPad I've owned, it's still not capable of room-filling sound.  The Sound Cover from onandoff promises to increase the sound of an iPad Air or Air 2 by up to 400%.  The Sound Cover snaps on over the front of the iPad to protect the screen while you're traveling with it.  When you want sound, you just remove the iPad and open the back of the Sound Cover to automatically connect it to the iPad.  (It connects via Bluetooth, so it can actually pair and work with any Bluetooth-enabled device, though it will only fit an iPad Air or Air 2.)
Sound is improved not just by increasing the volume.  "Male vocals sound fuller and more natural, whilst low frequency instruments sounds are reproduced.   The Sound cover achieves much more balanced mid-range sound reproduction as it is complemented by adequate low frequency and treble.   And it shows excellent high frequency performance up to 20 kHz. This results in a more natural wide-ranging sound quality where all sound information in a track is reproduced faithfully."  You can position the dual flat-panel speakers so they fire the sound at you instead of away from you, as the iPad's own speakers do.  The Sound Cover has a built-in microphone, so it can be used for hands-free phone calls.  The built-in 3300mAh lithium-polymer battery gives you up to 15 hours of music between charges.  And at 14mm thick and weighing 1.25 pounds, it's sleek enough to carry in your bag.
The Sound Cover is available in Silver, Gold, Space Grey and Tactical Black for $199.00 from onand0ff.