The Gadgeteer is supported by readers like you! If you buy something through links on our site, we may earn an affiliate commission at no cost to you. Thank you! Learn more.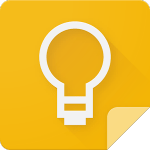 Two years ago Elizabeth posted a short news article about a new Google application called Keep. I read the post and then promptly forgot about it until a few weeks ago I saw my friend Bill Ray adding things to a list on his Samsung Galaxy S5 one day and I asked him about it. He said the app was called Keep. So I promptly installed it on my LG G3 so that I could check it out. I've been using it for several weeks now and really like it. Here's why.
First of all, it's free, which is always a good thing.
It's also very easy to use because Keep doesn't have a lot of bells and whistles. It is very basic, which I like. It can be used to make notes and lists.  The interface can be set to a multi-column or list view like you see above. The plus sign at the bottom allows you to quickly add a new note, list, image or voice note which is automatically transcribed into text. All four items can have a reminder attached that will alert you at a set time or even when you arrive at a certain location. I personally use Keep for lists. Either for items I need to do or most often, shopping lists.
Lists can be customized with labels, a colored background and even an image at the top. The items in the list can be rearranged by using your finger to slide them around in the order you desire. As you check off items in your list, you can have them disappear or go to the bottom of the list so that you can easily recycle the list for later use.
My favorite feature is the real time sharing of notes and lists. If you notice in the image above, there's a face in the lower corner. That's Jeanne. I have shared a grocery list with her. Now instead of me calling her on Friday afternoon so she can tell me what I need to pick up from the grocery store on the way home, she and I can share a list on our phones. But the coolest thing of all is that the lists can be edited in real time. There have been times when I've been adding an item to the list as she's typing in another item. I could see her entering it in real time. One time we even used Keep as a makeshift chat program which was geeky fun.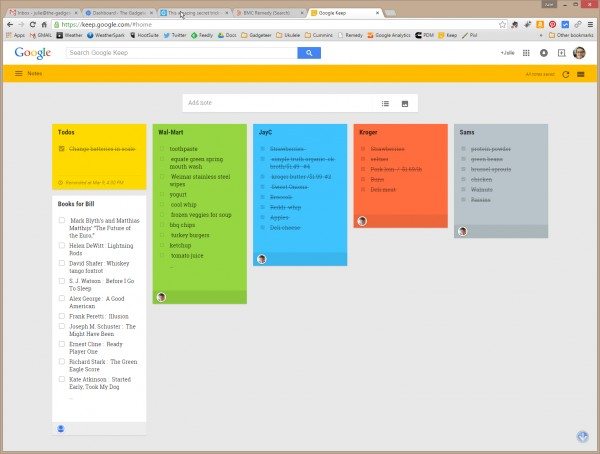 Even better is the fact that lists can be viewed and edited on a larger screen through a web browser. Everything you add syncs across all of your devices so your notes and lists are always with you. There's even a search option built into the app that will show all entries based on a keyword or even the assigned color.
The only downside to Keep is that the mobile app is only available on Android devices. At least officially. There is a third party iOS app that called GoKeep that you can try, but it asks you to provide your Google credentials to login which made me uneasy to try it. Of course you can just point your mobile browser to http://keep.google.com.
Google's Keep has become one of my favorite and often used apps. If you are looking for an easy to use note and list taking app, give this one a try.
Source: Keep is free through the Google Play store.
Product Information
Price:
Free
Manufacturer:
Google
Requirements:
Pros:

Collaborative features allow multiple people to edit lists/notes in real time
Simple interface
Easy to recycle lists
Voice notes automatically transcribed to text

Cons:

Since it's from Google, you never know when they might stop supporting it