We use affiliate links. If you buy something through the links on this page, we may earn a commission at no cost to you. Learn more.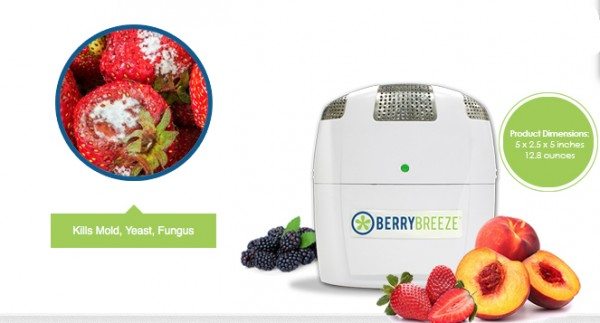 If you put the battery-powered BerryBreeze on the top shelf of your refrigerator, the manufacturer promises that it will keep your stored foods fresher for up to 2-3 times longer than normal.  The BerryBreeze "filters and cleans the air in your fridge. Using newly-patented technology, BerryBreeze fills your refrigerator with activated oxygen to neutralize bacteria, mold, and other harmful microbes. As a result, your food stays fresh for longer in your fridge, without the use of carcinogens, chemicals, or harsh cleaners."  It promises to keep the fridge cleaner and fresher smelling, too.
It measures 5″ X 2.5″ x 5″ and uses 4 D-cell batteries.  It's $49.98 with free shipping, directly from BerryBreeze.