We use affiliate links. If you buy something through the links on this page, we may earn a commission at no cost to you. Learn more.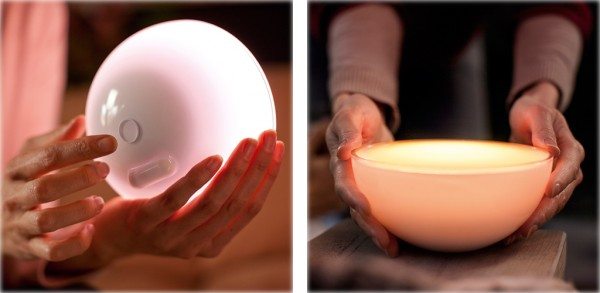 Phillips has a variety of lights for their WiFi-connected Hue system.  There are color-changing bulbs, white light-only bulbs, strips lights, and tabletop lamps, but they all have one thing in common:  they have to be screwed into a lamp socket (bulbs) or plugged into a power outlet to work.  The Go lamp is the first portable Hue lamp; its rechargeable battery gives you about 3 hours of light in battery mode.  You can take it with you to another room or use it as a candle-like centerpiece on a table with no nearby power outlet.  It can reproduce 16 million colors, just like the other Hue color-changing lights, and it is controllable over WiFi with an app.  Unlike other Hue lamps, the Hue Go has a button on the back that lets you control the lamp even in the absence of WiFi.  You can choose from "seven different light effects ranging from functional warm white light and cool energizing daylight, to one of the five natural dynamic effects – Cozy Candle, Sunday Coffee, Meditation, Enchanted Forest, and Night Adventure. Each dynamic effect has its own characteristic flow and mix of colors, delivering 'living' light that enriches a romantic dinner, a relaxing bath or a Zen moment".
The Hue Go will be introduced in Europe in April 2015 for €99.95 (about $110 US) and will come to the US in June 2015.  Read more about the Hue WiFi-controlled lighting system at Phillips Meet Hue site or read the complete press release for the Hue Go lamp at the Phillips News Center.