We use affiliate links. If you buy something through the links on this page, we may earn a commission at no cost to you. Learn more.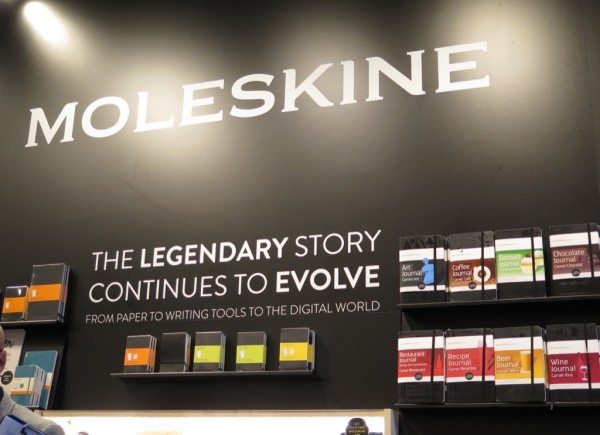 Earlier this month, Moleskine sent an invite over to the gadgeteer crew to check out a showroom event for their Moleskine 2015 collection, located at the NYU store in New York City.  I was lucky enough to be able to attend the event and check out their new line of bags, notebooks, and other accessories. They were kind enough to give me a couple of items to review, so let's check out a few photos from my trek to the big apple!Note: Images can be clicked on to view a larger size.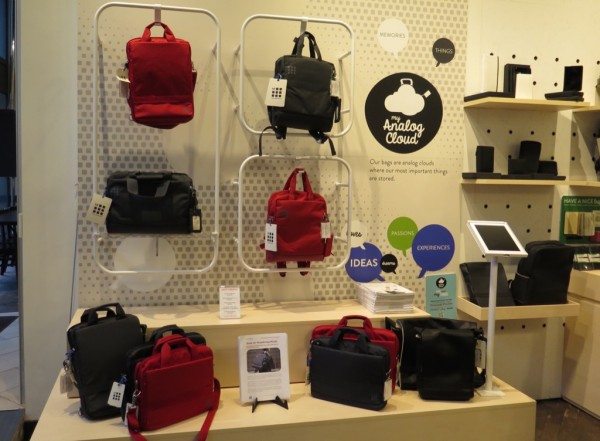 It was a super cold and very snowy day on my trip into New York (from Long Island), and upon entering the store, I was greeted with warm smiles from the Moleskine staff.  I walked around the store and snapped a few photos from their huge arrangement of notebooks, journals, writing utensils, and bags.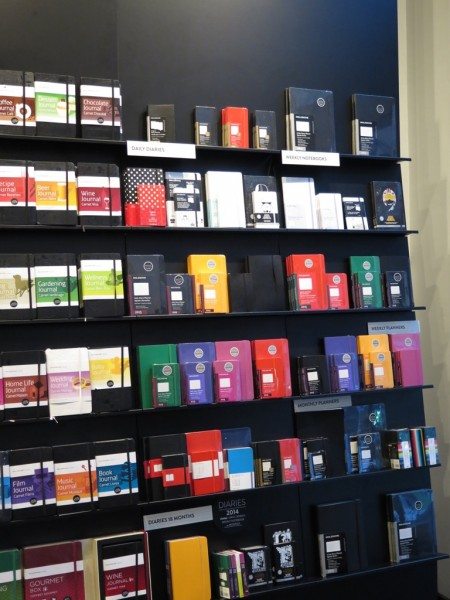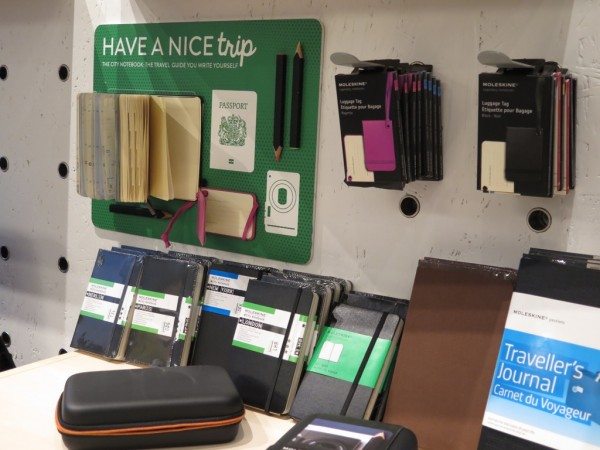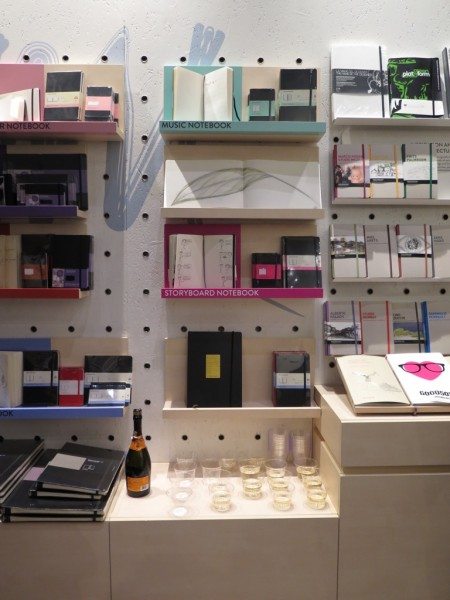 They have many notebooks branded for different purposes, with a lovely assortment of colors and styles.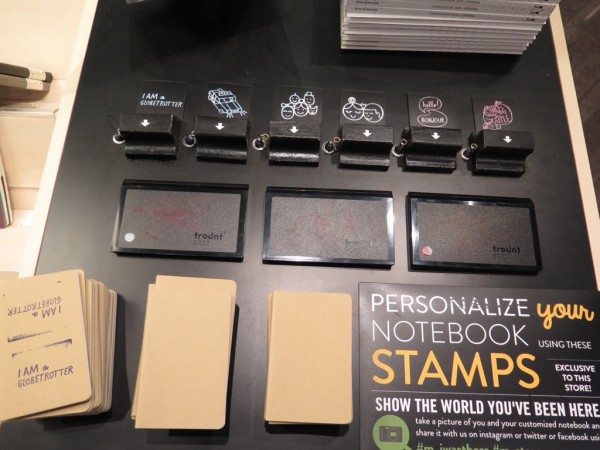 Never miss one of our posts again. Sent MON, WED, and FRI with the latest gadget reviews and news!
These stamps look really fun to personalize a simple notebook.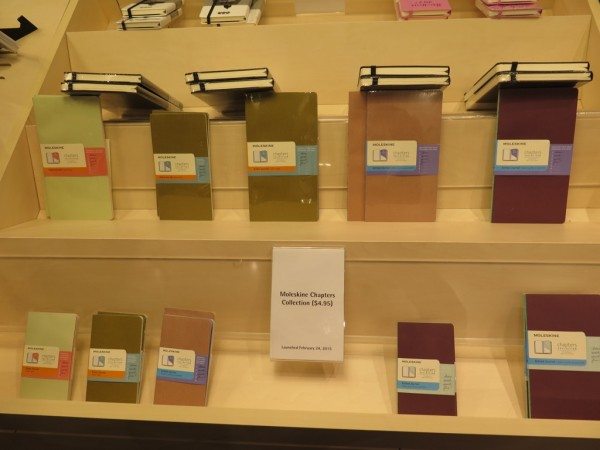 This is the new Moleskin Chapters Collection, which I will take a look at below.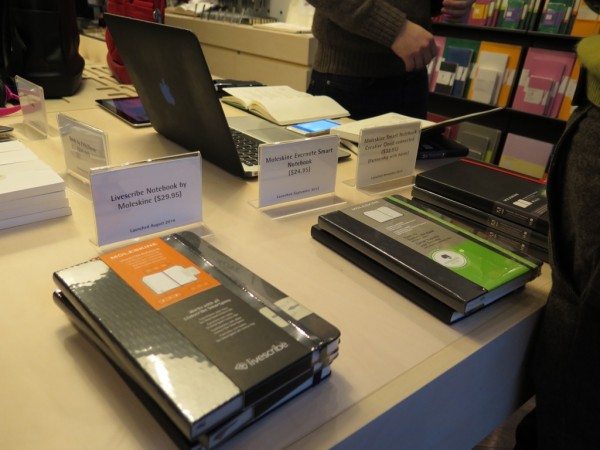 I received a demo for a couple of the Moleskine Smart notebooks.  There is the Livescribe Notebook by Moleskine which has special paper that works with the Livescribe pen to record your writing on paper as well as electronically in realtime.  Also the Moleskine Smart Notebook, Creative Cloud connected, which lets you turn hand-drawn sketches into workable digital files. Both looks very cool and useful for artists that work in both paper and electronic mediums.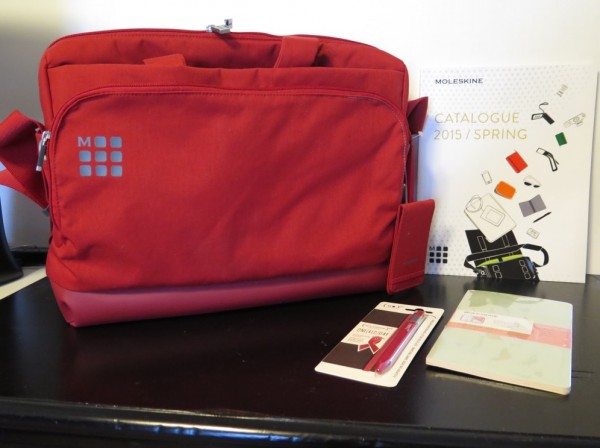 Above are the items Moleskine was kind enough to let me review. Above are the myCloud Briefcase Curve in red, the (ruled) Chapters Journal, and the (PRODUCT)RED Special Edition Pen.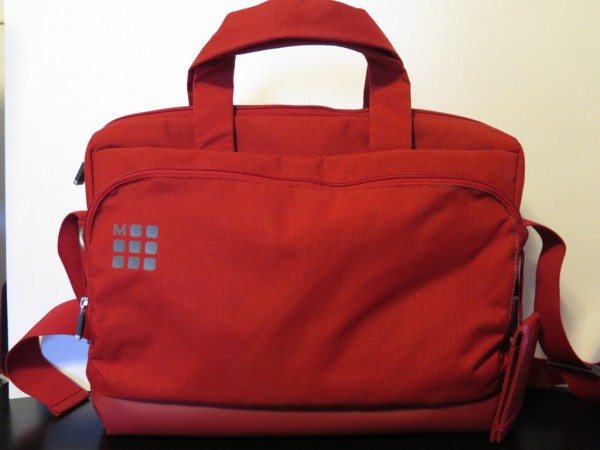 The myCloud Briefcase Curve is a lovely and functional notebook bag suitable for a laptop and/or tablet up to 15 inches. It's made of polyamide material and the dimensions measure 15.75 in x 12.5 in x 4.25 in.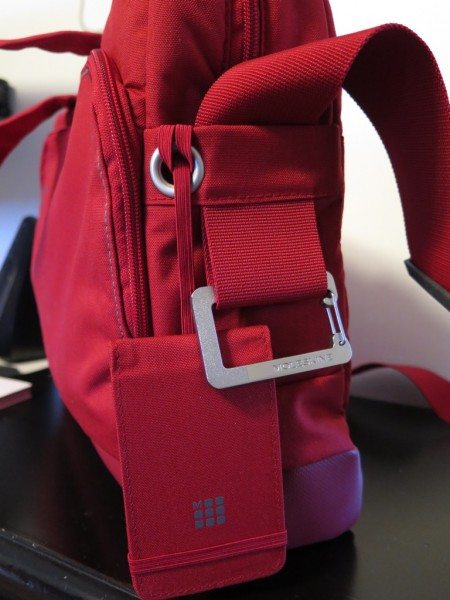 This bag is full of pockets, zippers, and straps.  On this side it includes a luggage tag that folds into itself, and a really heavy duty metal snap-hook, which is great for keys or other tools you want to keep on the bag.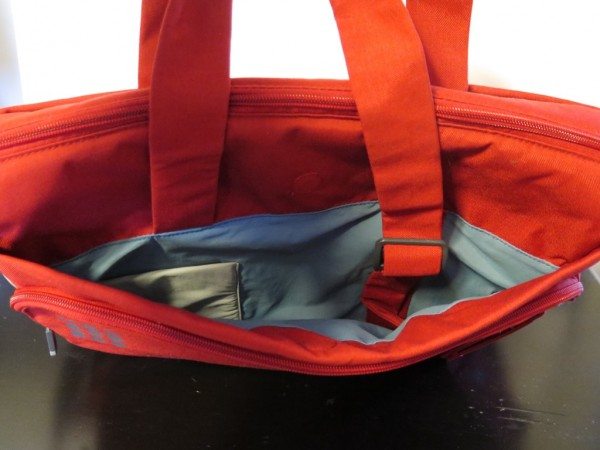 In the front pocket there's a smaller pocket for a mobile phone along with adjustable handles.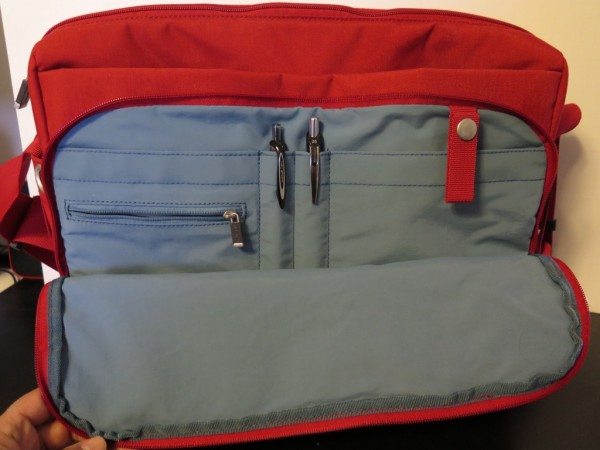 On the front of the bag, there's a zippered compartment that features two medium open pockets and a smaller pocket with zipper, along with slots for pens and such, and a snap loop.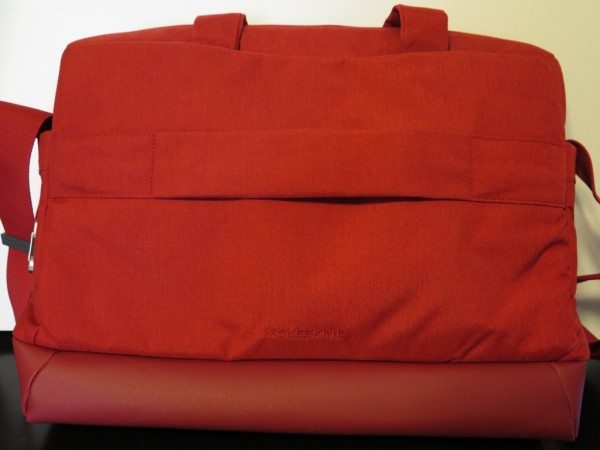 The back of the briefcase has a nice monogrammed logo along the bottom, and a strap useful for to slip the bag through a luggage handle when traveling.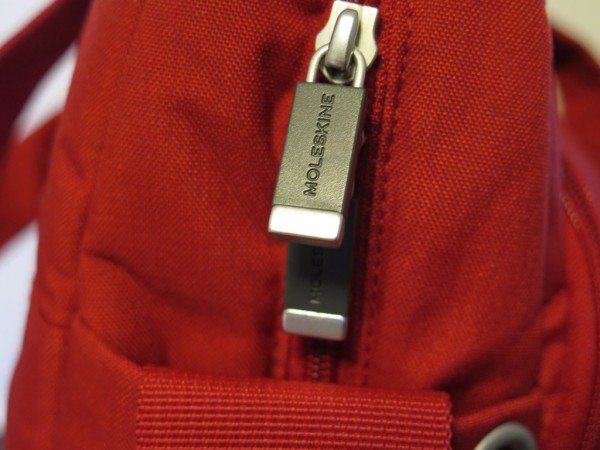 All around the bag are lovely zipper pulls with Moleskine logo.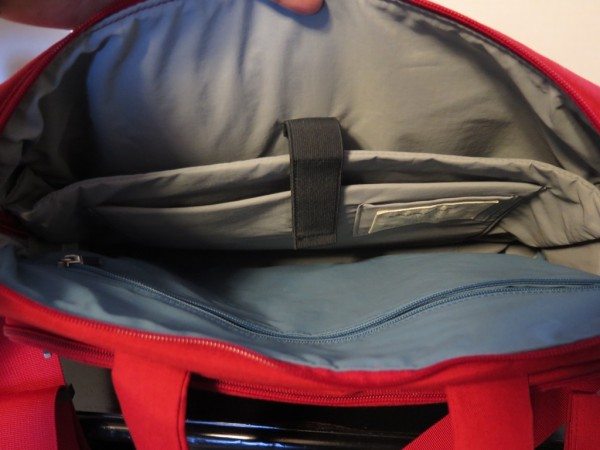 Here's the inside of the bag where you can store your laptop with velcro enclosure.  This kept my Lenovo notebook snugly inside.  The pocket sitting on top is great for a tablet such as an iPad. A smaller pocket is sewed on to keep your business cards handy, and another zippered pocket is available on the other wall of the bag.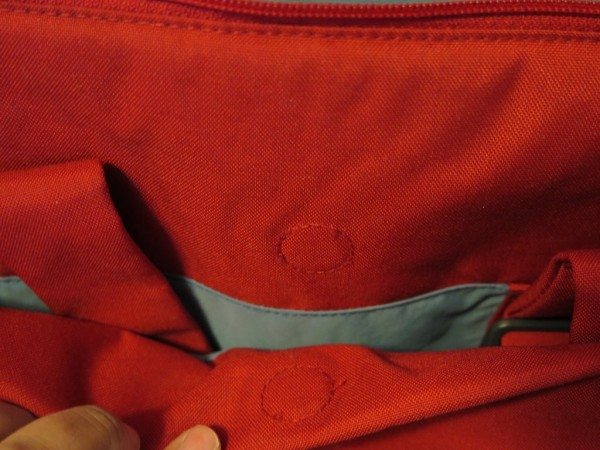 For the pockets on the outside, they close together with a small magnet sewn into the fabric.  It wasn't strong enough to keep my bag closed, but I keep a huge amount of stuff inside with my tech gear!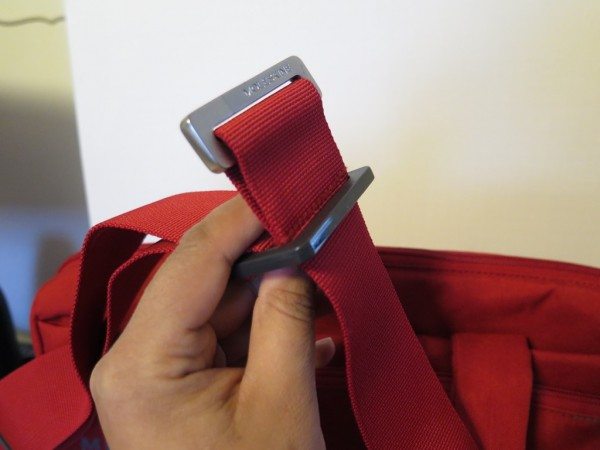 For the shoulder strap, there was an unusual clasp I needed to put together, but it held up just fine on my daily commute to the office.  It has a nice metal end piece that sits on the edge of a hard plastic buckle.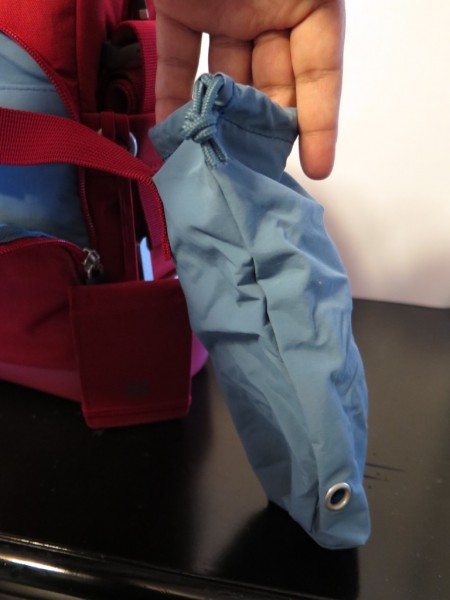 Extras included with the bag are a small pouch made of water-repellent material good to hold a water bottle or small umbrella.  Another nice accessory was a small collapsible nylon bag included, great for taking out when doing some shopping.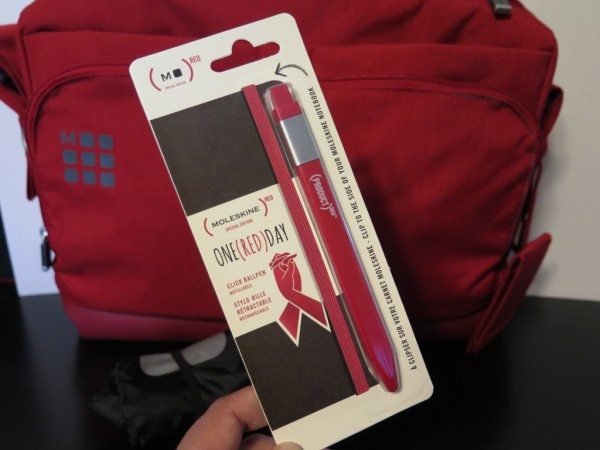 Included with my kit was the Moleskine (PRODUCT)RED Special Edition Pen. (PRODUCT) RED is a brand that seeks in raising awareness and funds to help eliminate HIV/AIDS in Africa. Five percent of the suggested retails price of this pen will go to the Global Fund to fight AIDS.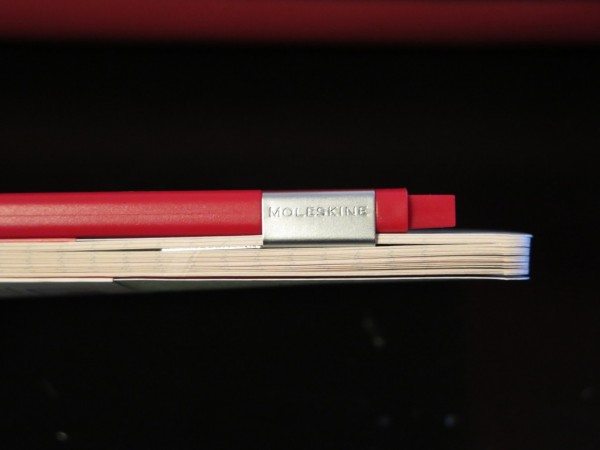 Made of hard plastic, this retractable click pen is a refillable ballpoint with a 1.0mm tip. It's in a red matt color finish with a silver brushed steel clip. This is specifically designed to clip onto the side of a classic hard cover Moleskine notebook. It writes quite smoothly, with no skipping or bleeding. That's pretty important to me since I'm a lefty!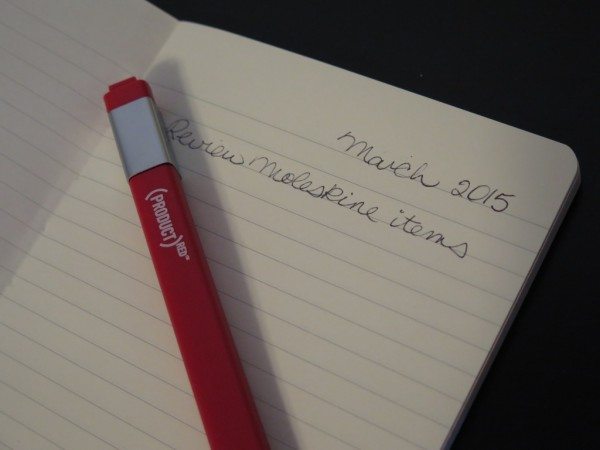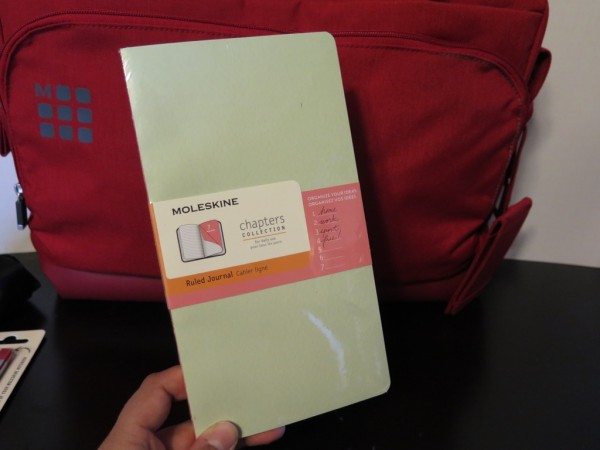 Another product I was given was the new Chapters Journal with ruled pages.  This is a lightweight journal for daily use, that's divided into chapters for convenience.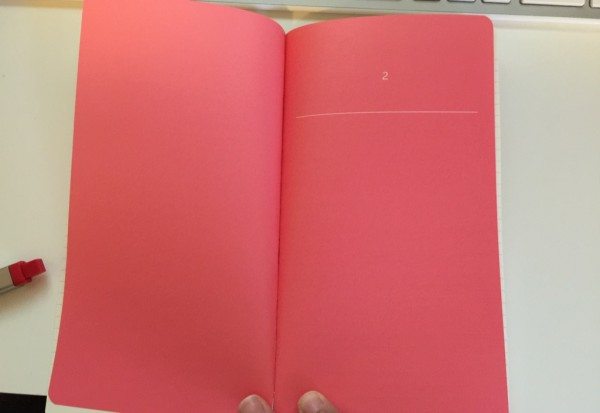 Writing in the notebook was very  nice, although I prefer a hardcover for any serious writing.  This is good if you want to jot ideas down while multitasking.  The last page of the journal gives you an index to mark each chapter.  If you like to geek out on specs, the paper is FSC-certified, chlorine-free, weight of 70 gsm, and the dimensions are 3 in x 5.5 inches.  They come in various pastel colors, with ruled or dotted pages.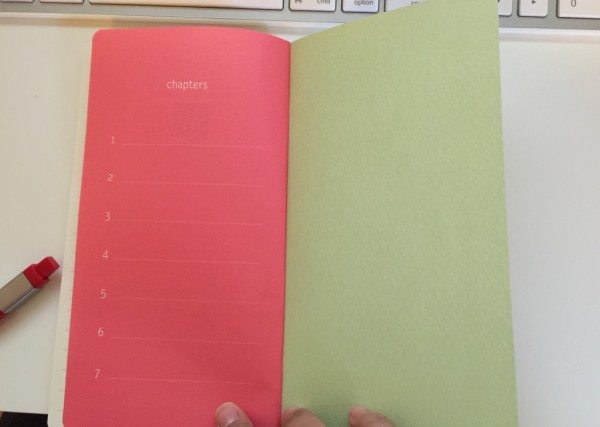 I really love Moleskine for their marketing of analog products in our ever increasing digital world.  It's nice to see them venture out into other office supplies and accessories. To me there is still a huge value in writing thoughts down in a great notebook and good pen.  I have quite a few notebooks that I use for projects that I always keep with me. After all, a favorite notebook never runs out of battery! Thank you Moleskine for inviting us out to preview your new 2015 collections. Keep an eye on their website for new items this spring.
Source: All samples were provided by Moleskine. Please visit their site for more info.
Product Information
Price:
Various
Manufacturer:
Moleskine
Pros:

Bag - durable, great color, water-repellant material
Journal - nice weight pages, compact
Pen - smooth to write with

Cons:

Bag - expensive
Journal - soft cover
Pen - expensive for a ballpoint