We use affiliate links. If you buy something through the links on this page, we may earn a commission at no cost to you. Learn more.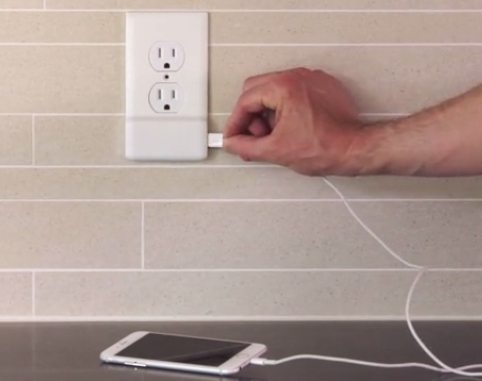 Last spring I helped back SnapRays, a Kickstarter project for a wall outlet cover plate with built in auto-illuminating LEDs. The project was a big success and they actually delivered the products to their backers on time, which has not been the norm for most of the projects I have backed in the past. Now they are back one year later with another Kickstarter project. This time it's the SnapPower Charger, a wall outlet cover plate that adds a USB charging port. You might say "Hey Julie, this isn't new, we've seen USB ports built into wall outlets for a few years now". You would be right in saying that, but the SnapPower Charger is different because it uses the same easy to install design as the SnapRays. No wiring needed. Just remove the existing cover plate, slide the SnapPower Charger plate in its place and screw it down. That's it. Now you have a 1A USB charger that can be used to charge your phone, tablet, etc without needing a bulky AC adapter aka wall wart. The cover plate is compatible with standard duplex and decor outlets that have exposed screw terminals, but is not compatible with Ground Fault Circuit Interrupter (GFCI) outlets that you find in bathrooms.
You can buy one SnapPower Charger for $12 or a 2-pk for $20. These are early bird pledge deals, so the price will go up a bit once those deals are gone. For more info visit the SnapPower Charger Kickstarter page.