We use affiliate links. If you buy something through the links on this page, we may earn a commission at no cost to you. Learn more.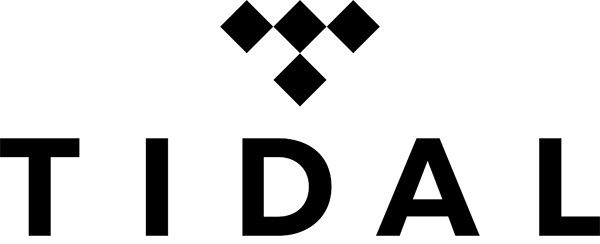 When reviewing headphones, earphones and speakers, there is always one constant throughout: A music source. Whether it's vinyl, CD, iTunes, music burned in Apple Lossless, FLAC, Spotify/Pandora or even FM radio, the music has to come from somewhere. Then there's the music player: iPhone/Android smartphone, various iPods, digital audio players, computer, home stereo. As you can see, there are countless variations that can—and do—affect the audio quality of your music. My personal source is Apple Lossless burned from my own CD collection played on a Fiio X3 digital audio player or iPod Classic (slowly morphing into my iPhone as progress marches on). The huge drawback to this is that if I want to try a certain artist without committing, I have to sample it in iTunes, stream it or just buy it. Streaming is a great way to sample and listen to music, but the free services stream music at a ridiculously low bit rate—plus there's ads. No one should ever determine the sound quality of a headphone while listening to streaming. Until now. Welcome to TIDAL.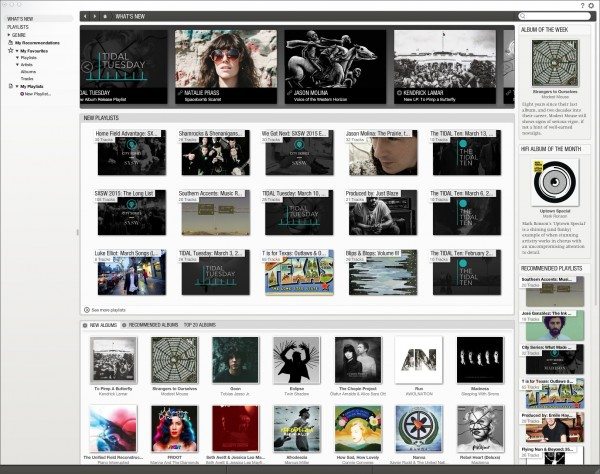 Note: This review was written in February and early March and deals with the HiFi version of TIDAL only, not the new lower-cost (and lower quality) Premium version that began on March 30.
Lets's get this out of the way right now: If your listening habits are mostly the free earbuds that came with your smartphone and your music is just background noise to your life, you can stop reading now. TIDAL will be a waste of money. However, if you have decent headphones or speakers, and take time to listen to music, read on.
TIDAL is a new(ish) streaming service to the US—it began in Europe. What sets them apart from the paid versions of Spotify, Pandora, Beats Music and others is that TIDAL streams in CD quality. Think about it. The sound quality of what's blasting from your speakers or headphones is now limited only by the quality of those same speakers or headphones. Since TIDAL's whole catalog is CD quality, it's kinda like your personal CD collection just increased by—oh, millions.
Before we get carried away, understand that any kind of wireless music involves compression; that means that some of the music signal gets thrown away to make the file smaller for easier and more successful streaming. TIDAL fixes that with CD-quality lossless FLAC streaming for Windows users and ALAC for Apple fans. The files are still compressed when streamed, but are completely uncompressed before you hear anything, allowing for full 44.1 kHz/16-bit lossless audio (CD standard) which is many times the bit rate of any other streaming service. But can you actually hear the difference between CD quality and regular hi-res compression? That's been the source of never-ending argument since digital music became a reality. In a quiet environment with decent headphones or speakers, you most certainly can hear the difference between a 128 kbit MP3 song and a 1,411 kbit high resolution CD. With background noise all around, the difference is much harder to detect. Even more important to consider is the original recording itself. If the master recording is lousy, no amount of tweaking or high resolution versions will help. But this comes at a price which is detailed later in this review.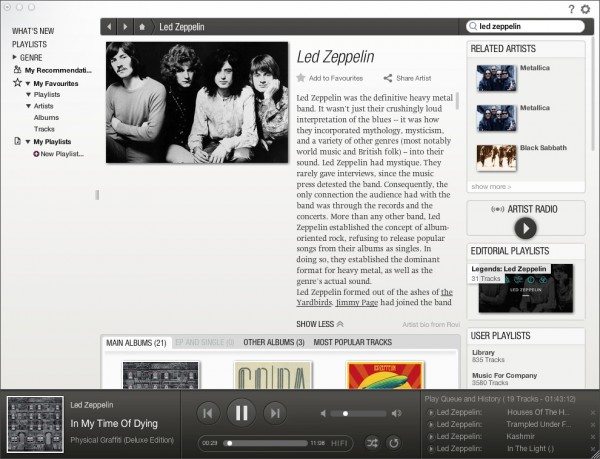 TIDAL can be accessed by an app for smartphone, computer or straight from the web. Each path has its advantages. The web interface is very similar to the computer app with some slight visual differences. For testing, I streamed the same song on both the computer app and web page, then switched between the two to see if I could hear a difference in quality. I couldn't.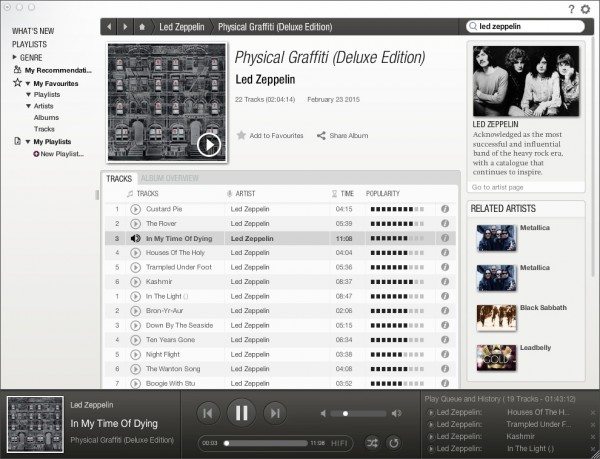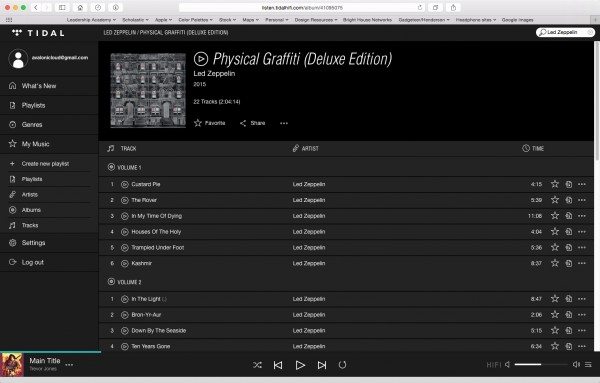 Once you set up an account, you can create and save playlists, mark favorites, tag artists and save any song lists or listen to a virtual radio station based on songs or artists. Note that if you listen to music primarily in your car, save your money (unless you own a car that cost more than most houses). All that road noise will negate any audio benefits TIDAL provides.
There are three streaming settings depending on internet and wireless speed. Plus, a lower stream setting that's kinder to smartphone data plans. Anything from TIDAL can be played on a Bluetooth speaker, headphones, home stereo system, many multi-room wireless speaker systems and in some newer cars and SUVs.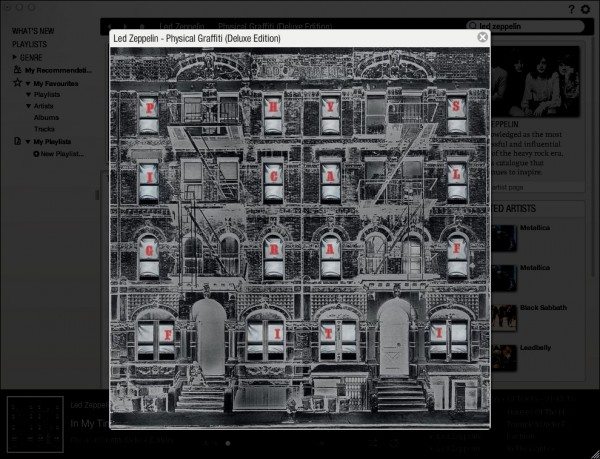 Many audiophiles who would never have dreamed of listening to streamed music (because the audio compromises were too much) now use TIDAL regularly. Being able to use headphones with TIDAL and my iPhone is a welcome treat. I can't stand audible distortion from too much digital compression and TIDAL sounds like an aural veil has been lifted. More detail and nuances are revealed that before had been missing or distorted in other streaming services.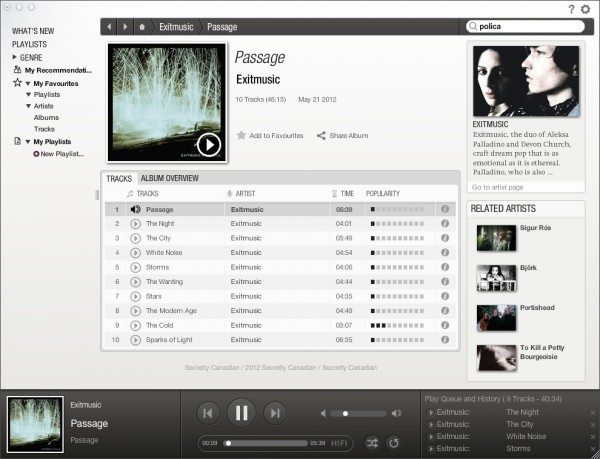 As I said earlier, one compelling reason to use TIDAL is discovering new music. Almost every new album is available for the taking (sort of). There's no purchase regret if the album isn't what you had hoped for. I've discovered albums that I never would have given a second thought. It's cool to read about an artist or album, then immediately go to TIDAL and hit PLAY to see what the interest is.
TIDAL also provides various playlists based on genre, what's new that week, what sounds great with headphones and even music connected to various cities. It's an eclectic mix and it's hard to not find something in these lists that will fit a listener's tastes. As the lists are continually updated and changed, I've stumbled on many artists and albums.
Yet despite the myriad selection of songs, albums and artists available on TIDAL, there are glaring omissions. There's no Beatles ("Big shock.", he smirked) and one of my favorite Australian bands—Icehouse— is nowhere to be found. Until late February, Led Zeppelin wasn't available, even though the albums were listed. Now the Zep catalog is available, including the new remastered versions as they are released. That brings to mind a major issue I have with TIDAL: Many times I have searched for and found an album only to discover it is greyed out and unavailable. I'm not sure why TIDAL would tease you with an album you can't access. It's a frustrating letdown. However, TIDAL does provide ways to request an artist you wish to be included. Searching for an album, artist or song on TIDAL is fairly straightforward, but you have to get the spelling correct or TIDAL will come up empty.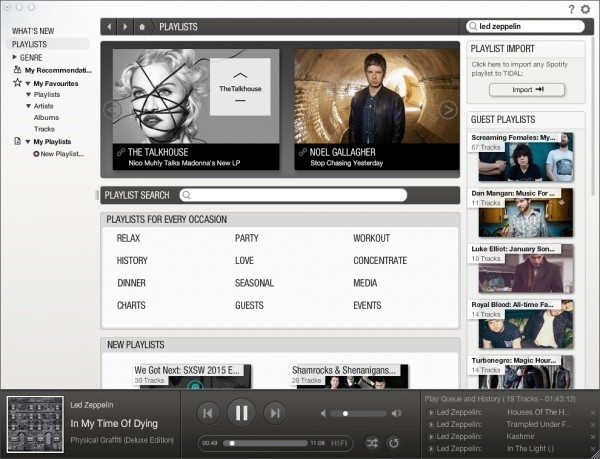 Another issue I have with TIDAL is gapless playing. Most of the songs on Pink Floyd's Dark Side of the Moon album are blended together with no breaks. Many albums are like that—especially classical. Gapless playing allows the songs to run together as intended. When listening to them using TIDAL, there is a definite stop/start as each track ends and the next begins. Its bugs the heck out of me. This could be a deal-breaker for some. I can only hope that TIDAL will fix this oversight soon.
As mentioned earlier in the review, TIDAL is not cheap at $20 per month. However, that's relative if you buy a lot of music on CD or downloaded media. TIDAL is about the price of 2 CDs, so do the math. It comes down to preference. Many people want to own their music and have total control. However, declining CD and download sales point to a streaming future. Many younger people would never consider the hassle of dealing with physical media or downloads in any form. They just want access and TIDAL gives it to them in a superior way. TIDAL does offer 3 levels of quality depending on what device you are using; standard quality: 96 kbps, high quality: 320 kbps and hifi: 1411 kbps lossless. However, TIDAL costs the same regardless, so if you primarily use just smartphones for you music at a lower bitrate, you may want to look elsewhere.
As I've used TIDAL (and love it), I can't shake the feeling that their pricing can't last. Even as I write this review, Apple is gearing up the revamped and renamed Beats music service at reportedly half the price. And if Apple makes streaming the same quality as their iTunes songs, the other services—TIDAL included—will need to rethink their pricing model. Yes, TIDAL's quality is better than iTunes, but will it be enough to overcome a double-the-price-or-more disadvantage? I have my doubts, but only time will tell.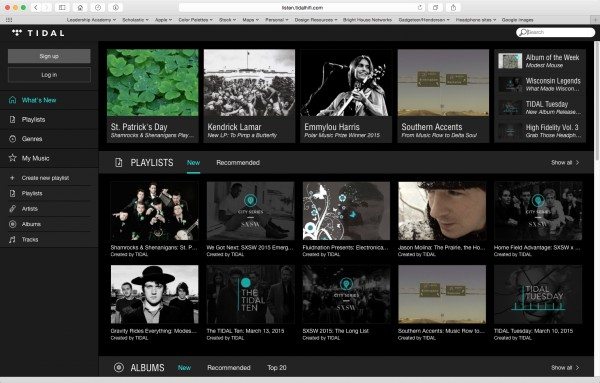 TIDAL's fee allows for downloading up to 3 devices. If you have a large family with many smartphones, TIDAL won't work on all of them simultaneously.  TIDAL offers a one month free trial, but a credit (or debit) card is required and you have to remember to cancel or be charged $20. One month should be enough to incorporate TIDAL into a daily routine benefiting both TIDAL and any potential customer. Most of TIDAL's offerings can be accessed just as easily and cheaper from Pandora, Spotify, Beats Music and other similar services. The difference is quality, pure and simple. As I said, TIDAL is like having millions of CDs available for the taking. You just have to decide if this is worth $20 per month or not.
Note: TIDAL has been bought out by rapper and music mogul Jay-Z.  As of March 30, TIDAL will offer 2 tiers of service. CD lossless will remain at $20/month. TIDAL Premium will stream 320 kpbs MP3 quality for $10/month (the same price and quality as Spotify paid service). At this point, Spotify has a content advantage over TIDAL at the $10 level. However, TIDAL has inked exclusive deals with various artists such as Kanye West (whoopee).  It's going to be a very interesting year watching where all this leads.
Source: A limited subscription for this service was provided by TIDAL. Please visit their site for more info.
Product Information
Price:
$20/month
Manufacturer:
TIDAL
Pros:

CD lossless sound quality
Sounds great with good headphones and speakers
Huge selection
Works on all devices and with some wireless home systems

Cons:

Expensive
One-week trial not long enough
Selection not as good as competitors