We use affiliate links. If you buy something through the links on this page, we may earn a commission at no cost to you. Learn more.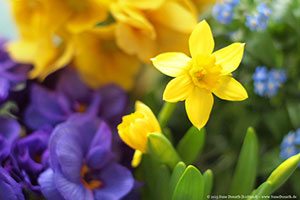 It's officially spring, so let's celebrate with a Gadgeteer gadget giveaway! We are giving away 15 prizes for music lovers, fitness buffs, travelers and more.  We have a lot of good stuff to giveaway, so don't waste any time, please click through to see the full list of prizes and instructions on how to enter.
Prizes:

Kinivo: Bluetooth Hands-Free Car Kit (BTC455)
Turns existing car stereos into Bluetooth compatible stereo systems.
Allows you to take calls hands free, stream music, and listen to navigation instructions over the car's speakers
Features automatic syncing to your mobile device
Allows you to connect and simultaneously sync up to two devices to your car's stereo system via multi-point Bluetooth 4.0 technology
Enables you to operate your device's voice-command functionality through its built-in microphone
Offers control over audio tracks, including play, pause, previous song and next song
Easily connects to your car's stereo system via 3.5mm audio input port
Prize value: $44.95
For more info: www.kinivo.com
Follow on Twitter and Facebook.

Kinivo: ZX100 Mini Portable Speaker
Pocket-sized mini speakers produce monumental sound for rocking out while on-the-go
Conveniently lightweight, rechargeable mini speaker with a 360-degree sound design
Ultra-portable, featuring a built-in audio cable which folds to store directly into the bottom of the speaker for effortless portability
Enhanced bass resonator delivers high-quality sound which can be intensified with the ability to connect multiple speakers for maximum sound
Long-lasting internal battery can play music for up to 6 hours on virtually any gadget through a standard 3.5 mm connector
Prize value: $19
For more info: www.kinivo.com
Follow on Twitter and Facebook.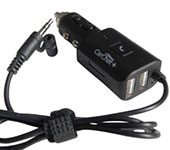 CoolStream CarChat+
The Car Chat Plus seamlessly switches between incoming calls and music. Equipped with two rapid charging 2.5 Amp USB ports for quickly charging your mobile devices the Car Chat Plus is the answer to all your music, hands-free talking, and charging needs on the go.
Prize value: $35.99
For more info: coolstreamrocks.com
Follow on Twitter and Facebook.

PEAR Sports: Mobile Training Intelligence System
App-powered smart training program that coaches you in real-time with customized programs designed by elite fitness experts
Features a Bluetooth heart rate monitor for measuring body's response during a workout
Includes Stride earphones with earlock earpieces that work with the app to provide real-time audio coaching
Exclusive earlock earpieces utilize seven contact points to ensure a secure and comfortable fit
Free app includes 400 customized training methods and activities from elite fitness experts
App can be downloaded in the iTunes App Store and at Google Play
Prize value: $99.95
For more info: www.pearsports.com
Follow on Twitter and Facebook.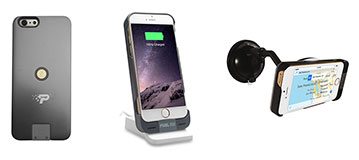 Patriot Memory: FUEL iON Charging Stand, Charging Case and Car Mount
Slim, Stylish, fully protective case makes charging effortless with robust magnetic power
FUEL iON wirelessly charges faster than competing products with patent-pending magnetic connectors to charge the phone without the use of a plug-in cord, eliminating wear and tear on the lighting connector.
The incredibly strong magnetic pad on both the FUEL iON phone cases and the charging stands create a direct connection between the two devices and snaps the phone into place; this allows for charging that is comparable to directly plugging into a wall outlet.
FUEL iON Charging Stand: Ideal for the office with an ergonomic angle for viewing your phone while charging and the snap to position rotational access allows the user to manipulate the phone from vertical to horizontal positions.
FUEL iON Car Mount: Simply installs on any windshield and can mount and rotate your phone, optimal for GPS use.
FUEL iON Charging case.
Prize value: $29.99 – $49.99 MSRP
For more info: www.patriotmemory.com/fuelion
Follow on Twitter and Facebook.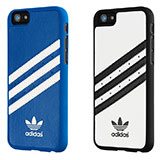 adidas Originals: Mobile Accessory Collection
The Brand with the 3 Stripes: Where a lifestyle of originality and fashion collide
Quality faux leather cases display the famous 3-Stripes stitched on top and have the globally-recognized
Trefoil logo embossed in contrasting colors.
Molded case featured rubber coated sides for enhanced grip; Authentic book case includes a slip pocket to easily stow an ID or credit card; Protective flip case has hidden closure magnet closure.
All feature printed microfiber lining protecting against scratches.
Prize is an iPhone 6 or iPhone 6 Plus case.
Prize value: $35 – $60
For more info: www.adidas.com/us/originals
Follow on Twitter and Facebook.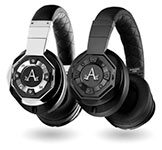 A-Audio: Legacy Over-Ear Headphones
Only headphones to offer Three Stage Listening Technology for customized sound with Base Enhancer, Active
Noise Cancellation and Audio modes
Much like a luxury sports car shifts gears at varying speeds, Three Stage Listening Technology puts you in the driver's seat to select the sound that best suits you in the moment
Built with 40mm custom drivers, powerful circuitry and anti-vibration aluminum for a power-packed soundstage
Made with supple leather with diamond-quilted stitching in the headphone band and premium octagonal aluminum bezels on each ear cup
Features chrome-plating and aluminum construction with steel hinges
Closed circumaural ear cups with memory foam padding for comfort and isolated sound
Dual jacks for sharing music with friends featuring 24K gold plated contacts for optimum signal transfer
Detachable phone cord with remote and mic for connecting to your mobile device, plus one audio only cable and gold plated 6.3mm audio adaptor
Comes with luxe travel case and polishing cloth
Prize value: $299 MSRP
For more info: A-Audio.com
Follow on Twitter and Facebook.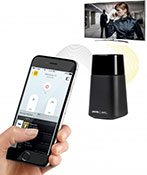 Pronto
Ideal for the cable and satellite TV lover, Pronto turns your iPhone into a personalized universal remote control, centralizing control of all your entertainment systems
Allows control of all entertainment devices (TVs, set-top boxes, DVDs and Blu-ray players) from your iPhone
Paired with the free Peel Smart Remote app, offers customized viewing recommendations based on your interests and viewing habits
Includes optional IR extension cable, allowing users to store away multiple entertainment devices and still control them
Palm-sized and lightweight, the Pronto fits in the smallest of spaces and allows for easy mobility
Optimized to control more than 3,000 entertainment devices, including all major TV brands
Includes 4AA batteries
Compatible with: iPhone 4s, iPhone 5, iPhone 5c, iPhone 5s, iPhone 6, iPhone 6 Plus and iPod Touch
Prize value: $49.99
For more info: www.getpronto.com
Follow on Twitter and Facebook.

Bracketron: EZCharge
With EZCharge, there's no "wrong" way to plug in your USB cables
Allows you to plug in "upside down" or "right side up," so you can connect USB charging cables without fumbling to insert them the "right" way
Plugs securely into your vehicle's 12V port; perfect for road trips and long commutes
Features a sleek, lightweight aluminum housing for easy portability
Available with one or two USB ports, and comes in all-black or black with silver accents
Two-port model lets you charge multiple mobile devices simultaneously at the fastest possible speed, and has dual 3.4A capability with one port ideal for smartphones (1.0A) and one for tablets (2.4A)
Single-port model charges smartphones and tablets at fast speeds
Prize value: $12.99-24.99
For more info: www.bracketron.com
Follow on Twitter and Facebook.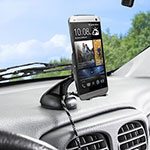 Bracketron: Earth Elements Si Dash Mount
Attaches directly to most hard and textured surfaces for effortless hands-free driving
Simply adhere the Mounting Plates to the back of your device or inside back of your case
Device effortlessly clicks onto mount for safe driving
The 3M adhesive will ensure the plates stay securely attached to your phone
Integrated cord management for charging cables to keep them out of the way
Collapsible and adjustable support feet help keep your phone securely mounted
Perfect for travel and added support for larger phablet-style phones
Prize value: $39.95
For more info: www.bracketron.com
Follow on Twitter and Facebook.

Penclic: Mini Keyboard
Wireless mini keyboard's compact size and quiet-touch keys create a unique visual and ergonomic experience while maximizing work space and productivity
Sleek, Scandinavian design combines superior functionality without sacrificing comfort for size; compact size allows you to centralize your work position, creating better focus and maximized desk space
Optimal 5 mm profile and ergonomic design decreases strain on the wrists, serving to counteract and reduce Repetitive Strain Injury (RSI)
Quiet-touch keys reduce noise and offer great tactile feeling, allowing you to utilize small keystrokes and minimal pressure when typing, leading to quicker results and productivity
Compatible with Windows XP and later, Mac OSX version 10.1 or later and most Linux/BSD systems
Nano USB- receiver with wireless reach up to 16 feet; rechargeable battery lasts up to 2 months before additional charging is required
Available in several language variations and contemporary and relaxing colors that make the keyboard as easy on your eyes as it is on your fingertips
Prize value: $79.95
For more info: www.penclic.se
Follow on Facebook.

Penclic: Next Generation Mouse (Bluetooth version)
Lightweight mice feature symmetrical design that enables both left- and right-handed users to enjoy the Penclic experience
Has two buttons with left and right click on pen's shaft, fitted for left-handed users
Center scroll wheel also doubles as a middle click button
Looks, feels and acts like a pen, placing superior navigation at your fingertips
Allows for laser-focused precision leading to better results and quicker movements
Create a relaxed, ergonomic working position, enhancing user experience and allowing forearm to relax on work surface
Sleek, Scandinavian design counteracts static tensions in arms, shoulders and neck, reducing Repetitive Strain Injury (RSI) associated with typical mouse products
Wireless and Bluetooth range up to 16 feet; compatible with Mac and PC products
Ideal for design and 3D modeling programs
Prize value: $64.99 – $89.99
Website: www.penclic.se
Follow on Facebook.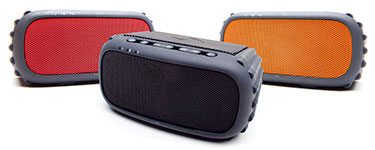 ECOXGEAR: ECOROX Waterproof Bluetooth Speaker
The most fearless speaker on Earth: 100% waterproof, shockproof, compact, lightweight and it floats, allowing you to add your soundtrack to life's most extreme adventures
100% waterproof (not just water resistant), IPX7 approved and rubberized exterior protects from everyday drops and dunks
Floats – listen at the lake, river, pool or campsite with no worries
Play music from any Bluetooth enabled devices and answer incoming calls over the built-in speakerphone
Integrated carabiner clip and top panel controls for power, pairing, volume, skip, play, pause, and speakerphone answer
Built-in auxiliary in jack for an optional wired connection
10 hours of playtime
Prize value: $129.99
Website: www.ecoxgear.com
Follow on Twitter and Facebook.
How to enter (please read carefully – any missed steps and your entry will be disqualified):
1. Between now and 03/26/2015 11:59PM EST leave a comment on this page telling us the last book that you really enjoyed reading. Include the title, author and a sentence or two about the plot.
2. (optional) Get a 2nd bonus entry by tweeting:
Win a gadget prize pack of 13 prizes from @thegadgeteer http://wp.me/p3LRkH-JFQ
Make sure you come back and leave a 2nd comment on this page with a link to your Twitter post.
3. At some point on 03/27/2015, I'll pick 1 random winner using random.org. The winner will be contacted by email and will have 48 hrs to claim their prizes. If I do not receive an answer to my email in that time period, I'll do other random.org drawings till the prizes are claimed.
Rules:
1. Only one main entry per person (warning: I check IP addresses).
2. Gadgeteer writers, family members may not enter this contest.
3. the-gadgeteer.com is not responsible for any lost packages or incorrect shipping addresses.
4. the-gadgeteer.com is not responsible for the winner not accepting their prize within 48hrs. The winner will be posted on this contest page, in the comments section of this page and will be emailed. Check your spam folder.
5. Winner must have a US shipping address (sorry, this isn't my choice…).
Update 03/27/2015
The winner is #48 Mario. Congrats to Mario and thank you everyone who entered and to the companies who sponsored this contest by providing the prizes.
THIS CONTEST IS NOW CLOSED