We use affiliate links. If you buy something through the links on this page, we may earn a commission at no cost to you. Learn more.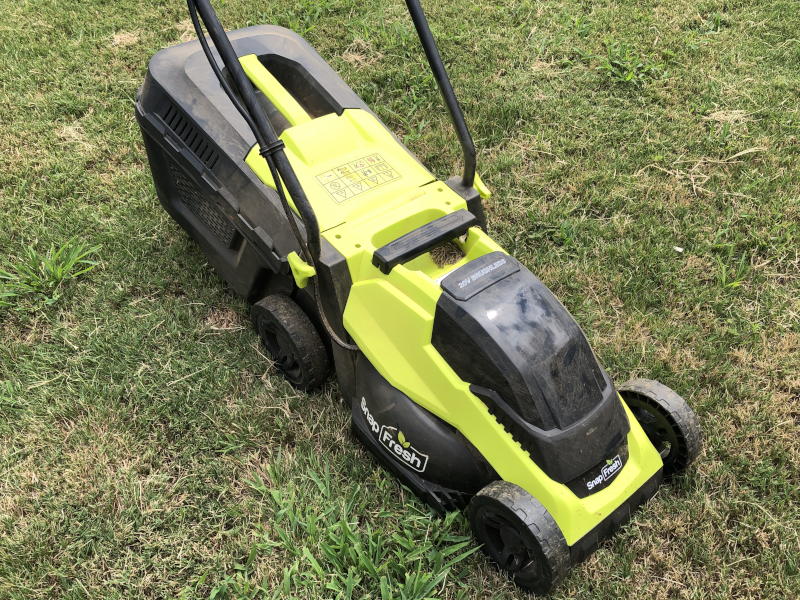 REVIEW – In the last year I've been transitioning to battery-powered tools for working in my yard.  After I reviewed WORX's cordless fan, I purchased their weed eater.  SnapFresh then sent me their leaf blower and their hedge trimmer, both of which I liked.  The most recent lawn tool that I've been testing is a cordless lawn mower by SnapFresh.
What is it?
This is a cordless lawn mower powered by 20V/4Ah battery.  It comes with a grass catcher and a charger for the battery.  This mower is made by SnapFresh, a brand owned by Ningbo Babytec, a Chinese company.
What's in the box?
Mower (disassembled)
Grass catcher
Plug
Battery and charger
Two safety keys
Manual
Hardware specs
Power: 20 V
Battery: 4 Ah
Dimensions: 46 inches long x 15 wide x 41.5 tall (includes handle and catcher)
Blade width: Just under 13 in
Wheel size: 5.5 in
Weight: 20 lbs
Design and features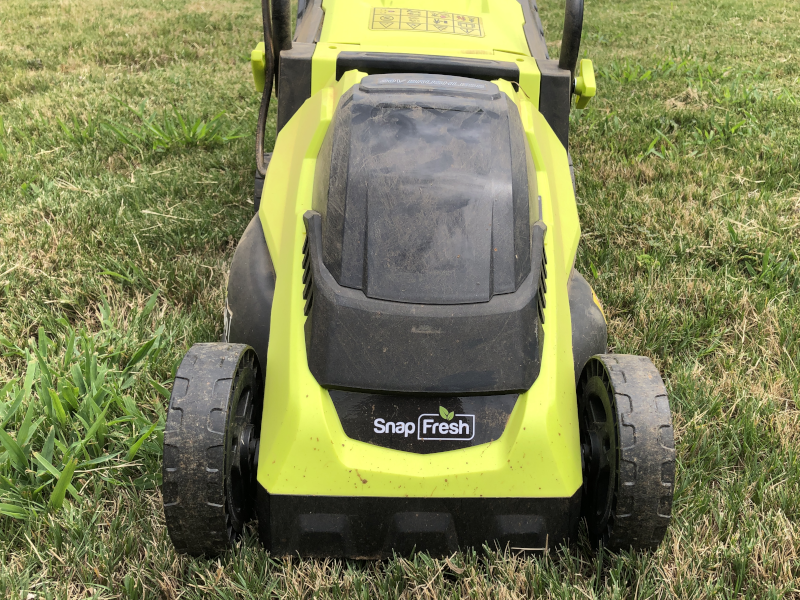 This lawn mower is similar to SnapFresh's other products:  It's made almost entirely of plastic, and there's an abundance of their trademark yellow-green color.  Whereas the other lawn tools managed to feel sturdy and durable despite their abundance of plastic, the lawn mower feels very cheap and easily broken.  It's a tiny lawn mower, clearly designed for people who have a very small yard, like those who live in a townhome or a condo.  The general shape is similar to a traditional mower, but where one would expect to find the engine, there is instead a small compartment for the battery.  Overall, it looks and feels like a child's toy.
Installation and setup
When the box arrived, I wasn't quite sure what it contained.  It seemed way too small for a lawn mower, but sure enough, that's what was inside.  It came in pieces, so the first thing I did was assemble it.  No tools were necessary, and the instructions were sufficient.  Here's a time-lapse video (1080p) of me assembling it, which took about 20 minutes or so:
The lawn mower comes with two options for handing the grass.  I can insert a plug into the back, which causes the grass to simply fall out of the bottom of the mower–there's no side discharge–or I can attach the grass catcher.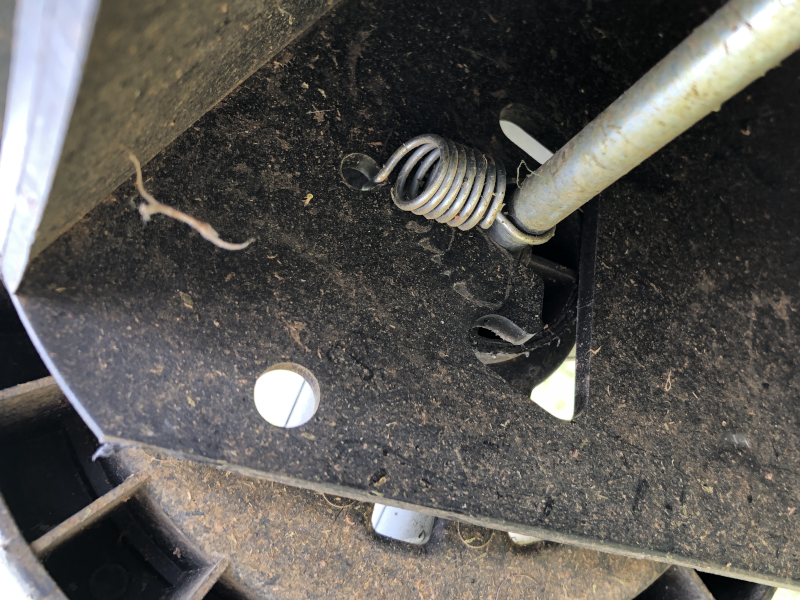 The second thing I did was adjust the mowing height.  This mower uses a spring-mechanism and three slots to adjust the height of the mowing.  This was easy to set and worked well.  I did all my testing at the highest setting.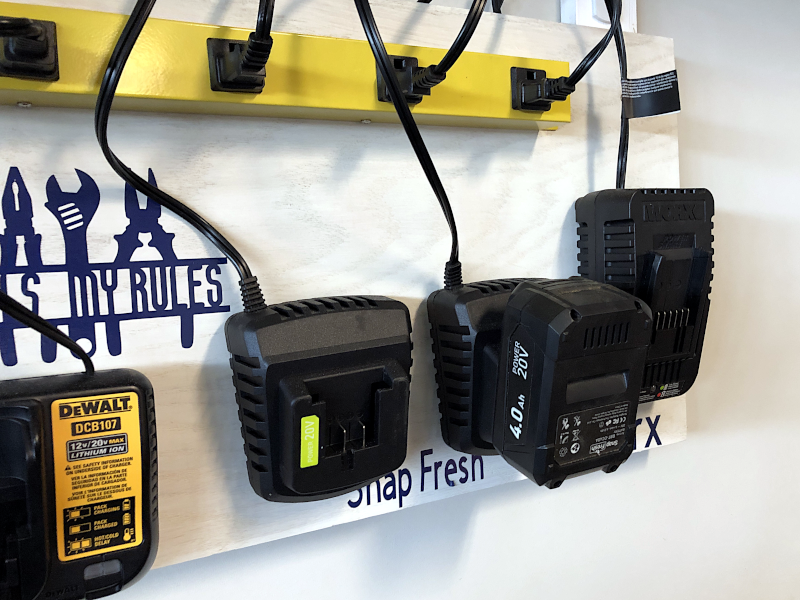 The mower comes with a battery and a charger, which takes a couple hours to fully charge, so the third thing I did was put the battery in one of the SnapFresh chargers that I already have on my charger wall and charged the battery.  The final thing I did was plug in the battery and insert the safety key, setting it to "on."  The mower was ready to go!
Performance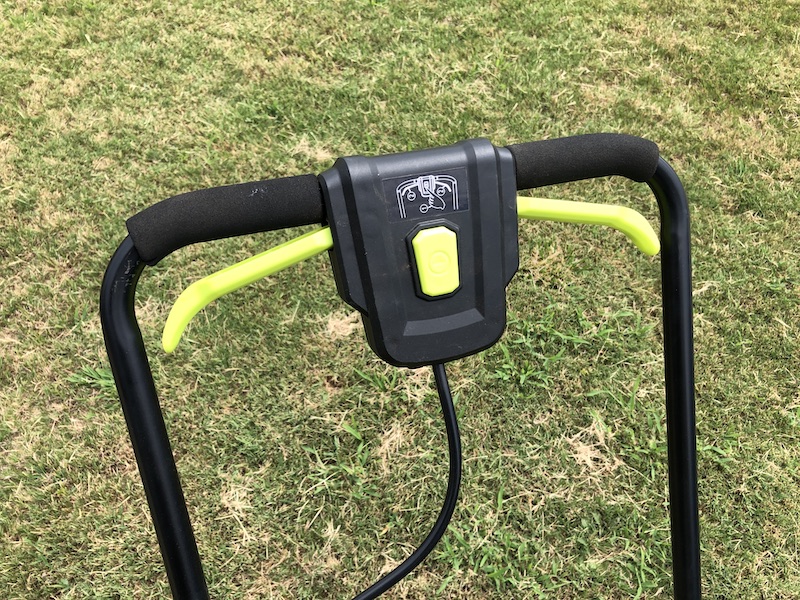 As this is a battery-powered mower, there's no need for gas or oil, no need to press the primer bulb repeatedly, and no need to yank on a starter rope.  It can be started easily by squeezing one of the handles and pressing the starter button.  I found this to be 100% reliable, as SnapFresh's mower started the first time every time.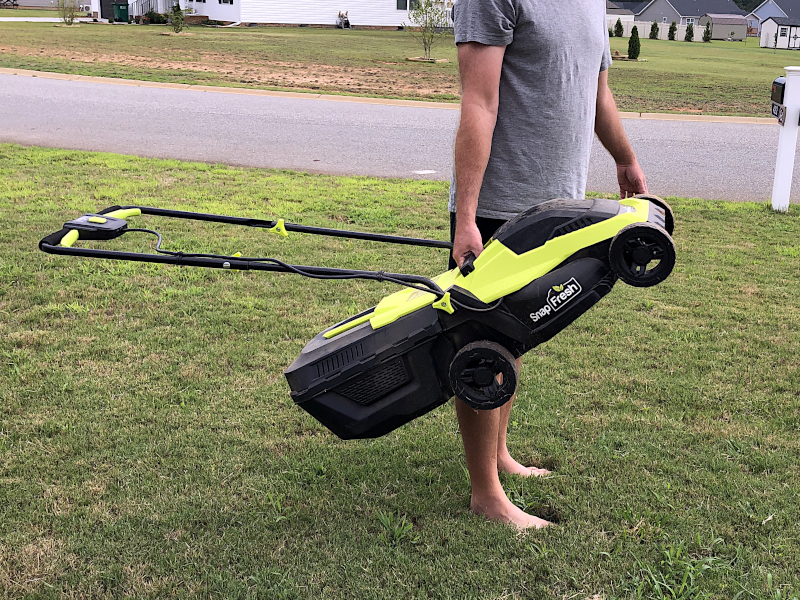 Due to its plastic construction, the mower is super light, especially when compared to self-propelled mowers.  It's so light that it could easily be handled by a kid–preferably with some adult supervision–or a senior citizen.  There's a handle on top, and I can pick up the entire mower no sweat with one hand.
In order to test battery life, I charged the battery fully and ran the mower to see how long it ran.  Under no load, it ran for just over 41 minutes, which is a respectable time.  This should be long enough to get most small yards done.
You can see these features and more in the following video (1080p):
Unfortunately, I have a number of issues with this mower.  One, because SnapFresh's mower is mostly made out of plastic, I don't think it's going to last very long.  Something is going to snap off or break, and it will be probably the grass catcher that goes first.  At its current price of $300, it's way too expensive to be this flimsy.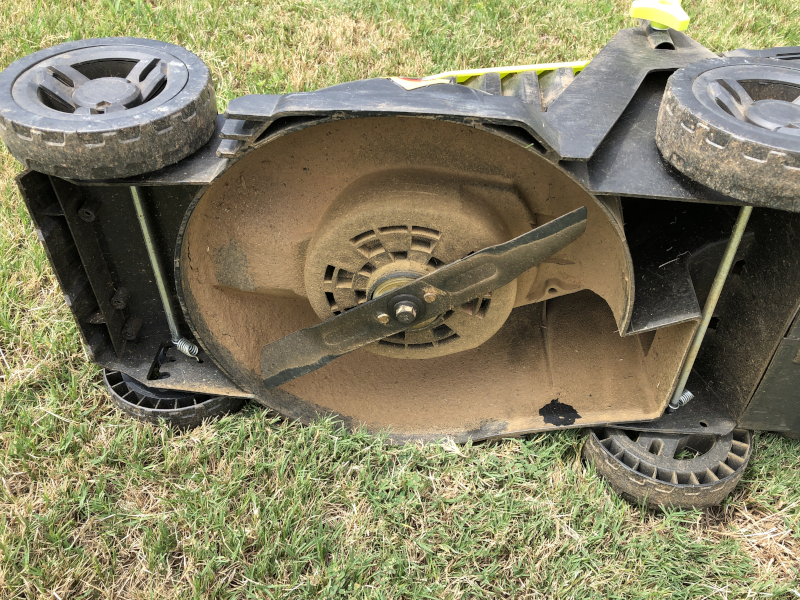 Two, it's very narrow; the cutting blade is less than 13 inches wide.  Every pass around the yard feels like I'm hardly cutting anything.  Unless your yard is super small, less than 0.2 acres, using this mower will probably be frustrating; on the other hand, if you do have a small yard, then this won't be a problem.  The mower certainly won't take up much room in your garage or shed.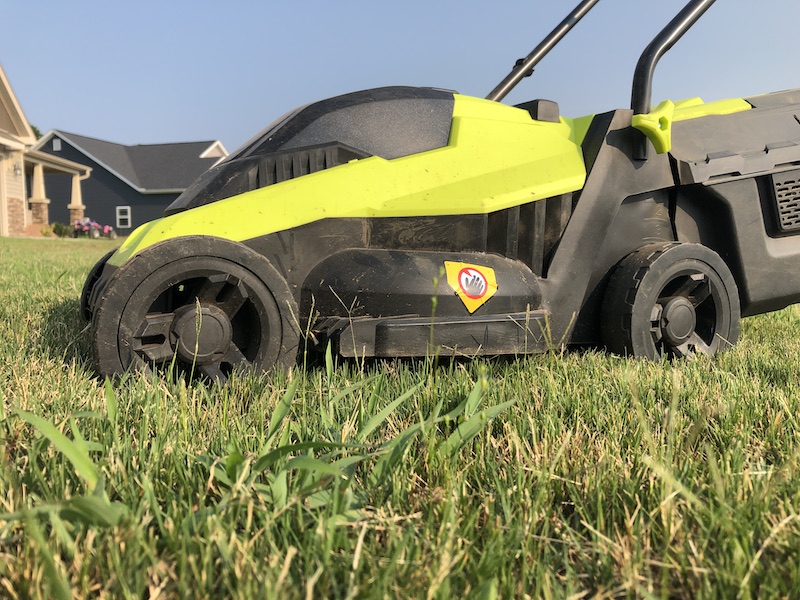 Three, the wheels on this lawn mower are plastic and very small, 5.5 inches in diameter.  Whereas a mower with larger wheels can roll over uneven terrain in the yard, I found this mower was constantly getting stuck.  If your yard is as smooth as a putting green, no problem!  For most yards, however, this will be an aggravation.
Four, the grass catch doesn't work very well.  When I tested the mower, I only used the grass catcher, because I wanted to dump the grass around some of my bushes.  While it caught some of the cut grass, it didn't catch all of it, and I was surprised by how much of it was left on the ground.  I assume that because the catcher is made of plastic, it's not heavy to keep a seal on exit hole at the back of the mower, thus it's letting a lot of grass fall to the floor.
Finally, the nail in the coffin is the lack of power.  SnapFresh's lawn mower cannot mow my lawn.  It was constantly stalling and stopping, whether I was mowing Bermuda, Zoysia, or even just weeds.  My lawn wasn't all that tall or thick, and the mower was on the highest setting, yet it just couldn't handle it.  I estimate that this mower needs at least three times more power than it currently has.
Extra Features
The battery compartment has space for a spare battery, which sells for $43 on Amazon.
What I like
Reliable start up
Light weight
What I'd change
More power, lots more
Better quality construction
Wider body and taller wheels
Final thoughts
SnapFresh's cordless lawn mower is powered by a 20V/4.0ah battery and comes with a charger.  It's small and lightweight.  While I appreciate SnapFresh's eco-friendly approach to lawn mowing, this mower has too many problems:  It's underpowered, it has a narrow body and short wheels, and it's nearly all plastic construction is unlikely to last very long.  If you're looking to move away from gas-engine mowers, I think you should pass on this one and look at its competitors.
Price: $299.99
Where to buy:  Amazon
Source: The sample for this review was provided by SnapFresh.