We use affiliate links. If you buy something through the links on this page, we may earn a commission at no cost to you. Learn more.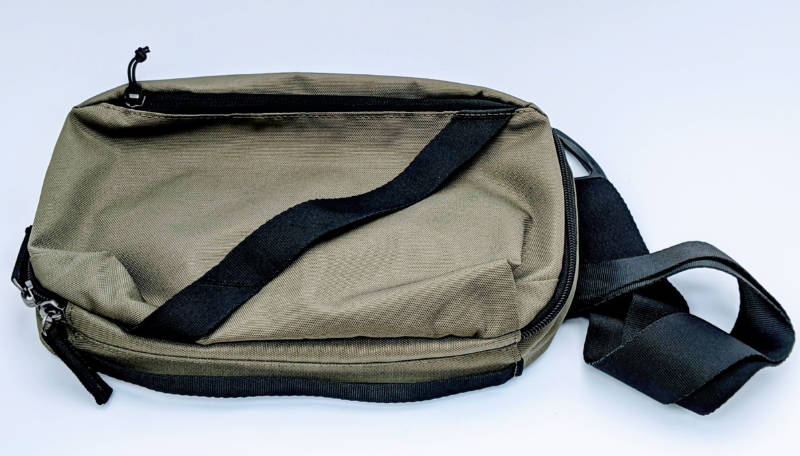 CROWDFUNDING REVIEW – The Pakt Sling Bag simply holds a lot of stuff. It weighs almost nothing so if you load it up and it's heavy – it's your stuff! Is this sling bag different from the others and is it a worthy purchase?  If you're not a sling-bag-person, could the Pakt Sling Bag change your perspective? 
What is it
The Pakt Sling Bag is a lightweight, over the shoulder, zipper-closure bag from the same company that brought us the Pakt One carry-on travel bag that Julie reviewed and has on her Julie's Favorite Gear page.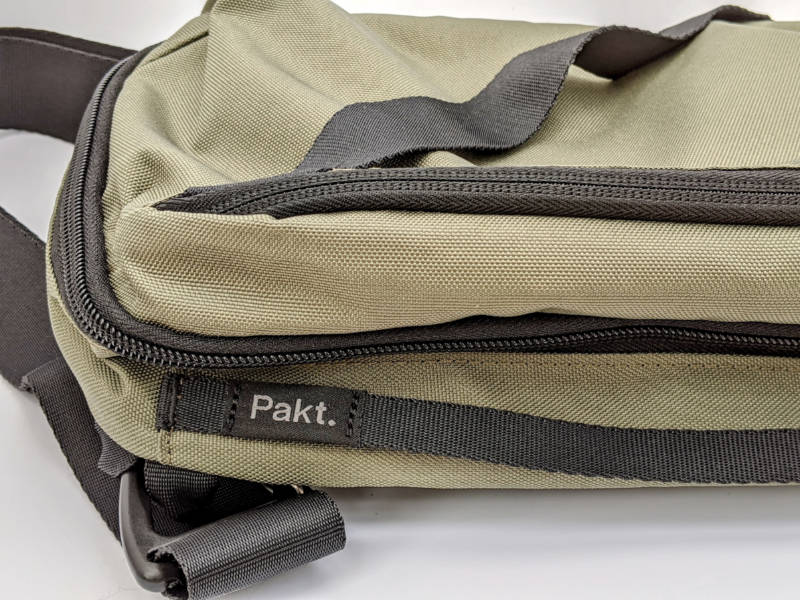 What's in the box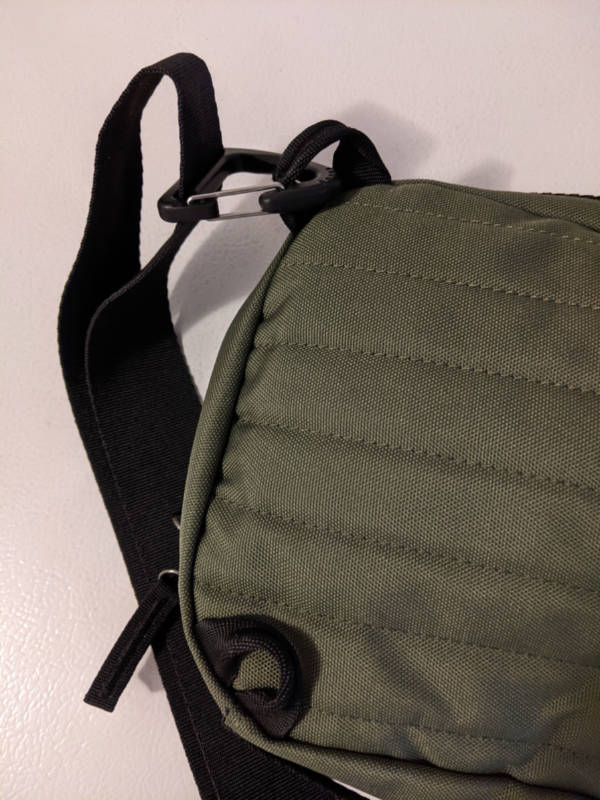 Specs
Width: 11.5" (all measurements are with an empty bag)

Height: 7.5"

Depth: 3"

Weight empty: 10.1 oz

Strap length: Adjustable from 28.5" to ~53"

Material: Synthetic (Nylon?)

Zipper material: non-metal / plastic? Nylon?

Design and features
The Pakt Anywhere 5L Sling Bag is designed to allow for an impressive amount of 'carry' but with comfort as the bag strap goes across the shoulder opposite where the bag rests. There are durable zippers on the two main outer compartments and two zippered, and two magnet closure pockets inside the main / largest compartment.  One pocket runs the full length of the bag, is made of see-through netting and closes by zipper. On the other side of the main space is a 5" magnet closure pocket, and next to it is a 5" netting pocket with elastic along its top edge. Behind those 5" pockets is a full-length magnet closure pocket.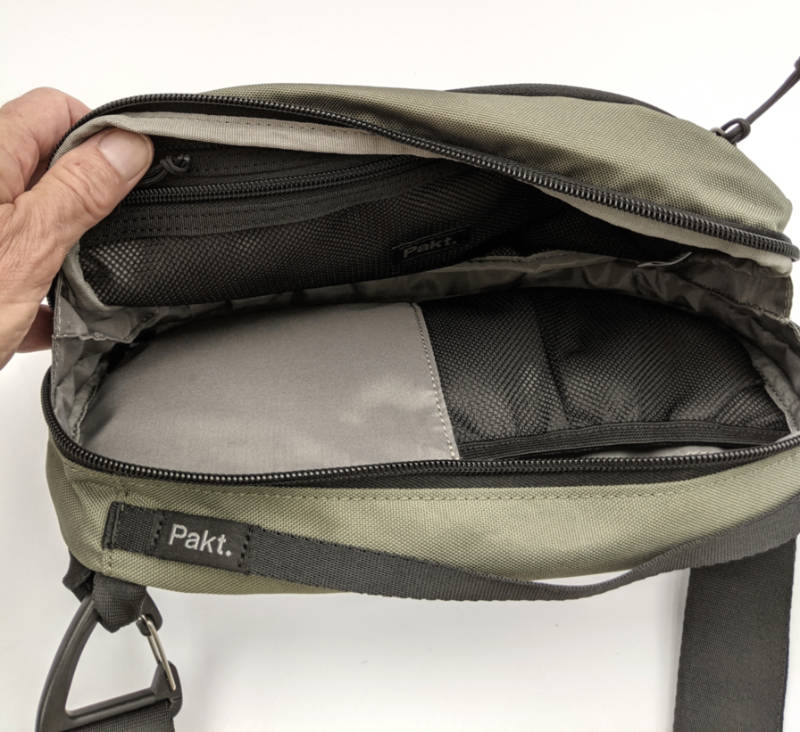 The largest compartment is gusseted so that it can't dump your stuff to the ground if you open the zippers fully.  While the zippers open to 3 sides of the bag, the compartment opens only to the limit of the gussets.  It opens as wide as you could possibly need, but the top won't flop down and unload the contents of the compartment.
Setup
Attach and adjust the shoulder strap, load up the bag and carry your stuff.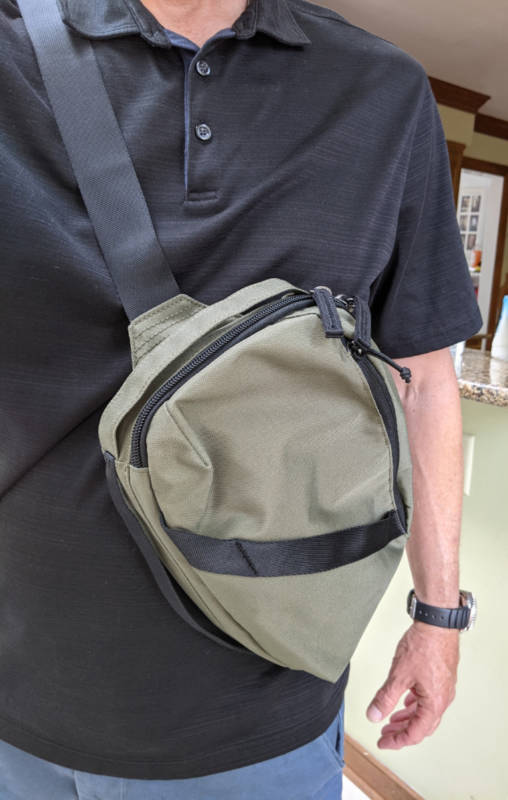 Testing and observations
The Pakt Sling Bag, and one other I reviewed, have turned me into something of a bag-man. You will never find me sporting a man-bun, but if I'm out in casual wear I may be spotted with a 'cross-chest' bag upon me, such as the Pakt. 
These have been referred to as a 'murse' (man purse) but if you're into using a shoulder bag, this one is neither masculine nor feminine looking. I did my best in the photo editing to accurately represent the actual colors of the bag. Light levels change the color appearance.  I'll call it an 'Army green', which some call 'Olive drab' for some reason.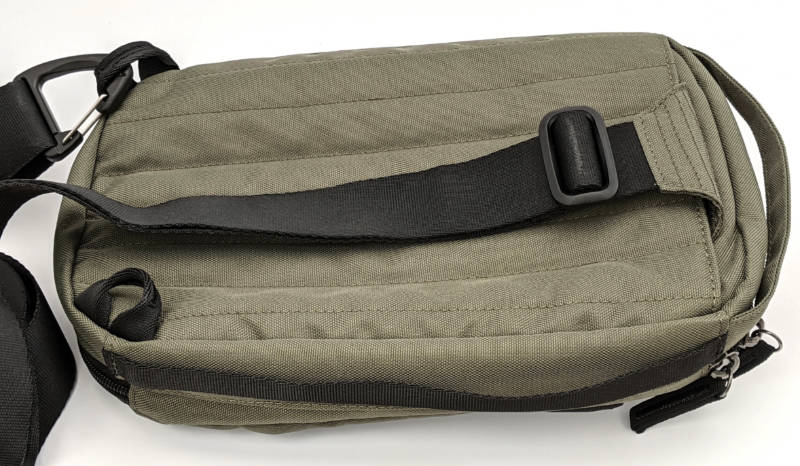 I was able to carry more than I need for a day trip or shopping errand in this bag. E.g. My cash wallet, card wallet, pen, knife, phone, flashlight and sometimes a small tablet computer and / or a steel and polymer self-defense item I'm permitted to conceal.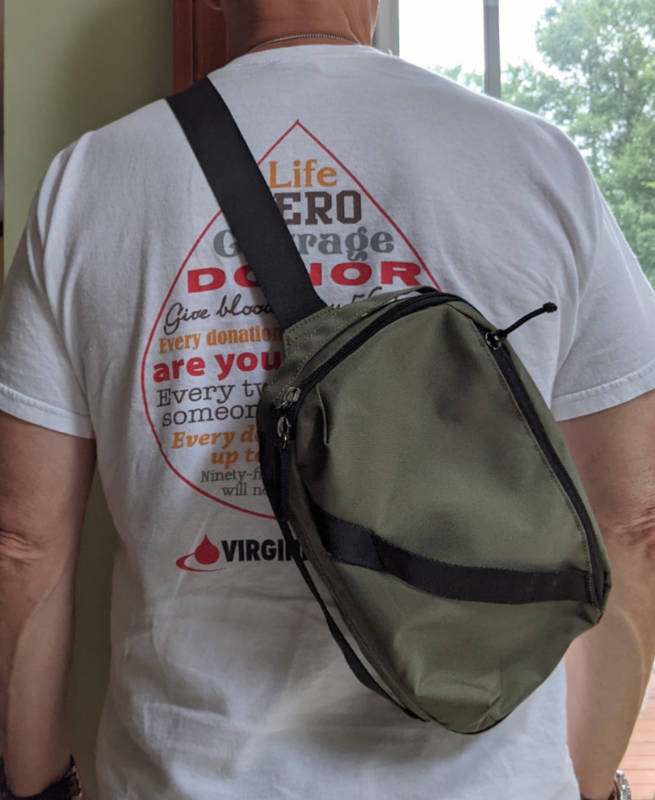 When I had all this in the bag, it did make its presence known when walking around stores, on walks or when biking. That's only the fault of me overloading it and it wasn't unbearably heavy. I don't really need completely empty pants pockets, yet having everything in one bag was pretty convenient.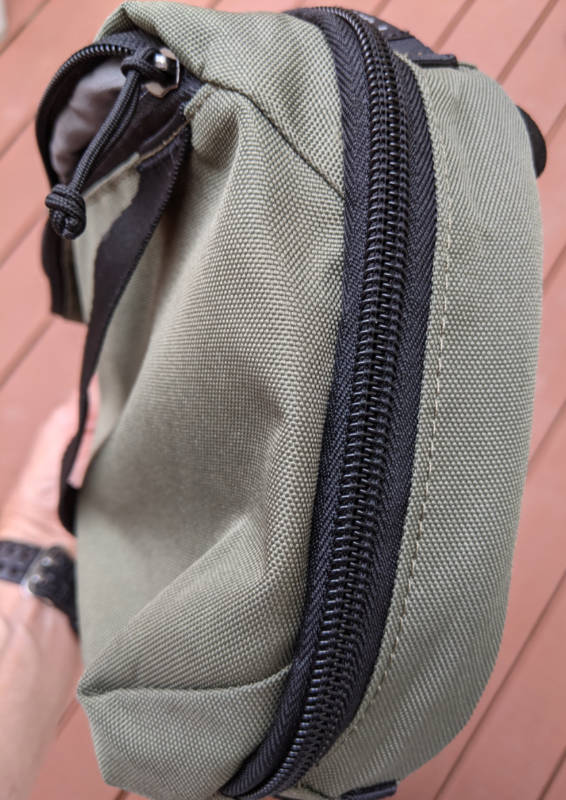 I tended to keep my card and cash wallet in the outermost compartment and found it easy to retrieve them at a gas pump or checkout register. Larger items went in the main compartment. And those are lined with smaller compartments on the sides for additional stuff stuffing.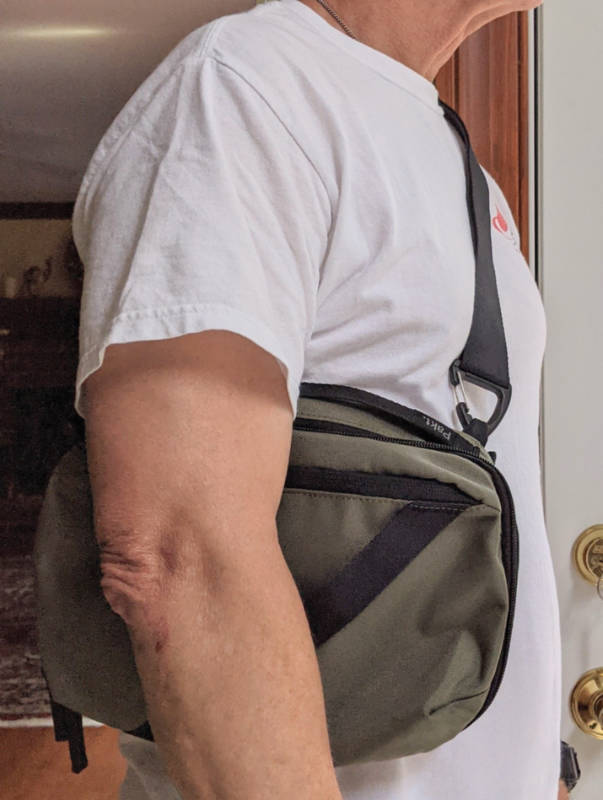 The Pakt Sling Bag seems designed for 'cross-chest' wear only.  Although I'd never carry in fanny pack style, I tried that in the privacy of my home with no one watching. The bag didn't seem to feel right when it was on me that way and you can tell from how the strap is attached it isn't designed for around the waist wear. 
It also didn't seem to work slung over one shoulder due to the angle at which the bag hangs against the hip or rib cage, depending on how long I set the adjustable strap.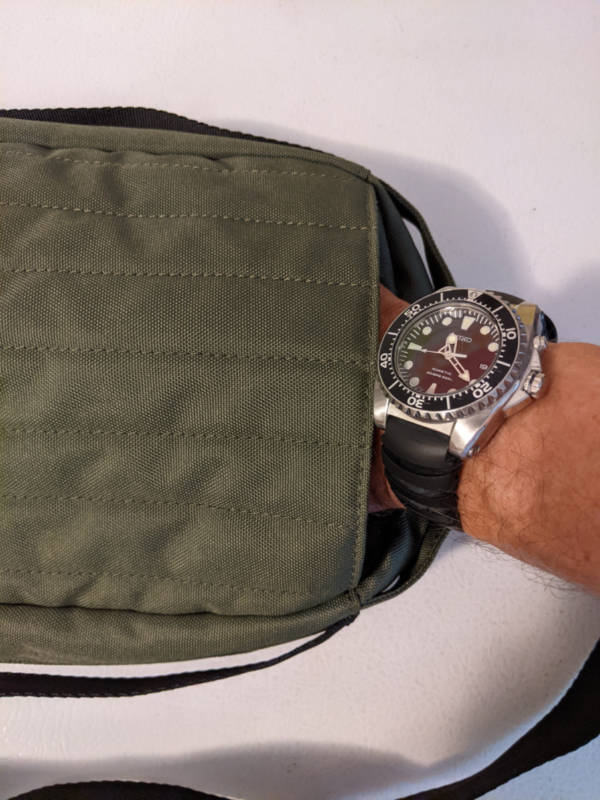 One surprise / confession… I used the bag for 3 weeks before I discovered there's a full size compartment in the side of the bag that rests against the body. I'm not sure what I'd use this for since it has no closure. But I might. Now that I've discovered it. 
Travel documents might be ok for this compartment and should be unlikely to fall out since they are lightweight, and the opening is oriented upward if you wear the bag on your back. If you wear the bag on your chest, the opening of this compartment would be oriented downward and heavier items might fall out. The strap does pull across that compartment opening so something like sheets of paper, boarding passes, receipts, etc., would be unlikely to escape. I'll put my passport in one of the zipper compartments for sure security.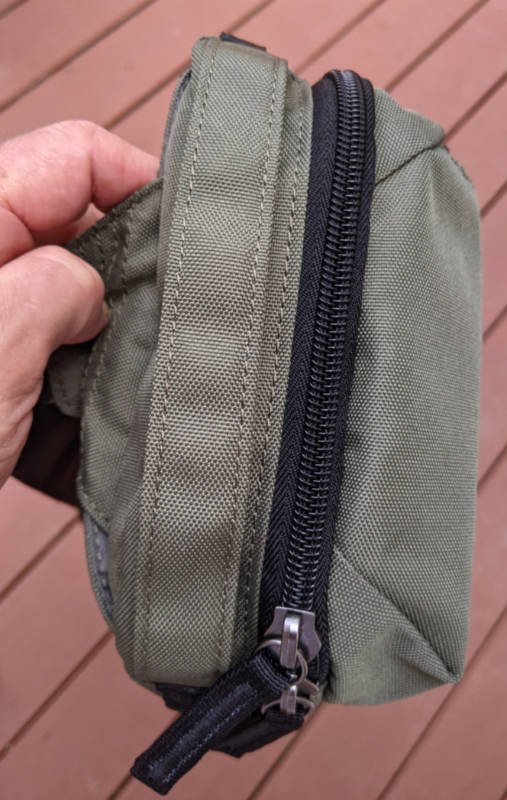 What I like
Zippers have very smooth action

The bag is very spacious

Good neutral color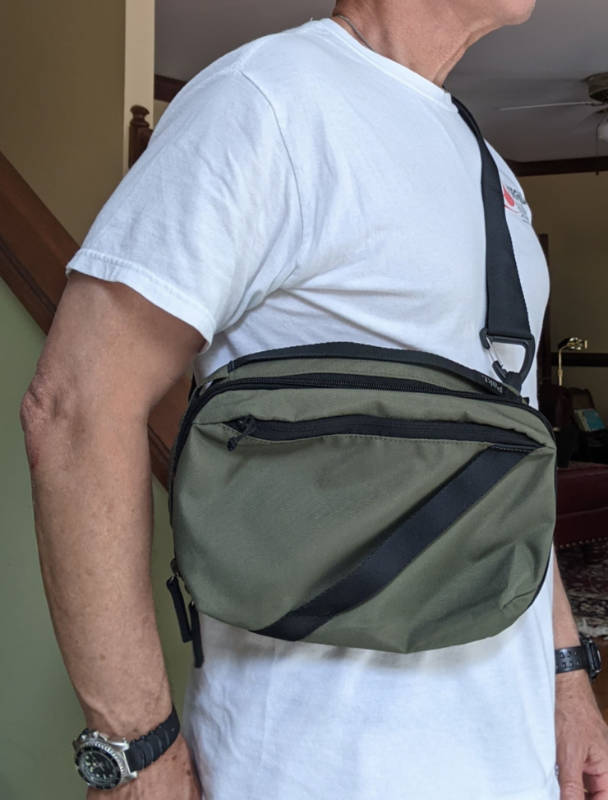 What I'd change
I found no flaws, so I have no recommendations for change.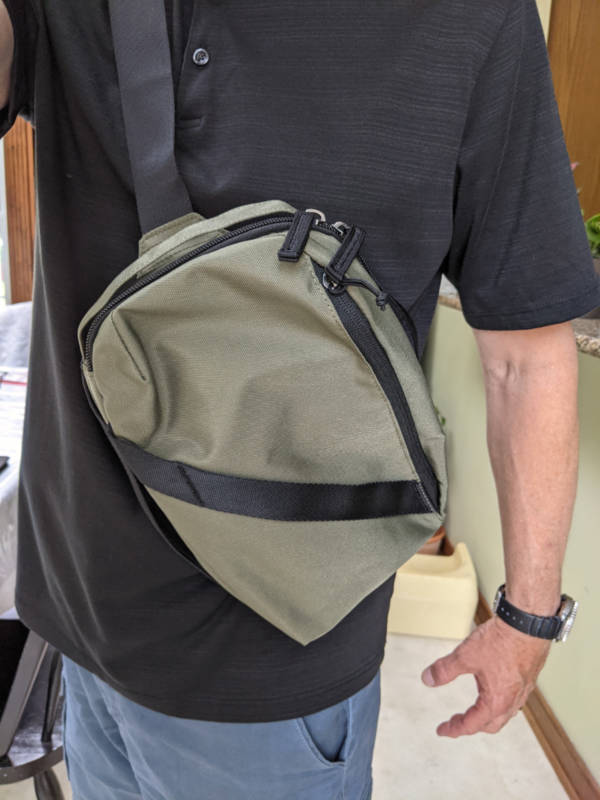 Final thoughts
The Pakt Anywhere 5L Sling Bag can keep your necessary stuff close-by whether doing in-town errands or on international travel. I plan to take mine on my next air trip.
Price: $64
Where to buy: Indiegogo
Source: The sample for this review was provided by Pakt.