We use affiliate links. If you buy something through the links on this page, we may earn a commission at no cost to you. Learn more.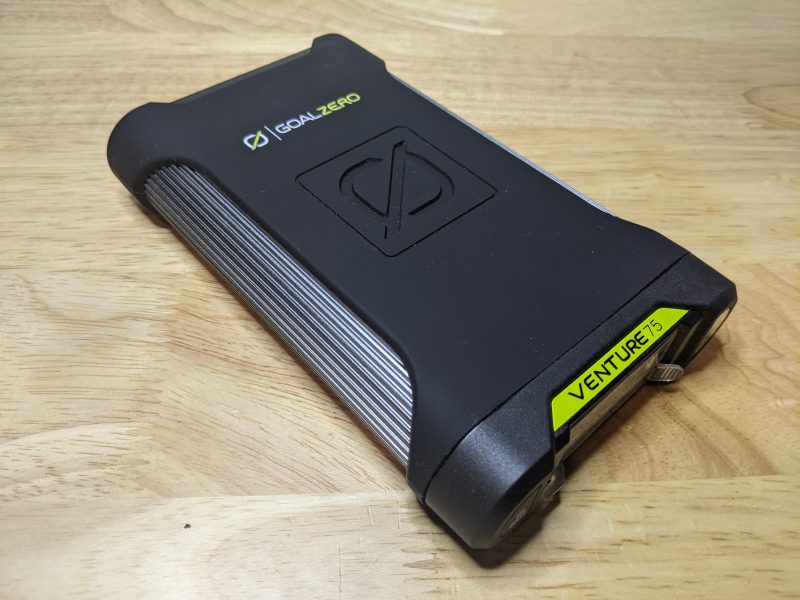 REVIEW – Since long-distance travel has been off the table for a while now, I've been making plans for shorter, closer-to-home trips. Inevitably, those trips involve long drives and off-the-grid locations. My usual EDC battery packs work fine to keep my power-hungry travel devices fed, but I have to pack three or four if the lack of power will be prolonged. A larger power bank, like the Goal Zero Venture 75, is a perfect alternative to toting around multiple packs. The Venture 75 is a bit bigger than most of my EDC power packs, but that size allows it to deliver up to 19200mAh of power. Priced reasonably at $119.95, the Venture 75 is built to seemingly withstand a direct nuclear hit and is another Goal Zero product that delivers on all of its promises, even if its charging port plug is ugly and awkward.
What is it?
The Goal Zero Venture 75 Power Bank is a lithium-ion battery-powered portable charging unit capable of recharging up to three devices simultaneously via two USB-A ports and one USB-C.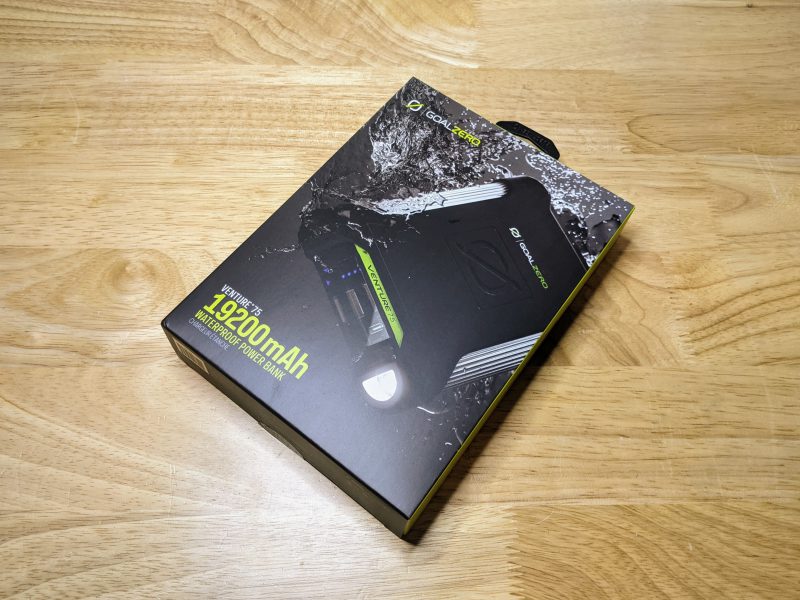 As with most Goal Zero products, the packaging has great visuals and details the capabilities of the Venture 75, highlighting its IP67 rating by showing the unit underwater.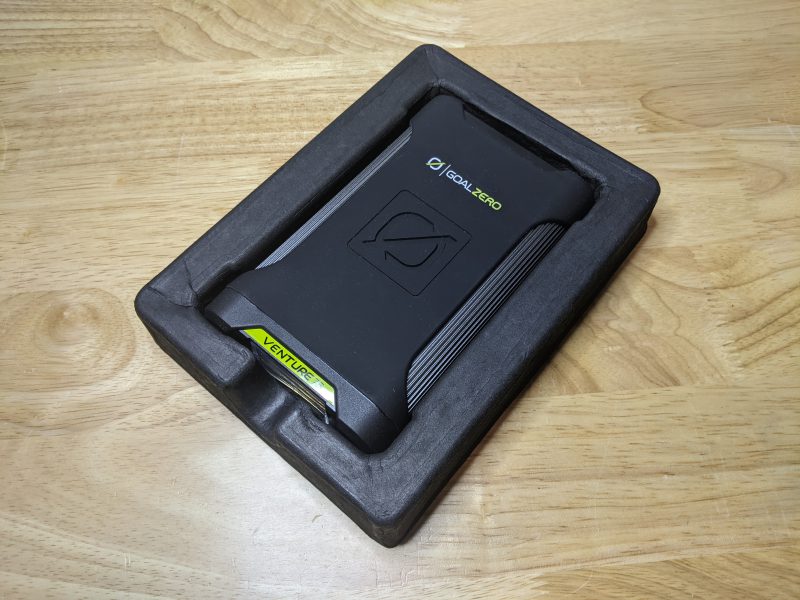 Inside the box, the Venture 75 is tucked safely into a molded cardboard insert which also holds the Venture's charging cable and user manual.
What's in the box?
Goal Zero Venture 75 Power Bank
USB-A to USB-C 10 in. cable
User Manual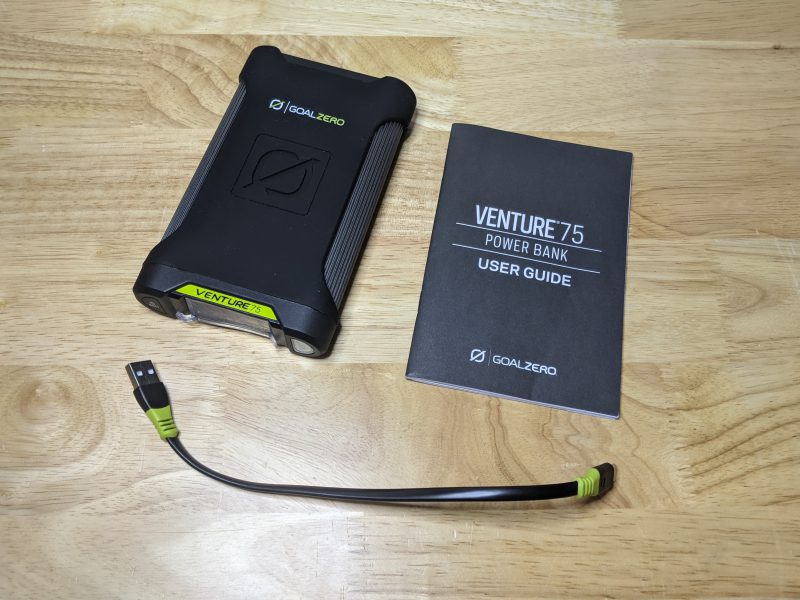 Hardware specs
Charging Ports:

2 USB-A ports (output): 5V, up to 3A each (15W max)
1 USB-C port (input/output): 5-20V, up to 3A (60W max)

Weight: 20.35oz (577g)
Dimensions: 6.1 x 3.8 x 1.1 in (15.6 x 9.6 x 2.9 cm)
Battery Cell Type: Li-ion NMC (Lithium-ion Nickel Manganese Cobalt)
Cell capacity: 71.04Wh (11.1V, 6400mAh)
Single Cell Equivalent Capacity: 19200mAh @ 3.7V
Pack Lithium Content: 5.76g
Lifecycles: Hundreds of cycles
Shelf-life: Charge every 3-6 months
IP Rating: IP67
Operating Usage Temperature.: 32-113F (0-45C)
Light: 50 Lumens White LED
Charge Times:

USB-C PD (60W): 1.5 Hours
Wall Charger (45W) USB-C: 2 Hours
USB-A (2.4A): 6 Hours
Goal Zero Nomad 10: 11-22 Hours
Goal Zero Nomad 20: 6-11 Hours
Goal Zero Nomad 50: 6 hours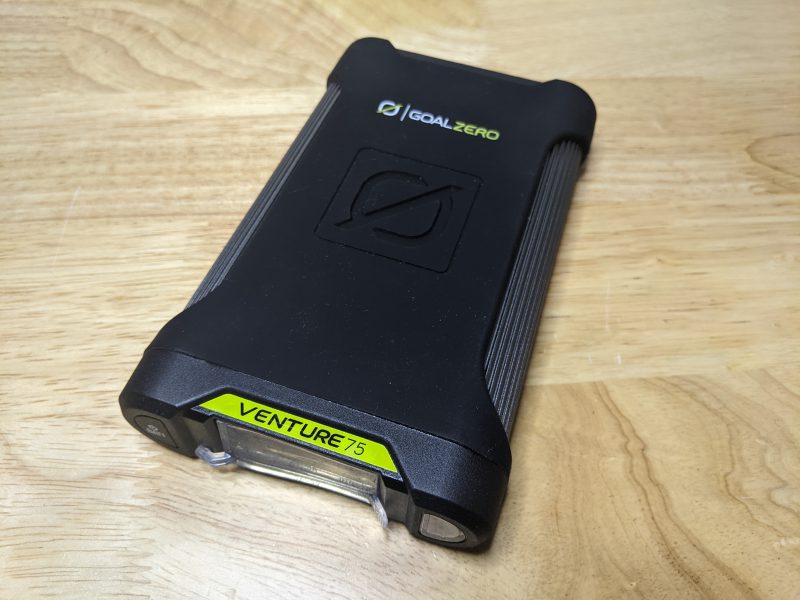 Design and features
True to form for Goal Zero, the Venture 75 is very well designed with a clear intention of highlighting its ruggedness and utility.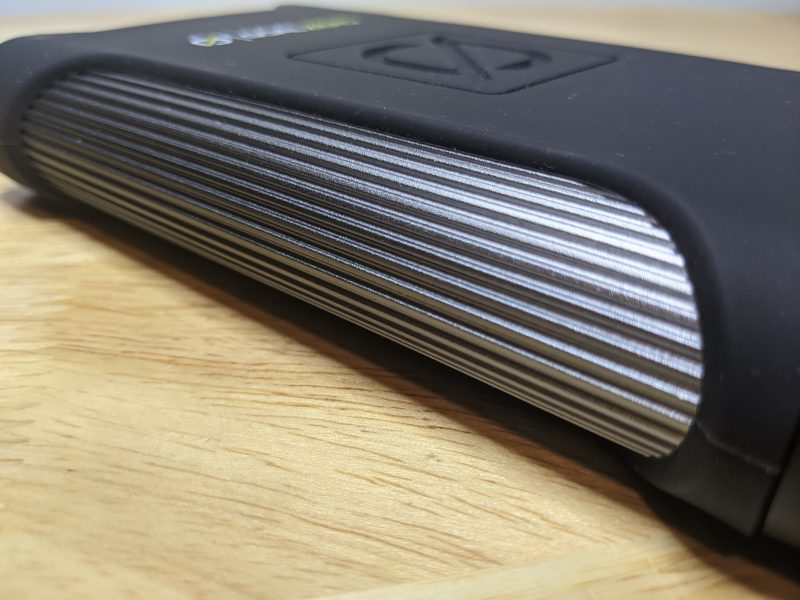 The heavily channeled aluminum body allows for a firm grip even in wet conditions. The heft of the unit is substantial and helps add to the feeling that the Venture 75 can withstand a lot of abuse.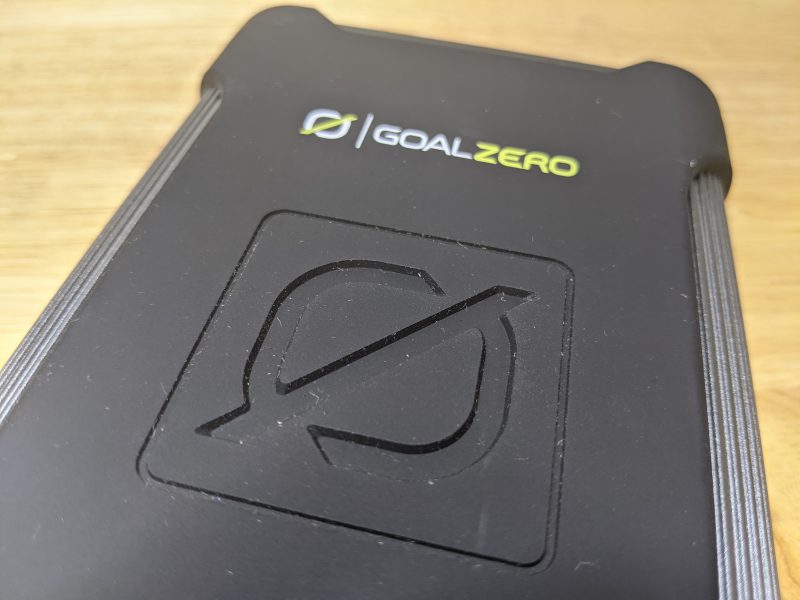 The body is further protected by a slick rubber cover with the Goal Zero logo set into it.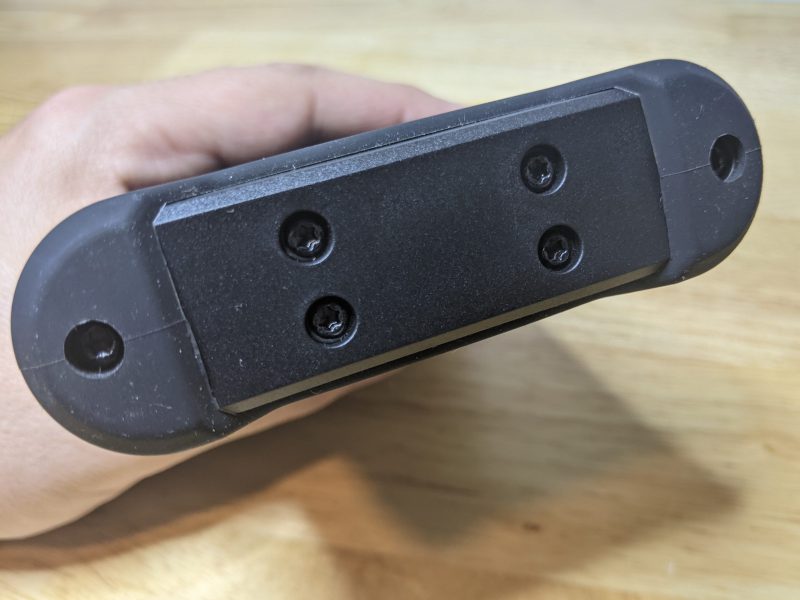 The bottom of the Venture is hard plastic connected to the aluminum body with six inset screws.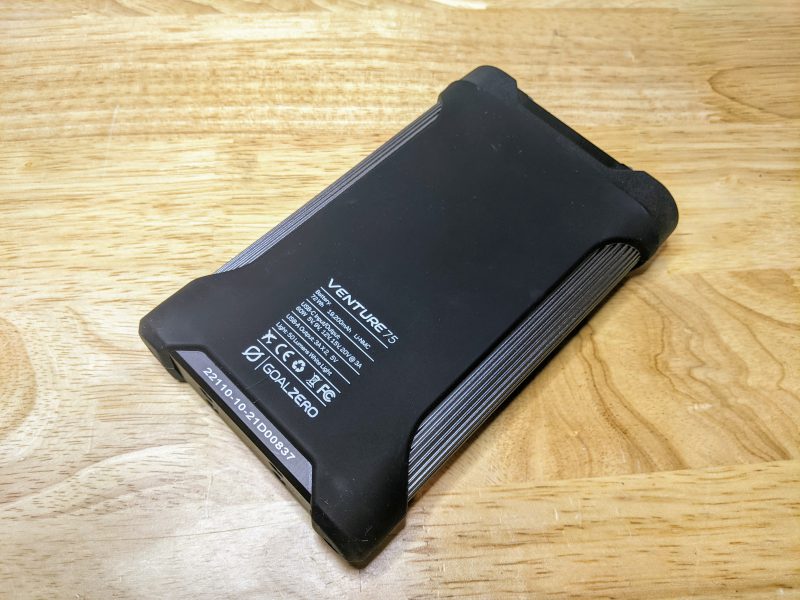 The underside of the Venture 75 is covered by more rubber coating with the unit specifications printed on it.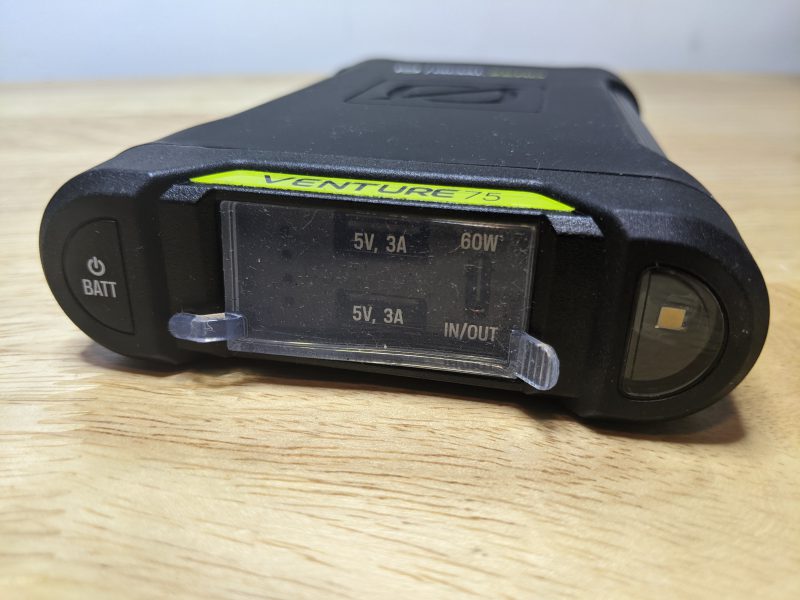 The front of the Venture 75 is hard textured plastic with a thick, clear rubber port plug. The IP67 rating of the Venture 75 is contingent on the port plug being closed. So, with the plug inserted the Venture 75 is fully protected against dust, sand, and debris, and can withstand submersion in up to one meter of water for at least 30 minutes.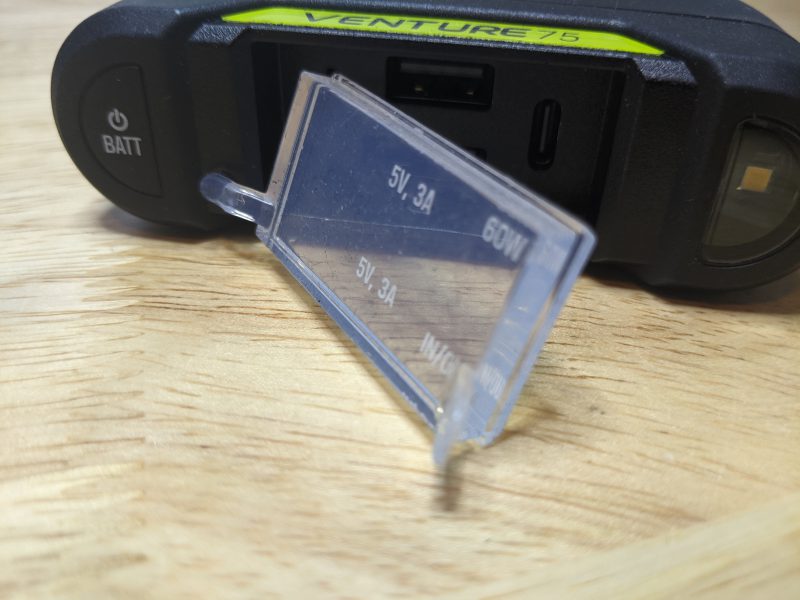 This plug just seems so odd to me though. It's really thick and the labels for the ports are printed on it, so when you open it you don't see any labels. Not that you need to really, but it just seems weird. I'll cover this more in the Performance section, but the plug also just kind of hangs there when you're using the ports. It'd make more sense if the plug tucked into the body somehow or was able to be secured during charging.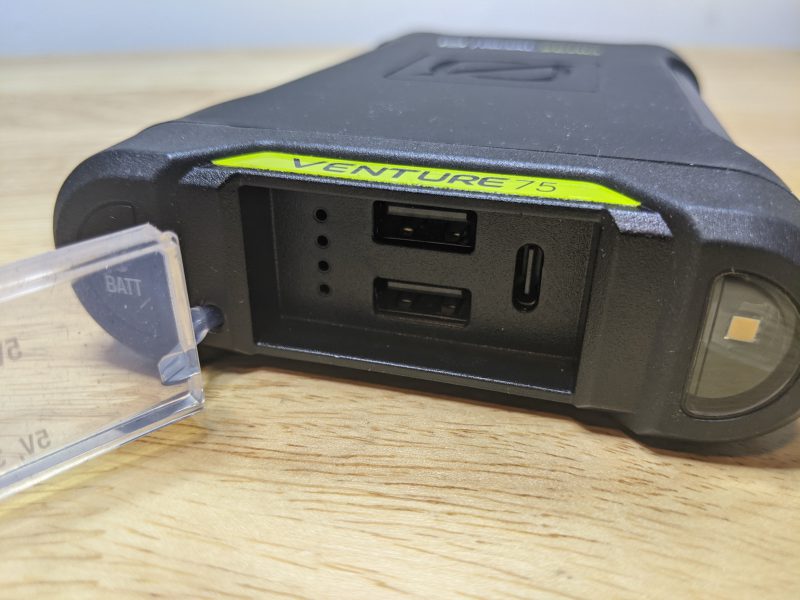 When open, the port plug reveals the charging indicator lights, two 5V USB-A ports, and one 60W USB-C port. All three ports can be used to charge devices simultaneously.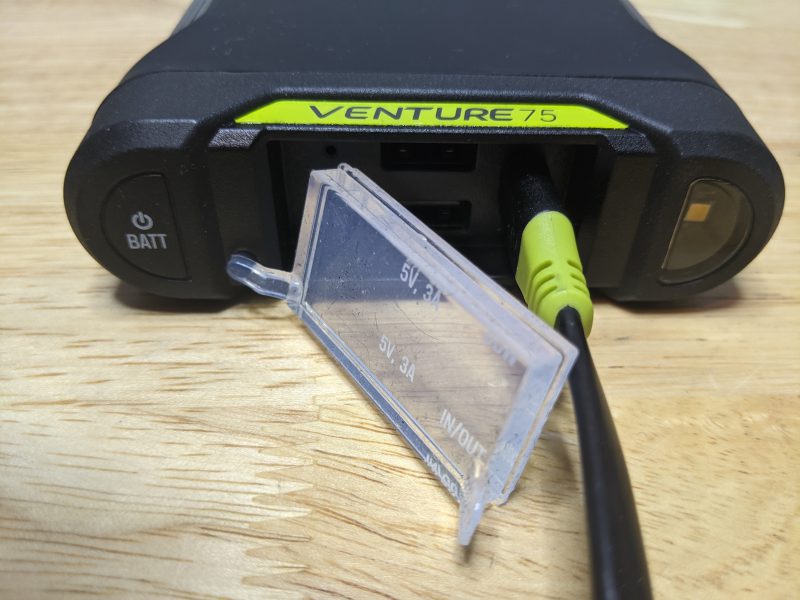 The USB-C port is also used to charge the Venture 75 via the included USB-A to USB-C charging cable. The Venture 75 can be plugged in recharging itself while it charges other devices.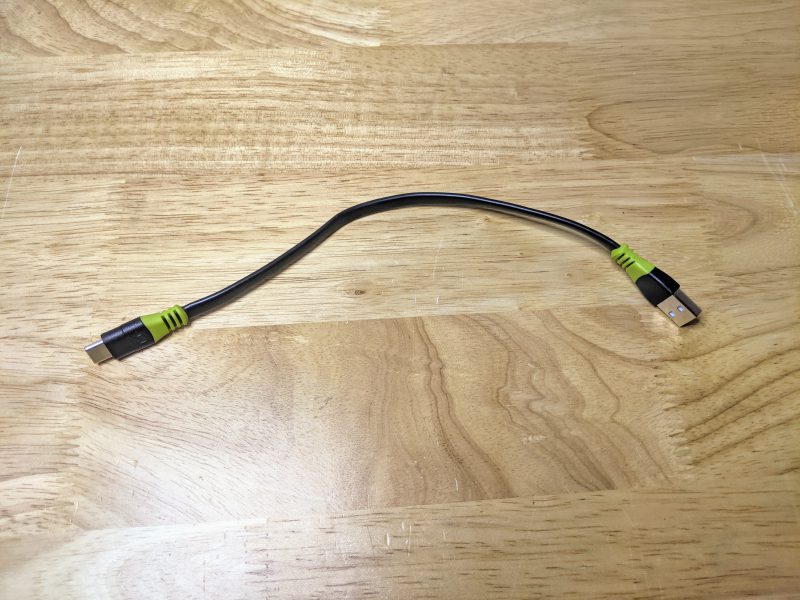 The charging cable is pretty short, and unlike some Goal Zero power banks, there's no place to store the cable on the unit. At $119.95, I had hoped the Venture 75 would include a USB power block, but the cable is all you get.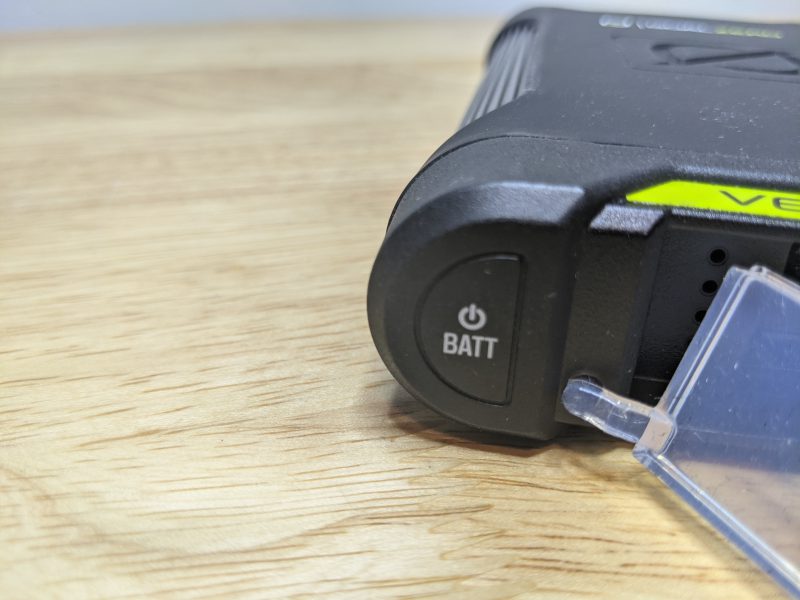 There's one button on the Venture 75 front labeled BATT. One press of the button will light up the charging LEDs to indicate battery level. A long press on the button will activate the built-in 50 lumens flashlight. The same long press will shut the flashlight off.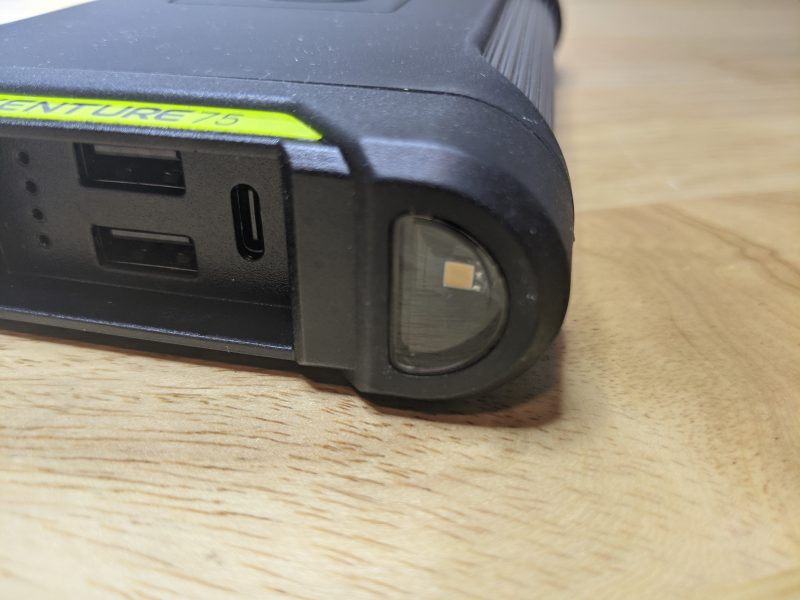 The flashlight isn't something I'd use on a regular basis, but it does come in handy in a dark tent when fumbling around trying to plug in your devices.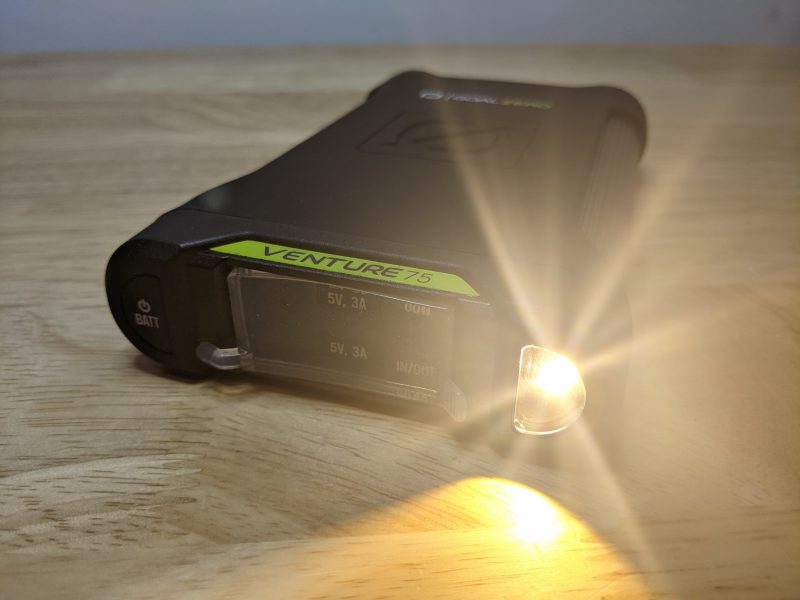 Setup
The only setup needed for the Venture 75 is to charge it before use. New Venture 75 units are shipped in a protective mode to prevent self-discharge caused by long periods of inactivity. Make sure you do this because the Venture 75 will not charge anything until it is plugged into a powered USB port first.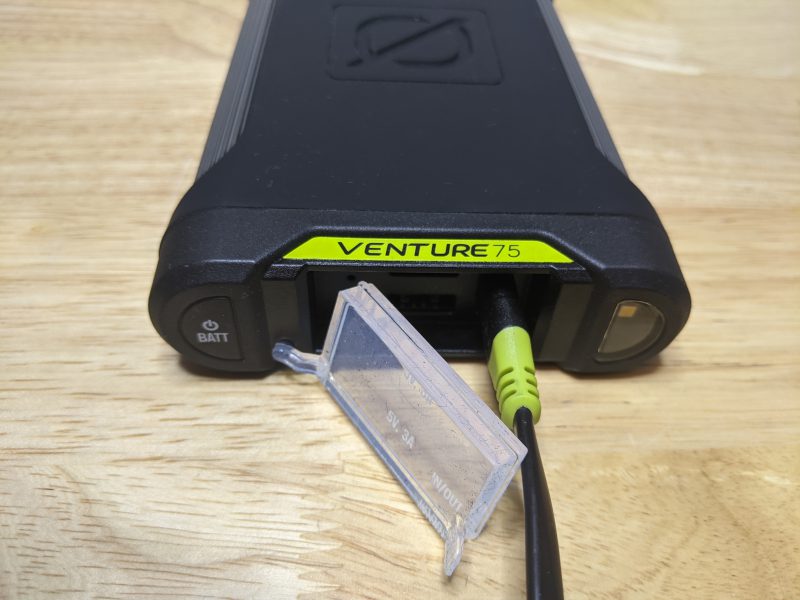 Once plugged in and charging, the blue indicator lights will flash. Each blue indicator light represents 25% battery capacity. When all lights are solid, the unit is at 100% charge. The Venture 75 is designed to be charged from traditional USB power blocks as well as from Goal Zero's Nomad line of solar panels. While it only takes about 90-120 minutes to fully charge the Venture 75 from a USB power block, it may take anywhere from six to eleven hours to fully charge the unit from one of the Nomad solar panels, depending on which one you use.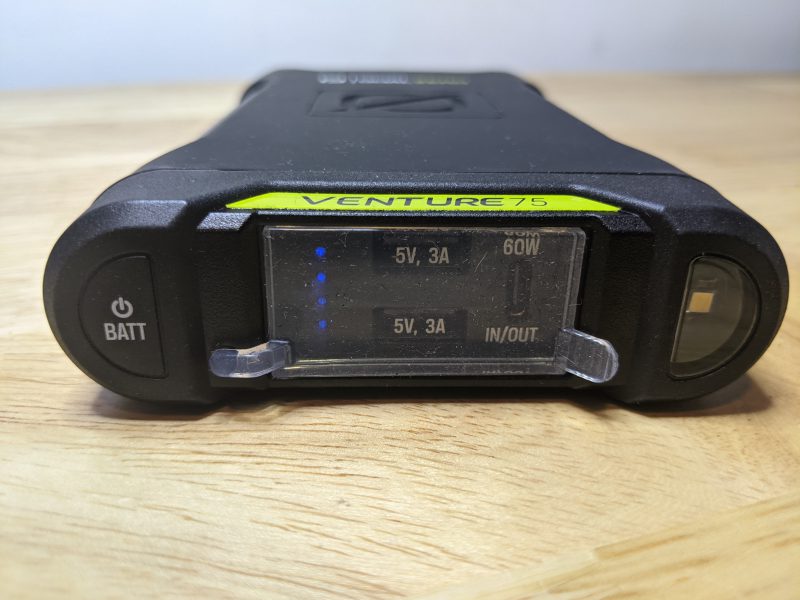 Performance
The Venture 75 performed exceptionally well in my testing. It worked so well in fact that I thought the indicator lights were broken since they stayed at full power after charging several of my devices.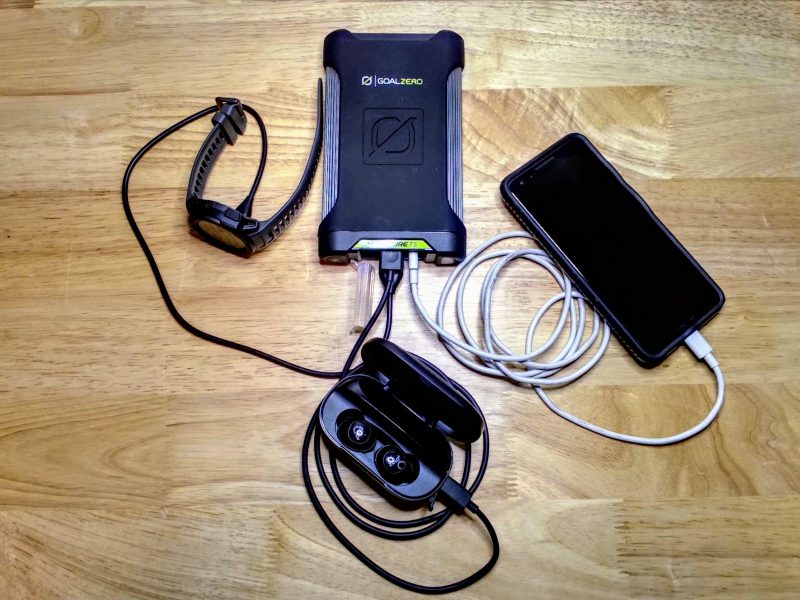 For such a powerful battery pack, a third USB-A port would be nice, but I can understand how that might add to the unit's bulk. Speaking of bulk, that huge port plug just always seemed to get in the way, especially when I was charging three devices at once. I'm sure there's a better way to secure the plug instead of just leaving it hanging there, but maybe it's not an issue for most people.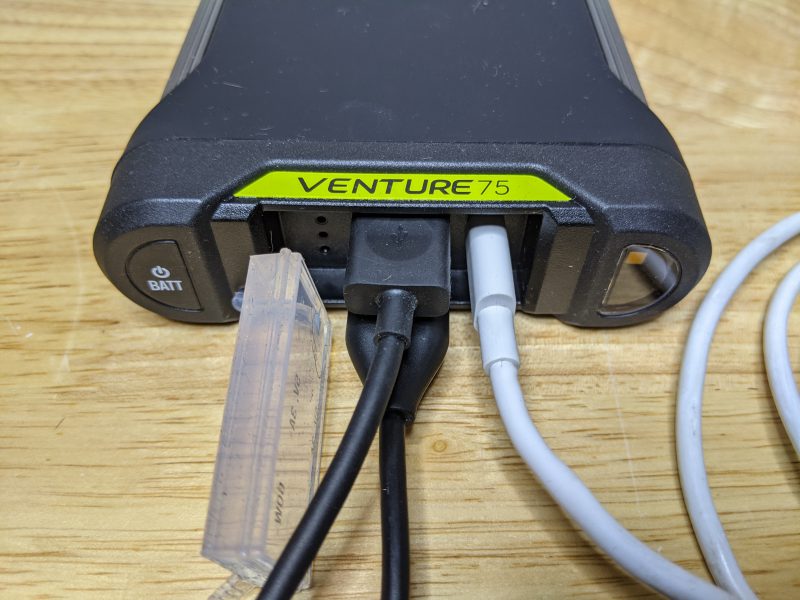 While in use, I felt no heat from the unit at all even after a few hours of topping off my phone, headlamps, headphones, and Garmin Instinct.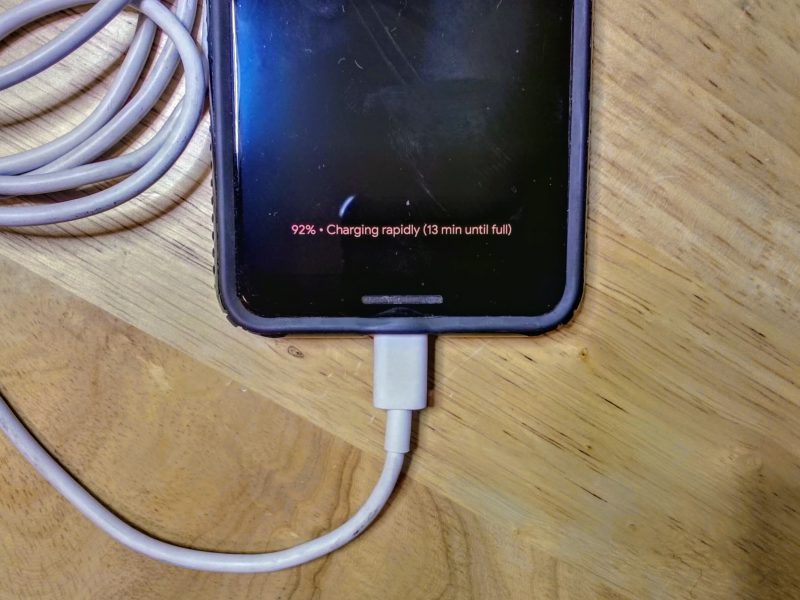 Another great testament to the power of the Venture 75 was that my Pixel 3 indicated it was being charged rapidly, something it only ever does when being charged via the Pixel Stand or the proprietary Pixel power block and cable. I have never seen this from any of my other power banks.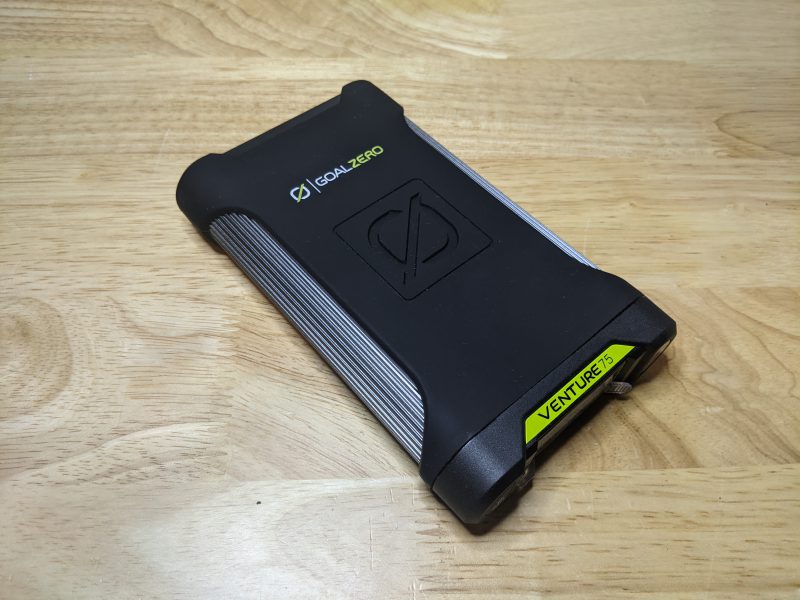 Goal Zero lists the Venture 75 as having enough power for up to five smartphone recharges, two tablet recharges, and one full recharge for a USB-C powered laptop. It also says you can get around 14 headlamp and POV (GoPro) camera recharges as well. From my month of testing the Venture 75, these claims stand true. I honestly was surprised at how well the Venture 75 performed and, even though it's a little bulky, it's found a permanent spot in my travel kit.
What I like
Incredibly rugged and durable construction
Charges devices quickly and reliably
Built-in flashlight is a nice addition
What needs to be improved
Should include USB charging block
Thick rubber port plug is a poor design choice
Final thoughts
The Goal Zero Venture 75 Power Bank is a great upgrade from the somewhat smaller power banks I usually travel with. It's right at the cusp of being too big to be useful, but that size really pays off when it comes to power. Even with the ugly rubber port plug, the very affordable $119.95 Venture 75 is a solid, reliable powerful power bank that ensures my devices will always be topped off and ready to use when I am on the go.
Price: $119.95
Where to buy: Goal Zero and Amazon.
Source: The sample of this product was provided by Goal Zero.