The Gadgeteer is supported by readers like you! If you buy something through links on our site, we may earn an affiliate commission. Thank you! Learn more.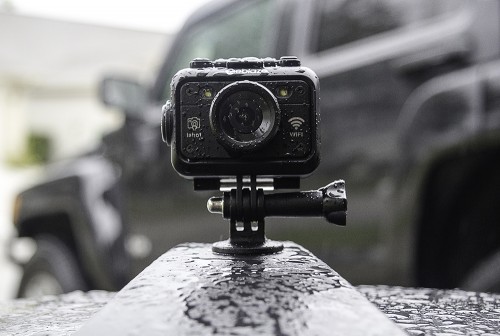 I remember when POV action cameras first started making their appearance and if you wanted to do any underwater shots, or needed to shoot scenes where your camera could get wet, you had to purchase a waterproof housing since one didn't come with the camera. Today companies like GoPro, SJCAM, BlackVue, etc., have a waterproof housing as part of their included accessories. With these special cases you can shoot underwater, shoot yourself wakeboarding, or splashing through mud in your truck right out of the box. However, a waterproof housing is just another add-on in your arsenal of camera accessories. Zeblaze took the waterproof housing concept and made their camera a self-contained waterproof unit eliminating the need for a separate housing.
The Ishot 1 is rated at IP68 waterproof grade and can go as deep as 60 meters or 180 feet.  The first time you handle this camera you can tell right away that it feels waterproof. It is solid and the texture even feels like it's waterproof. It feels kind of like a hard rubber body casing, something that you would imagine being used for SCUBA equipment. Looking over the camera, you can see that it has sealed watertight fittings. With this camera housed in its own waterproof container it is enough for anyone to appreciate it for just that reason alone.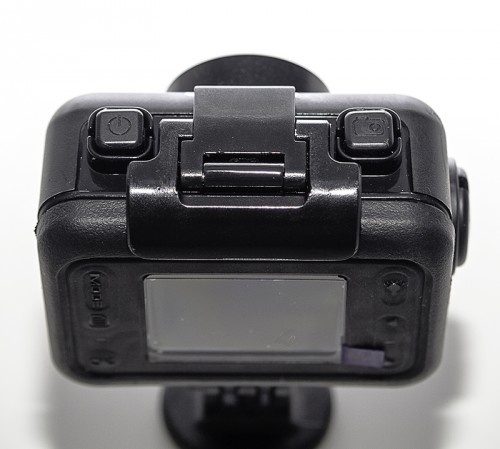 With its 12MP Sony HD 322 CMOS sensor with a 170° wide angle lens, the picture quality is very decent and impressive. Since the field of view is so wide, there is the inevitability of barreling or  fish-eye effect around the edges. More so than the SJCAM S4000 or the BlackVue Sport Action Cameras. The fish-eye effect looks good in some scenes but there are some people who may not want that distorted effect in their footage, so keep that in mind. If you can overlook this effect, you will appreciate the crispness and the sharp resolution that the Ishot 1 captures. I was really pleased with the quality of this camera's resolution.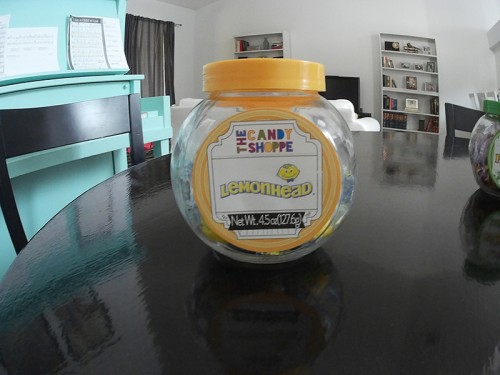 Still shot taken with the Zeblaze Ishot 1.  Unedited.
The Ishot 1 camera has frame rates of 1080P @30fps, 720P @ 60fps, 480(WVGA) @60fps and 480(VGA) @120fps. It records to a .H264 compressed .MOV video file which is basically standard on most action POV cameras. And it also captures still pictures in JPEG format and has a 4x zoom lens which comes in pretty  handy. For what it's worth, zooming in with the camera can correct barrel distortion too. The measurements on this camera are roughly about 2.4″ x 2.1″ x 2.2″ inches and the weigh is a little over 4 ounces.
The Ishot 1 has several settings which allow you to manually control the camera like White Balance, ISO, Exposure and Cyclic Recording. You can also turn off Audio Recording if you just want to record video without sound. You can save some card space by not recording sound. The Ishot 1 also has a Motion Detection feature and an Auto Photo feature. I didn't get a chance to use the Auto Photo but this is a nice feature to have if you want to do some time-lapse recording.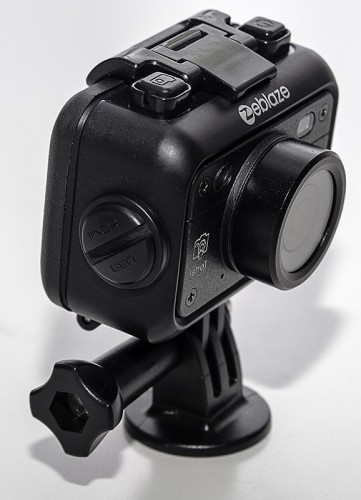 If the waterproof housing isn't a reason to try this camera, then this next feature will really seal the deal. Right above the lens is a unique feature on an action camera that I have not yet seen: dual LED lights. These lights aren't your typical LED lights that notify you of the camera's status such as power on, WiFi connection, or a recording lamp. These LED lights are more of an actual camera light to help throw illumination on your subject. Lights such as these dual LED lights are none that I have seen on any other action camera on the market, not even on the more expensive higher end cameras.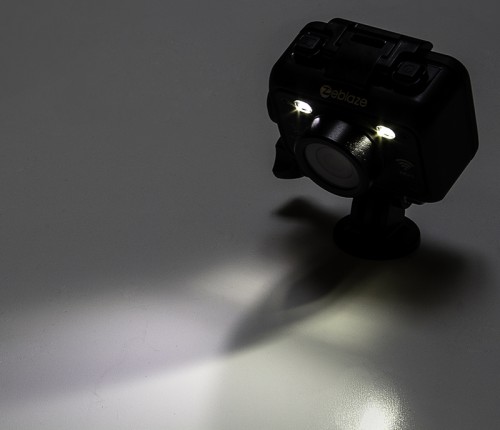 I can say that the lights work fairly well in low light to help fill in those dark shadows and are great to have in complete darkness. It's not night vision by any means, but it's a great alternative to have if you have ever used your phone's camera LED to shine some light in your scene. The LED lights can be set to one of three settings: High, Low or Flashing.  I couldn't think of a use for the Flashing mode since the fast pulsating lights would ruin your scene. However, on Zeblaze's website it states that it could be used as an S.O.S. signal.  I can see how it could be intended for a signal light but not for recording video unless you are going for an artsy strobing abstract video.
These LED lights are a huge plus for me. I love that the Ishot 1 has them built-in. Using one of my other action cameras,  I can't tell you how many times I've recorded in a dark bar or club wanting to grab a quick impromptu segment of my subject doing something interesting on the fly but to get home and review the footage and find out that the scene was too dark and that the ambient light I thought would help the scene didn't help at all. My subject needed that front light source to help pop them out from the scene. Then I got wise and used the LED light on my cell phone's camera. The idea was there but it wasn't really practical when you want to do a spontaneous, on the fly, candid video. I had to pull the phone from my pocket, unlock the phone, find the flashlight icon, tap it on, aim the light with one hand, hold the camera with the other hand, and try to frame my shot. By this time, the spontaneity mood has faded. With the Ishot 1, you just press the Light button and start recording away.  Simple.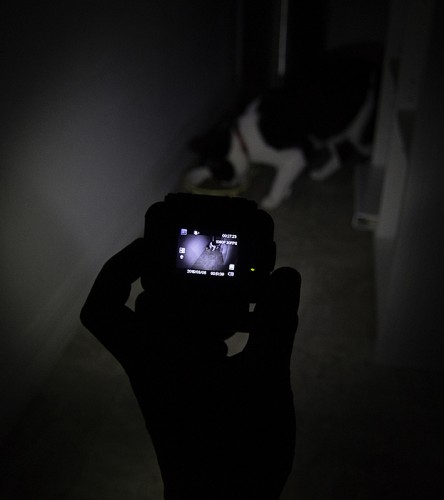 On the back of the Ishot 1  is the battery door which also has a 1.5″ in. LCD monitor screen. I can't stress the importance of a monitor, even as little as it is, a monitor is a must. You need it to frame your shot, check exposure, check focus and review footage in case you need to free up some card space. You don't want to keep unnecessary files that would just take up space, so seeing and knowing which files to delete is crucial, especially when you are in the field and away from a computer to review footage on the SD card. Plus framing and composing your shot makes for better and more watchable video. Nowadays, LCD monitors are standard on several action cameras but unfortunately there are some high-end and expensive POV action cameras where you still have to purchase a separate piggy back monitor.
Continuing on the back door of the camera are several buttons that control features on the camera. Zeblaze got the placement right for these buttons when they designed this camera. One thing that bothers me when I try to operate one of these matchbox style cameras is sometimes buttons are on the top of the camera or on the side of the camera. Other brand cameras have several buttons on top,  on the front, on the left side, on the right side, and not always the same button in  the same location. So as I am looking at the back of the LCD screen trying to frame a shot, or scroll through the Menu, I have to stop what I'm doing, flip the camera around, or turn upward, or wherever and look to see where a button is that I need. It's easy to memorize where the physical buttons are but when you have several action cameras with the same body build, and you are in  a low light situation and don't know what brand of camera you are holding it's hard to know right away where the buttons are.
On the Zeblaze, the buttons are right where they should be and where I can see them without turning the camera this way and that way. It may be more of a preference for me but as I stated earlier, having several of these cameras from different companies, it's just easier to have buttons displayed directly in front of you and ready to use rather than searching for them.
On the back you have the Mode Button, Menu Button, OK Button, Next/Back(Forward/Reverse) Button and the Light Button. The only buttons off the back of the camera are the Power Button and the Shutter Button which are located on the top of the camera.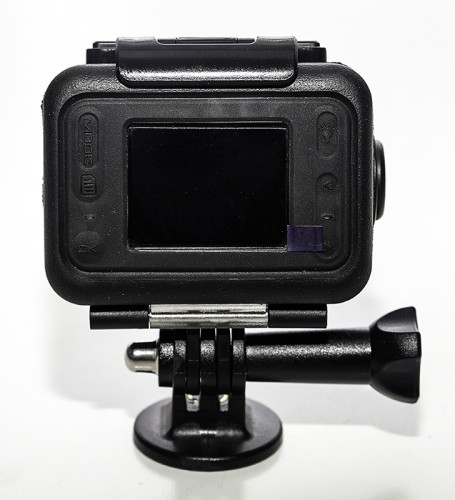 Zeblaze's Ishot 1 comes with a built-in WiFi that allows you to sync with your cell phone and use your phone as a live monitor as well as review footage and images taken. From a free downloadable app to your Android or Apple phone, you can control the camera as well as download video and picture files. Downloading files to your phone is great, especially the pictures. However, unless your videos are short and have a small file size, and if your phone has the storage space, your best bet for the videos is to transfer them to your computer directly from the MicroSD card.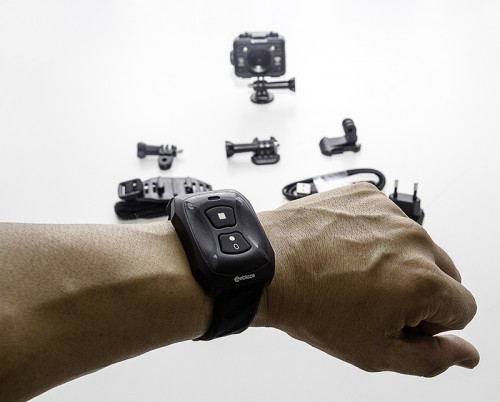 The Zeblaze Ishot 1 also comes with a 2.4 wireless remote control that resembles a watch so it can be worn on your wrist. It has two buttons on the front. The top button is the Shutter Button, and the bottom button being the Inquiry Button, which allows you to check the status of the camera indicated by a red or blue LED light. The shutter button works by a short press to take photos and a long press to record video. One thing I did encounter is if you are going to use the camera in Camcorder mode and you accidentally, or unknowingly press the Shutter button, the camera will switch to Camera mode and will take a photo.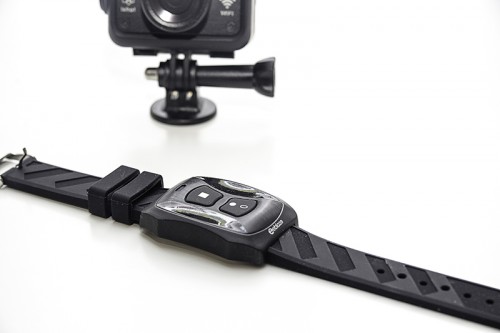 So if you have the Zeblaze mounted somewhere out of reach and you are trying to record video, you will have to retrieve the camera and switch it back to Camcorder mode. The bad thing about this is you may not know that you accidentally pressed the Shutter key and will be out of luck when you think you are still in Camcorder mode. Hopefully, Zeblaze can update the firmware to address this issue.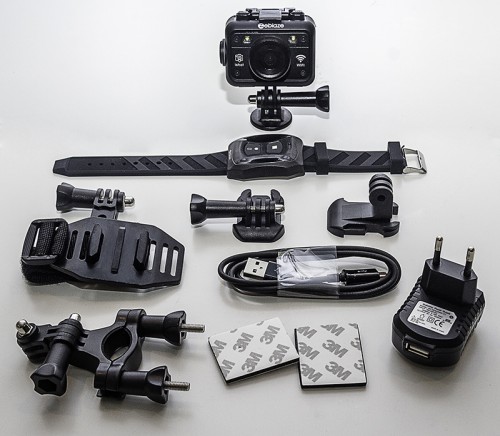 Aside from the Remote Control, the Ishot 1 comes with a few standard accessories: USB cable, several mounts, a bicycle mount, and 2 sticky mounts. One of the mounts has a 1/4″ inch thread so you can use it on a tripod. Having this screw thread is so nice to have since I regularly use those small table top tripods as well as standard size tripods. The sample that Zeblaze sent me came with a European wall plug, which isn't a big deal since I can plug the USB cable into my computer or into one of my other U.S. wall plugs that came with my cell phones. But I think Zeblaze could have done without the wall plug and instead included a lens cap for the camera. I like the idea of keeping the lens safe when I'm not using the camera, especially if you are like me and often put the camera in my camera bag along with other gear that may accidentally bang the unprotected lens.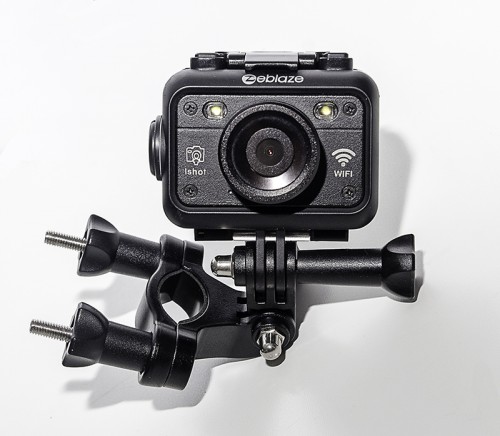 I usually place my other action cameras in a soft plush bag to protect then lens unless it in its waterproof housing which I don't mind if that housing lens gets scratched. I would rather the plastic housing lens get banged around then the actual camera lens. I think Zeblaze could take a cue  from other companies like BlackVue and Lorex since they have lens covers for their cameras. On a side note, I reviewed  a Lorex action camera that has one of their cameras with a built-in waterproof housing.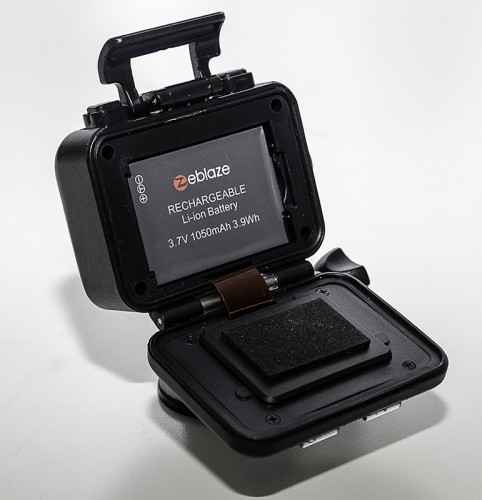 The Ishot 1 camera has a 3.7v 1050 mAh Lithium Ion battery which makes the battery life on this camera about 2 hours even shooting in 1080P. The average battery life I have on my other action cameras is around an hour, making the Zeblaze's battery life double that. This is a major plus to have longer battery life since you can record video longer without stopping to charge or switch out a fully charged battery. The more juice the better. Of course, you have an option to connect the included USB charger and record as long as the capacity of your SD card can hold. Just like many other action cameras, the Zeblaze supports up to 32GB SD Card.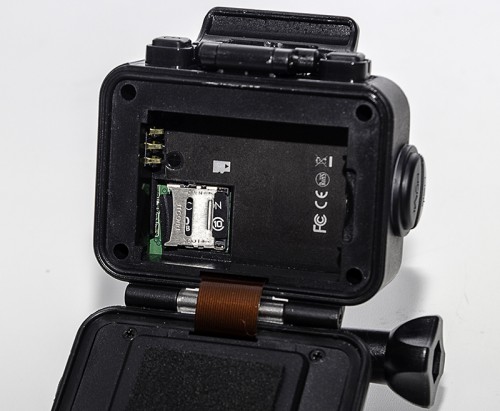 Speaking of the SD card, I have an issue with the placement of the SD card and where it sits. Normally, there is a slot that you insert the SD card into. Instead, the SD card lays under a small metal door flap and that door flap is under the camera's battery. Several times the camera couldn't find that the SD card was there. The SD card moves loosely under the door flap and if not for the battery to hold it in place, the SD card would slide around. Another thing about the SD Card being where it is, when you to switch out the SD card, you gave to pop out the open the rear camera door, pop out the battery, and flip up the metal flap, and remove the SD card.  A SD card slot on the camera's side would be ideal or  even directly behind the rear camera door. With the location for the SD card under the battery, it just seems inconvenient.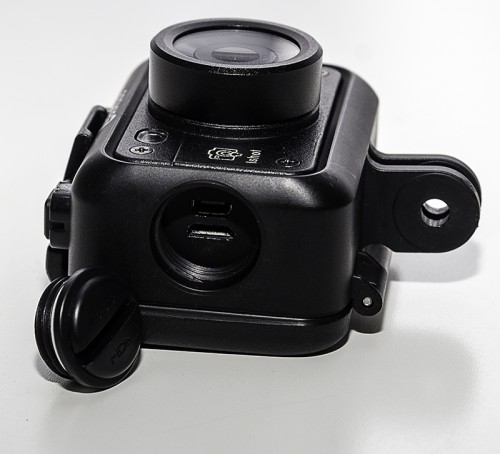 On the side of the camera is a watertight circular  door that you unscrew to reveal the camera's USB and HDMI ports. You do need something like a coin to unscrew this door since it is virtually impossible to unscrew by hand. However, you can count on this door being truly watertight and not let any water in. Through the HDMI port and an HDMI cable, you will be able to view your footage on an HD TV.  Zeblaze also sells an optional waterproof USB charging cable so yo can have the camera underwater without losing any battery power. And speaking of the USB cable, you can connect the Ishot 1 to your computer and use it as a webcam.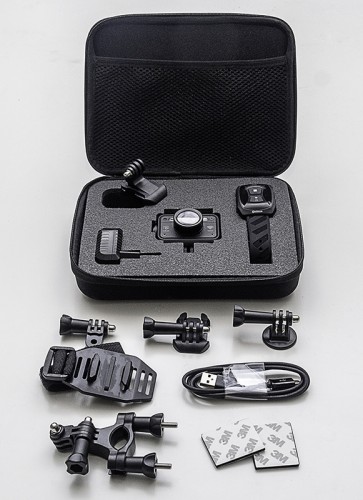 Although the Zeblaze Ishot 1 may have a few minor issues, like the SD card placement, or lack of a lens cap, or maybe too much barrel distortion, but this camera has too many pluses that overshadow them and makes this camera one that I will definitely keep in my camera bag as one of my main equipment. Other action camera companies can take a few notes from this camera. But I guess the build, design, and features is what makes this camera unique to many other action cameras on the market.
Updates 04/23/15
When I originally wrote this review I mentioned that I wasn't too thrilled about how the SD card sat behind the battery. It would slide around at times under the SD card door. So, numerous times the camera would tell me that no card was inserted after I turned the camera on. This was due to the fact that the SD card slid out of place in the card slot.
I was recently looking at a broken battery connector pin in the camera with a flashlight and noticed that the SD card door had the faint and hard to read words "Open" and "Lock" (both with pointing arrows) imprinted on the metal SD Card slot.
So after inserting the SD card back into the card slot, I locked the SD card down. The camera can now read that there is an SD card inserted with no problem since the SD card doesn't slide around anymore.
Source: The sample for this review was provided by Zeblaze. Please visit their site for more info.
Support The Gadgeteer
:
The Gadgeteer is supported by readers like you! If you buy something through the links on our site, we may earn a small affiliate commission. Thank you! Learn more.
Product Information
Price:
$115.00
Manufacturer:
Zeblaze
Pros:

Built-in waterproof housing.
Dual LED lights.
2 hour battery.
Wi-Fi.
Motion Detection.
4X Zoom.
Wide angle lens.
Crisp images.
Solid camera body build.

Cons:

SD card location under battery.
Can't open USB/HDMI by hand.
Remote control switches Camcorder to Camera mode if accidentally pressing Shutter button.