We use affiliate links. If you buy something through the links on this page, we may earn a commission at no cost to you. Learn more.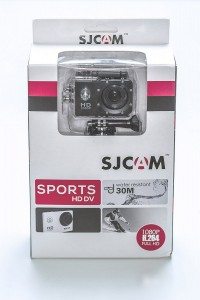 Time for another review for another action camera. This time this review is for SJCAM's Sports HD DV 1080P camera, the  SJ4000. At first glance, this camera resembles the look and feel similar to a GoPro camera. Many available action cameras on the market have taken a cue in design and form from GoPro cameras and this camera is no different. So, let's take a look at how well this camera measured up and performs.
The body design of the SJ4000 is comparable to the popular rectangle box shape with its physical dimensions being about 30x59x41 mm, or about 1x2x1.6 in. It is a CMOS camera that has a field of view of 170° and can record .MOV H.264 video at 1920x1080P(30fps), 1280x720P(60fps), 848×640(60fps),and 648×480 (60fps).  I'm really liking that it can record to 1080P. I have some action cameras that can only record to 720, so having the higher recording resolution is definitely a big plus.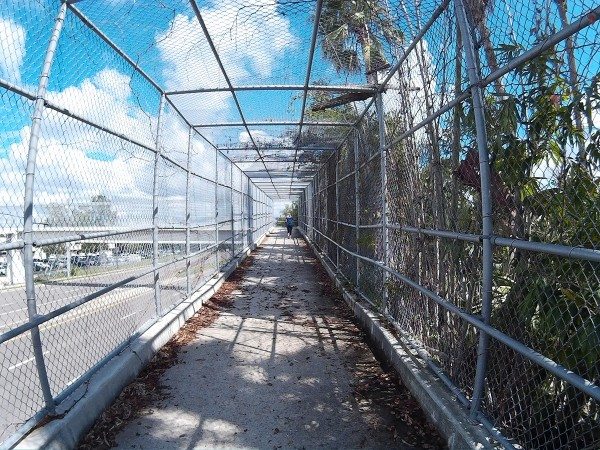 Still shot taken with SJ4000 on a sunny day. No editing or touch-ups.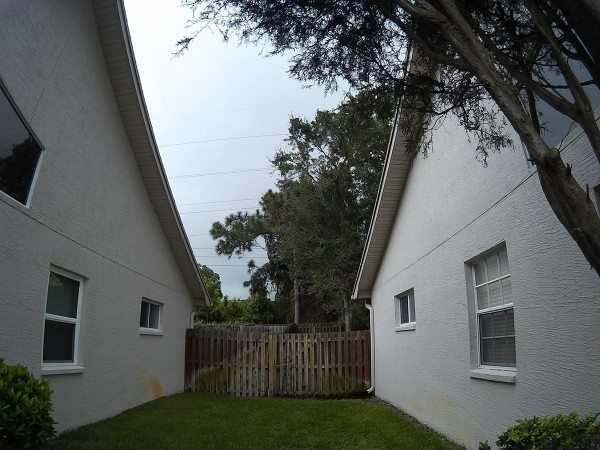 Still shot taken with SJ4000 on a cloudy day. No editing or touch-ups.
The pictures that it captures in Photo mode are just as good. It can capture JPG images at 12MP, 10MP, 8MP, 5MP, 3MP, 2MHD(1080), VGA(480), and 1.3M(960).  Images and video are recorded on a MicoSD card. The camera can support SD cards up to 32GB's.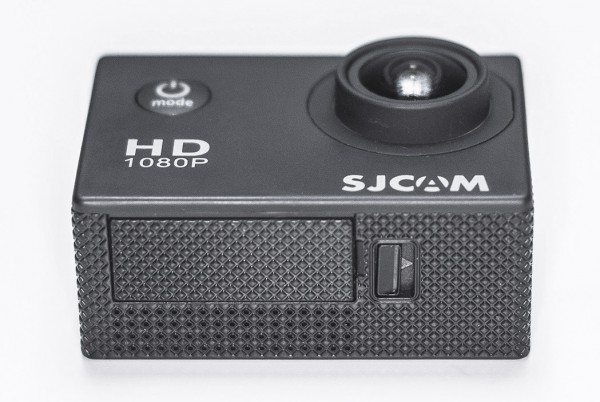 Battery door on bottom of camera.
Let's talk battery. The SJ4000's 900 mAH Li-on battery is removable which is nice so that you will be able to have extra recharged batteries ready to swap when you need them. With the supplied MicroUSB cable, charging took around 3 hours to fully charge. The camera had a recording time average of  about 70 minutes per battery charge. I found some batteries on eBay for a lot of 2 for around $6 dollars.  Not bad. Just remember to keep those extra batteries charged too. One thing about the battery door is that I had a really hard time opening it. I had a really difficult time tying to slide the little lock over and then trying to pry open the door with my finger nail. Because the slide lock and the channel to open the battery door are so close together, it's hard to pop open. You need something like a small flathead screwdriver to get it to open.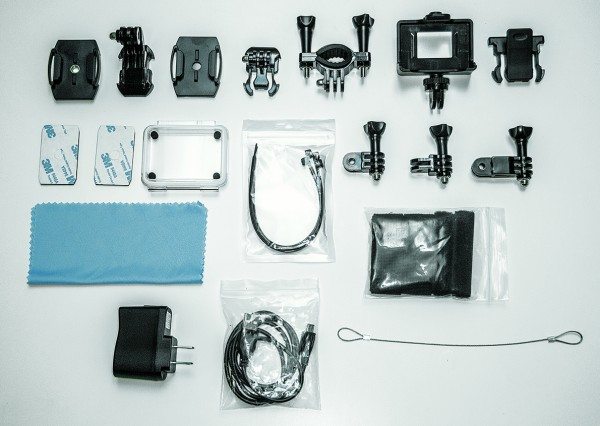 Included in the box is a waterproof case, USB charger, adhesive tapes, zip ties, safety wire, velcro straps, an extra door for the case and several different mounts.  You can use these accessories to configure many ways to mount the camera to what best suits your needs. Need a helmet mount? It's there. Need a bicycle mount? Included. Need a mount to clip to your belt? Yup, have that too. One of the mounts also has a metal screw thread so that you can use a mini or regular tripod should you need it. One particular accessory I was partial to was an ordinary clip that attaches to one of the included camera mounts. With all these body and chest mounts today  that seem to be draped and wrapped over your body, it seems practical to just clip the camera to your belt or shirt pocket or wherever if you want to record with the camera. I clipped the camera to my belt, and even though it was lower than chest high, the 170° camera field of view caught plenty of action.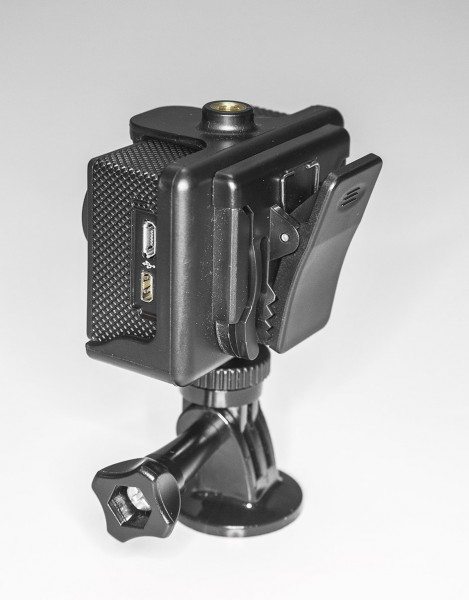 Obviously, you wouldn't want to just clip the camera to your shirt pocket if you are doing kickflips and ollies on your skateboard or snow skiing down a hill, or running the course on Ninja Warrior. For those times times you want the camera to be locked down and secured for those hard jarring activities so there is no chance of it flying off. But say you want to record yourself walking through your house during your daily routines and watch it back later, then clipping the camera to your shirt or belt would be the way to go. Don't ask me why anyone would do this but believe me people have recorded more unusual things than this. To each their own I say.
One warning about using  the clip or just using the camera without its waterproof case, is that the Power/Mode button can be easily pressed causing you to switch modes. You could be in Camcorder Mode and tap the Power/Mode button then instantly be in Photo Mode or Menu Mode or Playback  depending how many times you may have scrolled by accidentally pressing the Power/Mode button.
One of the features that the SJ4000 has is Car Mode. This feature works with the MicroUSB cable plugged into your car's power outlet so that when you start your car and the camera turns on, the camera begins recording. And with the MicroUSB is plugged into the camera, the battery life is sustained all the while the camera is plugged into your car's power outlet. In conjunction with the Car Mode, the SJ4000 has a Cyclic Record function of 3 minutes, 5 minutes and 10 minutes. What this function does is let the camera record for the selected time whether 3, 5, or 10 minutes and then after the time is up, it saves the file and starts a new video file after that duration time is met.  Then when the SD card reaches its full capacity, the camera deletes the oldest file and continues to record and process continues. This is a useful feature to have should you need some sort of evidence in a traffic accident or altercation. You would have video of the incident recorded on the SD Card as helpful evidence so there would be no second guessing as what to what happened since you could just review the recorded footage.
The SJ4000 also has a Motion Detection feature which is pretty self-explanatory. Turn on the Motion Detection from the camera's menu and any motion in front of the camera will start the recording. SJCAM advertises this function as their Home Security feature.I'm not really sold on this idea as a home security since the camera can't alert you in real-time that someone is creeping around your house. If this camera had a Wi-Fi connection and the right app you should be able to at least view some streaming footage. Hypothetically, chances are that you could view the footage from the camera but by then it would already be too late since you would be seeing the person who robbed you leaving the premises.
I was a little disappointed to find out that there wasn't a time lapse feature on this camera. Time lapse video is one of my favorite features on a camera. However, there is a setting in Photo Mode that will take a snapshot every 5, 10 or 20 seconds from the time you press the Ok/Record button. Press the button again to stop recording.  So, in theory this feature acts the same as a time lapse but what you will have to do is take all those photos and import them into an editing program and export as a video file.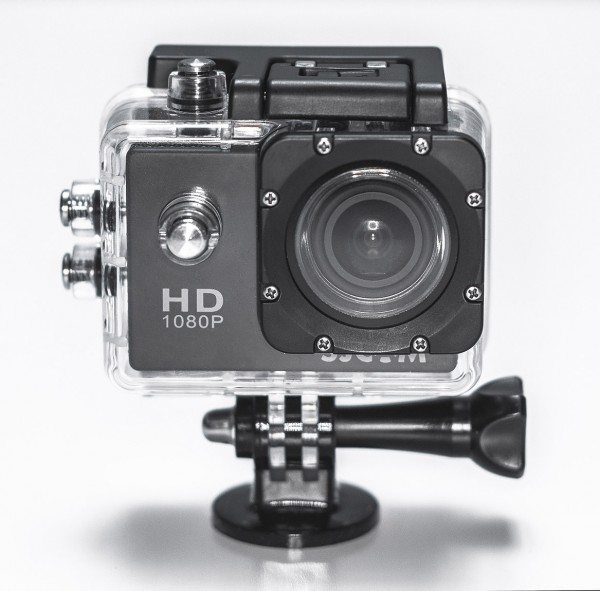 One thing I really liked about the SJ400o is the ability to manually control some settings like the ISO, white balance, exposure, etc. I like to have as much control over my settings as possible like when I am feeling that I want more picture control over a scene especially if I am shooting with another action camera of a different brand and model. There is also a setting to turn off audio recording too because there are times where you don't need to record sound. This helps in keeping the video file size down and gives you more room on the SD card to record. However, the recorded sound was what you would expect from a POV action camera, not bad, but not great. So, when the camera is in its waterproof case, and you're shooting underwater there really wouldn't be any need for audio recording since the microphone will be muffed anyway inside the case anyway. This may be a good time to turn off the audio recording. By the way, it's waterproof up to about 60 feet/30 meters.
There are a few other general settings that can be accessed through the camera's menu such as Photo Quality, Photo Sharpness, Color, Face Detection, Anti-Shaking, Beep Sound, Screen Savers, Resolution, and Date Stamp, HDR and more. The SJ4000 can also zoom up to 4X in Photo and Video mode. I like this feature on camera such as this because there may be times where you don't want such a super wide view.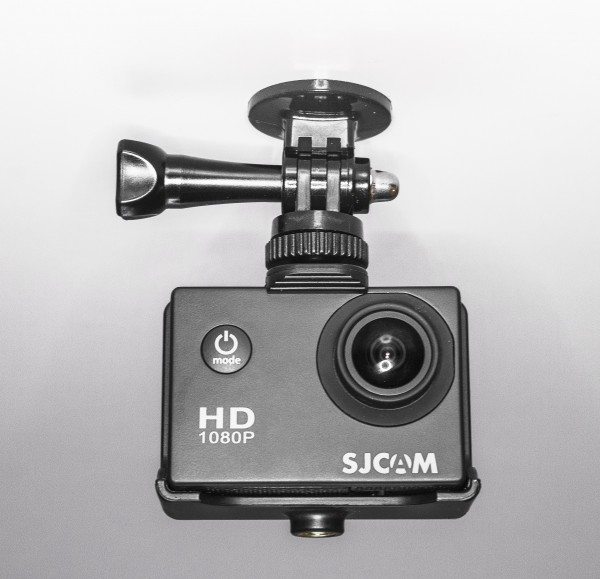 One feature that I discovered by accident is the camera's ability to automatically rotate the viewing screen to keep the image level. So, as you rotate the camera, what you see in the camera's 1.5 LCD screen will stay right-side up. This is helpful to have the automatic rotating screen so that you lessen setup time and continue with placement of the camera. So you can forego flipping your head upside down trying to compose your shot.
There are cameras that have a feature to flip the screen, but not many. Plus having to go back and forth in your camera's menu to switch orientation can become irritating. Keep in mind, although the automatic screen rotation is nice, when you turn the camera upside down it will record the scene upside down. However, in the Menu settings, there is a feature for screen Rotation but all you really need to do is flip the image 180° in your editing program and you should be good go to view the footage in the correct orientation.
On a side note, if you are previewing your footage and want to skip to the next clip you can't just skip to the it since there isn't a Skip Forward or Skip Back button. What I did was press the Up and Down buttons on the side to fast forward the clip I'm watching to get to the next clip. This is a pain but since the manual doesn't really go into detail on the operation of the camera, this was the only way I knew how to advance to the next clip. Nor could I figure out a way to delete a clip or image that I didn't want. But I figured I would delete any footage I didn't want on the computer as I reviewed the footage and photos.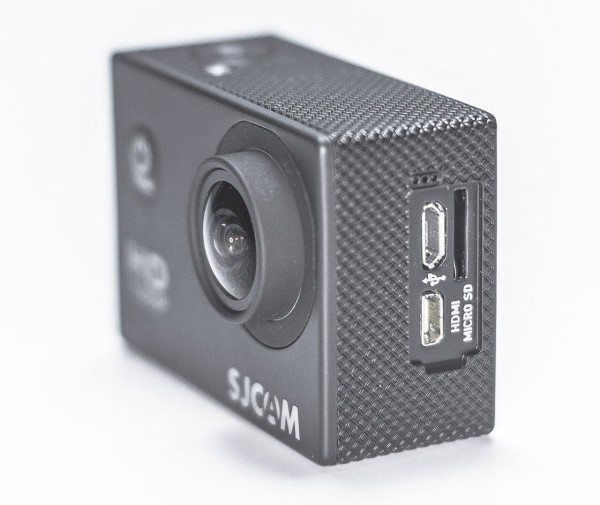 And speaking of viewing footage, just below the MicroUSB port is a HDMI out so that you can view your footage on a television that has an HDMI connection. Because watching your footage is better seen on a big screen than on the camera's small LCD screen. And behind the ports is the slot for the SD card. I did note that the SD slot and ports do not have a door. It would have been nice to have some kind of cover to protect these slots from things like dust or other small particles. They are fine in the waterproof housing but sometimes you may not use the housing and just shoot video with out it. This is just piece of mind for me to know that the slots are protected just a little bit.
There is a small speaker on the side where the Up and Down buttons are. Its nice to have the speaker while reviewing your footage when you don't have the camera connected to a TV. The sound is something you would expect from a speaker so small; monotone and tinny. Although the sound is decent for reviewing footage, I couldn't locate a Volume button. The Up and Down buttons on the side operated as  Fast Forward and Reverse buttons only.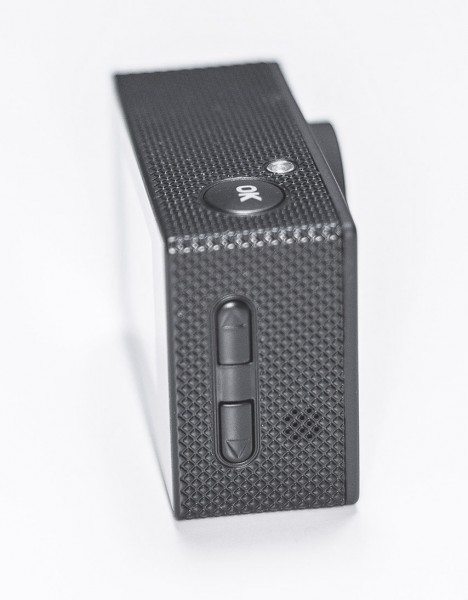 If you tried to compare the SJCAM SJ4000 to other popular, cameras like the GoPro HERO Black, you would see that they are similar in looks and function. Sure, the GoPro may offer more features like Wi-Fi, Bluetooth, or low light shooting, but if you are looking for a simple alternative to higher priced action cameras then the SJ4000 is the way to go. SJCAM has the camera listed on their website for around $119.00 however, I found them on Amazon for almost half the price and some bundled with more goodies for a few bucks more.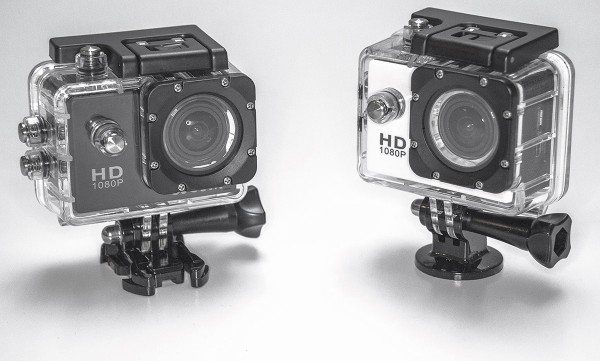 There is an SJ4000 with Wi-Fi capabilities so don't rule out that feature for this camera. Plus, with the included MicroUSB cable you can connect the camera to your computer and use it as a web camera.
And they come in 7 different colors: Black, White, Silver, Blue, Yellow, Pink and Gold. In case, you get tired of the everyday black and silver colors.
Update 02/19/15
I have been using the SJ4000 to help me record concerts and local band gigs. It's fairly easy to use and I am happy with the image quality. I like the small size and I can throw this camera in my camera bag along with some of my other equipment. I just set it up where I need it and then let it record. The wide angle is nice so I get a lot of action in its field of view. The SJ4000 is a great companion to my main Canon DSLR camera.
Source: The sample for this review was provided by SpyTec. Visit http://www.spytecinc.com/ for more info.
Product Information
Price:
$99.95
Manufacturer:
SJCAM
Retailer:
SpyTec
Pros:

Assorted mounts included.
Multiple colors to choose from.
Can use as webcam.
Good price.
Auto screen rotation.
Ability to record while MicroUSB plugged in.
Motion detetction.

Cons:

Battery door difficult to open.
No delete button.
No Forward or Back button.
No cover doors for MicroUSB, HDMI and SD card slots.