We use affiliate links. If you buy something through the links on this page, we may earn a commission at no cost to you. Learn more.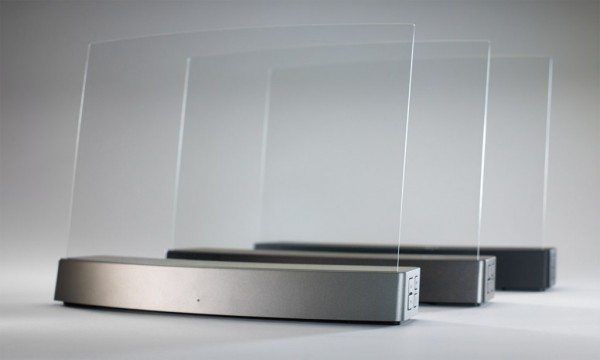 Are you tired of the standard look of Bluetooth speakers? Or perhaps you've had difficulty finding one to match your decor. Clio is a simply elegant Bluetooth 24 watt speaker that practically disappears into any environment and uses Edge Motion technology.
Edge Motion™-driven speakers use piezo-electric actuators to stimulate the sides of an optically clear acrylic glass stereo transducer to produce an extremely efficient, piston-like motion. The result is a thin, lightweight and invisible transducer that produces rich, full sound across the audio range.
This technology allows the audio to be heard from the front as well as the back of the speaker. It supports Bluetooth 4.0 devices (pair up to eight of them 😯 ) and also has a 3.5 mm input for non-Bluetooth devices. It measures 9.25″ x 12.63″ x 3.75″ and since it is not a wireless speaker, it comes with an AC adapter and power cable (a 3.5 mm audio cable and microfiber cleaning cloth are also included). You may purchase Clio in silver, dark bronze, or charcoal colors for your home from clearviewaudio.com for $349.