We use affiliate links. If you buy something through the links on this page, we may earn a commission at no cost to you. Learn more.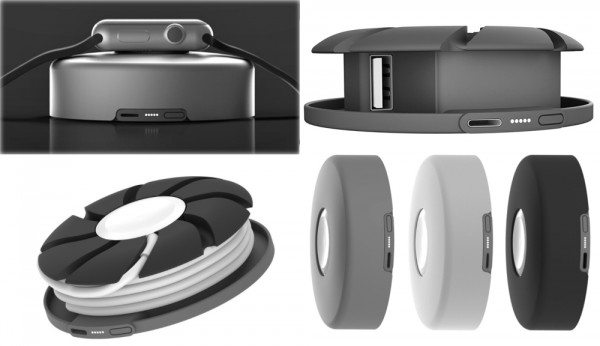 Nomad says their Pod is the first portable battery for the Apple Watch.  You plug the Watch's charger into the Pod, then wind the excess cable around the Pod's spindle.  Snap on the Pod's stamped military-grade aluminum lid, and you'll have a hockey puck-sized charging stand with the Watch's magnetic charger exposed.  Inside is a high-density 1800mAh lithium-polymer rechargeable battery with enough power for four complete recharges of the Watch.  Nomad says "Pod is the first Apple Watch accessory that charges with the new Type C USB cable (it also has Micro USB as a backup)."  The Pod is only 2.8″ in diameter and 1″ thick and weighs 2.8 ounces, so you can even carry it in your pocket.
Nomad has a 5000 unit first-run inventory available for pre-order now.  The Pod is available in Space Gray, Silver, or Matte Black Plastic for $59.99 each.  Shipment is set for June 1, 2015.