We use affiliate links. If you buy something through the links on this page, we may earn a commission at no cost to you. Learn more.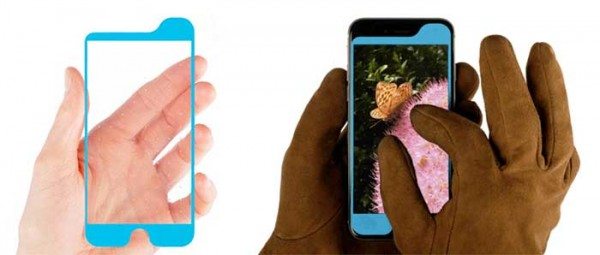 Spring seems to be right around the corner (finally!) but I'm still wearing gloves on my drives to and from my day job each day. The best thing about gloves is that they keep my hands warm and dry. The worst thing about them is that they make interacting with my phone a big hassle. Unless you buy special touchscreen compatible gloves or you have a phone that can work with them, you will be forced to remove your gloves to use your phone. Enter Glovys, a Kickstarter project for a removable touchscreen that turns your iPhone's display into one that will work with any ordinary glove.
Glovys is made from two metaled films with laser etched transparent circuits. The top and bottom films are separated by a very small gap. When you press the two circuits together they create a discharge and activate the screen below. Without using batteries and without calibration.
This special stick-on touchscreen has been designed to work with all the normal gestures and taps that you normally use with your phone, but all while wearing your favorite gloves and even with your bare fingers.
Glovys will initially be available for the iPhone 3, 4, 5, 6 and 6 plus, but stretch goals may allow for additional device compatibility. Glovys is seeking a funding goal of, with pledges start at $19 for one pair of Glovys. Shipping is estimated for September of this year. Visit Kickstarter for more info.