We use affiliate links. If you buy something through the links on this page, we may earn a commission at no cost to you. Learn more.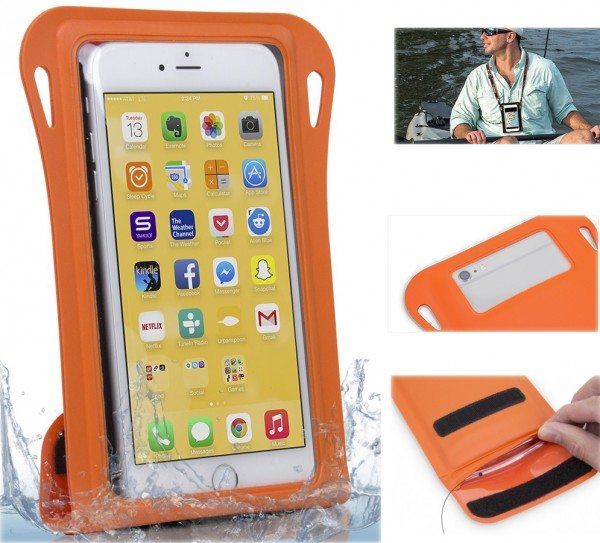 The Satechi GoMate Waterproof Case has a double waterproof seal to keep your smartphone safe in wet environments.  The GoMate case is IPX-8 waterproof standard level-certified, which means it can withstand submersions in up to 20 feet of water, so you know it will keep your phone protected from "water, dirt, snow, and mud while swimming, hiking, fishing, in the kitchen, on a boat, or even in the bathtub!"   The touchscreen is usable through the case's touch-sensitive clear front panel, and the clear back panel allows you to use the camera to take photos, even underwater.  The GoMate comes with a lanyard so you can wear the case around your neck or attach it to your belt to keep it with you during activities.
The GoMate Waterproof Case will fit phones with up to a 5.5″ diagonal screen.  It fits iPhones 3G through 6 (not the 6 Plus); Samsung Galaxy S5, S4, S3, S2 / Epic; Droid X, Incredible, 2, 3; HTC  EVO, Inspire 4G, Sensation; Blackberry Torch, and other similarly-sized phones.  It's available in black, white, or orange for $19.99 at Satechi.