We use affiliate links. If you buy something through the links on this page, we may earn a commission at no cost to you. Learn more.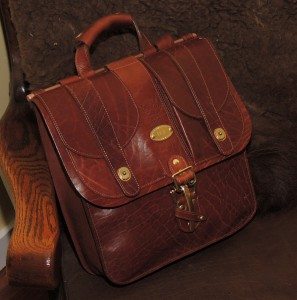 The Colonel Littleton No. 37 Satchel in American buffalo is a beautiful bag bringing Old World quality, artistry, and charm to modern times. As the title states, this eye-catching bag is made from buffalo leather instead of the more classic cowhide. The combination of both design and rugged, marbled leather makes the No.37 Satchel unique to say the least. This satchel is large enough to hold most smaller laptops/ultrabooks along with your daily gear. Let's take a closer look at this top-shelf gear bag.
Note: Images can be clicked to view a larger size.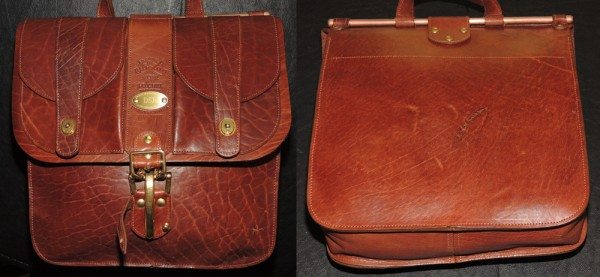 The No. 37 Satchel is made of thick, soft, rugged american buffalo hand-stitched with solid brass hardware. As with all the Colonel Littleton gear I have reviewed over the years, the craftsmanship is truly second to none. I have seen many of the Colonel's pieces in cowhide but when I discovered that he is now working in buffalo I really wanted to see one in person. The main reason is that, I am a bit of a buffalo leather connoisseur, if there is such a thing. My father was a buffalo rancher for decades. I assisted him in building not one, but two ranches strong enough to raise buffalo. During those years, I had access to more or less as much buffalo leather as I needed/desired (the chair cushions and furred robe, in the initial picture, came from my father's ranch). So, bottom line is that I wanted to see if the Colonel has raised the bar even higher 😉 .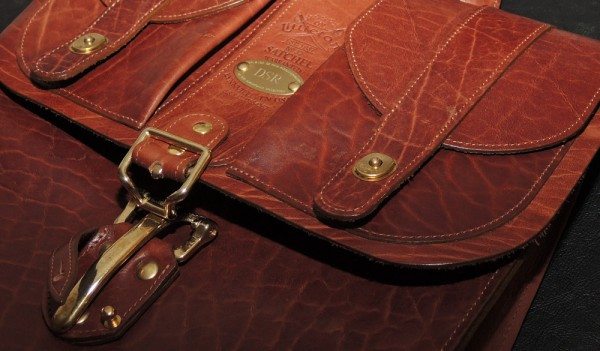 The No. 37 Satchel is without a doubt distinctive and gorgeous. In the relatively short time I have been using the bag, it has received no less than a dozen compliments. Its Old World styling, top-shelf materials and second to none craftsmanship are definitely eye catching.
This is a business bag with attitude – none of that "same ole, same ole" mentality here.
This is a bag that will definitely not go unnoticed.
Unlike domesticated cattle, bison are still wild animals and where they may be raised in captivity, are at times more than rambunctious. Their hides show this rough and tumble existence with marks and imperfections giving each piece is its own personality. Not only is buffalo leather thicker and softer than most cowhide, it has a more rugged look and feel, with its distinctive marbling and color variation.
American Buffalo – "Expect a leather that is unapologetically rugged with
more character, nicks, scrapes and variations in color." ~ Colonel
In addition to the Col. Littleton logo, bag name, warranty stamped into the leather, you also have the option of a brass plate with your initials added, making this bag truly your own.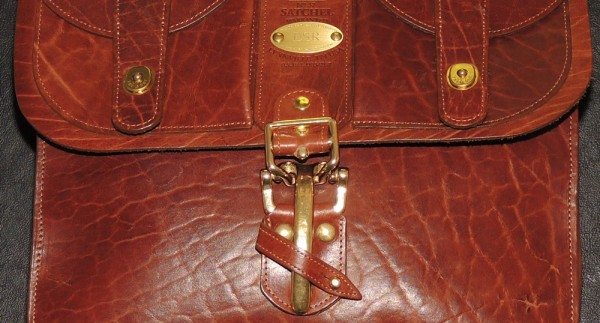 This satchel's main flap is held closed by a cinch buckle closure system. As I mentioned earlier, all the hardware, including the cinch buckle, is made of solid brass and held in place by stitching and reinforced by rivets. There is also a small leather strap that keeps the buckle in place/closed during travels.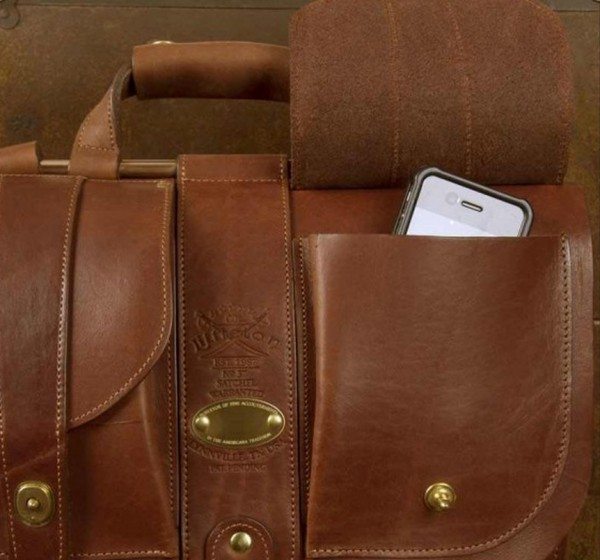 The main flap has two slipper pockets with their own closure flaps. Both are held securely closed by a World War II vintage snap. These pockets can easily hold/accommodate even the largest of the phablets. While great in theory, the base of the snap goes through the leather with a dime sized/shaped piece of brass exposed on the inside of the pocket. So, when you press the snap pieces together or while in transit the metal could definitely rub against whatever you have in the pockets potentially marring it.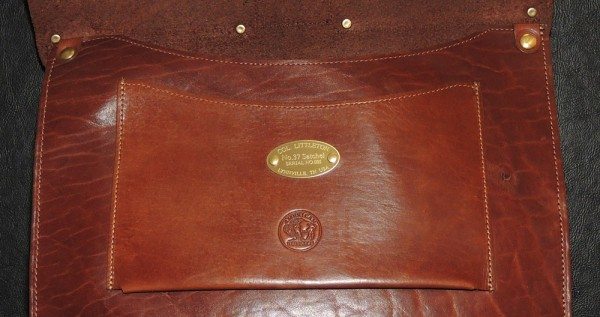 There is a good sized slipper pocket under the front flap for paperwork and the like with a small solid brass serial-numbered I.D. plate and embossed stamp reminding you of the fact the bag is made with 100% buffalo leather.

According to the Colonel's website: 'Plenty of room for your iPad, tablet, agenda, notepad, keys and other essentials'…which I 100% agree with. The 13″ H x 11″ W x 3.25″ D (inside dimensions) space easily accommodated my gear up to and including large tablets, both Macbook Airs, 13″ MBPro, and Lenovo 14″ X1 Carbon ultrabook. The issue comes that all your fancy tech gear is rattling around the bottom of your bag. While I like all the space, personally I do not want my gear all jumbled at the bottom of the bag.

Add in the fact, the taller gear/laptops could rub up against the brass rivets on the top where the flap folds over. I guess it comes down to whether this is a classic satchel (aka murse) or a modern day tech-bag made with top shelf materials and old world artistry. If it is the latter, my suggestion would be to have several sections subdividing the main pocket to better protect your gear from each other (similar to the Colonel's Navigator bag). I would also cover the interior rivets with some sort of soft material to keep it from marring the contents of the satchel. Though for those of us more AR folks, a way to mitigate this is to have all your gear in their own protective case (i.e., laptop in a sleeve, sunglasses in a case, keys not in there @all, etc)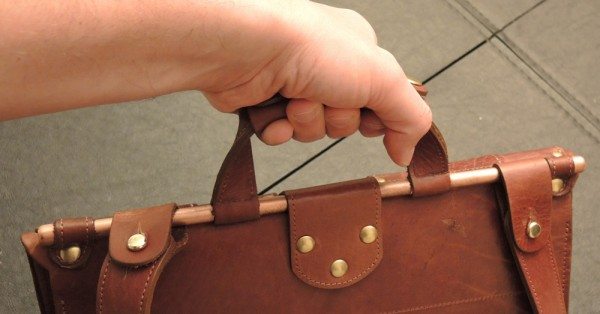 A copper tube spans the length of the spine, equally distributing the weight of bag when fully loaded. The copper tube is held in place by three hard-points reinforced by multiple brass rivets. The satchel has both a carrying handle and adjustable/removable shoulder strap for transport. The handle itself is soft and nicely sized.
The No. 37 Satchel hangs very comfortably from the shoulder. Empty, the bag weighs less than 4 pounds. Filled with my gear, the bag comes in at under 8 pounds. This picture shows the shoulder strap at its maximum length, positioning the bag at a great riding height but I found it not easily accessible while on the move.
There is no doubt the Colonel Littleton No. 37 Satchel oozes Old World style, craftsmanship and is definitely a business bag with attitude. Add in the fact it is made from thick, soft buffalo leather only enhances its beauty and rugged good looks. That said, from a functionality standpoint I would tweak/modify it's interior design and layout to more effectively carry and protect my tech-gear. Though I grant you, if you carry some of your tech in cases of their own that would fix the potential for damage. As with all of Colonel Littleton's creations you are getting what you pay for. The No. 37 Satchel is expensive but this handmade, stylish bag will last you a lifetime of the road hard-travelled.
Source: The sample for this review was provided by Colonel Littleton. Please visit their site for more info.

Product Information
Price:
$775
Manufacturer:
Colonel Littleton
Pros:

Incredible Old World craftsmanship
Top-shelf materials
Made from thick, supple ruggedly good-looking buffalo leather
Solid brass hardware
Grab handle
Comfortable to wear or carry
Great warranty

Cons:

Expensive
Rivets could scratch gear