We use affiliate links. If you buy something through the links on this page, we may earn a commission at no cost to you. Learn more.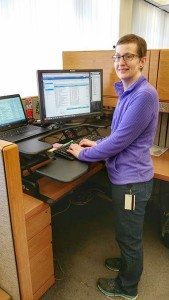 You've seen it, I've seen it, we've all read the warnings claiming that sitting too much is the new cancer. Trust me, cancer is no fun (voice of experience here), so finding alternatives to sitting all day is something everyone should consider. There are apps that will remind you to get up and move around every hour or so that you're inactive. This is an easy and cheap way to sit less – as long as you actually heed the reminders. Or you can get yourself a standing desk like the Varidesk Pro Plus that was sent to me to test. It's been almost two weeks since I started using it, let's see what the experience has been like for me.
Note: Images can be clicked to view a larger size.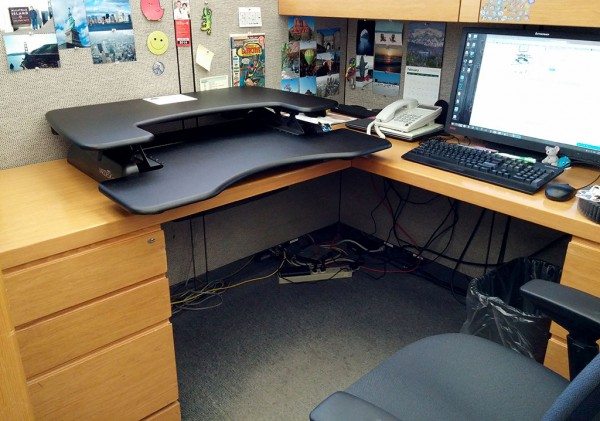 The Varidesk Pro Plus standing desk arrives pre-assembled so that all you have to do is remove it from the packing carton and place it on a desk that has at least a 36 x 30 inch surface. You will need help with this step because this particular desk (Varidesk sells larger and smaller versions) weighs a little over 50 pounds. I was a little worried that the Varidesk was too large for my work surface which is only 24 inches deep with a wall behind it. The front feet of the Varidesk hang over 2.75 inches, but so far I've not had any problems with instability or with the desk shifting position when I raise or lower it.
I snapped the image above after the desk was unpacked and placed on my desk in the office cube at my day job. I figured this would be the best place to review this desk, at the place where I sit the most each day. Eight hours a day to be exact.
This desk is available in any color you like as long as that color is black. Seriously though, I think the desk looks nice and would fit into any office or home without looking out of place. The desk is constructed with sturdy steel hardware, plastic covers over the sides of the base and what I think is a wood composite working surface with a bead blasted type texture.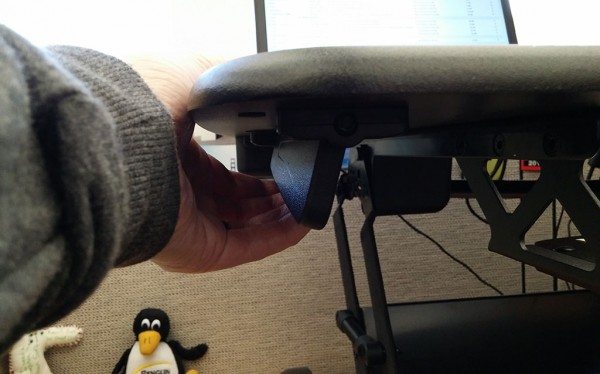 Unlike some standing desks, the Varidesks are designed so that you can use them with your existing office furniture / desks instead of replacing them. These desks are convertible. They change from sitting to standing position very easily using the spring loaded latches on each side. All you have to do is press both latches and pull up on the desk to raise it.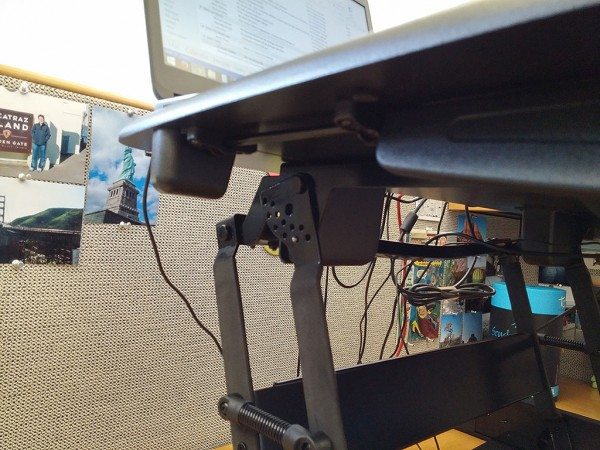 There are 11 different height settings so the desk can be adjusted properly based on how tall you are. When the desk is raised to the level that is most comfortable to you, it snaps into one of the settings. Lowering the desk is just as easy. Even with a monitor, laptop, keyboard and other items on the desk, the lifting and lowering action is very smooth and easy to do. It requires minimal effort due to the spring-assisted lift mechanism and is virtually silent. The only noise it makes is when the height adjustment pins snap in place.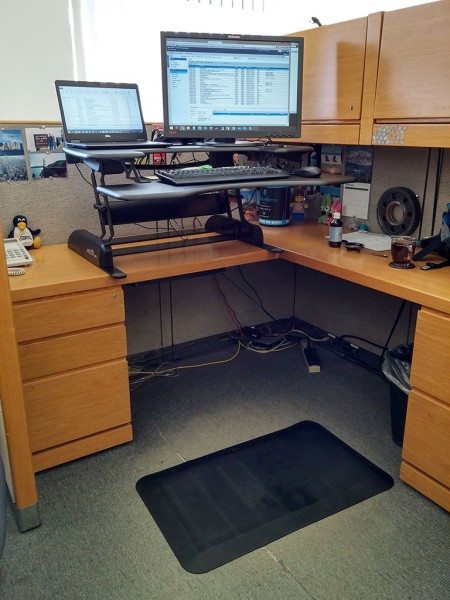 The Pro Plus version of the Varidesk can handle up to 35 lbs and is large enough for two 24 inch monitors to be placed side by side on the upper level. For my setup I have one monitor and a laptop side by side along with a full sized keyboard and mouse on the bottom portion of the desk. There's still room left for other items in front of the keyboard and to the sides. I sometimes set my Nexus 7 tablet in landscape orientation in front of the keyboard for a 3rd display.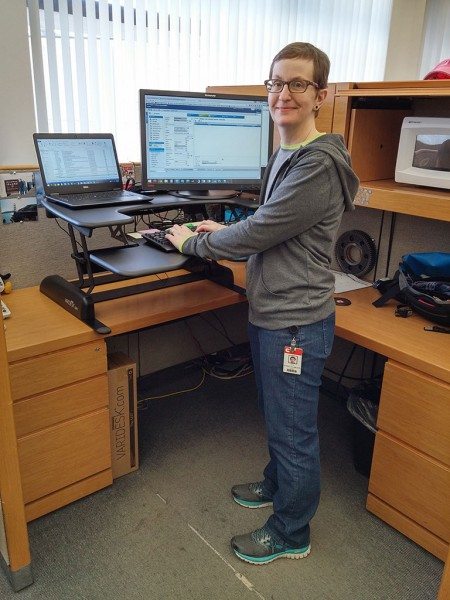 I am 5'6″ tall and typically have the desk in the position you see in the image above. It's not raised to the highest setting, but the keyboard is raised about 12 inches above the existing desk's surface. As I mentioned earlier, I have a job that keeps me planted in front of a computer for 8 hours a day. However, transitioning from sitting all day Monday through Friday to standing most of the day hasn't be a huge challenge for me. After two weeks I already have a routine. I typically arrive at work around 7am and stand until 8:30am. I then put the desk down so I can sit and eat breakfast for about a half hour. After that I raise the desk again and work standing up till lunchtime when I put it back down for a half hour. The rest of the day is spent standing with a couple breaks here and there.
Other than having tired feet now and then, I have noticed some issues with my knees burning. This is probably due to me unconsciously locking my knees while standing. Varidesk sells a padded mat ($50) that they included with the desk, which is supposed to help with body fatigue. I'll admit that I don't use this mat every time I'm standing because I have to slide it under the desk when I have the desk in the sitting position so that my office chair will roll under the desk. I tend to forget to pull it back out when I raise the desk.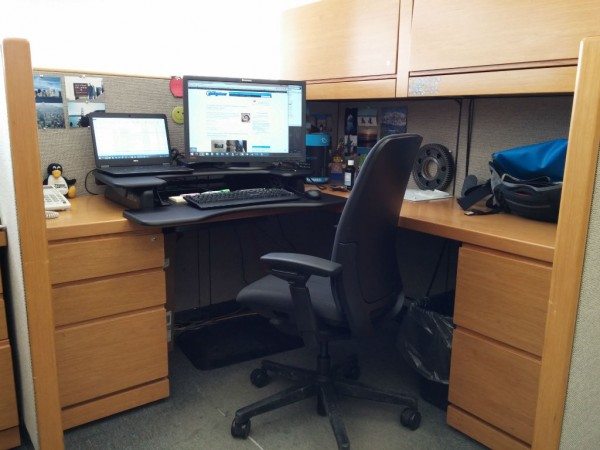 Varidesk offers a free iOS and Android app that you can use to remind you when to raise the desk and when to lower it for a break. It's probably a better idea to start out slowly instead of switching to standing for all day when you've been sitting for years like I have.
I've really enjoyed the ability to stand up instead of sitting all day. I feel like I have more energy and now I can look at the window while I work, which is pleasant. I've had quite a few co-workers curious about the desk and have asked me about it. They are surprised when I demo it for them to show how easy it is to raise and lower. Then they ask about the price and are a little deflated when I say it's $350. At that price it's not a frivolous purchase, but I don't think it's overpriced compared to other office furniture. The Varidesk Pro Plus is very well made and offers health benefits over sitting all day. After only two weeks using this standing desk I really can't imagine going back to sitting all day every day. I have enjoyed the experience so much that I'm even going to try another desk for my home office.
Have you switched to a standing desk? Share your experience in the comments.
Update 05/20/15
A month or so after I posted this review I ended up giving the desk to a co-worker because I was having problems seeing the monitor without getting closer to it. I have crummy eyes and the distance between my eyes and the monitor was farther than what I have been used to with the monitor on a regular desk. The person I gave it too likes the desk but I don't see him using it in the standing position all that often. I'm not sure if he forgets to use it in that orientation or he just doesn't like to stand… I still think the Varidesk is a very nice standing desk and would happily recommend it.
Source: The sample for this review was provided by Varidesk. Please visit their site for more info.
Product Information
Price:
$350.00
Manufacturer:
Varidesk
Pros:

Comes completely assembled
Smooth and easy lifting mechanism
Space for a monitor and a laptop or two monitors
Well made

Cons: