We use affiliate links. If you buy something through the links on this page, we may earn a commission at no cost to you. Learn more.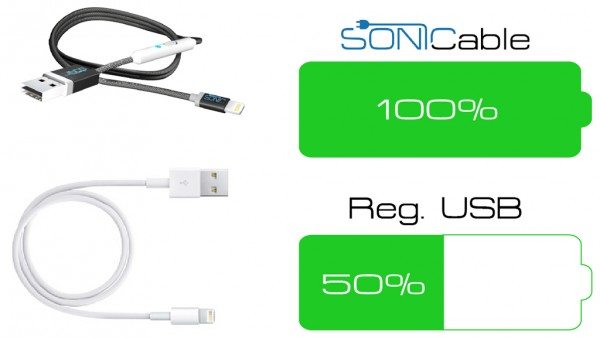 Charging up your device can be a time-consuming endeavor.  Don't you wish you could speed it up?  With the SONICable, the creator promises you can half the time to charge your device, at least when you're charging from a USB port.  When you're charging from an AC charger, the SONICable works as a normal Lightning or microUSB charge cable.  When plugged into a USB port, you can use it as a normal cable for syncing and charging, or you can switch the cable to SONIC mode, and all the power from the USB port will be focused on charging your device in about half the normal time. The USB end of the cable is dual sided, meaning you can plug it into the USB port in either direction.
This Indiegogo project is still seeking funding until February 23, 2015 at 11:59pm PT, but it has blown its $10,000 funding goal out of the water, raising more than $317,000 in pledges.  Many of the pledge levels have sold out, but you can still reserve a SONICable for yourself.  For $27, you'll receive one SONICable in your choice of Lightning or microUSB; a few other available pledge levels get you multiple cables.  There are even color choices available.  Shipping for the SONICable is expected in March 2015.  If you need a Lightning cable and don't want to wait until March, Pyramid Distribution is offering the Bench 2X Faster Apple Lightning to USB Sync Charger Data Cable for $15.00; read more about this cable in our earlier article.