We use affiliate links. If you buy something through the links on this page, we may earn a commission at no cost to you. Learn more.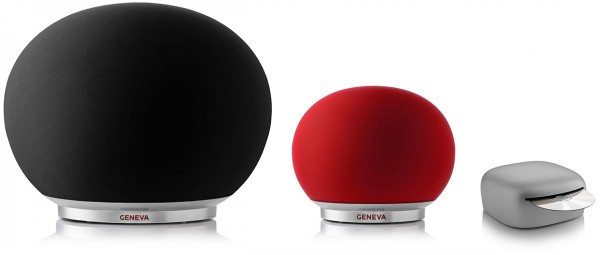 Geneva Labs has been making many different high-end speakers for a while now. Even though they make many models, S, M, L, XL and XXL, they've all been box-shaped and visual clones of each other—only in different sizes. That's about to change in a dramatic way. Geneva has introduced the the AeroSphère series, an audio system that enables a user to seamlessly select music from different sources from anywhere in their home. Plus, its round shape is about as far from boxy as you can get.
Whether you listen to FM, CDs, streaming music using Bluetooth or internet music, all are integrated in the AeroSphère series and controlled from a single app or an enclosed remote. The AeroSphère series is a modular system—a single speaker system with Wi-Fi and Bluetooth that can grow into four rooms/speakers in a single network. Multiple users are able to enjoy simultaneous music in different rooms or different music in different rooms. 
The AeroSphère comes in two sizes: Large and Small. Geneva certainly can't be accused of hyperbole in naming models. The Large contains two 1" tweeters, two 4" woofers and an up-firing 6" subwoofer, powered by dedicated amplifiers. The Small has a single 1" tweeter and 4" woofer driven by digitally controlled amplifiers. Both support Apple's AirPlay, DLNA (AirPlay competitor), and aptX Bluetooth. Three colors are available: red, black and white. Also available are an optional stand and an optional base station with FM radio and CD player.
The AeroSphère Large sells for $749; the small for $399 and the optional base for $499. The system will be available in late Spring, 2015. Visit http://www.genevalab.com/sound/us_en/ for more info.