We use affiliate links. If you buy something through the links on this page, we may earn a commission at no cost to you. Learn more.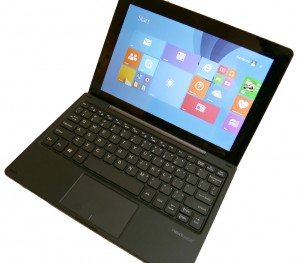 Developed closely with Microsoft Corp. and Intel, the Nextbook Windows 10.1″ 2-in-1 tablet from E Fun is the first Windows 8.1 device that can be used as both a laptop or a tablet that also has an MSRP below $200 ($179 at Walmart). It features a detachable POGO keyboard, a free one year subscription for Office 365 Personal that includes 1TB of OneDrive cloud storage and 60 Skype world minutes per month. Is that low price too good to be true? Let's find out.
Note: Images can be clicked to view a larger size.
Hardware Specs
OS: Windows 8.1
CPU: Quad-Core Intel® AtomTM Processor (2M cache, up to 1.83 GHz); 1GB DDR3L system memory
Memory: 32GB internal storage; expandable via microSD card up to 64GB
Display: 10.1" 1280 x 800 IPS screen with capacitive multi-touch and expanded viewing angles
Bluetooth 4.0 and WiFi 802.11 b/g/n connectivity options
.3MP Front webcam and 2MP back camera with microphone
Micro USB port, mini HDMI port, audio jack
6000MAH Internal rechargeable battery
Dimensions: 10 x 7 x .835 inches (thickness when attached to keyboard, .39 when not attached)
Weight: 2 lbs 13.2 oz. (when attached to the keyboard, 1.4 lbs when not attached)
Preloaded software including Nook for Windows 8
In the box
Nextbook Windows 10.1 tablet
POGO keyboard
AC adapter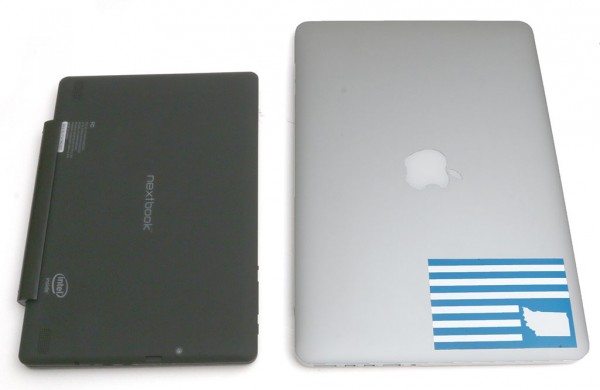 Build and design features
With its 10.1 inch display, the Nextbook has a footprint that is smaller than a sheet of paper. But it's thicker and only 10 ounces lighter in weight than my 13″ Apple MacBook Pro. So even though the Nextbook doesn't take up that much room in my gear bag, its weight doesn't go unnoticed. When I would showed the Nextbook to people at work, they would always comment on its almost 3 pound weight – and not in a favorable way. When used as a tablet, the Nextbook becomes more manageable at 1.4 pounds.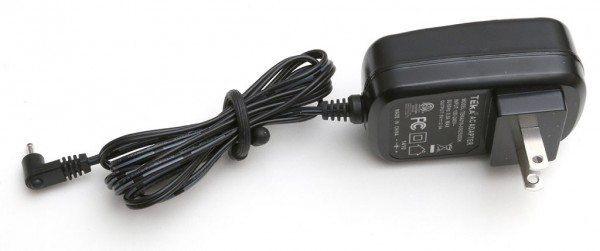 Luckily the AC charging adapter is nice and small so it doesn't add much additional bulk / weight. But I can't help wishing that I could charge the tablet with a micro USB cable like many other tablets on the market.

The Nextbook feels solid and well made. The body is made of plastic with a black matte soft coating that provides good grip.
All of the ports and buttons are located on the tablet part of the 2-in-1 combo. Along the top edge of the display, when held in landscape orientation, you'll find the wake/power button, volume button and Windows button.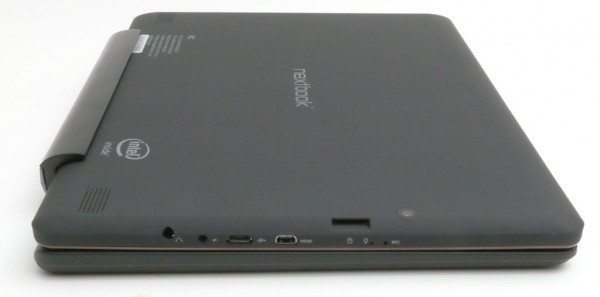 On the left side you'll find the 3.5mm headphone jack, power port, micro USB port, micro HDMI port, micro SD card slot, battery status LED and microphone. In the image above you can see the 2MP back facing camera to the right of the micro SD card slot and the back facing speakers along the bottom edge. Unfortunately the sound quality though these speakers is not very impressive. Audio is weak and thin. The built-in speakers are definitely not very enjoyable for listening to music and video, but they are adequate for basic alarm and notification sounds.
The front and back cameras also leave a lot to be desired. The image above on the left is from the .3MP front facing camera and the image on the right is from the 3MP back facing camera. Both images are noticeably grainy and blurry.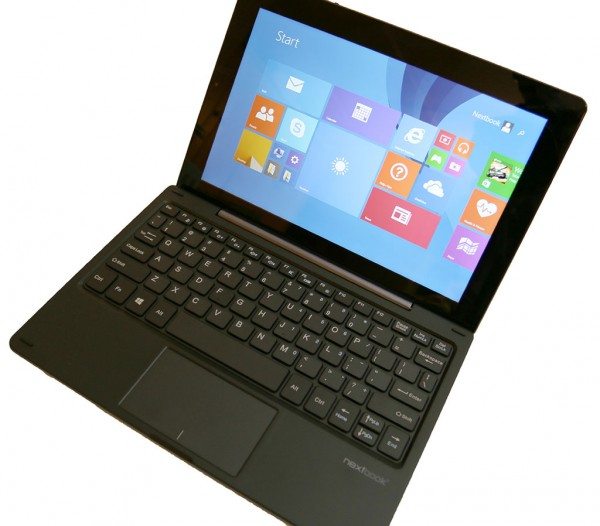 The good news is that the display / touch screen is quite a bit nicer than I was expecting for a sub $200 device. Colors are bright and vivid, text is sharp and crisp, and the touch screen is responsive.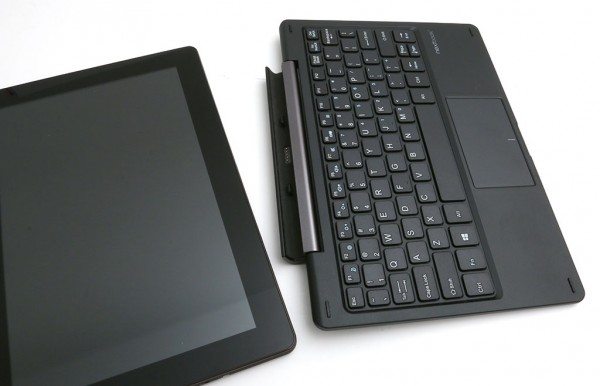 The tablet can be detached from the POGO keyboard with a tug. The connection uses magnets which makes attaching and detaching a breeze. You don't have to pair or fiddle with switches to start using the keyboard. As soon as you snap in the tablet, it can be used. Also note that the keyboard does not have to be charged separately from the tablet. It gets power right from the connection to the tablet.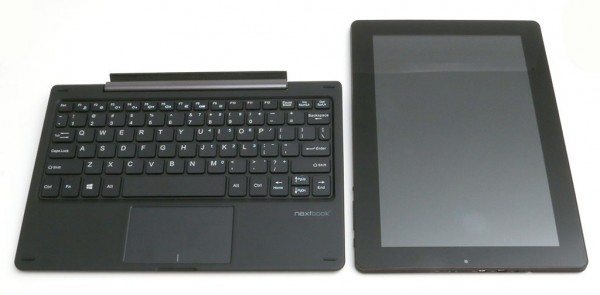 Using the Nextbook 10.1 as a tablet
With the keyboard detached from the Nextbook, you are left with a stand alone tablet. The Nextbook performs well enough as a tablet except that I still feel that the Windows operating system isn't as finger friendly as Android and iOS operating systems. A lot of things work just fine, but smaller buttons and on-screen gadgets on the display can be hard to activate with a touch of your fingertip.
Although the screen has a large bezel which some people will complain about, this does help when using the Nextbook in tablet mode because it gives you something to hold without accidentally touching the display itself.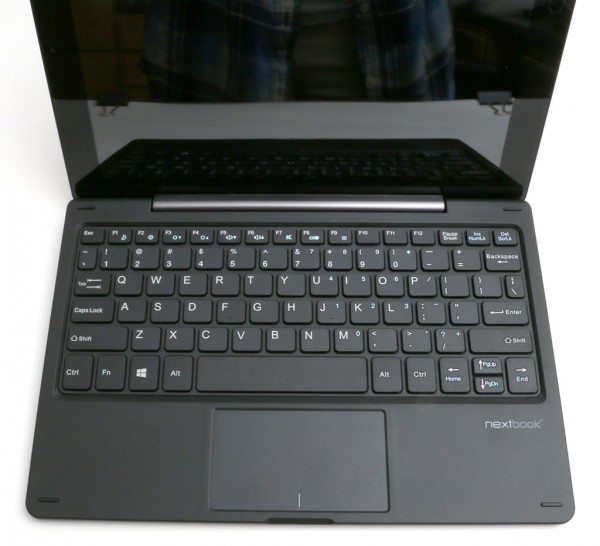 Using the Nextbook as a laptop
Having a 2-in-1 device like the Nextbook means that you can use it as a tablet or as a laptop that can you can actually use on your lap with a QWERTY keyboard and touchpad. The physical keyboard is small, but my fingers didn't feel too cramped while touch typing. The layout is also good, so I didn't need to think about the location of the keys as I typed.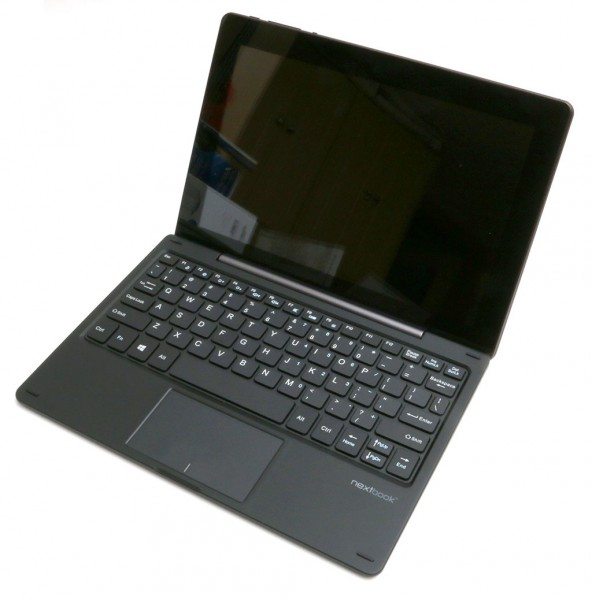 I thought the keyboard was fine, but the touchpad didn't work too well for me. Scrolling long webpages using the touchpad would sometimes cause the scrolling to jump up and down with a mind of its own. I also noticed that clicking the left and right sides of the touchpad to mimic left and right mouse clicks would sometimes cause the wrong clicks. I have to admit that I'm probably biased when it comes to touchpads. I have yet to find a touchpad that works as well as the touchpads on my MacBook Air and MacBook Pro.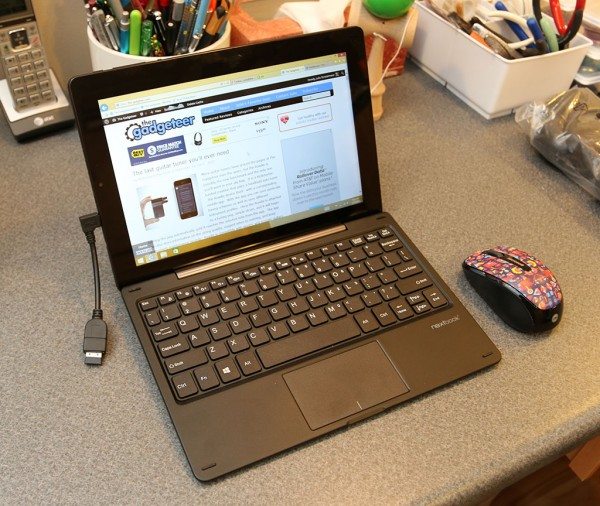 When uisng the Nextbook as a laptop on a desk, I prefer to use it with a mouse. I tested the Nexbook with a Bluetooth mouse, USB corded mouse and a wireless mouse that uses a USB receiver. You might be wondering how I attached a USB mouse when the Nextbook only has a micro USB port and not a full sized USB port. To get around this issue, I remembered that I had an OTG (On the Go) cable for my Android devices with a micro USB connector on one end a female USB connector on the other end. I wasn't sure if OTG would work with a Windows tablet but was happy to find out that it does. Using a short OTG cable allowed me to attach USB mice, USB wireless mice and even USB flash drives.
Software
The Nextbook has Windows 8.1 installed along with Microsoft Office 365, Skype and Nook eBook reading software (this is an optional download / installation). You get MS Office free for 1 year. The rest of the software that is installed is stock Windows 8.1, but since this is a full fledged Windows computer, you can install any Windows app you like. Just remember that you only have 24GB of disk space to work with.
Performance and battery life
This 2-in-1 tablet isn't going to win an award for the fastest computer, but it does just fine with browsing the web, using Microsoft Office apps, etc. Since most of my work is done in a browser these days,  I could use the Nextbook as my only laptop if I had to. The tablet didn't have any issues playing video through a web browser, having multiple tabs open, etc.
For the most part, I found the Nextbook to be a decent computer. I wouldn't want to trade my MacBook Air or MacBook Pro for it, but it worked well at everything I tried. The only performance issue I ran into was some WiFi problems where it dropped the WiFi connection and could not find it again even after toggling WiFi on and and off. Sitting in the same spot, my phone and MacBook Air had no problems working from the same WiFi connection. This only happened to me once so far, so it might be a fluke.
As far as battery life, this device won't be able to work through a full 8 hour day on one charge. My guess is that you'll be able to get about 4 – 5 hours of continuous work from one charge. Not terrible, but not impressive either. Here's a quick test I performed:
Volume at 50%, screen brightness at 50%, keyboard attached
4pm – 5pm, battery starting at 100%, Internet Explorer watching music videos on YouTube via WiFi.
5pm – 6pm, battery starting at 83%, combination of idle time, snapping some pictures, writing this review and installing some software.
6pm – 6:30pm, battery starting at 66%, installed MS Office in the background while working on this review in an Internet Explorer browser window.
6:30m – 8pm, battery starting at 57%, idle, screen off.
Tablet mode, keyboard detached
8pm – 8:30pm, battery starting at 39%, surfing the web.
8:30pm – 7:00am the next day, battery starting at 31%, idle, screen off.
7:00am battery starting at 22%
Final thoughts
Over the years I've tried to turn an iPad into a laptop and a Nexus 7 Android tablet into a laptop with very limited success and a lot of frustration. Although I like the challenge of trying to get a gadget to bend to my will, I finally admitted that it's best to use the right device for the job and decided that if I need a tablet, I'll use a tablet and if I need a laptop, I'll use a laptop. The Nextbook finally lets me do both. At least it makes a really good effort at it for a relatively low price. The Nextbook isn't perfect, it is heavy, has weak speakers, weak cameras and mediocre battery life, but the 2-in-1 feature is compelling at such a low price. I can see it as decent entry level computer for kids or as a travel computer for adults who are not power users but just need to be able to surf the web and  work on documents without carrying a larger device and power brick.
Source: The sample for this review was provided by E Fun. Please visit their site for more info and Walmart to buy for $179.