We use affiliate links. If you buy something through the links on this page, we may earn a commission at no cost to you. Learn more.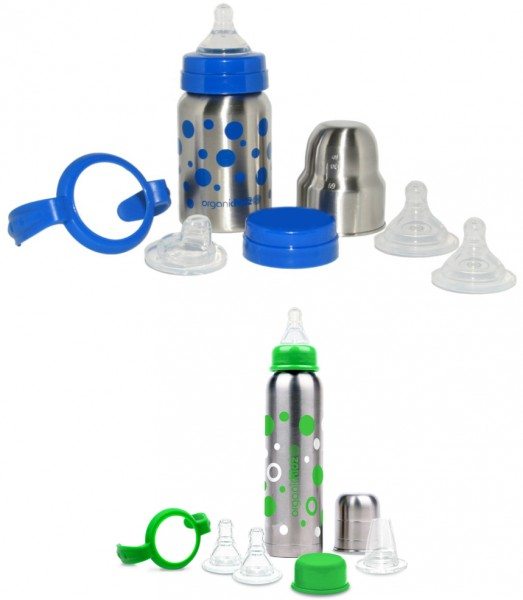 The Gadgeteer has featured a lot of articles about water bottles to keep adults and kids hydrated, and stainless bottles seem to be favored by many because they don't leak harmful chemicals like some plastic bottles can.  But what about infants?  Baby bottles are usually plastic these days.  What do those bottles add to the milk that you don't want your baby to ingest?  With the Baby Grows Up Bottle Kit from organicKidz, you won't have to worry, because the bottle is made of stainless steel.  The kits include a bottle, three vented silicone accordion-flex peristaltic nipples in flows for each feeding phase, a silicone sippy cup spout, easy-hold handles, and even a lid to convert the bottle to water bottle for older kids.
Two versions of the kit are available.  The first has a tall, narrow-necked 9oz thermal bottle that will keep the contents hot or cold for 6+ hours for $32.99.  The second kit has a short, wide-necked 9oz single-walled bottle in your choice of lavender or blue for $24.99.  You can pre-order the Baby Grows Up Bottle Kits from organicKidz now for delivery in April.  You can purchase the bottles and their accessories individually now, if you don't want to wait to switch your baby to stainless.