We use affiliate links. If you buy something through the links on this page, we may earn a commission at no cost to you. Learn more.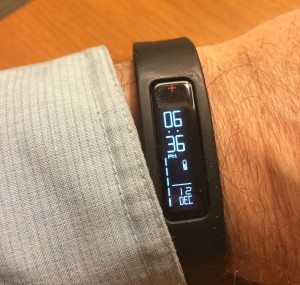 In case you've been living in a cave for the last few years, I have some news for you: there's this thing called fitness bands (or activity trackers or wearables, depending on what your angle is), and it's everywhere. Julie has collected the entire set, I believe. She has also offered the team several, so, recently, I decided to grab one for review. The GOQii band I was sent is a wearable/app combination that tracks activity, water intake, sleep time, nutrition and calorie burn. Most other trackers of this type do similar things, but the GOQii's unique offering is two-fold: you are awarded "Karma" points, a sort of currency that you can choose to donate to various charities, and access to a health coach, who will connect with you and encourage your healthy activities. I've been using it for the last month or two, so here are my thoughts and experiences.
Note: Photos may be tapped or clicked for a larger image.
I've been tracking my weight off and on for several years, and my sleep patterns as well, but, until recently, had never used anything more complicated than a regular bathroom scale and a 99¢ app that allows the accelerometer in my phone to track my movement patterns when I'm asleep. With iOS 8, Apple introduced HealthKit, a programming resource for interfacing with various health-centric apps. About the same time, I found I had several medical conditions that necessitated me spending a bit more time monitoring various other vital signs. Plus, over the past 2-3 years, I've been trying to be more active. So, the GOQii band came along at a good time.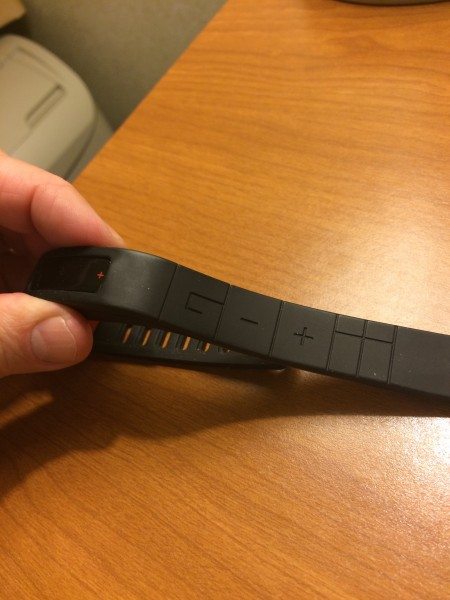 I had an initial Skype conversation with Mitali, my coach, just a few days after getting the band and setting up my account. She is a sports medicine specialist, as well as sharing several other hobbies with me. The GOQii band comes with three months of consultation included, and you can arrange for calls as often or as infrequently as you desire. We've only had the initial talk thus far, but have swapped emails through the app every few days. It helps to have someone who really wants to assist you and encourage you in your health-related goals.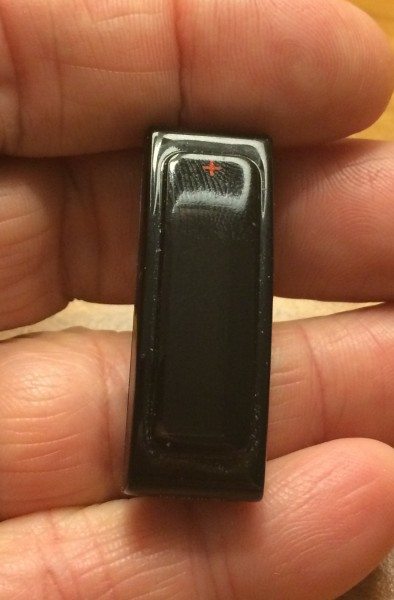 The GOQii band itself is really a small core module about 1.5″x.5″x.4″. The top is slightly curved, so that, when placed in the silicon band, it matches the curve of your wrist. Two colors of band were included – black and red – along with several extra band restraints in each color. These are very important little pieces that fit over the joining of the two band ends, preventing them from becoming unfastened. The whole affair only weighs .85 ounces (24 grams), so if it falls off, you won't miss it. I lost the first restraint early in testing, and my band fell off while I was walking through the grocery store. Fortunately, I shop at times when the store is fairly empty, and I heard it hit the floor, or I'd have kept walking! As in all things, always use restraint! (You see what I did there?) Even with the restraint in place, it turns out, the GOQii band fell off my wrist again somewhere between Wrightsville Beach and Durham this weekend. I searched the car throughly, but due to removing my coat when going in and out of shops and cafés and stopping for gas, it fell off, and I didn't notice until we were hours from the coast. So it goes. Fortunately, I had taken photos with my iPhone in the hotel room, which are the ones accompanying this article.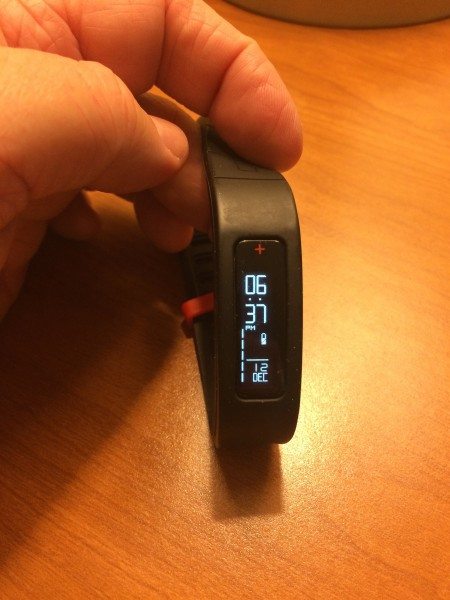 Setting up the device is fairly straightforward, or seems so at first. Download the free app, set up an account (90 days coaching is included and requires entering a code from the card in the package), and sync your device with your phone. The device measures steps and distance based on your body metrics entered in your account.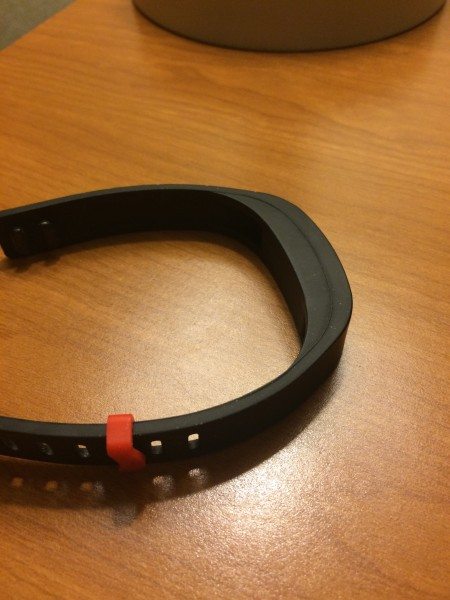 Operating the device is also easy, within what it can do. The initial screen shows time, date and battery status. Tapping on the device moves it to the second screen, which shows steps. Next is how long you've been active for. Next is how far you've walked today, then calories burned. Last is Karma, the in-system points you earn by moving and meeting goals. Donations of Karma translate to actual donations to charities the company has chosen to support. You get to choose from the list which ones you'd like to back. Most are OxFam groups, and are doing great things to assist with literacy, health, and support for women and children. On a normal day, I'll get 10-12 Karma points (Don't forget, I spend most of the day talking on the phone. On my off days, I try to kick it up several notches, weather permitting. I'd have loved to have this tracking activity when I was working retail over the last four years!)
From the app, you can set as many as five alarms and have them each repeat on any desired days. I'm concerned that I don't always go to bed early enough to get the rest I need before work, so have set an alarm at midnight and at one AM on the days I work. I also have a wake-up alarm that buzzes my wrist about 5 minutes before the "drop dead" alarm on the dresser goes off. This is the time I MUST get up if I'm going to have time to make coffee, eat, take meds, and dress before work. The "humm buzz" also goes off if you're not moving during the day. (The first time this happened, it startled me. I often sit still, closing my eyes to visualize the issue my customer is seeing on his end, so don't move around much. I'm still talking to them, and very intentionally listening to them, but I'm not moving much. When the GOQii band buzzed, I bet I jumped a foot off the ground!)
Using the gadget is dead simple: strap it to your wrist and go about your business. Steps are logged as a normal part of the program, and those are converted to calories and Karma according to your profile measurements. There is a "thermometer" type indicator that builds up the side of the display from lower left to upper left. As you move more, it gets taller. When you reach the magical 10,000 step level in a single day, it vibrates excitedly. (Note: a Zumba dance class will put in between 4,500 and 7,000 steps, depending on intensity and instructor! Be ready for the buzz if you've done anything more than sit around all day! Jus' saying'.)
Battery life is pretty good – about two days or so. One of the negatives is that the charger is a USB dongle that the module slips into with contact points to match the ones on the GOQii core module. (See photo below.) It is made from the same silicone material as the wrist bands. But this weekend, I'm out of town, and the little charger is sitting on my desk at home attached to my charging stand, and none of the myriad cables I have here with me can charge this little guy. 🙁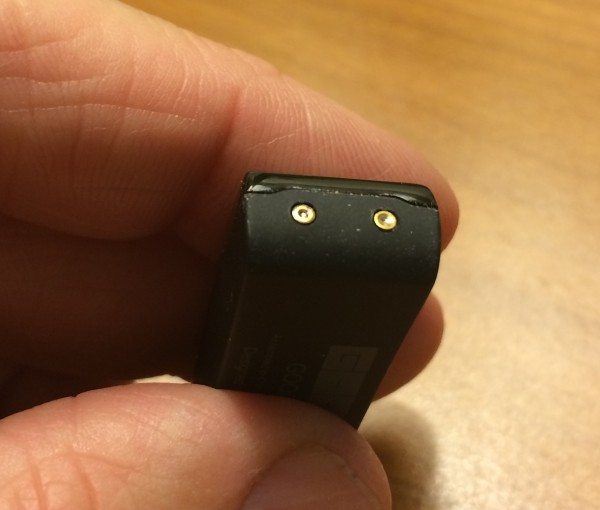 The device is, in many ways, just a Bluetooth-connected pedometer that you wear on your wrist. Yes, it makes those calculations for movement time, calories burned, and such, but there's no way to read anything directly on the band except what I just listed above, and the connection to your "home" device is strictly one-way. There is no way for the band to sense my movements while I'm sleeping, or to set an alarm or adjust anything (like time or date) from the device itself. Everything must be done from your phone through the app while they are connected. The phone software (I'm using an iPhone 5s with 64 GB storage and current iOS) is flaky at best. Let me explain.
In order to have the time set correctly, you must set your phone's clock to be adjusted manually, not automatically. Then, you'll also have to remember to manually reset the GOQii during daylight savings time, if you celebrate this ancient custom. Once set, you can move the time setting back to automatic on your phone, but it had me completely flummoxed for the first day or two.
Then, when I enter an activity (the band can only sense movement, so swimming, working out, or biking do not register as anything but movement), the event will be placed on the previous day. Every. Stinkin'. Time. I finally learned to just choose tomorrow, and everything posted perfectly. But choosing the activity from the menu (a series of icons on the right of the screen) takes forever to scroll. See the video below.
Note that, in that video, the 17 calorie walk is added to yesterday's record, not today's. I reported this to my coach, and it's supposedly being worked on, but this is quite a huge issue, if the records are not synced with the date/time they happened.
The other issue that hit me continually is that the band and users are primarily located in India, so cultural references do not transfer easily. This also affects support hours, rates for renewing your coaching, and, I think, the continuing date/time issues mentioned above. I have no problem changing money to different currencies, and being half-a-world away is nothing new to me after 20+ years in an increasingly global IT market. But it's tough to see how having tech support/coaching available from 10 PM to 7 AM on the US east coast is going to attract many adherents here in the US. Most companies that succeed in this area either offer 24/7 support, or have local/regional teams that handle their own area's support calls.
All in all, I liked the experience of wearing and using the GOQii. Interacting with Mitali was a nice addition, and if I wasn't married to an RN/exercise nut and the father of a Spinning instructor/exercise nut, this would have made the experience even better. The buzz feedback was a nice touch, too, making me more aware of how long I was sitting still sometimes. That made me think about standing or moving around, which is the whole point of these devices.
Source: The samples for this review was provided by GOQii. Please visit their site for more info.
Product Information
Price:
free with purchase of six months of coaching (INR 4199 = ~$65)
Manufacturer:
GOQii
Requirements:

USB charger, smartphone with bluetooth running iOS or Android

Pros:

light
lighted readout is easy to see in shade or sun
buzz-humm is unobtrusive notification
real coaching

Cons:

light (falls off and is not missed)
limited utility for more than walking/running/dance
odd support times in US
USB dongle for charging