We use affiliate links. If you buy something through the links on this page, we may earn a commission at no cost to you. Learn more.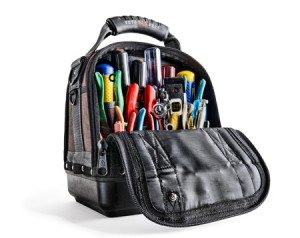 I used to carry tools around for a living.  A good tool bag was critical.  I ended up with a variety of boxes with wheels on them just to lug them around town.  I don't do that anymore, but since I rent and don't live in a house, space is at a premium.  Maybe what I need is a compact bag for just the essentials.  Let's take a look at the Veto Pro Pac model MC.
The first rule of tool bags:  The more stuff you carry, the heavier it's going to get.  Therefore, it's critical to get one that's just the right size and shape.
PRODUCT SPECIFICATIONS: 
Width: 8"
Length: 10"
Height: 12.5"
Weight (empty):  4.0 lbs.
MAXIMIZED TOOL STORAGE CAPACITY:
Vertical Tool Pockets: 20 interior and exterior
D-Rings: 2 large and 5 small
Meters and compact cordless drill/driver compartment
RUGGED MATERIALS & CONSTRUCTION:
Waterproof Base: 3mm Injection Molded Polypropylene
Waterproof Body Fabric: 1200 PVC Impregnated Denier Nylon
Waterproof Tool Pocket Fabric: 1200 PVC Impregnated Denier Nylon
Handle: Webbed handle with over-molded rubber grip
Zippers: Double Stitched, Heavy Duty Plastic Coil Zippers with Oversized Zipper Tabs
D-Rings: Powder Coated Steel
Rivets: 38 zinc, marine grade rivets
Stitching: Industrial Strength Double Nylon Stitching
OTHER FEATURES:
Warranty: 5 Years (see Veto warranty terms and conditions)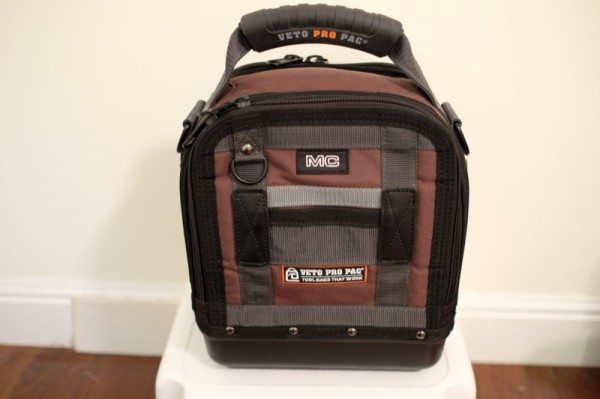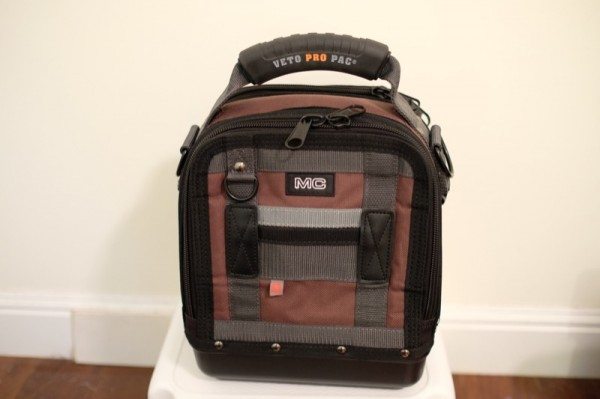 At first glance, the Model MC looks NOTHING like the traditional steel toolbox or even the plastic "fishing tackle box" tool boxes we're used to seeing.  And, it looks too SMALL to be useful.  In fact, my first thought was "I guess I could put lunch in this thing."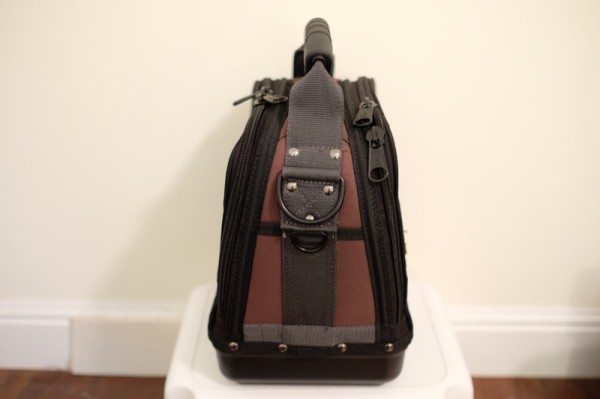 Well that's interesting.  Looking from the side, the Model MC has a "wedge" shape.  That is, the bottom is wider than the top when viewed from the side.  Why did they make it like this?  (Keep reading!)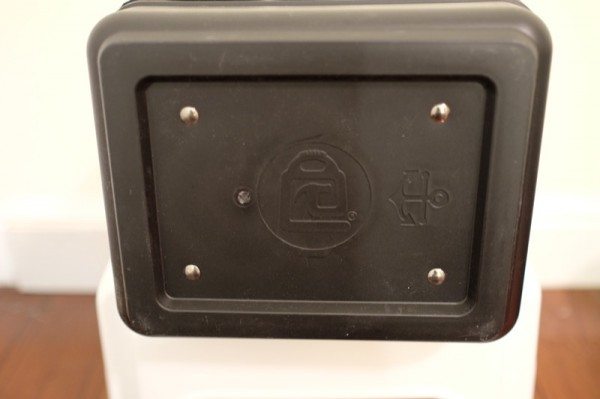 The bottom of the Model MC is a sturdy, single piece polypropylene tub.  It's waterproof, too.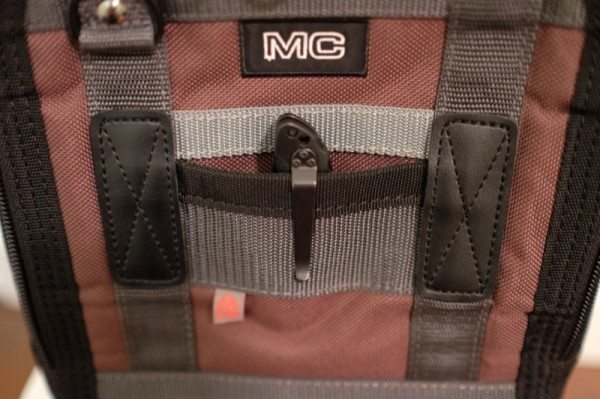 There aren't a lot of exterior pouches, except for a smartphone-sized pocket on either side.  I found this handy for a folding knife.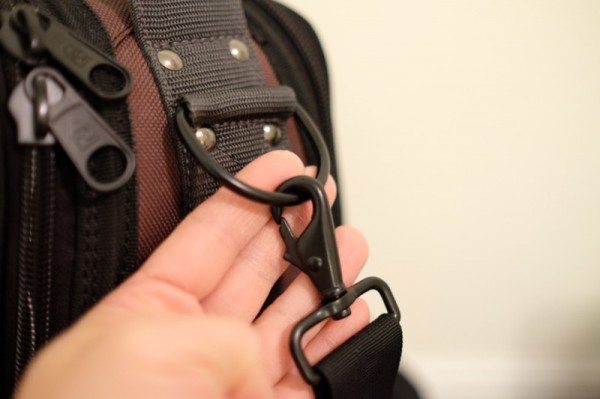 There are several D-rings on the side.  I attached my own shoulder strap (not included) on the larger D-rings to form a shoulder-carry option. Although there isn't a shoulder strap included with the bag, there is a card in the bag that allows a buyer at their option to go online and register their bag and they will send them a free shoulder strap.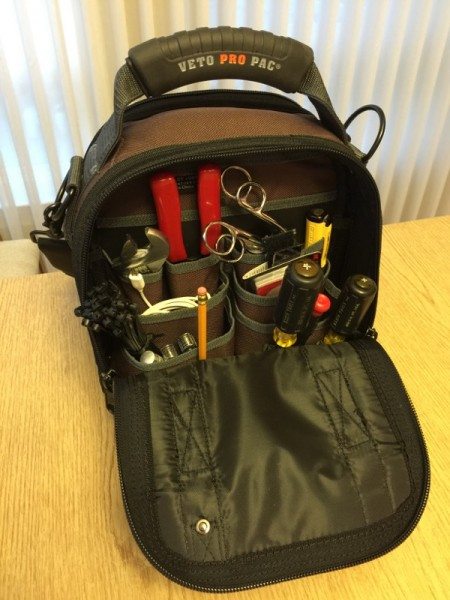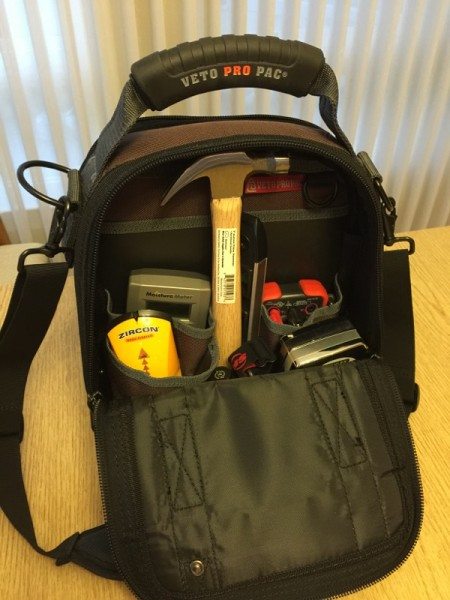 There was no good way to review this tool bag than to just load it up and try it out.  So over the course of 3 weeks, I used it for various handyman tasks.  I took these snapshots in the middle of such a task.   These were not staged photos, just whatever I was carrying.
As you can see, it easily swallowed up several screwdrivers, multitool, cable ties, electrical testers, large tape measure, stud finder, and 90% of the stuff I normally need.  The funny thing is, there's still PLENTY of room.  I'm missing some of my smaller tools, so they'll go in there as soon as I dig them up.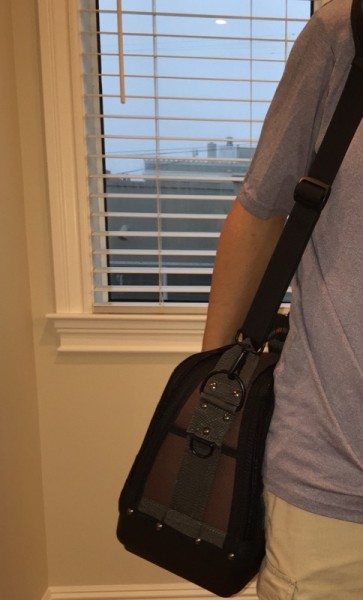 Remember that funny wedge-shape?  This is why I love my Veto Pro Pac Model MC bag… it's VERY comfortable to carry.  With the strap on, the wedge creates a comfortable hip-side carry position.  I have found my new go-to tool bag that carries most of what I need without breaking my back.
Source: The sample for this review was provided by Veto Pro Pac. Please visit http://www.vetopropac.com for more info.
Product Information
Price:
$104.99 MSRP
Manufacturer:
Veto Pro Pac
Pros:

Compact
Many divided interior compartments
Waterproof tub bottom
Wedge-shape
D-rings for straps (not included)

Cons:

Not a lot of exterior pocket options