We use affiliate links. If you buy something through the links on this page, we may earn a commission at no cost to you. Learn more.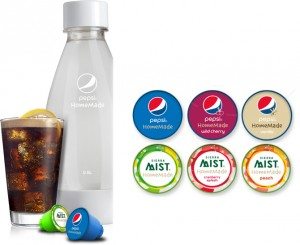 Well, you can make Pepsi at home if you are lucky enough to live in the test area.  Pepsi and SodaStream have announced a joint project called Pepsi Homemade.  You'll carbonate water using your SodaStream, and then you add one of the Pepsi or Sierra Mist Homemade 0.5L flavor caps create your own drink. Right now, they are testing Pepsi, Pepsi Wild Cherry, Pepsi Vanilla, Sierra Mist, Sierra Mist Cranberry Splash, and Sierra Mist Peach flavors.  You can only find the Homemade flavor caps in select Bed Bath & Beyond and Walmart stores in the Orlando and Tampa areas in Florida.
I hope these flavors are successful, and I hope they expand the line to include other Pepsi flavors!